November 11th, 2011
Blues Control, a duo of guitarist Russ Waterhouse and keyboardist Lea Cho that recently relocated from Philadelphia to Coopersburg, Penn., make strange music that snuggles up along the outskirts of psych, noise, rock, New Age, drone, and dance with bands like Gang Gang Dance and Excepter. It's hard to pin down their steez, so let's just call it "blues control." Blues Control have been making blues control music since about 2006, throwing down critical records like Puff and Local Flavor. The latter was an extra-heady, heavy affair, with one track, "Rest On Water" (vid below), featuring Kurt Vile and fellow Violator Jesse Trbovich. Blues Control opens for Vile & The Violators and Far-Out Fangtooth Saturday night at Union Transfer, and we're very curious to hear what these two can do with such a delightful sound system. The band just released a new collaborative record with New Age artist Laraaji, so MMM hooked up with Waterhouse to talk about it and some other stuff.
Make Major Moves: How did the album with Laraaji come about?
Russ Watherhouse: We were familiar with his records and had seen him perform before. We tried to do a show with him once, but that didn't happen. He was one of the first New Age artists that we got into when we first started listening to it in the early 2000s. His albums are still in print and easy to find, so when I started buying that stuff, they were there. It seemed like nice, positive, psychedelic, trancey, heavy music. It's just a different side of psychedelia. He has an interesting backstory. He's a very open individual. He was born in Philadelphia, but lived most of his adult life in New York.
MMM: New Age music tends to get a really bad rap but it's been starting to sneak its way into underground music circles recently. Why do you think people hate it so much?
RH: Well, I think people incorrectly assume music that doesn't have angst in it may be lacking in substance. When I was younger, I may have thought that, as well. But now I realize there's a lot of substance in music that isn't angsty or dark. I also enjoy music that's uplifting and positive. It was also sort of associated with corporate culture in the 1980s, I think. It became very homogenized and a lot of people were just hacks cranking out New Age records to make money because the market for it was so big. But I also think there's a link to psychedelic music, especially Krautrock. If you follow its evolution from those earliest origins, it's easier to see what's valuable in it.
MMM: Most people probably just think of it as Enya.
RH: She was huge. Occasionally, something like that will make it into popular consciousness. I don't love her, or anything, but I don't hate her. We checked out her records recently from the library and they weren't unpleasant.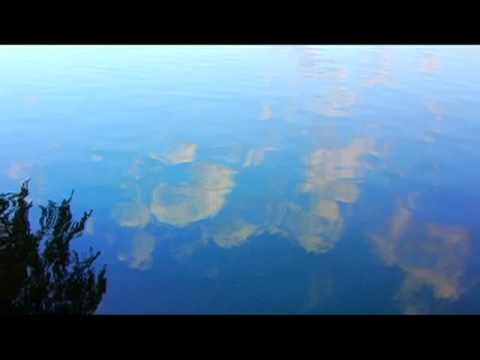 MMM: I like Kenny G.
RH: We have a Kenny G 12-inch. There's nothing wrong with that. Anything in moderation. You can listen to Brainbombs and Kenny G in the same sitting, and that's okay.
MMM: I think a lot of people associate New Age with some form of conservative or apolitical escapism.
RH: Maybe people have a cynical perspective and see it as that kind of music, but I don't think that's its origins.
MMM: What two New Age records do you recommend to newcomers?
RH: Aum by Deuter. He's one of the biggest artists in the genre. His albums are solid, and Aum is a good bridge between Krautrock and the later New Age records. Also, Icarus by Paul Winter. He's a huge name in New Age. His stuff borders on World and Fusion. It's pretty diverse. He does these Solstice Concerts in New York City, and we've been to the Winter and Summer Solstice shows.
MMM: In the middle of one track on the new collab LP, I notice Laraaji (pic left) starts laughing.
RH: Yeah. He also does these laughter workshops. We once attended one in Saratoga Springs. Laughter has a lot of physiological and psychological benefits, so he started practicing a form of laughter meditation. The workshop was an intense and very playful experience. There were a bunch of group exercises involving movement, smiling and laughing. It concluded with everybody on the floor lying down while he was moving around the room playing gongs, and at the same time people were laughing all around the room. There were all these waves of laughter moving around. It was infectious–you'd stop laughing, then hear other people laughing, and then start laughing again. But he's also just a very funny guy. Before he decided to be a musician, he wanted to be a stand-up comedian. The laughter you hear on the record is definitely indicative of his personality.
MMM: You're planning to release a new Blues Control record on Drag City, right?
RW: Yes, but there's no release date yet. It will probably come out next Spring or early Summer.  We're not done recording it, but a few days after the Kurt Vile date, we're going back up to Black Dirt Studios and will hopefully finish it before Thanksgiving. I don't want to say too much about it aside from that it's an expansion on the things we've already done. But all our records have been different, so this one will be different, too. Tetsuya Nakatani plays percussion on one track. He came in and did some drum tracks that came out really well. We'll probably play a few new songs at the Philadelphia show.
Blues Control play Sat., Nov 12, 8:30pm. $14. With Kurt Vile + Far-Out Fangtooth. Union Transfer, 1026 Spring Garden St. 215.232.2100. utphilly.com.