January 3rd, 2012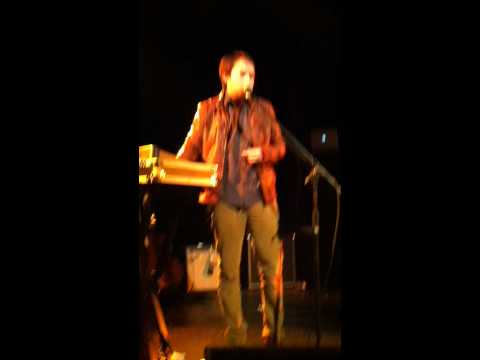 Local trio Good Old War rang in 2012 at the TLA on Saturday night in front of a packed house. It was a delight. Here's what went on:
1. A rousing opening set from Tom's River, NJ octet (Whoa! Not a word we get use often.) River City Extension. The group blasted out punkish, multi-instrumental folk rock for an hour straight.
2. As per usual at the TLA, unfairly expensive beers. $7 for a PBR pounder. $8 for a Yards beer, brewed right across town. No New Year's Eve price break. Shame.
3. DJ sets in between live music by Frosty, mashing up classic rock tunes, somehow in a tasteful manner.
4. Good Old War favorites—"Coney Island," "Looking for Shelter," "My Own Sinking Ship."
5. Flawless three-part vocal harmonies from GOW, the central focus of each of their folk rock tunes, led by the charismatic Keith Goodwin.
6. Lots of pretty drunk people, singing really loudly out of tune with those harmonies.
7. GOW taking on a stirring rendition of Fleetwood Mac's "Go Your Own Way," on which guitarist Dan Schwartz switched to the electric guitar for a fulfilling solo.
8. GOW debuting a few new songs from their upcoming third LP Come Back as Rain, including snappy new single, "Calling Me Names." The upbeat "Loud Love" brought their set to a close, with its simple, glowing chorus turning into a final singalong.
9. A midnight countdown and sparkling run through of "Auld Lang Syne," a song not played live in many places on New Year's. Balloons dropping from the ceiling and a full-on celebration for another hour of Good Old War.
10. A sincerely warm, friendly crowd of all ages. People dancing, singing, meeting, drinking, laughing, hugging, kissing. It was all-around, good-time camaraderie. (Kevin Brosky)