February 9th, 2012
NOTE: Just the tip of this interview appeared on the pages of the most recent issue of Philadelphia Weekly, which hit the streets yesterday. Get a copy. Here's the whole damn thing.
Thanks to Lana Del Rey, who you probably know as "that awkward, puffy-lipped so-called singer who bombed on Saturday Night Live," music critics have trapped themselves once again within the murky, moronic concept of "authenticity." Is she really real, or is she acting? Is she a marketing-gimmick? Is she, like Holden Caulfield's bro, a goddamn phoney? Such questions are only asked by gnawing little mice who want desperately to be metaphysicians. Here's a response: Pizza!
The "authenticity" flames haven't blazed this bright since South African rave-rap group Die Antwoord (The Answer) exploded the Internet back in 2010, when their "Enter The Ninja" vid went next-level viral. With choppy, shocking images and super-anti-hero gusto, nobody was ready for rapper Ninja and vocalist Yo-Landi Vi$$er's disturbing (and hilarious) articulation of the all-encompassing aesthetic they referred to as "Zef Style"—a South African low-culture which Die Antwoord aimed to elevate, celebrate and proliferate.
Evidence that Die Antwoord was merely Ninja's latest "conceptual" music project soon spread across the Web faster than a Kardashian sextape, and the group was reduced to mere thought-fodder as critics ruminated their authenticity. Is Die Antwoord real? Is it an art proj? Is Ninja acting, or is he really real? Is Yo-Landi a butterfly? Ugh. It was like a freshman comparative lit class high on Roland Barthes and Four Loko.
Following irrevocable disagreements with Interscope Records about the direction of their follow-up to 2010's $O$, Die Antwoord self-released Ten$ion this week on Zef Recordz, and their North American tour begins Thursday night at the Trocadero. I talked to Ninja on the phone shortly after they finished shooting a video for their new single, "I Fink U Freeky." It's posted below. Watch it. (Elliott Sharp)

Hi, Ninja. Are you in South Africa?
I'm in Johannesburg. It's 9 o'clock at night.
What are you doing tonight?
Sleeping. I have to wake up at like 6 a.m. or something. We're editing a video. We just did a video with this guy Roger Ballen. He's a photographer. He's my favorite artist, or whatever, like, in the world. He directed a video with us. He's a fuckin' master of imagery. The only difficult thing's the footage we got is really good, and we got a lot. When we're editing videos we like to let it roll spontaneous style. Normally it's kinda like shooting a kiddie dance competition and we try to see which kid dances the best, but this is like judging some fucking Olympic gymnastics shit where everything is fucking good. It's exhausting. It's the hardest editing we've ever done, but it's the best footage ever. Do you know Roger Ballen, hey?
No, I don't.
We started Die Antwoord because of him, basically. He's like the best artist in the world. Hands down. He's like Salvador Dali and Hieronymous Bosch—those two painter guys from the old days—he's like taking their place. Full-blown. He's the modern day version. He hits the roof. He is as wild as they get.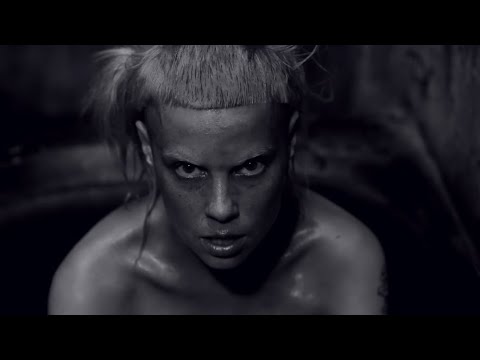 Where'd you shoot the video?
At a friend's farm in Johannesburg. It's on the outskirts of the city, so it's mixed with urban decay or whatever. There were all these rats, cockroaches, bats and snakes and all this wild stuff. We told Roger Ballen to come check out this farm because we were staying there, and we were like, "Check out the wolves," and everything looked really, like, fucked, and it was a good canvas with all these little fucked up holes and stuff, and fucked up wild animals everywhere. Yolandi caught like 40 rats and I caught these big fucking Madagascar hissing cockroaches. This kid caught a big fucking snake, this big fucking boa constrictor thing. We caught all these animals and we started off with that. We drew on all the walls. It's, like, very reflective, like, you can see yourself in it. You can see all these things, and I saw myself deeper than I ever have. I don't know if it will translate to other people, but for us it's really heavy seeing all these things hidden in the imagery along with that in-your-face Die Antwoord style. It's like the best thing in the world.
We love Roger Ballen's photos, and we didn't know why, and he kind of explained why. He explained many levels, and then out of the blue he summed up Die Antwoord. He said his art and our art are the same style, and we asked "Why?" and he started breaking down the similarities. His style is like documentary-fiction. You should check it out. It's pretty fucking mental. It gets under people's skin and leaves a lasting impression. You can't ignore it. It's documentary in the sense that there's a world around you that you have nothing to do with—like if you're watching a polar bear or an extreme sports documentary, that shit would happen whether you were involved or not—and then you have fiction. What do you think fiction means, Elliott?
It means not real.
NO! It means something that's made up. How you just described fiction, and how I describe fiction, is completely different. It's something you make up. It wasn't there, and you created it. But to say "not real" is very strange. Every second in the day you're making up what you're gonna do next. People always ask us "Are you real? Is Die Antwoord real?" and it's because they have this pure sense of what reality is. There's documentary, and there's fiction. For me, what Die Antwoord does is make up things. We are artists. We create fucking ideas like everyone in their day-to-day lives. You can go with the fucking flow and, like, sit there and have no impact on the documentary going on around you, or you can create things. Elliott, have you read the new Steve Jobs book?
I haven't.
I just started reading it. He had this term where you can, like, distort reality. Reality is a weird concept. It's a heavy word. It's not a play-play word. Reality is perception, some people say. And it's not fucking crystallized. Maybe the past is, but the future is completely lucid. What happened, happened. With documentary-fiction, we fuse the world that's happening around us—which is our roots—but fiction is how we inject the day-to-day decisions we make into it. We create our own reality. If you have no roots, then it's just pure imagination, so we have roots in the documentary.
Like, I don't want to be broke anymore. I don't want to fuck around in South Africa anymore. I don't want to be rapping for 50 people. We wanted to blow and go everywhere. But with all our roots in the South African documentary around us, we completely designed and created and dove deeper until our ultimate, full-force selves—we became these full-flex fiction beings—and that's when we fucking penetrated and we created the world around us. It sounds like a fucking science-fiction novel. But you can't make up these fake stories, and you can't live in a fucking reality TV show like fucking Ozzy Osbourne, and the dog, and the fantasy is like hippie and Peter Pan shit, but if you can combine some sorta strong, like, master of reality shit, and be creative with roots in the society… that's our style.
We broke into this water and went deeper and deeper, and it got scary, like deep sea diving. It's just the best. I just dive into this unknown zone of unlimited fucking… no restrictions. As long as you maintain your hardcore creativity, and keep your roots in the documentary, then a strange thing occurs and you become able to warp reality.
Die Antwoord perform Thurs., Feb. 9, 8pm. $24. Trocadero, 1003 Arch Street. 215.922.6888.