March 6th, 2012
The Magnetic Fields are an often polarizing force – you either love them or hate them. And that may have something to do with the fact that Stephin Merritt – the multi-instrumental studio tour de force who's the brain behind the band's braun – tends to have grand ideas. This is to say that each record is so different, both in sound and scope, and there are some records that even fanboys are mystified by. For instance, still contentious is the Fields' 1999 release of 69 Love Songs, which are, in fact, 69 songs on one album about love. Before their brand-spanking-new release of Love at the Bottom of the Sea (Merge), Merritt and Company seemed to swear off electronics beyond amplifiers: no synths, no synthetic beats. It was a rough stretch to get through for some, but with today's release of Love, fans can rejoice a certain return to form.
With I (2004), Distortion (2008), and Realism (2010), they did show us that they're more than just a melodic and sophisticated synth band. It's true, they know how to wield an axe and Merritt knows how to play down his queer quotient. In fact, Merritt's voice is a pliant instrument in its own right, with great range and depth. But through it all, it's his lyricism that holds it all together. As the primary songwriter, his songs have always been nothing short of clever, smart and romantically edgy. His songs about love have always held a weight and truth that is both hard to deny and sometimes difficult to digest. They're usually brutally honest and graphic in nature. Take the new single from the new record, "Andrew in Drag," embedded below. It borders on Not Safe For Work (NSFW) status, though, so don't let it rip if you're not prepared to see a little tit.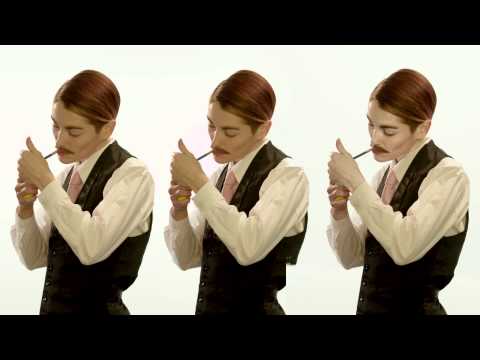 It's always cool to catch a band at the beginning of a new chapter. It should be interesting to watch the Magnetic Fields mature beyond this brand new record. And tonight they're going to be working with piles and piles of material (which is pretty much all on Spotify). Fans who are well-versed in the band's catalogue should expect a heavy emphasis on the new LP, but will they rehash a bunch of their anti-synth trilogy or dig deeper and pull out some of the 69 love songs? Regardless, they'll share a bill with Bachelorette and, unfortunately, the tickets are a little steep at $32.50. I guess that's what you can do when you've been churning out smart records for the past 20 years and have a cult following. We're happy to have 'em!