April 4th, 2012
"The eponymous school is at least one bell short, following the departure of founding member Claudia Deheza—and naturally that affects the chemistry of this dreamy, beat-shocked outfit. Their third album, Ghostory, finds Benjamin Curtis, once of Secret Machines, bringing guitar sounds to fill the space left by Deheza's absent synthesizers, and, in the process, injecting grit and heat into the mix. Meanwhile, remaining band founder and twin sister Alexa Deheza may no longer enjoy the eerie harmonic support of a voice genetically identical to her own, but she instead finds clarity in more traditionally structured melodies. All this bodes well for the live experience—as does the final cut on Ghostory, "When You Sing," a long, ecstatic exploration of the joys of beat, repetition and ethereal melody." -Jennifer Kelly
Wed., April 4, 8pm. $13. With Exitmusic. Johnny Brenda's, 1201 N. Frankford Ave. 215.739.9684. johnnybrendas.com
In support of Jennifer's praise, check out a little bit of Ian Cohen's Pitchfork review of the record (they gave it a 6.9):
""Disconnect from desire" is the sort of message usually encoded within salt-of-the-earth folk or new age unicorn fantasies, so it was easy to view School of Seven Bells' second album with suspicion. After all, its immaculate textures and brisk, glossy electro-pop are the kind you hear in moderately high-end clothing stores or spinning classes– places where people reconnect with their need for quick fixes. But SVIIB's career to date has been a process of streamlining and economization: since their 2008 debut, Alpinisms, they've continuously pared down song length, sonic clutter, as well as personnel, and now onGhostory, Alejandra Deheza and Ben Curtis come across like they've achieved a Zen sort of perfection as a duo. Whereas the sound they courted on Alpinisms intended to recreate the overwhelming physical bliss of shoegaze, Ghostory takes after a fundamental meditative tranquility, where thoughts and emotions are acknowledged as they pass through the calm without being judged as intrinsically good or bad.
Though Ghostory claims a conceptual framework involving a "young girl named Lafaye and the ghosts that surround her life," plainspoken song titles like "Love Play" and "Show Me Love" give you a fairly accurate survey of what to expect topically. And perhaps the departure of Deheza's sister Claudia from the fold resulted in SVIIB jettisoning the insular mysticism of old for intelligible emoting– "The light of day gives me no relief/Because I see you in everything," "You take my love and leave me empty/ And all you feel is a fist of draining sand." Those are the first lines on the first two songs, and Ghostory ultimately invests in the strange tension they achieve by Deheza's frictionless vocals."
Still not convinced? This video should do the trick: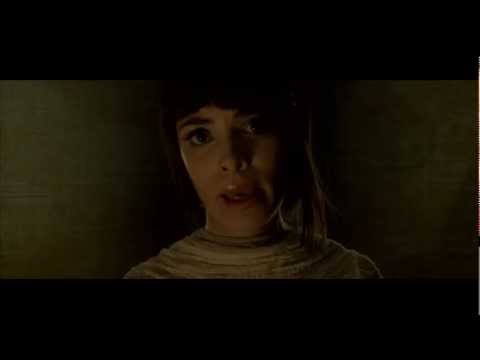 P.S. They're sexy.