Walter D. Palmer Students March on District Headquarters, Demand $1.7 Million from Ackerman (UPDATE: Video)
While most kids in Philadelphia headed back to the classrooms today, students from the Walter D. Palmer Leadership Charter School got a real-world lesson in protest and activism. About 500 students, parents, teachers and administrators from the Northern Liberties school marched down Broad Street this morning to the Philadelphia School District headquarters on Spring Garden.
Once there, the group spent an hour out front giving speeches and chanting for Superintendent Arlene Ackerman and School Reform Commission Chair Robert Archie, who didn't show.
At issue is $1.7 million that school founder Walter Palmer says the district owes the school for three years of operation as a high-school. Palmer's charter agreement capped enrollment at 675 students for a K-8 school, but he says he expanded to include grades 9-12 based on an oral agreement with former Superintendent Paul Vallas.
The district never paid for the expansion, and the school, currently serving 925 children, is operating at a deficit, Palmer says. "The charter school office failed to do the resolutions and paperwork they were supposed to do. As a result, the district has ignored paying us," he says. "The money went somewhere. We've been educating these children. Where'd the money go?"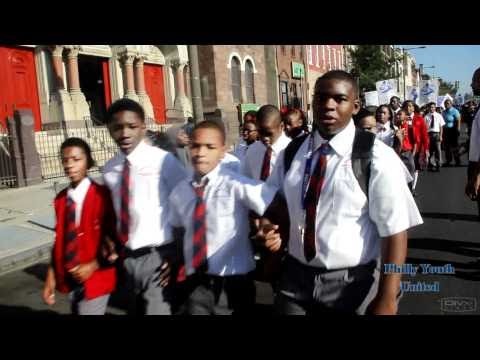 Palmer is a veteran of school activism, having led a student walkout 43 years ago today in Philadelphia demanding more black representation in school administration and on the board. "I went to jail in '67 and I was prepared to go to jail today to make the case," he says. Fortunately for students who may not have wanted their real-world education to extend to the inside of a prison cell, no arrests were reported.
Representatives from the district did not immediately respond to request for comment, but they have snubbed Palmer's demands in the past in the Inquirer:
"Walter D. Palmer Leadership Learning Partners Charter School is out of compliance for enrollment," Lisa Mastoon, a district spokeswoman, said Wednesday [August 11]. "The school was never authorized by the SRC to serve more than 675 students."
By noon, the protest was over, but it was still the first day of school– so the kids went back to the classrooms for some old-fashioned book learning.
Photos and video: Tyree Dumas