Nutter Raises Rainbow Flag at City Hall for LGBT History Month (Video)
Around four p.m. Wednesday afternoon, a group of guys carrying skateboards walked past a rainbow flag flying outside City Hall. "That looks gay," one of them said. He was right.

Had the skaters been there two hours earlier, they would have seen hundreds of people cheering and singing as the flag was raised in honor of Lesbian Gay Bisexual and Transgender (LGBT) History Month. Mayor Nutter along with Director of the Office of LGBT Affairs Gloria Casarez and various leaders of the queer community spoke at the event, a symbolic ceremony to let the public know that no matter how you identify, you belong and are welcomed here in Philadelphia.

"As Americans, we all have rights," Nutter said, addressing the gathered masses. "We're certainly going to be able to exercise them here in Philadelphia."
"We love you, you love this city, we're in this together," the mayor told the crowd.

Among other speakers were Adrienne Williams and Shayna SheNess Israel, co-executive directors of Elements Organization for LGBT women of color; Malcolm Lazin, executive director of Equality Forum and Chuck Volz, senior adviser for Philly Pride Presents.
"This is the only minority community worldwide not taught its history in schools, religious institutions or at home," Lazin said in a short speech. LGBT History Month is an attempt to address the discrepancy, with events throughout October aimed to illuminate and celebrate the historical struggles, triumphs and challenges yet to come for the LGBT community.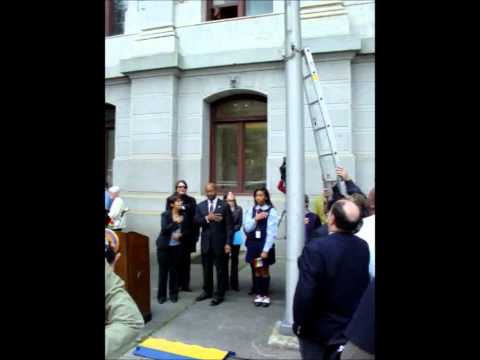 The Philadelphia Gay Men's Chorus sings the national anthem while the rainbow flag is raised into place.
Wednesday's ceremony was especially poignant in light of seven suicides across the nation in the last month and a half, all tied to sexual orientation related bullying and harassment.
"Certainly I think this year's LGBT history month is overshadowed," Casarez said after the flag-raising. "Normally we're celebrating the events and achievements of the community, but this time around we're in mourning."
She pointed out that while the recent suicides were by teenagers in high school and college, the threat of violence is still real for LGBT community members of all ages. "We've also had recent occurrences of adults who were attacked, transgender people who were assaulted here in Philadelphia," said Casarez. "It's not just about young people."
Rue Landau, executive director of the Philadelphia Human Relations Commission, said that nationwide, 85 percent of LGBT students reported being victims of harassment, and 20 percent of physical intimidation or assault. The suicide rate of LGBT teens is three to four times higher than for the overall population, she said.
By raising awareness and creating positive outreach, organizers and participants hope that LGBT History Month can help foster a climate that discourages violence and bullying. "We will not tolerate this behavior here in Philadelphia under any set of circumstances," Nutter said. "We're going to fight discrimination anywhere we can find it."

Some of the events to follow in upcoming weeks, from a Mayor's Office press release:

National Coming Out Day in Philadelphia will be hosted by Philly Pride Presents on October 10, 2010.

The LGBT Elder Initiative Summit will be hosted on October 15, 2010 at the William Way Community Center. The Summit will assemble providers from LGBT and aging service agencies and community leaders to address the challenges facing older adults in the lesbian, gay, bisexual and transgender communities.

The Second Annual LGBTQ Womyn of Color Conference will be hosted on October 8, 2010. The 2010 theme is "Crossroads & Crosswinds: Connecting                 Across Race and Space".

31 GLBT History Month Icons will be featured each day of October on

www.glbthistorymonth.com

.
The gathered crowd brought their own rainbow flags to wave in celebration and in mourning.