District Council 33, Still Without Contract, Threatens Strike [VIDEO]
The workers are getting restless.
Hundreds of members of District Council 33, the city's blue-collar municipal union, descended on City Hall today to protest their lack of contract– and threatened to strike if progress isn't made soon. "We want what's fair," DC 33 President Pete Matthews told City Council members during a public comment hearing, to raucous applause from the crowd. "Don't force us to cause a problem that we don't want to do."
It's been nearly four years since the union last had a pay raise. Mayor Nutter originally negotiated a one year extension of their previous contract in 2008, and the two sides have not since come to an agreement on a new one. The administration has said repeatedly that it refuses to sign any deal without concessions on pension and health care costs. To outward appearances, the delay is also a way to save money by putting off pay hikes for the city's nearly 10,000 sanitation, maintenance and other blue-collar workers.
Put it off no more, said Matthews, who has endorsed Milton Street for mayor in May 17's democratic primary election. "We haven't had any increases in four years!" Matthews said in a fiery speech while his members held up signs, roared in approval and broke into chants. Cries of "Do the right thing!" and "He [Nutter] stabbed us in the back!" rang out from the audience. Council President Anna Verna banged her gavel a number of times to quiet the room, and at one point with a wry smile told the crowd, "We hear you loud and clear."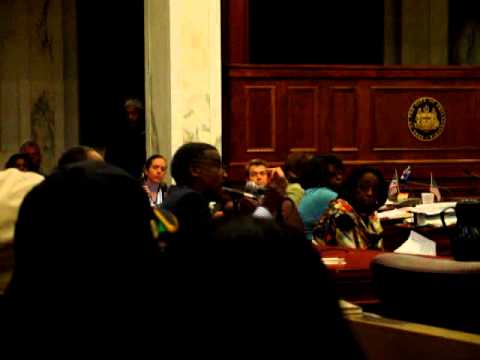 (Poor quality) Video: "We will do whatever we have to do . . . Believe me, it is not idle talk–" District Council 33 President Pete Matthews
Council does not participate in contract negotiations, but does control the budget process that could allow for the desired raises. Several members spoke up in support of DC 33 without making specific promises."When in the past it came to a tax raise to support the salaries of our workers, watch how we vote," said Councilman Curtis Jones. The crowd met the Council speeches with a mix of approval and skepticism. "We'll vote your ass out!" yelled one man from the balcony.
Matthews several times said that the union has been willing to forgo the raises up to this point, in what he deems an effort  to pitch in while the city floundered in recession. But now, he hinted darkly, labor peace will be short-lived. "All we're asking for is fair treatment to go forward from this year on," he said. "We will not be abused!"