SlutWalk Rally in Center City Seeks End to Culture of Victim-Blaming [VIDEO]
A petite 20-something girl is topless except for tiny bits of tape covering her nipples. She's holding a pink poster that reads, "I wasn't dressed like this when I was raped." She hoists the sign high above her head as a professional photographer—one of at least a dozen—snaps photos of her.
Looking on is 48-year-old Lisa Hansen, a tourist from Blair, Nebraska who stopped to watch the rally. "It's a great cause," says Hansen. "However I'm very disappointed. Why do they have to dress like that? What the hell is the point … of dressing half-naked?"
Yeah, there's a woman wearing nothing but Wonder Woman Underoos and boots, and a few girls in shorts and fishnets, but the vast majority are dressed for a typical summer day. Only about one in 30 are dressed like the photographs that typically accompany media coverage of SlutWalk, an international campaign that seeks to end the culture of blaming women when they're sexually assaulted.
Still, there was a lot of gawking this morning as SlutWalk Philly participants gathered in Kahn Park on 11th and Pine streets and then marched through Center City.
Hansen, who's watching photographers flutter around bare-skinned girls like bees to pollen, says [dressing provocatively] degrades the point. "They're the ones that will be remembered," she says, gesturing at the topless girl. "She's hurting our cause … That's what the [trial] judges that they're trying to reach will remember."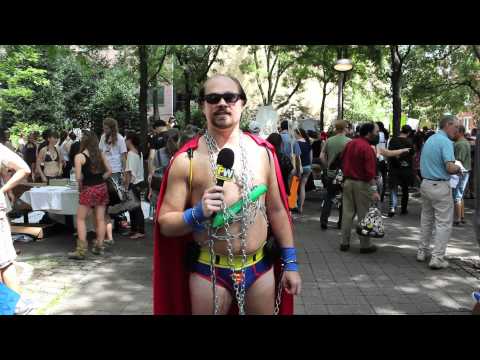 When it's speech time, the crowd moves to Dilworth Plaza. A guy named Tim—one of the relatively few men in the crowd—stands alone in the sun with his dog. "My wife was raped as a child," he says. "So this has become a subject close to us."
Standing nearby is 28-year-old Evan Hoffman. He's wearing a T-shirt that reads, "Straight but not narrow." "It seems that we have a real harsh and unjust environment for women," says Hoffman. "It really appalls me. I'm out here in solidarity to say [to women], 'Wear what you want. Rock your shit. It has nothing to do with me.'"
Between speakers, the participants chant. "Hey hey, ho ho, Dan Rottenberg has got to go!" is the current one, a reference to the Broad Street Review editor's now-notorious victim-blaming editorial (which he since recanted).
"Rape is about power, not sex appeal!" yells a woman with the megaphone. One of two guys watching at the plaza snorts and cups his hand around his mouth. "I don't know about that!" he yells back into the crowd.
The woman with the megaphone yells again, this time something about how rape is about pain and sex is about pleasure. The guy hears "pleasure."
"I'm for that!" he yells.
When asked what he means, the guy panics. "Oh, she said something about how women are dressed is all." When told what was actually said, he backpedals. "Oh, I guess I misunderstood. Sorry, maybe I made a mistake. I'm for what the cause is."
What cause is that?
"Uh, they don't want to be assaulted?"
State Sen. Daylin Leach (D-Montgomery County) takes the mike. "I've been very concerned. For the last couple of years we've seen a war on women waged throughout this country. I want you to know which side I'm on."
Leach went on to discuss anti-choice legislation that's on deck in Pennsylvania and around the country and requests "hard and cold" political participation from the crowd.
When poet and speaker Aishah Shahidah Simmons addresses the crowd, she comes on like a lion. "History has shown it is our bodies that catch the most hell," she says.
Simmons acknowledges the tension between activists, who all agree with the baseline message of SlutWalk, but disagree on the best way to get that message across to lawmakers, men and the media. "There are many who say SlutWalk sends the wrong message," says Simmons to the crowd. "Well, what's the right message?"
Photos: Angelo Fichera