Is Tom Corbett the 'Worst Governor Ever'?
It depends on what you mean by worst. And ever.
But, here we are, and the Transport Workers Union has started a website called WorstGovernorEver.com, in which they're asking you, the porn-obsessed Internet dweller, to vote for who you think is the worst.
According to a TWU press release, "This historical election comes at a time when governors across America have coordinated attacks against the middle class from eliminating collective bargaining rights to decimating public services…This election will expose the extreme agenda of reactionary governors and let Americans send a message to the governor of their choosing that he or she is the worst governor ever."
There are nine governors in contention, of which Governor Tom Corbett is one. And you can vote for him through the website or other "new media" things. Corbett's attributes for Worst include having "pushed budget with huge cuts to education," "refuses to tax wealthy gas drillers" and "demanding state workers to take pay cuts."
Of course, in this world of voting for who is the worst, and best…ever…Corbett's clearly been beat by a horde of wingnuts swept into office by pure, unadulterated misery and beatdowns by the hands of life in 2010. People like Rick Scott, of Florida, Scott Walker, of Wisconsin and other Koch-appointed right wing Mad Libs-legislators have likely been far worse than Gov. Corbett. And you can vote for them, too. Which is pretty sweet.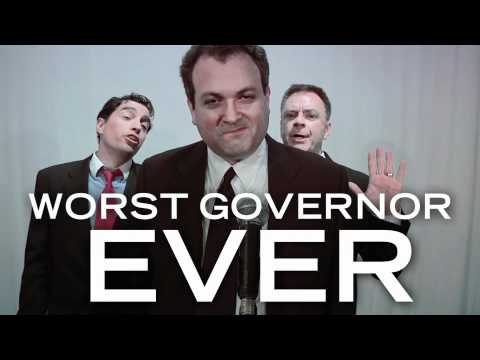 And since we're speaking in the "ever" sense, shouldn't we at least have governors to vote on who are not necessarily in office right now? It doesn't fit with the activist attempt of this particular campaign, but the word is there. And, I mean, there's always Jim Gibbons. He's the recently-former Nevada head of state whose courtship with that state capitol was defined by a "drunken rampage against a cocktail waitress in a Las Vegas parking garage," FBI-investigated kickbacks from Nevada businessmen, getting photographed with former Playboy models in Reno and sending lewd text messages to various women with whom he had affairs, without any significant legislative achievement, because, hey, he was busy.
Edwin Edwards is another we could probably see on this list. The four-term governor of Louisiana once famously said of payoffs to himself and his campaign, "It was illegal for them to give, but not for me to receive." Dude was found guilty on counts of mail fraud, wire fraud, money laundering, racketeering, extortion and a bunch of other things, for which he was imprisoned from 2002-2011.
And what about Sarah Palin? She was only governor for two years, before quitting to party in New York City and Tweet grammar-free resentment, encouraging radio talk show hosts to continue making racist statements.
And they were all in office during the last decade.
So, I'm just saying. Ever might be a bit harsh.
But, in case you're wondering, the latest updates show Rick Scott in the lead with 35 percent of the vote, followed by Ohio Gov. John Kasich, who has 32 percent and then Scott Walker. Which means Corbett needs your help.