Fight For Philly Takes Bus Tour, Meets Occupy Philly & Confronts Republicans [VIDEO]
Local nonprofit Fight for Philly allowed me onto their ironically named Infrastructure Garden Tour yesterday. It consisted of two school buses that took two groups of volunteers and canvassers through North Philly and Southwest Philly to pre-chosen sites where houses have been foreclosed upon, infrastructure is crumbling and citizens are often desperate.
"[Sen.] Pat Toomey voted against the American Jobs Act," screams Fight For Philly organizer Jasmine Rivera, standing at the front of the bus as it makes its way up Germantown Avenue. "He thinks that really what we need is big corporations getting another tax cut. Has anyone on this bus gotten a job because a corporation got a tax cut?"
"No!" the 12 or so riders respond.
Rivera, like many in Fight for Philly, has focused much of her populist anger on Toomey and Wells Fargo. And not just because Wells Fargo is a bank. Or because Toomey is a politician. But because of the swaps deals the bank participated in with the local and state governments. And because of Toomey's uncanny ability to shrink himself down and hang out inside the pockets of big banks and Wall Street firms.
See, it was pretty under-reported, but Wells apparently told several state and local governments (including Philadelphia) that agreeing to a risky interest rate swap agreement would save them money on borrowing costs and, of course, the opposite happened. "Banks made millions in profit from these toxic deals, even as our governments are suffering from crushing budget crises," according to Action United. Oh, and the Philadelphia School District lost $63 million buying their way out of the deal, and the bailed-out Wells Fargo actually charged the district interest.
Further along Germantown Avenue, Rivera begins rallying the vehicle's occupants and practicing chants for later, when they'll gather at Wells Fargo and then at Toomey's office. "Who broke Philly? Wells broke Philly!" goes one. Another: "Hey Pat, what do you say? Where are the jobs we need today?"
If you haven't heard about Fight for Philly, maybe it's about time. We described them last time we kicked it as "a young grassroots community group dedicated to long-term change in the city, neighborhood-by-neighborhood," which, not that I'm biased toward my own description-writing or anything, is pretty accurate.
"I think the legislators need to do something about [the swaps deal] and get some of that money back," says Richard Dickens, who's sitting next to me on the bus. Dickens is a canvasser with Fight for Philly, who recently left his city job, he says, because he wanted to help people who've been beaten down by the recession.
Dickens says his son goes to Mastery Charter School and even they've seen signs of the recession. "He hasn't brought a textbook home yet," says Dickens. He also says the first week of class, instead of the usual school supplies, kids were required to bring handkerchiefs, napkins, paper towels, toilet paper and other basic requirements due to a lack of funds.
"When I was in grade school, we used to have a textbook for each class," Dickens says. "[My son] just brings home photocopies from the books now." Dickens says that's a common occurrence in today's Philly schools.
Dickens canvasses neighborhoods all over Philadelphia. And his understanding of the school swaps information is deep. He recites several numbers—including the bank's interest rates in the deal, and how much the city and school system lost—that he knows by heart. When going door-to-door in the city, he says the best way to explain the problem to parents and grandparents is to relay his own experience. "I just say, when was the last time your kid brought home a textbook instead of photocopies from a textbook?'" he says.
At each stop—21st and Dauphin, 3974 Germantown, 4546 North Broad, Kensington and Tioga—more Fight for Philly volunteers and those seeking help from the organization get on the bus. Rivera and FFP Assistant Director Devorah Fried greet them, and then get back up to the front of the bus, giving statistics of what financial institutions and Congress have done to America.
By the time we head to Center City, the bus is filled to capacity.
Every time we travel under a bridge, Rivera and Fried give statistics about how Pennsylvania's infrastructure is crumbling and at this point, there's no real way of knowing when the city's bridges will fall or who'll be on them when they do. She says this, of course, stopped at red light on North Broad, a bridge directly above our heads. "Couldn't we put some people back to work on our bridges?" Fried rhetorically asks.
We get on 95 at Allegheny Avenue, at which time Fried summarizes the plans. "So, we took a tour of the suffering and then we are taking our fight downtown," she says. "First to Wells Fargo, one of the bad actors who has cost this city an enormous amount in the risks, the swaps that the school district is stuck paying…then we'll take the fight over to Pat Toomey's office, who thinks, no, we don't need the Jobs Act, actually what we need are more tax loopholes for big corporations."
Rivera gets up, tells the bus that the CEO of Wells Fargo makes $13,000 per hour, which shocks many. "I don't care what anyone says," she says, "what he's doing isn't worth that much money. And without us, they ain't got shit!"
"You went there!" someone in the back hollers.
"I live there," she responds.
The demonstration in front of Wells begins at 4.
A crowd of 50 or so people stand in front of the bank's 15th and Market branch, chanting many of those same chants repeated on the bus. Occupy Philly protesters join the fight, too, as do members of the Philadelphia Unemployment Project, and passers-by.
No one's allowed into the Wells Fargo office to speak with the bank. And when one member of the protest tried to go in to—since that protester was a customer—it turned out the bank was closed. Demonstrators chanted "Shame" at the bank.
"Philly's finest are doing the work of the Chamber of Commerce!" someone yells through the bullhorn.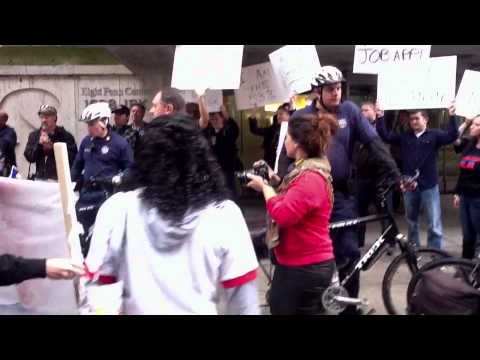 They march through Dilworth Plaza, picking up some Occupiers on the way, chanting "Fired up, can't take it no more!" and other chants that were practiced on the bus.
"I'm doing this for my future kids," says Rea Briggs, a volunteer with Fight for Philly, on the way to Toomey's office. "This is a two-way street. We all have to support each other."
When they show up at Toomey's office, seven Temple University College Republicans are waiting for them, standing with white signs behind a wall of bike police.
I'm allowed back to speak to the College Republicans, but they don't have much to say.
A girl named Beth holds a sign reading, "We are the 53 Percent," which is sort of ironic in its own right. She's a supporter of Pat Toomey, she says, and wants the world to know that not all young people stand with Occupy Wall Street. She doesn't answer any more questions.
Another, who says his name is Eric, says, "They're not the 99 percent," referring to the Occupy Philly, Fight for Philly and Philadelphia Unemployment Project demonstrators.
"Then who are they?" I asked.
He didn't answer.
"What do you think they're here for?"
"It's hard to know what they're fighting for," a third who does not provide a name chimes in.
Another girl holds a sign reading, "I love capitalism." She says she has no comment.
They stand silent as the protesters take turns at the blowhorn. Pat Toomey's office is closed. But someone going into the building in a suit taps a Temple student on the shoulder and says, quietly, "You guys are awesome."
A guy who says he's a journalist begins screaming at Jasmine Rivera. "He was going off on defecating on City Hall, urinating, things like that," she later tells me. "He was probably hired by the Republican National Committee."
After several speakers, the Temple students are publicly invited by an Occupy Philly protester to come to Dilworth Plaza for a "friendly conversation" where she says they'll be "indefinitely."
Then the protesters leave, chanting, "We'll be back, Toomey."
Would the Temple students join the Occupiers for that friendly convo? I ask.
No answer. Or eye contact.
"I'm not with them," I tell the students. "I'm press. I just want to know if you're going to take them up on the offer for a conversation."
No one says a word, or makes eye contact. Baffled, I'm about to leave with a shrug when one responds: "No comment."
Click here for a gallery of yesterday's events.