Occupy Protests Spread Worldwide, Celebrate Day of Action
Occupy Wall Street started one month ago today, and the Occupy Together movement—the offshoots springing up in cities around the world—celebrated a Day of Action this weekend. Here's a roundup about the controversial movement.
In New York, the Long Island Press reports 90 people were arrested over the weekend, 23 of them at the La Guardia Place Citibank. That paper reports that authorities say they detained the protesters for trespassing, while reports "went viral" of the protesters trying to close their accounts. Citibank maintains they were disruptive, and only one had tried to close an account—and was accommodated. Another 42 were arrested in Times Square.
Outcries over police brutality continue: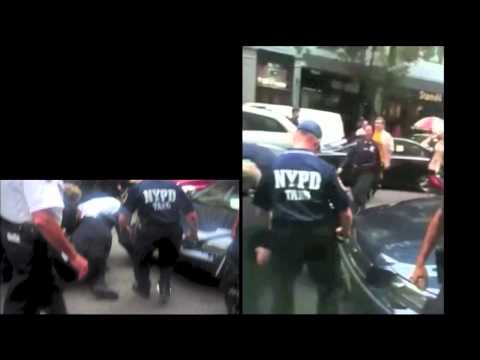 Since its birth, Occupy Wall Street has seen 700 get arrested on the Brooklyn Bridge; women getting pepper-sprayed by police; Jeff Magnum of Neutral Milk Hotel performing; and Geraldo Rivera getting taunted about his mustache being fake when he tried to broadcast from Zucotti Park for Fox News. It's kinda hilarious:
And hurr:
Here in Philly, police and the press—plus a number of commentators online—are deriding the Occupy movement for costing the city hundreds of thousands of dollars for police overtime. Occupy Philly is discussing whether to move when construction begins on Dilworth Plaza next month.
So far, the best sign this reporter has seen was held by Justice, whose blindfold was slipping off while trying to hold up the caption, "What's up with this jawn?"
In our nation's capital, 19 were arrested on the steps of the Supreme Court, including civil-rights activist Cornel West, on Sunday.
In Rome, the day of action turned violent when the crowd of 200,000 went chaotic and began throwing stones and bottles at police in riot gear, who in turn used tear gas and water cannons on the rioters. Estimates range from 70 to 135 people injured, and the Italian prime minister called for the world to condemn the protesters without reservation. Some news outlets report that the peaceful occupation and protest was hijacked by rogues.
Denver police arrested 24 after using pepper spray to move a crowd of thousands who occupied a major intersection in the city. One major news outlet reported on the day here.
Last night, 175 protesters were arrested in Chicago when they relocated their camp to Congress Plaza.
On Saturday, 3,000 were at Occupy Seattle and took to the streets, but police moved in this morning and shut down the camp for park cleaning. Those who did not move their tents were arrested.
Nearly 100 people were arrested during protests in Tuscon and Phoenix in Arizona. It was yet another case of refusing to move after a park closed for the night.
The Boston Globe reports that the Occupy movement is seeing more diversity after 141 were arrested last week near the Quincy Market.
Five people were arrested in San Francisco by police in riot gear who took down tents and gear and loaded them into city trucks. Over the weekend, 5,000 marched to City Hall, while another 2,500 rallied in Oakland.
Four were arrested at Occupy Fort Worth, Texas.
Protesters were also arrested in Gainesville, Florida; and Raleigh, North Carolina.
Anti-war activist Cindy Sheehan was arrested in Sacramento, along with 18 others.
Besides the scores of protests in the U.S. of A.—including Minnesota, Montana, Atlanta, Portland, Miami and others not named above—there are occupations springing up worldwide: Liverpool, Prague, Tokyo, Vancouver, Berlin, Moscow, Amsterdam, Tijuana, Zurich, Warsaw, Sydney, Kuala Lumpur, Johannesburg, Buenos Aires and more.