Three American Undergrads Arrested During Egyptian Protests
Three young hucksters, including a sophomore at Drexel University, were arrested in Egypt during protests on Monday night – those radical scamps.
The Egyptian police, which is beholden to the military, which was supposed to be an interim government, but won't cede power, after the ouster of the dictator due to mass protests last spring, arrested the three young men for allegedly throwing Molotov cocktails at police who were guarding the Interior Ministry in Cairo.
The three men – Gregory Porter, 19, from Drexel University, Derrik Sweeney, 19, from Georgetown University, and Luke Gates, 21, of Indiana University – were exchange students at the American University when protests reignited over the military's failure to hand power over to civilian, democratic rule. Videos show they, indeed, were in the throng of protesters getting gassed and throwing rocks and bottles at riot police.
It's unclear whether the charges of hurling the Molotov cocktails are valid or not; in the Twitter realm, Sweeney had tweeted about throwing rocks at police, and Egyptian police video shows the three men in possession of bottles with murky liquid in them; but citizen commentators on the interweb are skeptical. Apparently the Egyptian government isn't past lying to forward their agenda. They ought to learn a thing or two from America about accountability.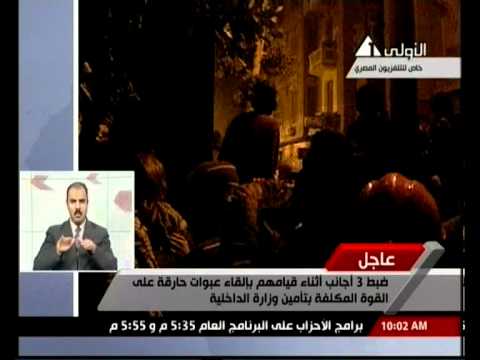 CBS News posted a number of Gates' tweets preceding his arrest:
Nov. 21: reports of tear gas being fired from AUC campus on Tahrir, university officials have started investigating
Nov. 20: back to tahrir tonight, as police set fires to everything, no doubt they will blame it on protesters
Nov. 20: earlier tonight rubber bullets a charge and then a retreat, my knee and elbow are fucked up #toolegit seeing all of this #tahrir
Nov. 19: 6 hours at tahrir, enough tear gas for tonight
Nov. 19: we were throwing rocks and one guy accidentally threw his phone =(
Nov. 19: now class? ugh. my arm is sore and my eyes still burn a little
Nov. 19: saw them hanging from the bridge, and you realize death is the only thing thats immortal
Nov. 19: its only scary cuz i feel so reckless
Nov. 19: yes live bullets we have the shells, i was here!!
Nov. 19: wish the protests in new york looked like the ones in tahrir. #pussies
The boys may scarce realize the celebrities they've become here on the internet, being held up in an Egyptian jail and all; comments run the gamut from calling them "stupid shits" to thanking them for their support: "Don't worry, you will be released soon, if you were Egyptians you would be now dead or blind." Meanwhile, the U.S. embassy is trying to go through diplomatic channels to vie for their release.
And this is what a descent into chaos looks like: