51 of 52 Occupiers Released From Jail After Wednesday Morning Arrests
This morning, someone posted to Occupy Philly's Facebook page, "OP needs to advise its arrested participants to spread the word in jail when they're arrested. Let's get THAT 1% of the population on our side! Imagine if the cops were afraid to arrest us because we'd be spreading the message wherever we were."
And that seems to have been the case with the 52 protesters incarcerated at the Roundhouse from early Wednesday morning to evening. According to one report, Occupiers began chanting, "We are the 99 Percent" from their cells, and the rest of those staying at the Roundhouse joined in.
About 100 Occupy Philly protesters made their way down to the Police Headquarters at last night to show solidarity with the reported 52 (not 44) Occupiers who were handcuffed and put away Wednesday morning during and after the police raid upon Dilworth Plaza. They would be surrounded by riot police, though no violence occurred.
According to Mayor Michael Nutter (who was mic-checked yesterday during a speech at Harvard), two police officers suffered "minor injuries" while arresting those on 15th Street, though Occupy says more of its own were hurt, including a woman who was trampled by a police horse.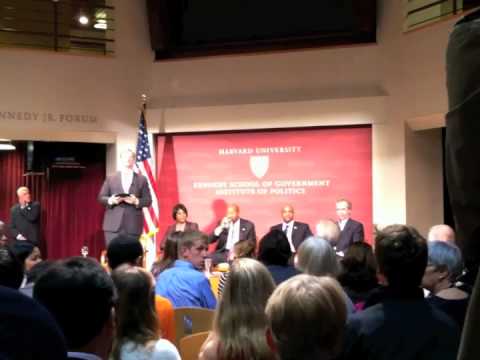 By 11 p.m. last night, 48 protesters had been released from jail as protesters chanted "This is what democracy looks like." Occupiers on the scene were encouraged by their brethren to "yell it loud enough so people inside can hear."
As protesters were being released from jail, Occupy Philly posted to its Facebook page, "Occupiers being released from jail now, after 14+ hours! Banksters still roam free."
The Occupation was joined by Marxist geographer and college professor David Harvey who spoke to the crowd throughout the night, told them "Most people are on our side"—the best example of which, he said, is that the Occupy movement has changed the nature of conversation (from "debt" to "jobs") in the country. Which many Occupiers take pride in.
One woman who lives in an apartment complex across the street from Police Headquarters tells me she wishes the Occupation would just stop.
"People in my building were complaining that they could hear the protesters shouting from inside the [apartment] building," said the woman, who asked to remain anonymous. "I don't understand why they are targeting the Philadelphia police who, compared to other cities dealing with the occupiers, dealt with this situation very professionally. I think the occupiers have made their statement, and now it's time to move on and stop engaging in a course of conduct that is wasting so much of the taxpayers' money."
As of this morning, 51 of the 52 arrested had been released from the Roundhouse. The other, according to Julia Alford-Fowler, of Occupy Philly's Legal Collective, "is being held on unrelated issues and he will not be released until those issues are resolved."
Charges for protesters arrested on Wednesday morning varied. "The most common charge was defiant trespassing," she says. "I think they may have gotten criminal conspiracy charges and blocking a highway."
The ones that were arrested on 15th and Hamilton were given charges of failure to disperse, though, according to Fowler, "There was no dispersal order given." (Note: I was in one of the clusters of people arrested on Wednesday morning, and did not hear a dispersal order, either.) "They were told to get on the sidewalk and they would not be arrested. And they got on the sidewalk and [the police] still arrested them."
Many Occupiers believe Mayor Michael Nutter and Police Chief Charles Ramsey were behind the arrests because they were worried about rush hour traffic.
The general feeling after last night's protest was that the fight will continue, whether the coming two years of Dilworth Plaza renovations have taken their space or not.
Some Occupiers headed up to Jamestown, PA today to protest a teargas plant which sells to countries across the world (they get our teargas, we get their T-shirts?) and on Saturday, Occupy Philly will hold a "We the People" march from 15th and Market to Independence Hall.