Now is the Santorum of Our Discontent: Live Blogging the Iowa Caucuses
Here's what's happened so far:
God created the earth, a fish walked out of the water, Mitt Romney began running for president and didn't stop for four years. But Republican voters were never too happy about him having once been an abortionist, then a universal healthcare advocate, and a Mormon, so they looked other places. As it happened, every other Republican candidate in 2011 (Newt Gingrich, Michele Bachmann, Herman Cain, Rick Perry) shot to Number One in the polls, only to crash and burn within a week.
Then there was former Pennsylvania Senator Rick Santorum and Texas Congressman Ron Paul. Both began their anti-Romney surges just before the Iowa caucuses (which happen today) and both have the potential to really ruin this thing for everyone else. They also come from completely opposite places on the Republican  X/Y axis. Below, find a live blog that'll be updated throughout the day. Check the latest at the bottom of the page.
The Hill is reporting that Santorum thinks Ron Paul is disgusting.
Rick Santorum blasted fellow Republican candidate Ron Paul as 'disgusting' following a media interview Tuesday morning, blaming the Texas congressman for a series of robo-calls insinuating that the former Pennsylvania senator was both pro'choice and against the second amendment.
Oh, come on: Iowa restaurant The Boone Pizza Ranch recently renamed one of their dishes the Santorum Salad. Anyone wondering why that is funny (both of you) need look no further than Santorum's Google Problem. But seriously, just come on.
Santorum claims he's raised more money in the last few days that he has in the last few months, which is probably true. Watch it: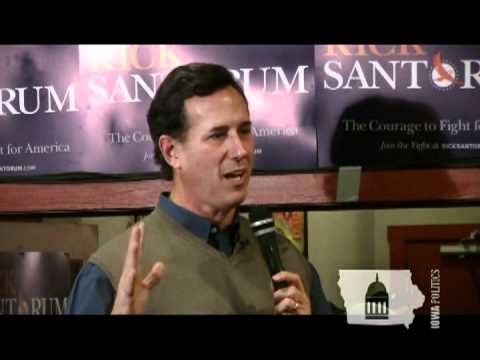 'Pull a Santorum' is now a thing and being said by Never-in-the-Lead GOP candidate Jon Huntsman whose ego has apparently kept him in the race. He's not even trying in Iowa (and actually smeared the state as one that picks corn, not candidates). He's instead chilling in New Hampshire, hoping to pull a Santorum, which apparently means a Tebow, or a Comeback.
So, Santorum's got no problems with affairs, no new ridiculous statements to uncover in his background, no real inconsistencies in his record (other than pork barrel spending, but only sort of), so what's the media in Iowa focusing on today? His sweater vests, of course! Sleeveless and V-neck!
In case anyone's unaware, the Iowa caucuses are not your run-of-the-mill pull the booth lever and leave. They begin at 7 p.m. and are a series of meetings (which differ for Democrats and Republicans). In the Republican caucuses, usually held at a school or other public building, candidate representatives are allowed to speak briefly, then participants vote either by a show of hands or paper ballot. The results are then reported to the media. Democrats have a much more "c'mon, my guy's better…c'mon!" process. Read all about it and/or see an awesome Infographic here.
Don't know how we missed this, but we did. Rick Santorum was glitterbombed on December 30. And his delayed response is to pray for the bomber. "I feel sorry for that man that he felt like he was compelled he had to do that. Like I do, what I'm supposed to do, is you know, according to our faith, is to pray for them, and I hope people work that out."
Don't tell Gov. Tom Corbett: Rick Santorum says states should have the right to ban birth control. More than 99 percent of all American women ages 15-44 have used some form of contraception (h/t ThinkProgress). "One of the things I will talk about, that no president has talked about before, is I think the dangers of contraception in this country…It's not okay. It's a license to do things in a sexual realm that is counter to how things are supposed to be," he said.
Chris Cillizza at The Fix put together a bunch of charts charting Rick Santorum's rise…in chart form! Read it.
So, it was reported that Rick Santorum told an Iowa audience yesterday, "I don't want to make black people's lives better by giving them other people's money," while making a larger point of cutting unemployment/welfare and bringing manufacturing jobs back to communities around the country. He was thrown a softball by Sean Hannity in regards to this quote, and responded, "I condemn all forms of racism and there's nobody who has done more as a Republican in the United States Senate to bring African-Americans into the party. Go ask J.C. Watts. Ask Michael Steele. I've worked with historically black colleges. I've done a ton of stuff. This is just someone trying to cause trouble."
The Obama campaign is sending around a "Promises Kept" video: "From ending the war in Iraq to making healthcare affordable for all Americans, providing a middle class tax cut and reducing our dependence on foreign oil, these are the changes that Iowans sought for our nation in 2008."
None of Romney's rivals in Iowa put out a negative campaign against him.
Here's something:
The completely unscientific Drudge Report caucus has Ron Paul in first place with 28 percent, then Mitt Romney, then Santorum at 18 percent. Note: All online polls favor Ron Paul.
Ron Paulians are spreading an article which partially blames Rick Santorum for 'Obamacare.' Here comes the logic, according to health supplement provider and right wing news source, Newsmax: In 2004, Rick Santorum supported his fellow Pennsylvania Republican Senator and comedian Arlen Specter over insurgent candidate and future Senator Pat Toomey. Arlen Specter would, in 2009, become a Democrat to get, as he put it, "re-elected," then voted for the new health care law. Game over!
FLASHBACK: A Santorum Iowa win was first predicted on Iowa TV's 'The Insider' on March 7, 2011. PhillyNow said as much on February 11, 2011, "especially considering newly-anointed birther Donald Trump is being tossed around as a viable alternative. And considering how crazy the right's become (Cheney came out at CPAC to Tina Turner's "Simply The Best"), we wouldn't be surprised to stare a Santorum-Bachmann ticket in the face next year."
The New Yorker has a post up, the 6 Reasons Murdoch is Tweeting for Santorum. Here is one: "4) A Santorum surge is a good story. Like many journalists, Murdoch gets bored easily. If Romney skates through Iowa and New Hampshire, the Republican race could get tedious mighty quick. A Santorum victory would spice things up—and it wouldn't do the ratings of Fox News any harm either. (Santorum used to work for Fox as a political commentator.)" Read it here. I'm taking a couple hours off now to do human things. Will be back soon.
…And we're back. The last polls conducted, when mashed together by Huffington Post, show Romney leading with 22.2 percent, Paul in second but down to 19.4 percent and Santorum on the rise, with 17.1 percent.
As far as the Drudge caucus goes, it's Ron Paul, then Santorum, then Mitt Romney with Iowa voters. But Ron Paul, Mitt Romney, Rick Santorum with all readers. As said before, Ron Paul will always win a web poll.
Bad Person Rick Perry has decided to go the "Obama needs to be beat, just like the Nazis" route: "This election is about stopping a president of the United States and his administration that is abusing the Constitution of this country, that is putting America on a track to bankruptcy. It is a powerful moment in Americans' history, and you are on the front lines. This is Concord. This is Omaha Beach. This is going up the hill realizing that the battle is worth winning," he said today.
Political Wire's Extra Bonus quote of the day comes from none other than Rick Santorum. And it's about President Obama: "If you want to be president, man up and be president."
Ouch. Rick Santorum's nephew wrote an op/ed for the Daily Caller today, calling his uncle a "big-government politician who supports the status quo to run our country," and told readers to instead vote for Ron Paul. Thanksgiving is going to be awkward next year.
And not that this should/could shock you, but Rick Santorum went on "Good Morning America" today to claim President Obama "appeased and pandered" on the national stage. Yesterday he said Obama, as it pertains to international conflicts, has "sided with our enemies on almost every single one."
Oh, right: Santorum's rise in Iowa is a lonely one. Nationally, he's at 6 percent. That's up from last week, but still well below Romney's who's at 24 percent, and Gingrich, at 23 percent.
On MSNBC, Howard Dean says if Santorum wins tonight, he's got to get Gingrich's and Bachmann's endorsement and win big in South Carolina. "You want this thing to go to the convention, if you can help it."
Whoa. Michele Bachmann speech being shown on MSNBC. She says we need to stop Obama from implementing socialism on the United States, and that William Penn came here to spread word of Jesus Christ.
Newt Gingrich says we can't handle another "amateur" — we've had 3 years of an amateur. So vote for Gingrich!
Santorum's speaking live right now. He says he'll make enemies respect us and friends trust us. And, "we need to repeal Obamacare." And, "I have the track record to back it up."
"We need strong families because…it's good for our economy."
Person next to me on couch notes of Rick Santorum: "He should stop dying his hair." Burn!
RedState.com has a blog up titled, "What if Santorum Wins?" and includes this:
"If Santorum wins, a lot of people will be correct in saying Mitt Romney is still a winner because Santorum has no money or real organization to go beyond Iowa. But my God in Heaven, the media is finally going to be confronted with an "Emperor Has No Clothes" moment on Romney too. That remains the most under reported story of 2012. Mitt Romney, campaigning since 2006 for President has managed to go from 23% to 23% in six years. But he is the most electable."
Early entrance polling suggests what we all know, according to MSNBC: Romney, Paul and Santorum are competing for Iowa tonight. Polls have been closed for 1 minute.
Did you know Democratic caucuses take place tonight, too? They do! And Barack Obama will win. After he wins, he's set to speak to the voters via video. Republican smiley Bill Kristol is offended by this. "We have a year before the election and he's wasting time tonight doing what? Giving some silly talk to Iowa Democrats? It's not going to affect what happens in November. It shows how political this White House is," he said on Fox.
Reports say Santorum will be joined on stage later by…wait for it…his family! His daughter recently had choice words for sex columnist Dan Savage.
Lawrence O'Donnell on MSNBC: "All the pros are saying if Rick Santorum wins, he still doesn't have what he needs to go all the way."
13 percent of Iowa Republicans are under 30 — and they all love Ron Paul, according to MSNBC.
Political reporter Howard Fineman tweets, "Whatever his final number, Santorum's rise is remarkable." Remarkable, or inevitable?
Michael Steele on MSNBC says still surprised that Republicans are surprised that no one really likes Romney. "Santorum could be the beneficiary in a big way tonight."
First numbers in from MSNBC (1 percent of the vote): Paul's got 43 percent of 1 percent, Perry's at 19,  Romney's at 14.
Chris Cillizza notes, "Polk County: Santorum 11, Newt 11, Paul 7, Romney 3. HUGE. Wait, no."
Little Green Footballs tweets of Ron Paul: "Ron Paul, the 79-year old crackpot juggernaut. Rolling over charges of racism without stopping."
FLASHBACK to Santorum's psychotic statements about the Boston Archdiocese, blaming Boston liberalism for child abuse: Then Romney's spokesperson issued the following: "What happened with the church sex abuse scandal was a tragedy, but it had nothing to do with geography or the culture of Boston. What we know now is that the sex abuse was occurring around the country and around the world. Boston was just the first to find out about it."
So, also according to The Fix on Twitter, "Speaker for Santorum at Ankeny caucus said he didn't know anything about him before Googling him 3 months ago." Which is just, you know, does Santorum know who's supporting him?
Oh my God, Ron Paul's Twitter feed is such a jerk! Real quote: "@JonHuntsman we found your one Iowa voter, he's in Linn precinct 5 you might want to call him and say thanks." Jon Huntsman has decided to sit out Iowa and begin in New Hampshire.
Fox News projects Michele Bachmann will end in last place in Iowa GOP caucuses. BUT WHAT ABOUT BILLY PENN AND HIS WORD OF JESUS!
Numbers: Too close to call: Santorum at 24 percent, Paul at 24, Romney at 22. Santorum doing well on those who care about "strong moral character," according to MSNBC.
Gary Johnson, who at one point was running for president in the Republican field, changed to Libertarian, and now has dropped out of that to support Ron Paul. [Just heard this is a hoax.]
MSNBC has Ron Paul at the top with 24 percent, and Romney/Santorum tied at 23 percent. Fifteen percent reporting.
Remember Santorum called Ron Paul "disgusting"? Paul responded later on: "I think he wants to deflect away from some of the charges made against him about having been a supporter of Arlen Specter and he was a pretty liberal senator, he supported prescription drug programs, and No Child Left Behind, and voted for all of the foreign aid, so I would say he ought to be talking about that rather than calling me names."
Evangelicals make up 57 percent of the vote and they favor Rick Santorum with 30 percent; Paul gets 21 percent.
Eighteen percent of the votes in and Santorum and Paul are tied for first place with 24 percent of the vote — though Santorum is still behind in sheer numbers.
Santorum ahead of Mitt Romney (and in first place) by 7 votes, with 24.4. percent reporting.
For Christ's sake. Now Romney's ahead. I need to cool it on the numbers for a bit.
Former Rep. J.C. Watts on MSNBC says of Republicans: "We don't fall in love. We fall in line." Notes there's a Romney camp and an "anyone but Romney" camp. He supports Gingrich.
Somewhat off topic: Just checked in at Fox News, and read this headline: "Obama's Chevy Volt Gets 'Worst Product' Award." What does that even mean? Specifically the Obama ownership part.
Gingrich said today that Mitt Romney is "at best a Massachusetts moderate." LOVE how these guys name states when smearing the other! Where was Obama back in 2008 calling Hillary Clinton an "Arkansas redneck"?
It's been long enough. Santorum is back in first place with 24.5 percent of the vote, followed by Romney at 23.9 and Ron Paul with 22.
How come she can change positions, all the time, and no one cares? Palin is now padding Ron Paul and his supporters. On Fox, she's said, "The GOP had better not marginalize Ron Paul" and "The GOP better listen to what these Ron Paul supporters are saying."
And polls show Santorum is getting the largest percentage of the Tea Party vote, too? That's according to Washington Post Polling.
Fifty percent in. Santorum leads Romney by 354 votes!
This won't fit as a re-Tweet, so I'm putting it here: RT @samsteinhp: Palin says Bachmann's "going to be back in the House.. and we're going 2 be thankful for her being there" Bachmann isn't seeking re-election.
So! Now, Huffington Post is reporting Romney over Santorum, but MSNBC is reporting Santorum over Perry — but both are at 25 percent.
There's a crazy place called the Stoney Creek Inn in Johnston, Iowa. And, according to a few places, all the Iowans are chanting "We pick Rick!" inside, to no one in particular.
Google maps has done it again. Look at this map of Iowa voting. Santorum is purple on there. LOOK AT IT!
For the love of! Santorum leads Romney, according to some news sources, by eight (eight!) votes.
Chris Matthews says in the next debate (Saturday night), Santorum and Newt with both attack Romney in vicious fashion. Santorum will take him on with Romney's phony-ocity, while Newt will just be (more of) an asshole.
Ron Paul is speaking now. He may be losing people with his talk of a "new monetary system" and "the gold standard." He also spoke of Austrian economics and the Fed. Rachel Maddow says, in case you were wondering if he was looking to broaden his base tonight…
And now Newt speaks. Says Santorum waged a "great, positive campaign…I wish I could say that for all the candidates."
Gingrich now smears Ron Paul, too. Invokes 9/11, Iran, foreign policy.
And Newt smears Romney AGAIN as a "Massachusetts moderate." This works because Massachusetts is so liberal, being a moderate from Massachusetts is like being a homosexual in almost any other state. Get it?
Lawrence O'Donnell says Gingrich essentially just endorsed Santorum, since he smeared both Paul and Romney. "He knows he [Newt] is not in it."
Bachmann says she'll let the people "of the country" decide nominee. She stays in?
Does Michelle Bachmann want jokes to be made about her husband? Is that part of the Republican self-pity mantra? She talked about him buying "doggie sunglasses."
Gingrich is being called both the "spear" of Santorum and his "linebacker" to help Santorum end Romney forever.
Chris Matthews says NH is full of "Irish and Italian angry people" who "don't even like parks"!
Santorum is up by 37 votes, and MSNBC is saying Santorum's showing is a huge blow for money politics. I keep quoting MSNBC because it's the only cable news station that comes in on my TV.
Santorum is speaking, quotes C.S. Lewis. Invokes God. Says he survived the "challenges of Iowa with the daily grace that comes from God."
…and we're reminded that Santorum is against government intervention except in cases of bombing Iran, stopping gay people from having sex, and allowing women to use contraception.
Santorum is making the argument that he "can win" because he can totally eat Ohio and Western PA. Makes reference to @BarackObama 'guns and bibles' quote from 2008 campaign, in which the now-president was painted as the 'elitist.'
Santorum is up by 5 votes right now.
People know Santorum for his crazy anti-contraception views. But this speech has been all economy. If nothing else, Santorum seems to be able to make the case for combining the social and economic issues. "This administration is crushing business," he said of Obama.
"You will have a friend in Rick Santorum," he said. "This is a message that will resonate across the land."
Hey, monsters! Thanks for reading! This blog has been open for 13 hours according to the publishing page. And I have other things to do, but may — may! — be back. Who knows?