Game on! A song for Rick Santorum
Did you hear? The kids dig Rick Santorum!
At least, these kids do. Witness the original pro-Santorum song by First Love, an Oklahoma band consisting of sisters Haley and Camille who wrote and recorded the track for the former Pennsylvania senator as a "Super Tuesday Surprise Original."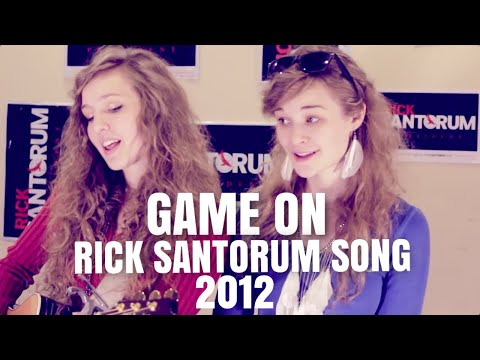 Haley and Camille are two of eight "PKs" (that's pastor's kids to you and me) who reveal on their website that they write all their own material, have never been to school, are best friends and have never purchased a magazine.
From their website: "Life is simply & lovely around our house. We love each other, the kids don't fight, we're allowed to sit on counters and ride scooters through the house."
And they totally, officially endorse Rick Santorum for president of the United States because God gave us the Bill of Rights.
Here are the lyrics below in case you can't make it through:
GAME ON! Join the Fight
We've finally got a Man who will Stand for what is Right
GAME ON! Victory's in Sight
We've got a Man who Understands that God Gave the Bill of Rights
Oh, there is Hope for our Nation again
Maybe the First time Since we Had Ronald Reagan
There will be Justice for the Unborn
Factories back on our Shores
Where the Constitution rules our land
Yes, I Believe… Rick Santorum is our Man!
GAME ON! He's got the Plan
 To Lower Taxes, Raise Morale, To Put the Power in our Hands
GAME ON! Change is at hand
, Faithful to his Wife and Seven Kids, He'll be Loyal to our land
Oh It's crazy, What's been slipping through our hands
, When we the People are still supposed to rule this Land
, Rick Understands