DAILY GRINDER: Video: Corbett Statement on Voter ID Bill
As you may have read yesterday, the House passed the state's Voter ID bill and Gov. Corbett dropped everything to sign it at 6 p.m., just a few hours after it was sent to his desk. A legal challenge looms over the bill and even the Obama Administration has jumped in, calling the measure "a costly bill to address a non-existent problem." Perhaps Mr. Obama has forgotten about a little things like ACORN and gym memberships?
Below is video of Corbett signing the bill, courtesy of PA Independent. "This bill does not interfere with anyone's legal right to vote," he said. While he didn't specifically mention gym memberships as a reason for forcing ID at the polls, he did mention driver's licenses, library books and bank accounts. Oh, and he doesn't "necessarily" agree that there is no evidence of voter fraud in Pennsylvania—so it's a go!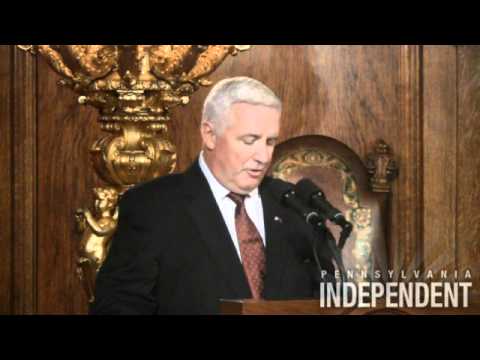 More Corbett: He supports the forced ultrasound bill, but mentioned on Tuesday he'd only support such a measure that's not "obtrusive." As in, "As long as it's on the exterior and not the interior." Someone must have made the governor sit down and watch Juno, the basis for the legislation the country over. He wasn't really into the first 45 minutes, where the girl's all "sarcastic one-liners, yo!" but that part where she decided to keep the baby: that was real, man. Tom Corbett felt that.
Here is the a problem with the two party system, illustrated in Bob Casey's poll numbers: Only 38 percent of Pennsylvania voters approve of the senior Pennsylvania senator. Thirty-six percent disapprove, and 26 percent have no opinion. Only 58 percent of Democrats approve of him, too. Which means there's an opening, from the left, right? Wrong. No one is challenging Bob Casey. And 76-78 percent of the Ds will commit to voting for him in November, as there is no choice otherwise — unless they want, say, Sam Rohrer, who is currently leading the pack of Republicans. But he, too, trails Casey by 15 points statewide. And the only reason he leads the pack of Republicans is because he's the only name anyone has ever heard before. Three cheers to indifference!
Former state worker Mary Ann O'Leary has claimed in court that she was fired by the Democratic caucus in Harrisburg because she spoke truthfully about the Bonusgate corruption scandal. Now she's suing them.
The American Spectator, a cranky wingnut Washington magazine that sells health supplements to the elderly and begs its reader for donations on a regular basis, has reviewed former Pennsylvania Senator Arlen Specter's new book. And guess what? They hate it! And him! "Specter doesn't seem to understand what is wrong with a little pork among friends, why compromise is not always a virtue in itself, or what purpose beyond self-preservation there is to politics," writes W. James Antle III in his review. Read the whole thing here.
A North Philadelphia couple and two others lured a 20 year-old female to their home, held her against her will, beat her and then set her on fire. "[Police spokeswoman Tasha] Jamerson says perpetrators then put the fire out and put the women on a bus back to Pittsburgh."
Two undocumented immigrant college students (one from UPenn and one from Bryn Mawr) placed themselves on top of two banners at 16th and Callowhill yesterday and refused to move. They were arrested for doing so. The act was part of an "Out of the shadows" DREAM Act demonstration, which would allow undocumented immigrants to become citizens of the United States.
Jaquel Crews, 41, of Sicklerville, N.J., and Mark Miller, 44, of Northeast Philadelphia were convicted yesterday of participating in a multi-million dollar Philadelphia drug ring which distributed cocaine and crack in Frankford.
Rick Santorum's campaign suggested maybe it's about time for two-man debates (him and Romney) since those other two guys have become the walking dead. Except more zombified. Santorum communications director Hogan Gidley told the Huffington Post, "What we were pointing out, we were talking about debates. In '08 when it became a two-person race, Hilary and Obama had a few one-on-one debates. Just pointing that out. I'm wondering if someone calls for that this time."