DAILY GRINDER: Former PM Tony Blair Receives Award in Philly…Again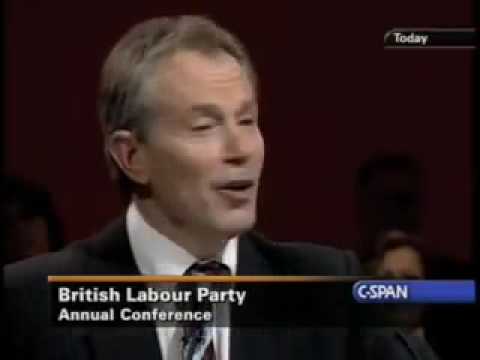 A year-and-a-half after receiving the Liberty Medal at the National Constitution Center (and getting former President Bill Clinton to fork it over), former British Prime Minister Tony Blair was in town again last night. And again, to receive an award. This time, it was the International Statesman Award from the World Affairs Council. He told the local audience, "our way of life" is "a way of life worth standing up for and believing in." Ain't that the truth.
City Council was ransacked (sort of) by the Philadelphia Parks Alliance and schoolchildren yesterday on behalf of the Department of Parks and Recreation, asking that the $8 million in funding for city parks be restored. That $8 million comes from a 2008 parking tax increase passed by Mayor Michael Nutter and made for a finely tuned "restore the $8 million" chant every time a Councilmember was about to speak.
Is it safe to call the recent Philly blazes a "fiery epidemic"? It probably is.
State Rep. Babette Josephs' campaign put out a press release last night responding to reports that they've gone negative against challenger Brian Sims, who would be the first openly gay member of the state House of Representatives. "They are right. This race has gone negative, and we sent out a negative piece," writes Josephs' communications consultant David Scholnick in an email to the media. "But this campaign went negative a long time ago. It went negative when on Feb. 15, when Mr. Sims issued a press release attacking Babette and misquoting her twice. You can find it on his website. It went negative again on March 8 at Liberty City Democratic Club's meeting, when Mr. Sims promised the audience he would not go negative and then used video from that very event to attack Babette…Mr. Sims can dish out the attacks, but when it comes to taking some lighthearted criticism, it seems he's got a glass jaw."
The Philadelphia Catholic Church abuse scandal…just, why? "Smith had put on the Passion play at several parishes over nine years. He would take the lead actor to a room and have him strip while Smith pinned a loincloth on the boy, several accusers said. The boys said he then had other children whip them, to the point of pain, during the crucifixion story. Asked by church officials why he had them naked, Smith later said, "for authenticity," while conceded it was poor judgment."
While the un-PC crowd likes to say TSA agents and others should be able to racially profile potential terrorists, why isn't anyone arguing the right to profile against people who generally look like they're really into child porn? Twenty-seven people were arrested in New Jersey (12 were in South Jersey) on child porn offenses this week—charged with distribution and possession of child pornography—and every single one of offers a 'no surprise there' mugshot/otherwise photo. Profile child pornographers now.
Chris Cilizza at the Washington Post has a pretty good roundup of this year's swing states, and what they mean for both President Barack Obama and challenger Mitt Romney. Surprisingly, Pennsylvania's not on his list. Colorado, Florida, Iowa, Nevada, New Hampshire, North Carolina, Ohio, Virginia and Wisconsin are, he notes, because all those states were either won by Bush in 2004 or really close, then won by Obama. "Republicans would argue for the inclusion of three more — Michigan, Pennsylvania and New Mexico — but of those, only New Mexico has voted for the GOP nominee in any of the past five presidential elections," he explains.
Philadelphia's City Commissioners are investigating a series of "over-votes" in last year's primary election, in which 83 citywide voting divisions showed higher vote totals than the number of voters who actually showed up. The Commissioners have not ruled out anything, yet.