Hilarity: Mitt Romney Loves 'Wawas'
As we mentioned this morning, presidential candidate Mitt Romney strolled into Pennsylvania this weekend for a little campaigning in Bucks County. He was supposed to head to a Quakertown Wawa for a shorti and a bag of Herr's (probably), but soon found out former Governor Ed Rendell was there, to yell at him. So, he re-routed on his Googles, and went to a different Wawa, also in Quakertown. Afterwards, he was so impressed by the convenience of the convenience store, he had to talk all about it — and add to the hilarity that is Mitt Romney's rich guy out-of-touchness. Check it out: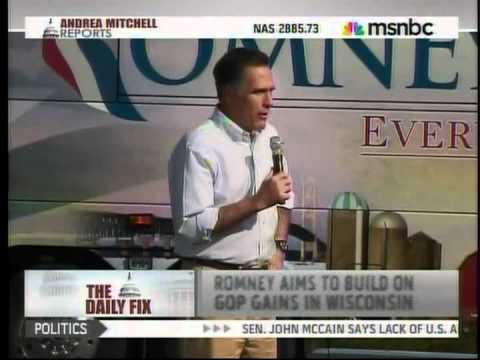 So: 1) Not only does Mitt Romney call Wawa, a store he just came from, 'Wawas,' but 2) he is amazed by the hoagie shop's touch-screen ordering, a la President George H.W. Bush's 1992 campaign stop at a supermarket, in which he was amazed by the grocery scanner. Here's a transcript of the above MSNBC video.
Romney: "By the way, where do you get your hoagies here? Do you get them at Wawas? Is that where you get them?"
…
"Well, I went to a place today called Wawas. You ever been to Wawas? Anybody ever been there? Some people don't—I'm sorry, I know it's a very big state divide, but we went to Wawas."
…
"I was at Wawas, I wanted to order a sandwich. You press the little touchtone keypad, alright? You just touch that and, you know, the sandwich comes in, you touch this, touch this, touch this, go pay the cashier, there's your sandwich! It's amazing."
Note to the Romney Campaign: They're not laughing with you.
UPDATE: I just wrote this on Twitter, but figured I'd share it here, too. It's sort of relevant:
On that note, as a former Wawa employee, I can tell you the touch-screen ordering is not amazing. Whether a customer orders 1 hoagie or 15, it's a one employee to one customer ratio. Makes for totally uneven workload/delays. (Although they may have changed that since I worked there.)
Oh, and Andrew Kaczynski notes the touch-screens are made in China.
Many on the Internet are making a Romney-esque faux pas with this story. It's not WaWa. It's Wawa.
UPDATE 2: Yep, MSNBC edited the video to make Romney seem like he was a bit more impressed with the fancy gadgetry than he really was. Nevertheless, 1) He was impressed, in spite of the "capitalism is awesome" moral of his story, 2) "Wawas," 3) "Wawas" — seriously. Wawas. And 4) As a commenter points out below, "touch tone."
This is the sort of thing the right will attempt to twist into a "liberal media sucks" story because of the video edits to deflect the attention from Romney's comments. The video may mischaracterize, but does not misrepresent.