Not Even Corbett Knows the Details of Pennsylvania's Voter-ID Law
There were two huge revelations in the voter-ID controversy over the past week that should seriously disturb Pennsylvanians. The revelations involve Gov. Tom Corbett, Pennsylvania Secretary of the Commonwealth Carol Aichele, and you.
Let's start with you, the average Pennsylvanian.
Several days ago, Public Policy Polling released data showing Pennsylvania voters still favor the bill—and by a favorable margin. Those in support: 58 percent; those against: 37 percent. That support represents a decline (it was at 66 percent approval in June) but still—voters think this is a good idea!
Nevermind the law could disenfranchise up to a million voters, including some prominent people. Those affected by the law include minorities, the elderly, women, college students and the homeless. The law is being challenged by the ACLU, and there's already been testimony regarding the lack of education on the issue on behalf of the government. Not to mention rush job by the state Legislature to get this thing done in time for the 2012 elections so they could help Mitt Romney win the state.
The state is required to offer free IDs to all those who can't afford them—but advocates claim this is proving harder, and potential voters are being turned away from PennDOT.
Mayor Nutter told Talking Points Memo the law is "one of the most frustrating, confusing, and — at the moment at least — poorly implemented solutions to a problem that we're not even sure what it is, ultimately, that we're trying to prevent or going to prevent,"
During a July 19 AARP rally for voter-ID education, Brewerytown resident Mark Graham expressed similar frustrations with the law. "It's too many factors that prohibits a lot of people from voting," he told PW. "Many of my friends don't know about the law. I can honestly tell you that."
Two more people you can count who don't know about the law: Those tasked with implementing it. Namely, Corbett and Aichele.
Earlier this week, when asked about acceptable forms of ID during a press conference, Corbett didn't even issue a nonanswer. He said he didn't know what the law said. "Well, but there are other forms of ID, so I don't know where people are getting the data as to how many people don't have because the other forms of ID can be student ID. We've been working with the nursing homes to get people new ID. It can be military ID. There's two or three other forms, right now off the top of my head I don't have it here in front of me," he said.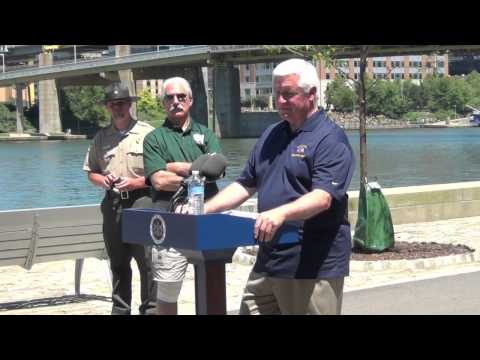 Similarly, Secretary Carol Aichele stood by the bizarre claim that 99 percent of commonwealth voters will not be affected by the law, before being asked about the details of the law."I don't know what the law says," Aichele said, according to CBS.
And she couldn't prove the 99 percent figure, either (the federal government has additionally asked for information regarding this figure in their own review.)
Look, no one is against having to show identification at the polls. It's a no-brainer. But many of the law's supporters—58 percent of Pennsylvanians who favor voter-ID include a number of rank-and-file Republicans—have based their support so-called corrupted Philadelphia politicians pulling the lever for hundreds of thousands of "dead voters," which lots of people claim happens, but no one has been able to prove!
Terry Madonna of Franklin & Marshall and Michael Young of Michael Young Strategic Research wrote on July 16 that the "commonsense solution" is to "We should simply suspend implementation of the new law until an election or two of trial runs shows us how it works and with what effects," adding: "Rolling it out in the middle of a presidential contest is sheer folly."
Their solution makes a bit more sense than the Republicans' scramble to take the election by storm. But after the tussle that was the debate of the past year, it's hard to see such a law ever being enacted if a judge indeed declares it unconstitutional. Being as no one knows the details.