DAILY GRINDER: Nutter Vetoes Finnegan's Wake Balcony Plan
Regular City Council sessions begin tomorrow. And first things first: Mayor Nutter has vetoed the zoning plan that would have allowed 61-foot balconies on Finnegan's Wake at 3rd and Spring Garden streets, citing "dramatic dedication of the public right-of-way to a primarily private use" and neighborhood complaints. South Jersey bros revolt!
The mayor also vetoed a bill that would have put a $4 surcharge on parking tickets. That this idea was even proposed is a little messed up, no? Nutter said he and the city solicitor believe this is illegal, although "The parking authority is entitled to their opinion." The PPA said this was a valid, legal thing to do.
There was a bomb scare at the Ridley Township, Delaware County Boeing plant yesterday after someone found a bomb threat note in a bathroom. [Note: This blurb has been edited...h/t on "evacuate" usage from Twitter user stevegrantz.]
Gov. Tom Corbett says privatizing the state liquor stores is going to be held off until 2013. (And at that point, who knows, maybe 2014!) Since this is the single bipartisan issue in Harrisburg, it makes sense to continue milking the hope out of it for many years. It gives them time to get all that pesky partisan abortion and welfare and pension stuff done first. Related: the Legislature has said it will not work after Election Day—and any work not finished by late October will be put off until 2013. Where was my guidance counselor when I said I was looking for a job with "a shit-ton of vacation"?
Five acres of trees were bulldozed in the Far Northeast, and neighbors are not happy.
Here is Senator Bob Casey's new ad about how bikers are really into him—and not bikers like you and me. Real bikers.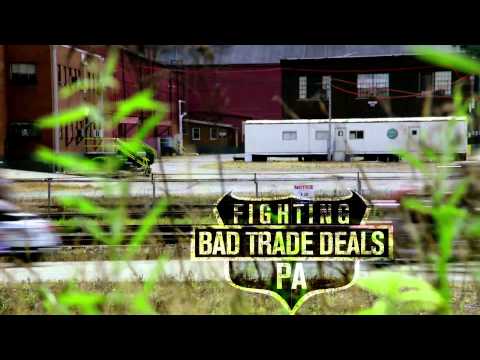 In national news, the embassy on Cairo, Egypt was attacked and three people—including the U.S. Ambassador to Egypt—were killed. Mitt Romney and Republicans have already attempted to claim President Obama "sympathize[s]" with the attackers. The attacks were apparently brought on by an anti-Muhammad movie being circulated by an Israeli-American real estate agent.