DAILY GRINDER: Philly Protesters Heckle VP Candidate Paul Ryan at Values Voter Summit
Hecklers from ACT UP Philadelphia were escorted out of vice-presidential candidate Paul Ryan's speech at the Values Voters summit in Washington, D.C. this weekend. "The funding that people need to get HIV meds can't happen when there is corporate donations in this election. Our politicians need to stand up for people with HIV," said one protester who identified with ACT UP, according to Towleroad.com.  As the protesters erupted, Ryan sarcastically said, "I appreciate your support…thank you so much." Chants of "U.S.A." from the crowd followed.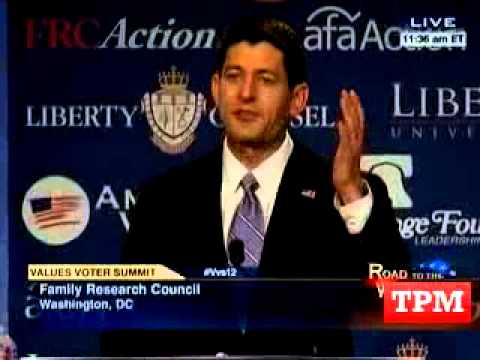 Studies find that more bicyclists on the road means less traffic accidents involving bicycles. "Since 2002, the number of cyclists on many Center City streets has more than doubled, according to tallies at key intersections, and the percentage of bike commuters has also doubled. In 2002, there were six bicyclists killed in accidents with motor vehicles; last year, there were two such deaths," according to the Inquirer. The city's goal is to bring the percentage of those who commute to work up to 5 percent by 2020, and reduce accidents by 50 percent.
A blighted Point Breeze lot was recently cleaned up and redone by a real estate developer after years of attempting to contact the city, who owned the garbage-laden property. Of course that warrants a threat of legal action from the city.
President Barack Obama has opened up his lead over Mitt Romney in Pennsylvania. The deficit, according to an Inquirer poll and conducted by both Republican and Democrat pollsters, found the president up 11 points. Both pollsters involved in the poll say they're not prepared to say Pennsylvania is completely out of reach for Romney.
Former Governor Ed Rendell appeared on MSNBC last week and said, "If you're unemployed, (Obama) extended unemployment compensation that gave you a significant amount of additional coverage," Rendell said. "If your family's on food stamps, the food stamp benefit went up. I would contend that even people who lost their jobs are better off." Not everyone—including the Pittsburgh Tribune Review's editorial page—agrees with that assessment.
Now-fugitive blogger Joshua Scott Albert, who became infamous for writing rumors about people in the restaurant industry, then creating Facebook pages supporting two alleged cop killers, released a statement on his website both apologizing to the family of Officer Moses Walker Jr. and making claims about his own civil liberties. "I'm potentially facing 25+ years in jail for satire, a stupid little website, and pissing off some people in power. This is a very serious problem in our country and could happen to anyone. This is the state we live in, I am living proof," he said. "To the family and friends of the fallen officer which I have written about: My actions were in no way, shape, or form meant to offend you. I know that they actually did, and I apologize. I understand what it is like to lose a loved one and would never wish or condone your pain."
There is a clemency hearing today for Terrance Williams, who is set to be executed over murder charges. Williams killed Amos Norwood in 1984 during an alleged robbery—although his lawyers are claiming he did so after suffering abuse from Norwood over many years.
The Girard Street trolley was hit early this morning by an SUV at 6th street.