Gov. Corbett's Meeting at the Art Museum Is Met With Angry Philly Protesters
Last night, Gov. Corbett was in Philadelphia to participate in a town-hall-style meeting hosted by conservative radio personality Dom Giordano at the Philadelphia Museum of Art.
It didn't go well.
Giordano began by asking Corbett about the controversial voter-ID bill the governor signed in March. Earlier this week, the Pennsylvania Supreme Court ruled 4-2 to send the case back to the Commonwealth Court, saying it must now look at whether the state is able to hand out enough pieces of identification for those who want them by Election Day—something that was not considered during the original ruling.
"I firmly believe … the people of Pennsylvania wanted this law and the Legislature passed it, that's No. 1," said Corbett. "Contrary to what people are saying about the effect on the election, I believe it's going to get more people out to vote."
The first boos rippled through the crowd. Soon, more shouts erupted.
The governor said, "Marcellus Shale." Someone yelled, "It's poisoning our water!"
"You say that, I disagree, and we move on," replied Corbett, who—in stark contrast to Giordano—appeared calm and cool throughout the escalation of the crowd's anger.
Next, Corbett talked teachers and pensions and then jobs.
"The No. 1 strategy is to try to get everyone a job," said Corbett. In response, a woman yelled, "Good job!"
Her tone was sarcastic; Corbett played into it.
"Yes, a good job," he said. "I agree!"
As the woman protested, Corbett, a small smile across his face, brought his finger to his lips, as if to "Shhhhh."
"But you have to get there," he told the woman. "It doesn't happen overnight."
Next up: General Assistance cuts. Corbett suggested that poor people who used to rely on GA funds find other programs to compensate for the loss.
"I'm a social worker," shouted a woman. "There are none!"
Next: Education.
"Why are 40 schools closing in Philadelphia?" yelled a man from the back of the room.
"Bear with me," said Corbett.
"We've been bearing with you for two years!"
Seven minutes of chaos
Banners were unfurled and held up and the chanting began.
A seven-minute interruption, caught on video by PW, ensued. They chanted, "We want education, not incarceration!"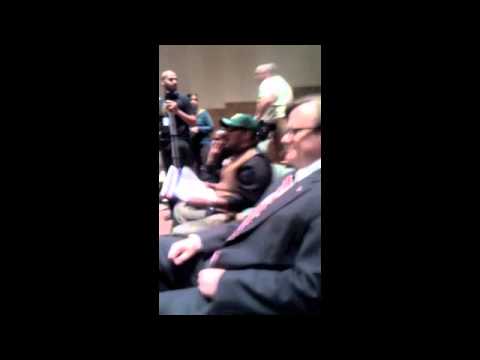 Giordano tried to wrest control of his event from the crowd, but failed. "You will be removed! You're out of order!" he shouted.
"Corbett's out of order!" they shouted back.
Earlier, the governor smiled and pointed out a young girl in the crowd when he spoke of Pennsylvania's future. A man in the crowd stood up and referred to the little girl, who had left the meeting with her mother halfway through the evening.
"Governor, you asked what her future is going to be like. What are we going to do if she can't drink water in this state? What about if she grows up and she needs and doctor and can't get any medial assistance? What are things going to be like if we keep doing what were doing? That's your own question!"
Giordano cut in. "I apologize to the adults in the room," he said. "You're seeing what we face every day in Philadelphia."
No one liked that.
Giordano continued to order police to escort out people who spoke up. They followed Giordano's orders.
After the dust settled, Giordano told the crowd that he and the governor would entertain only "legitimate questions."
Prisons v. Education
The room remained relatively calm for the next few minutes as Giordano pivoted the conversation to prisons on a bizarre note: "Sometimes the Inquirer and Daily News seem to … give us false information, to put it mildly," said Giordano.
"When it comes to the construction of prisons, not only have I not added new prisons, I've stopped the building of prisons," said Corbett, refuting the common accusation that he'd rather imprison Pennsylvanians than educate them.
"Forty percent of every tax dollar you spend… goes to education in PA," said Corbett. "Right now … over $9 billion goes to K-12. It is the highest state funding has ever been in the history of Pennsylvania."
"I want quality education for every child in Pennsylvania at a price that is affordable to the taxpayers … that's the goal. You may not agree with me, you may agree with me, with the way we get there."
The Impending Execution of Terrance Williams
Terrance Williams is a 46-year-old Pennsylvania inmate who was convicted of murdering Amos Norwood when he was 17 years old. Recent appeals are centered an allegation that Norwood has sexually abused Williams. Earlier this week, the Pennsylvania Parole Board denied his request for clemency. Williams is scheduled to be put to death Oct. 3.
The question for the governor was how, given what we learned about child abuse from the Sandusky case, could he sign the death warrant of a man convicted of murdering a man who allegedly sexually abused him?
"Tomorrow … [Judge Sarmina] is having a deputy hearings because much of what we're hearing about the abuse, now, is new," began Corbett.
A man in the crowd spoke out, "You're a Catholic, I'm a Catholic … please do not do it, sir!"
Pennsylvania is one of 33 states with the death penalty. Only three people have been executed since Pennsylvania re-instated the death penalty in 1978, and in all three of those cases, appeals were waived.
The question for Corbett was, essentially, as a Catholic, if you do not stop the execution of Williams, what will you tell St. Peter at the Pearly Gates?
"Many years ago, as a young prosecutor, I was presented with a decision I had to make on my own. When I was trying a case against an individual … who killed a police officer, he shot him through the heart," replied Corbett. "I made a decision that I could live with that, I believed in it, I made that decision."
"Ultimately, that did not happen… the court overturned the penalty… I think about that quite often when I sign these [death] warrants. I am required by law to sign these warrants. Twelve people in a jury made a determination, unanimously, beyond a reasonable doubt," said Corbett. "I know at some point in time when I pass on, I will be judged on this but this is the decision that I made."
"Thou shall not kill!" yelled someone.
Just before 9 p.m., amid protesters standing and shouting, the event was canceled early.
A man stood and yelled, "We want you to cancel the construction project… building prisons … You're continuously cutting education, cutting schools and cutting GA … It's a direct attack on struggling and poor people, and it's fucked up!"
Two minutes later, the Governor left the stage as protesters stood and shouted, "Corbett Go Home!"
Exit Stage Left
A group of approximately 50–60 protesters gathered at the side exit of the Museum, awaiting the governor's departure.
Though many individuals participated, three groups—Decarcerate PA, Act Up Philadelphia and Fight for Philly—began coordinating with each other just a couple of days ago.
23-year-old community organizer Che Saitta of Fight for Philly said really, everyone just signed up for tickets online.
"Honestly, for a minute, we thought [the tickets were] a hoax," said Saitta. "When we tried to go to the tea party when Romney was here, we all paid for tickets [but] they wouldn't let us in. They wouldn't tell us why. So we were like, 'Well, either we're going to take it over, or we're going to get kicked out.'"
After both scenarios happened, the crowd continued to shout at the Governor with a megaphone from outside. They chanted, "Bring him out!" and "How does it feel to be incarcerated?"
A 32-year-old Act Up activist named Yetta manned the microphone.
"I'm one of the people affected by his GA cut," Yetta told PW. "I don't have money to fund all the stuff I need like soap and deodorant and laundry detergent. I can't make it to my doctors' appointments because I don't have no money."
After 10 minutes or so, police cleared a path in front of the doors and Corbett's mini caravan of black SUVs sped out through the shouts.