DAILY GRINDER: Watch Pa Legislators Debate Voter ID on Fox News
Pennsylvania State Sen. Daylin Leach and Rep. Mike Turzai recently debated the state Voter ID law on Fox News. I know it sounds like it'd be awesome (Leach had currently noted of Turzai's support of Voter ID, "your ideas suck"), but it wasn't actually that cool. It feels like they got cut off right as  things were about to get out of control. Watch the video, uploaded by PoliticsPA: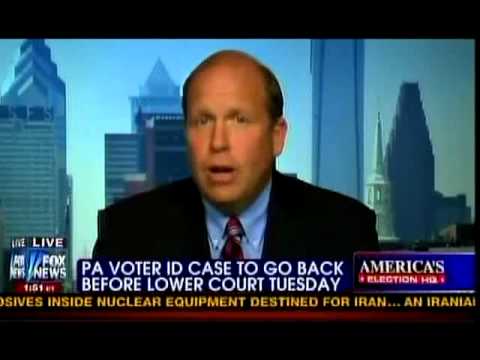 Here's something to care about: The 2012 Major, Lindsey and Africa list of "most satisfied" lawyers by region finds that Philadelphia partner lawyers are the least satisfied of most big cities. Of those local lawyers who participated in the list, only 16 percent called themselves "very satisfied" with their lives (no surprise there) and Philly lawyers are given the lowest average compensation, of $478,000. Woe is them.
The Green Party held their Philadelphia kickoff in Philadelphia on Friday at the William Way Community Center. At which time, Philadelphia Green Party member noted that "only the Green Party has solutions to the crises facing our nation," including opposition to the U.S. occupation of Afghanistan, their demand for a ban on fracking, the Green's support for an elected school board in Philadelphia and their opposition to the sale of Philadelphia Gas Works, according to a press release. "On each of these issues," Robinson said, "the Green Party is the only opposition to the two corporate parties which are running our society into the ground."
A Philadelphia police officer accidentally discharged a revolver found in a flight attendant's handbag at the Philadelphia Airport. The gun was legal but, of course, it's not allowed on a plane.
City Council now has Wi Fi on the fourth floor, which includes Councilmembers' offices and Council chambers.
The NHL lockout could be having an economic impact on businesses around the sports complex. Or not. We're not really sure. But it's been estimated that Boston is getting hit hard by the lockout—up to $1 million per game is not going to local businesses, according to the Greater Boston Convention and Visitors Bureau. And Phil Hopkins, vice president and director of research for Select Greater Philadelphia thinks that number might be comparable for Philadelphia.
The city has hit back on the South Philly vacant lot spat. Ed Covington, who heads the Redevelopment Authority said there's no evidence that developer Ori Feibush had tried to buy the property over the years, before building on it. Feibush claims he had tried to buy the lot next to his Point Breeze coffee shop before sinking $20,000 into rebuilding it.

Attack ads are the best. Washington, D.C.-based Republican State Leadership Committee have released an ad for Attorney General candidate David Freed which blames opponent Kathleen Kane for "going soft" in some rape cases she prosecuted. The commercial is wrong (and pretty disturbing). The Kane campaign even released a letter from the father of one of the victims cited, noting Kane was not involved in the case that's mentioned. "If they can't convince people to vote for him without lying he should not even be running," the father wrote. The RSLC said they'd pull part of the ad, though remains defiant, and Freed has essentially remained silent throughout the ordeal. Watch the video here (not able to embed, for some reason).

An observation: How is it already September 24th?