Mayor Nutter Responds to Philly Mag, and Huber Gets Invited to Meet Some People Who Aren't White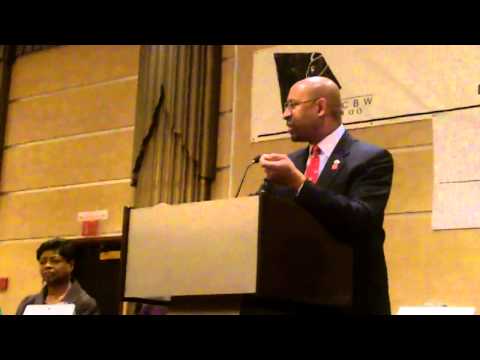 Over the weekend, Mayor Nutter weighed in on that clickety-click-click-seeking enterprise that is Robert Huber's would-be opus, "Being White In Philly," published in this month's Philadelphia Magazine.
"Someone has written something in a magazine in Philadelphia," Nutter remarked Saturday morning at the 27th annual Madam CJ Walker Luncheon, sponsored by the National Coalition of 100 Black Women incorporated. "It makes some pretty disgusting and disdainful comments about African-Americans and women in particular. I'll have some more to say about that in the upcoming weeks — but maybe that person might want to come to this event and see some positive folks doing some positive things."
(We await clarification regarding that "women in particular" bit. Did he mean Huber's reference to a Russian "beauty" in a BMW? Her quote accusing black people of smoking pot and making babies? Or was Nutter just tossing that out there because he was speaking at a women's event?)
Now that Huber's tackled the herculean task of finding some white people willing to talk about black people, one group of local black leaders has extended him an invitation to go for a walk-and-talk with them in Love Park on Wednesday, March 20. The event, called "Spring Forward," had already been planned before the mayor called for Huber to try expanding his racial awareness, but the organizers — including PhillyDoGooder and Techbook Online Corporation CEO Christopher "Flood the Drummer" Norris, Phresh Philadelphia's president and cofounder Rashaun "DJ Reezey" Williams and International McNair Scholar Juwan Z. Bennett — say they feel galvanized by Nutter's remarks.
"I think people were waiting for it," says Norris. "I think a lot of people thought he was behind the pack, as everyone else had responded to it by then. Once he responded to it, it gave the conversation a lasting imprint and broadened the dialogue." Norris goes on to explain the event's title: "We're 'springing forward' by introducing him to a variety of people in Philadelphia, not just black people. We want to change the narrative from this hostility and anger … to try to convert it into positivity."
Norris says he hopes for an apology. But given Huber's stance against public apologies and his recent doubling down on the success of his article when he recently spoke to reporter Bobbi Booker, that's doubtful.
Huber's invitation to Spring Forward is being sent through multiple avenues, Norris says, to make sure it doesn't get lost in the barrage of hate mail. One invite was sent by mail, one by way of sole black Phillymag contributor Michael Coard, and one will be hand-delivered tomorrow afternoon at the mag's headquarters, with a camera crew along for the ride. (Uh-oh. I hope they make a formal appointment.)
"I think for the sake of their brand, they need to attend," says Norris. He also suggests Philly Mag follow through with their desire to "start a dialogue" — they should make Huber's piece the first in a series, he says: "Cover being black in Philly, being Puerto Rican in Philly. Is that what you're all interested in? Or are you just interested in looking like this isolated, out-of-touch suburban [magazine]?"