VIDEO: Mayor Nutter Urges Sen. Toomey to Support Background Checks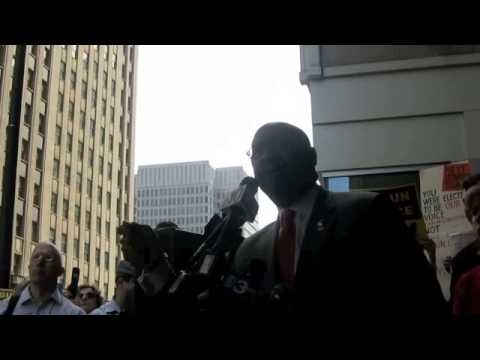 Because the world is a mysterious place, the stars have aligned so that conservative, tea-party backed Pennsylvania Sen. Pat Toomey, he of the "A" rating by the NRA just may be "gun control's unlikely savior."
From the Washington Post this morning:
Toomey, as The Washington Post's Greg Sargent reported last week, is currently in talks with West Virginia Sen. Joe Manchin (D) about a deal on expanded background checks — an effort that comes amid concerns from gun control advocates that the best chance to significantly alter gun rights in more than a decade was disappearing.
So, why is Toomey involved in talks on background checks? Because, at his core, Toomey is not a pure ideologue but rather a political survivor. Prior to running against [Arlen] Specter in 2004, Toomey spent three terms representing a swing-ish House seat in northeastern Pennsylvania. And, while he clearly touted his conservative bona fides when he ran against Specter in 2004, he cast himself much more as a pragmatic pol during his 2010 win.
Or, as Salon's Alex Pareene put it:
The savior: Pennsylvania Republican Pat Toomey, who is now negotiating with Democrat Joe Manchin, after it was determined that Oklahoma Republican Tom Coburn was not worth wasting any additional time on. Toomey, you see, needs to win reelection in Pennsylvania, so he is going to be more reasonable than someone who won't have to work very hard at all to win reelection in Oklahoma.
So here we are. This morning, Mayor Nutter, Mayors Against Illegal Guns, former Gov. Ed Rendell and advocates from CeasefirePA gathered outside of Toomey's Philadelphia office to urge the senator to vote for background checks.
Excerpt from Nutter's speech:
I reached out to Senator Toomey and I've had conversations with Senator Toomey and he responded to my call, and I've talked to his staff… in the commonwealth of Pennsylvania, this is a big gun respecting gun rights state. I get that. I support the Second Amendment also, but I like all the amendments. I like the first one, which says I have the right to peacefully assemble here in Philadelphia, in Chicago, in New York in Atlanta, in San Francisco, or anywhere else that I want to be and I shouldn't have to worry about someone running down the street, mostly with illegal weapons with high capacity. These are weapons are war!
And then:
On May 3, 2008, I was in my office about to go to an event and I got a phone call. One of our officers had been shot. His name was Sgt. Stephen Liczbinski.
He was cut down with an AK-47. His body obliterated by that weapon while he was trying to do his duty. That's real. That's a wife without a husband. Those are children without a father. This is the reality of what we face on the streets of America every day. Thirty-two people murdered in the United States of America every day. There is no other type of tragedy in this county that we would allow to go on so unaddressed, for so long.
Finally, Nutter led the crowd in a chant: "We want a vote! We want a vote!"