Union hits Corbett on liquor privatization; says will 'destroy business'
Governor Tom Corbett says he wants the state Senate to give him a liquor privatization bill by June 30th. And until that time, the union representing liquor store workers, the United Food and Commercial Workers Union Local 1776, will be airing television and radio commercials calling an end to the state monopoly a "reckless scheme" that will "raise our taxes" by "hundreds of millions of dollars" and "destroy small business."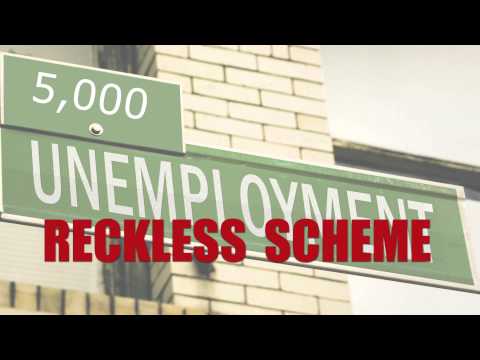 "The governor and the folks that speak on his behalf have been going around since February pushing the concept of privatizing liquor stores in order to save his job," says Wendell Young, the president of UFCW Local 1776, when contacted by PW, "and in doing so, they've been dishonest… And it's not just liquor. Anyone who's been following politics in PA, you look at the things the courts and the attorney general has overruled him on. Public opinion is certainly not with him in general and his electability is pretty low."
Regarding the details of the ad, Young took on the governor's and others' claims that privatization would be good for small business and provide for more competitive prices with other states. The push to privatize liquor stores has been going on for decades, though Corbett has come further than any other governor in history to getting it done.
"They claim [the PLCB] loses money and it's a burden on the taxpayers, and there are other examples," Young continues. "At the press conference that the governor did from Pittsburgh, he talked about border bleed in Delaware, where, everybody knows that's because of the differences in state taxes and has little to do with the privatization or public sale of liquor."
Governor Corbett seems to have made liquor privatization a hallmark of his as-yet-unannounced re-election campaign. PW reported last week that the governor's Twitter account has tweeted about liquor privatization, on average, in more than half his social network publishes
Gov. Corbett's approval rating has regularly been in the negative and recent job numbers show Pennsylvania lagging behind other states—which several of his opponents blame on his economic priorities. When asked about unemployment last week on PA Matters, Corbett noted more of the state's unemployed just need to say no to drugs.
Privatizing liquor, however, is one issue on which public opinion polls have often been on his side. Which explains why he's pushing so hard for the legislation. In a recent speech after coming back from a trade mission to Brazil, Corbett implied Sao Paulo, Brazil's liquor laws were better than Pennsylvania's.
Young added this is not the only ad UFCW Local 1776 plans to release.
Follow Randy on Twitter: @RandyLoBasso