Gun-rights activist among several arrested at the Smoke Down Prohibition event
This weekend's Smoke Down Prohibition demonstration at Independence Mall ended in arrests when federal park rangers and Philadelphia police officers descended upon the protest at 4:20 p.m., breaking it up and handcuffing several activists who lit up joints on the federal grounds.
The event was organized by PhillyNORML and comedy troupe the Panic Hour, the fifth such gathering they've held in as many months. According to organizers at the Mall, police presence was heavier than it'd been during previous demonstrations. Which was expected. On Friday, the day before Smoke Down Prohibition was scheduled to take place, the Panic Hour noted on its Facebook page that the group had banned the Independence National Park Service from their social media presence "for trolling us! The state is scared and they should be!"
Saturday's event brought out around 150 people, at least five of whom were later arrested, according to PhillyNORML.
When organizers and activists arrived, there were signs pasted to barricades reading, "The possession and/or use of controlled substances is prohibited. 36 CFR 2.35(B)(2)." It was both a sign of things to come and a response to last month's Smoke Down event.
"The template for me with this event was always the Boston Freedom Rally. They've been doing it for so long, and it's a peaceful protest. I was really inspired by it, the speakers, people helping the movement," says Kevin Clough, executive director for PhillyNORML. "But I've never seen such a police show of force at a peaceful protest like this."
Organizers could not say exactly how many police were present, though some estimates put it at 30 to 60. "It was enough to surround us," says Clough. "There were park rangers and Philly police and civil affairs all around the event. It was really like a shark tank."
The Panic Hour discussed their paranoia of the police on Facebook. "The park police have caged us in. Do not bring pipes or excess bud. Bring a sign, and come make a stand!" they wrote.
As seen in a video of the protest, police moved closer as the countdown to 4:20pm approached. Clough notes that he had no doubt arrests were going to occur at 4:10 p.m., after police removed one protester for lighting up. At 4:20, several lit up joints and were quickly arrested. PhillyNORML called police action "aggressive" in a news release.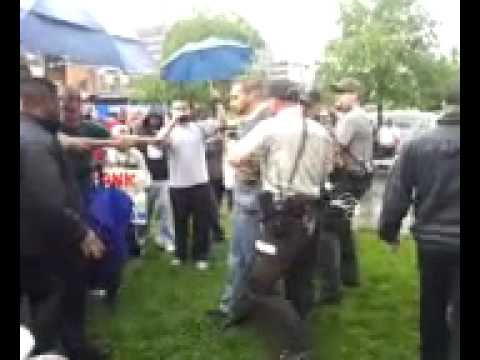 At least five people were arrested, including NA Poe of the Panic Hour and libertarian activist Adam Kokesh, a former Marine. Kokesh is organizing an open carry protest in Washington, D.C. on July 4, in which gun-rights activists plan to rally in the Capitol with loaded weapons. Organizers and those on the scene claim Kokesh was not smoking marijuana at the event. And some believe he may have been targeted.
Most vocal on that point is conspiracist radio host Alex Jones, who has already commented on Kokesh's arrest. "He was at another city doing a marijuana demonstration, and they singled him out," said Jones, who also noted about pot: "The reason [the government] hates pot is it doesn't kill you like the other drugs, and they don't control it.
"It's such a screwed up government, man," continued Jones. "It's like North Korea. And now [Kokesh has] disappeared into a federal labyrinth in Philadelphia."
Poe and Kakesh were still being held as of this morning, according to organizers.
There was controversy surrounding the last marijuana event at Independence Mall, held on April 20. A member of the anti-gay Philly-based evangelical group Repent America filmed a park ranger and Philadelphia police officer at the event not arresting anyone and annoyed them for it.
"I would like you to enforce the law," said the RA member filming the officers. "You have children passing by in the sidewalk … I'm not going to tolerate the police doing nothing about this. You're not going to arrest these people smoking marijuana in public? It's illegal. It's a violation of the law here in the commonwealth of Pennsylvania."
That video went viral shortly after the 4/20 event. It garnered almost 100,000 YouTube hits and hundreds of comments.
"These arrests are the beginning of a long fight we have ahead of us to end cannabis prohibition and maintain our right to free speech," the Panic Hour noted in a statement.
Clough admits he expected some people to receive citations, which he doesn't have a problem with. "But Adam Kokesh and NA Poe were also targeted from the front … It seemed like once everything happened, [the police] were there to remove the organizers."
Organizers held a jail solidarity event on Sunday at the Federal Detention Center at 7th and Arch Streets, where Kokesh and Poe were being held.
As PW wrote last week, there is a long way to go before Pennsylvania passes anything resembling marijuana legalization, which these events attempt to highlight. A bill introduced by State Sen. Daylin Leach would regulate marijuana similarly to how alcohol is regulated in Pennsylvania. State Rep. Mark Cohen has introduced a medical marijuana bill in the House. Polls show Pennsylvanians overwhelmingly support marijuana for medicinal purposes, but are still a bit wary on recreational pot use.
"These [Independence Mall] events were actually pretty fun and pretty empowering," says Clough, adding that as a volunteer organization, it was much easier for PhillyNORML to gather peacefully on Independence Mall than it was to, say, rent out the Theater of Living Arts. "I think PhillyNORML will be involved if there is another event, but our primary concern is making sure future events are peaceful and hopefully there will be no arrests."
UPDATE: Transit police arrested more members of The Panic Hour yesterday for disorderly conduct. Check out the video here. Here is a description on the Live Leak video of what happened:
Five members of The Panic Hour were followed into the City Hall rail station in Center City Philadelphia. Kyle Prouty was illegally searched and detained by SEPTA police officer Nicole Lawson at 3:20pm on 5/20/13. Kyle was charged with "disorderly conduct" "obstructing a highway and other public passage" and "resisting arrest". The people in this video had just left an arraignment hearing for Adam Kokesh and Nikki Allen Poe who were kidnapped from a peaceful marijuana rally on 5/18/13. They are currently being held illegally in Federal Detention at the Federal Detention Center 700 arch street Philadelphia Pennsylvania.

Follow Randy on Twitter: @RandyLoBasso