Building collapses in Center City; at least 6 dead
Update: See additional photos of the scene taken by Tara Murtha June 6 here.
By late last night, the entire country had heard of a building collapse in Center City Philadelphia. Neither terrorism, nor the product of nefarious foul play, by the early afternoon, it had been reported that several people had been taken to three hospitals throughout the city, and were alive. By the end of the day, at least 14 people had been pulled from the rubble and at least six were declared dead.
PW wasn't at the forefront of this story. But many others were. So if there's anything you missed, or don't feel like rummaging through the endless articles that came out of yesterday's tragedy, check out the below aggregated play-by-play and photos sent our way by photographer Sean Corbett…no relation to the governor.
The building in question was on a still-somewhat-blighted block in Center City—2136 Market Street, next to a Salvation Army thrift store, was four stories, with a Hoagie Shack on the first floor—and it was being taken down. Something went wrong and at 10:30am, the building completely collapsed. People on the scene described it as a loud boom and said a ton of smoke then covered the street. According to a report at CBS, 125 rescuers responded with police dogs. Sadly, many in the thrift store were among the victims.
Officials have not released the identities of the people who died in the building collapse, but the thrift store manager's daughter says one of the victims who died was a woman working at the store – on her first day of the job.

"I hear that she just started today at the store," said Sasha Agosto.

Authorities said when the building under construction collapsed, it sent debris through the wall and roof of the adjacent one-story Thrift Store that was fully operational at the time, nearly flattening it.
It's still unknown what caused the collapse, but several reports from around the city point to shoddy workmanship and the same owners who usually come with these sorts of stories: Shady ones.
Philadelphia City Paper reported the destruction was being conducted under the supervision of an architect connected to an Old City slumlord. Inga Saffron at the Inquirer additionally noted the demolition contractor had a criminal record "stemming from a phony car wreck scene," and attempted to go find him in North Philadelphia.
Many people at the scene noted the demolition workers looked shady and unprofessional in retrospect.
Around 7pm, a series of emails was posted to Reddit between a man named Stephen and Phill311, in which he was allegedly complaining that the demolition looked unsafe, with Philly311 responding a little too nonchalantly, considering. Here are some examples, but you can read the whole thing here.
—–Original Message—– From: WebGroup Sent: Monday, May 06, 2013 10:00 AM To: Philly311 Subject: Website 311 Form Submission
:= true description := The property 2130 Market Street is currently being demolished in a manner that appears to be clearly unsafe.
The workers are not wearing any safety equipment (not even hardhats while working to demolish brick facades with crowbars). The sidewalk is not adequately protected, and there appears to be no adequate plan to prevent the collapse of walls or facing materials onto pedestrians and those exiting the subway. email :=
—–Original Message—– From: Philly311 [mailto:philly311@phila.gov] Sent: Tuesday, May 07, 2013 1:58 PM To: *******************.net Subject: RE: Website 311 Form Submission
Dear Mr. ********:
Thank you for contacting the City of Philadelphia's 311 Contact Center.
The address you provided is not a valid address.
Additionally, to process this request to have L&I inspect please answer the following:
What is the legal address of the building/property? What work is being done? What time of day and/or day of the week is work being done? Is a valid permit visible? Who is doing the work?
Again, thank you for contacting us regarding this issue. Please let us know if you have any further questions.
Sincerely,
Stacy Philly 311 Contact Center
—–Original Message—– From: stephen ***** [mailto**************.net] Sent: Tuesday, May 07, 2013 2:16
PM To: 'Philly311′ Subject: RE: Website 311 Form Submission
There are several buildings currently being demolished on the south side of the 2100 block of Market Street.
What is the legal address of the building/property?: 2134 Market
Street What work is being done?: Demolision What time of day and/or  day of the week is work being done?: I last observed work being done on May 6 at 9am.
Is a valid permit visible?: No
Who is doing the work?: There are no signs or indications on vehicles or individuals to tell me who is doing the work.
I do hope that you manage to convey this information to L&I prior to a building collapse that leads to an injury of someone working on this building or to someone waiting for a bus or exiting the subway at that corner.
Thanks.
Stephen
And raw video of the building's demolition on June 2nd was posted to YouTube, showing a perhaps clumsy destruction.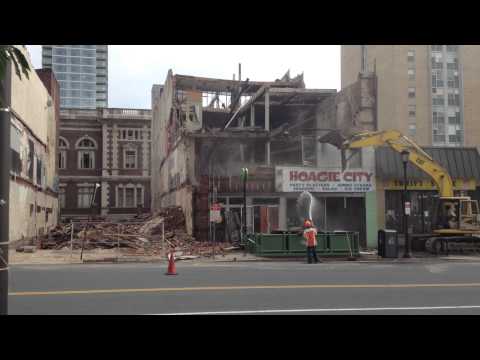 Mayor Nutter did a press conference at 10pm, confirming the six deaths—five men, one woman.
"This has been a tough day … But we are a tough city," Nutter told reporters.
There was what looked like a miracle around midnight, when it was reported a woman was found alive in the rubble. She was later identified as Myra Plekam, 61, of Kensington. She was taken to Hahnemann.
The Inquirer tweeted of the find: "Firefighter was amazed when he saw the survivor. She had made some noises that another rescuer had heard. He wouldn't describe her position."
It's a terrible tragedy, one that is likely far from over. But at least we can all take solace in the fact that prominent conspiracy theorists haven't exploited it as a government conspiracy. Yet.
Follow Randy on Twitter: @RandyLoBasso