Now, Corbett compares marriage equality to incest
Gov. Tom Corbett related marriage equality to incest during an interview segment on CBS 21 Harrisburg this morning.
While being interviewed by CBS anchor Sherry Christian, Corbett was asked about previous remarks made by his lawyers against an American Civil Liberties Union lawsuit for marriage equality, in which they compared same-sex marriage to two "12-year-olds" tying the knot.
Corbett responded to Christian's question, saying he now believes "a much better analogy would have been a brother and sister, don't you?"
He then laughed at the joke he just made and the anchor moved on. To watch the segment is to know an awkward moment like no other: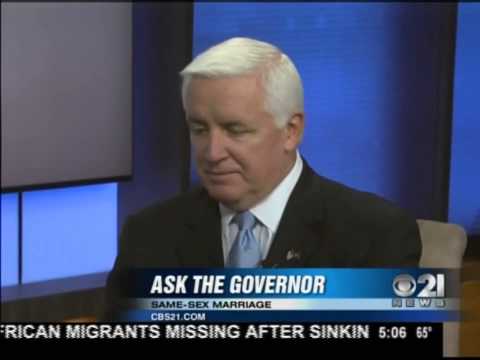 The Corbett Administration is currently elbow-deep in a fight against marriage equality rights for LGBT Pennsylvanians. After the ACLU filed a lawsuit on behalf of 23 LGBT Pennsylvanians, Attorney General Kathleen Kane recused herself from the case, leaving Corbett to find his own lawyers to defend the state.
The Register of Wills in Montgomery County began issuing marriage licenses to couples from across the state soon thereafter.
Additionally, a marriage equality bill was issued by state Reps. Brian Sims (D-Phila) and Steve McCarter (D-Montco) in the House earlier this week.
This is not the first time Corbett's made awkward comments about a sensitive subject. He has additionally noted that women receiving forced government ultrasounds should "just close their eyes" during a procedure.
Nor is it the first remark made this week in the state. Lehigh County Commissioner Tom Creighton noted recently that recognizing same-sex marriage may eventually lead to subsidizing peoples' pets. "I don't feel the county should be looking for new ways to give away taxpayer money. Next it could be giving money out to people's pets or whatever," he said.
Corbett's and Creighton's strange statements are part of a trend amongst Pennsylvania politicians who seem to just not understand how to talk about any issues, whatsoever.
UPDATE: Corbett sent out a press release saying: "My words were not intended to offend anyone. If they did, I apologize."
Meanwhile, the Democrats have sent out a press release calling Corbett "worse than Santorum."
I'm still unsure what to completely make of this. Corbett has proven himself somewhat tone deaf on a host of social issues, and certainly doesn't know how to represent himself in the media. On that, I've always thought saying something offensive and then saying you didn't mean for it to come off as offensive is somewhat worse than just admitting you fucked up. How could anyone not know that retracting a comparison of marriage equality to tween marriage and adding a comparison to incest not be offensive?
If Randy's Twitter feed offends you, that's on you: @RandyLoBasso