Radio host: 'Hired goons' keeping public out of Independence Hall
Gadsen Films has posted a well-made video attempting to "expose tyranny and corruption" of U.S. Park Rangers working at Independence Mall during the government shutdown.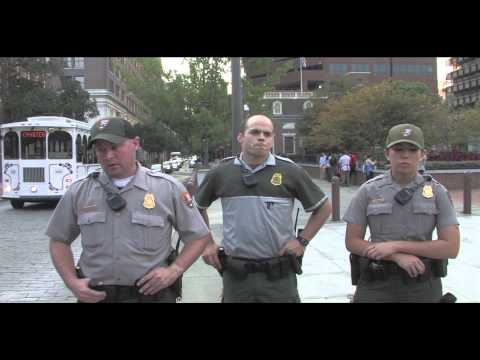 "Why are private security guards keeping the population—keeping the people—away from Independence Hall?" asks Craig Bergman, narrator and star of the video, before filming and asking park rangers why they are blocking the public from entering the historical site. "This is where our forefathers put life, liberty on the line to give us independence, to make the first truly free nation in world history and we have hired goons keeping the public away."
Throughout the 3-minute video, the narrator attempts to figure out, I think, why the rangers are on the site and whether he can cross the chain around Independence Hall, then finds out he can get a citation, and that if he jaywalks, he can get a ticket for that, too.
"Who hired a bunch of private security guards with guns?" he asks at one point in the video. Posted to Reddit earlier today, the video has gotten nearly 2,000 views.
Bergman offers himself as a "religion, politics and culture expert" on his website, and has a nationally-syndicated radio show called America's Wake Up Call, self-described as "Tea-vangelical talk radio."
This is not the first time during the shutdown someone has attempted to bring attention to the rangers policing the area in Old City. Pro-marijuana activists gathered at the site recently to point out what the federal government considers essential employees.