Nov 18, 2013 by Randy LoBasso
Video: Gov. Tom Corbett destroyed on 'Hardball'
During a segment on the most vulnerable governors in the United States, MSNBC host Chris Matthews, alongside guests Sam Stein of the Huffington Post and Joan Walsh of Salon, gave some context behind recent polling showing Pennsylvania Gov. Tom Corbett's approval ratings at just 19 percent.
"Catch this: Just 19 percent approve of Tom Corbett, Tom Corbett in Pennsylvania, according to the latest polling," noted Matthews when introducing the segment. "And by the way, Gov. Tom Corbett has provided some interesting explanations for his policies."
He then played a montage of Corbett's greatest gaffes—if you want to call them that—including his stance on the mandatory ultrasound bill, his stance on Latinos working in government, his idea that unemployment is high because the unemployed are on drugs, and his bizarre stance that gay marriage should be likened to a brother and sister's engagement.
After the short montage, while discussing Corbett's stance on the forced ultrasound bill of 2011, he refers to Corbett's attitude as "horse's ass," noting, "If you are a pro-life person, and many people are, you don't joke about that, you're talking about human life."
"He is in there acknowledging, Chris, that it actually could be a traumatic thing for a woman that she wouldn't want to see," added Walsh.
Watch it: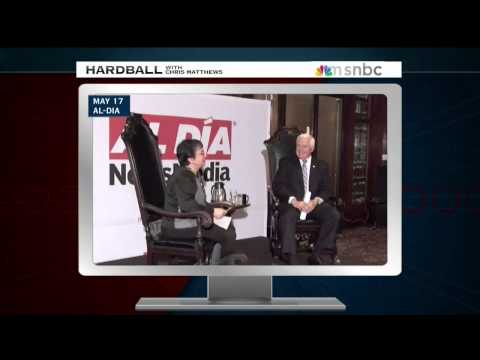 The video has been making the rounds as of late, and has been linked to a new website put out by the Pennsylvania Democratic Party, called Kick Out Corbett. The site also refers to Corbett as "America's least effective and most out-of-touch governor." Various political publications, like the Washington Post and Politico, have made note of Corbett's exceptional place as America's least popular governor.
Follow @RandyLoBasso on Twitter