AP Photo c/o Matt Rourke.
Sure, you can go ahead and get crazy at the club tonight. Lord knows there are plenty of open bars that will facilitate questionable choices. But there IS something exciting about a new year, a fresh start, a (false, right?) feeling that spring is coming; which means new life and new possibilities. Personally, I'm staying away from anything vaguely resembling a club tonight. You've seen this fake flyer, right?
But tomorrow, for the first time in my four years in Philadelphia, I may just get to get down with the Mummers. With a service job, it just hasn't been possible yet. And love them or hate them, they're an institution in this city. An institution that dates back to the late 19th Century. For real.
There's plenty of (bad) footage from 2011's festivities and a handful of homemade photo montages set to funky music but it's still challenging to sit through a five-minute Windows slideshow of a stranger's mediocre photos. But there's something magical about weirdo South Philly males, which is a culture in it of itself, dressed up in makeup, weird costumes and often horribly-but-done-nonetheless drag. THIS is how Philadelphia celebrates a new year. Don't fight it. It's just one of those undeniable truths about this city.
Check out when they got the national NBC treatment and were on Amerca's Got Talent: South Philly Vikings reppin' Philly hard.
If this list is any indication, I've had a pretty weird year. In no particular order…
1. Obama's Reelection
YESSSSSSSS!!! So happy I'm not writing this blog post from Canada right now.
2. Lena Dunham/Girls
Oh, Ms. Dunham. Thank you for coming into my life and giving birth to what was hands down the best new show of 2012.
3. Nick Foles
In hindsight, he may prove to be the silver lining of The Philadelphia Eagles' horrendous 2012 season. He also kept me tuning in every Sunday.
4. Cowboy Boots
Seriously, I want to wear mine everyday, with every outfit. I also want like ten more pairs.
5. Homeland
Never has a TV show has ever caused me so many sleepless nights.
6. Binders Full of Women
I don't know about you, but I needed some comedic relief by the final presidential debate.
7. Chris Hemsworth
Fuck Snow White—the movie should have been called The Huntsman & His Seven Sexy/Angry Facial Expressions.
8. Jose Ole's Taquitos
The most delicious microwaveable Mexican food you can ask for in just 60 seconds or less. Not sure how I would have survived these past 12 months without them.
9. The Philadelphia Live Arts/Fringe Festival
I honestly can't even tell you how many awesome shows and performances I had the pleasure of seeing. Ten, maybe?
10. This Video…
Doesn't get much cuter than this, folks. And after a mind-numbing election, devastating natural disaster and horrific mass shooting, I think we could all use more videos of adorable kittens doing adorable kitten things.
Still searching for a perfect New Year's Eve look? Well, that makes you and about a million other women. The good news: practically every retailer is having some sort of post-Christmas/end-of-the-year sale. So get glam, but don't overspend. You are going to need some cash for cocktails, after all.
The Dress…
The ultimate NYE dress is perhaps the hardest dress a gal will have to shop for all year. There's just so much criteria that it has to meet: it has to be sexy, bold, comfortable, unique, durable, etc. Luckily, Arcadia Boutique has not only a wide selection of dress styles to choose from, but now through Tuesday, all of them will be 20 percent off. Oh, and all of their shoes will be 20 percent off too. The sale is going on at both their NoLibs and Rittenhouse locations (819 N. Second St. & 265 S. 20th St.) as well as online (promo code: MIDNIGHT).
The Outfit…
Eros Apparel Cap Sleeve Sequin Peplum Top (Now $67), Look From London Two-Tone Tights (Now $14), Eight Sixty Metallic Dot Camisole Top (Now $60), Abbeline Studded Collar Blouse (Now $40), Free People Animal Foil Skinny Jeans (Now $70), Aryn K Collared Shawl Blazer (Now $90)
Should you desire something sparkly and sexy, but would prefer not to completely freeze your ass off all night, South Moon Under (1731 Chestnut St.) has an impressive selection of NYE-appropriate fashions and accessories on sale both in stores and online right now. If you're shopping online, you can receive an extra 25 percent off all sale items using the checkout code: EXTRA25. The garments shown above are just a few that caught my eye.
The Accessories…
Kimchi Blue Metallic Mix Checkbook Wallet (Now $17), Rhinestone Appliqué Headband (Now $20), Rhinestone Diamond Earring (Now $13)
Need a little somethin' somethin' to complete the look? Considering that Urban Outfitter's is offering deals on thousands of select items both in stores and online as apart of their "Get What You Really Wanted Sale," you may want to consider hitting one of their locations in town (Rittenhouse: 1627 Walnut St., University City: 110 S. 36th St.) for any last-minute NYE adornments, such as those shown above.
The Hair & Makeup…
We all want to look especially stunning on New Years and let's face it—there's only so much you can do without the skills of a professional. It just so happens that tomorrow and Monday, the stylists at Center City's b2 Salon (200 S. Broad St.) are offering to make you over from head to toe for a fraction of the original cost. For just $50, they'll wash, blow and style your hair and apply a full face of make up. For another $30 bucks, they'll cover all of the above in addition to a conditioning treatment and shellac manicure. Needless to say, spots are filling up fast so you're going to want to call and book an appointment ASAP. Like, right now.

Chill Moody as featured in XPN's The Key.
Our ace culture team put together a solid set of suggestions in our Calendar this week (online and in print). Here are a few of the highlights:
TONIGHT
CHILL MOODY AT THE TLA
West Philly's Chill Moody is a potent purveyor of R&B, rap and hip-hop. He is just as comfortable mixing rhymes with slick beats ("A Good Thing") as he is praising the woman of his dreams ("What Took You So Long"). Variety is the name of the game with regard to his musical repertoire. Tracks like "Angel," in addition to being an uplifting song about how a woman should never settle for being with an abusive man, have a soothing '70s-style groove to it, while "The Price is Nice" cleverly uses the theme song to The Price is Right as the basis for its entire beat and structure. And for you Journey fans out there, Moody's "Inspired" does indeed feature a sped-up version of their classic "Separate Ways (Worlds Apart)," further demonstrating Moody's penchant for making unique records. Moody's latest single, the tongue-twisting "Bombs," dropped earlier this month. -Brian Palmer
10pm. $12. With Jade Alston, Mic Stew, Mont Brown + Pate. Theatre of the Living Arts, 334 South St. tlaphilly.com
GOV'T MULE AT THE TOWER
Warren Haynes plays the guitar like a Zen master zonked on moonshine, not flaunting technique as much as clawing the essential soul from every note. The Allman Brothers earned a No. 23 slot on Rolling Stone's "100 Best Guitarists" list in 2003 and has a specially-designed Gibson guitar named after him. But it's not skill—it's Haynes' heart and penetrating knowledge of blues, rock and gospel that make Gov't Mule shows special. He and his band rip the viscera from classic Hendrix, the Grateful Dead and Steppenwolf songs and hand them to fans still steaming, still dripping, still pulsing with life. Gov't Mule's own songs—like "Beautifully Broken," "Soulshine and "Blind Man in the Dark"—hold up remarkably against canonical covers: just as meaty, just as full of blood and soul. -Jennifer Kelly
Fri., Dec. 28 and Sat., Dec. 29, 8pm. $29.50-$35. With Sister Sparrow and the Dirty Birds. Tower Theater, 69th and Ludlow sts., Upper Darby. 610.352.2887. thetowerphilly.com
TOMORROW NIGHT
CHAKA KHAN AT HARRAH'S IN CHESTER
Without the fiery former Rufus lead singer Chaka Khan, there's no Mary J. Blige, Angie Stone, Jennifer Hudson or any female vocalist of this era singing R&B. For the past four decades, the Chicago-born singer's powerful pipes sparked every song she sang, whether her quiet storm standards "Sweet Thing," "Through the Fire," and "Everlasting Love," her Whitney Houstonized anthem "I'm Every Woman" or her stunning Guru Jazzmatazz, Vol. 2: The New Reality collab, "Watch What You Say." And, if that weren't enough, her jazz cred is so deep that Al Jarreau, Earl Klugh, George Benson and Miles Davis appeared on her criminally underrated 1988 LP, CK. Philly has shown her love from Day 1, so look for the newly slimmed-down Khan to bring her ageless A-game to the Harrah's stage. -Eugene Holley, Jr.
9pm. $45-$75. Harrah's Philadelphia Casino & Racetrack, 777 Harrah's Blvd., Chester. 484.490.1800. harrahsphilly.com
BLACK THOUGHT AT THE BLOCKLEY
Tariq Trotter, better known as Black Thought, has made a name for himself as the MC of the Roots, but his work has proven to be formidable whether performing with them or flying solo. He calmly lays down hypnotic rhymes to match the thrumming bass line, periodic shouts and '70s-style funk of "Black Over Easy," and the groovy love ode "Please Don't Go" features more of his epic raps about people trying to convince their significant others not to leave them. "Web" proves that he could probably rap in his sleep, as he lets his spellbinding, perfect freestyle form take control while he shows you what he's made of, and on the melodic hip-hop number "Thought is Like," when he raps about not wanting to settle for a consolation prize, it's more than just a clever metaphor; it's emblematic of his ambitions. Nobody does it better than Black Thought. -Brian Palmer
9pm. $20-23. With J. Period, Reef the Lost Cauze, Mic Stew + Rowboat Casino. The Blockley, 3801 Chestnut St. 215.222.1234. theblockley.com

Listen up, guys. Not sure if you knew this, but, this time of year is rough for music enthusiasts. The recorod-coming-out flow just kind of stalls at the end of December and beginning of January. Music websites just beat the Year End Lists thing to death. That's why I posted a re-considered Top 10 Albums of 2012 list in my On The Record column this week. AND, next week, in the same space, you can expect a ranked list of my Top 10 Anticipated Albums of January 2013. There are some hum-dingers. But we have to wait until weeks 3 and 4 to really get 2013 cookin' with gas. Trust. It's bleak until then.
Not sure how y'all feel about Chief Keef and T.I., but, well they're the only records out that're new and worthy of consideration. They're both just aiiiiight. In fact, when you throw Trinidad James into the picture, hip-hop feels like it's falling by the wayside sometimes lately. But au contraire, Big Boi (aka Sir Lucious Left Foot or Daddy Fat Sax) is here to give the hip-hop landscape a little more depth and color.
See, Vicious Lies and Dangerous Rumors was one of my most-anticipated releases of the last quarter of 2012. Upon first listen, and I think I'm not alone on this, it wasn't a resoundingly brilliant listen. However, since there's been such a dearth of new and exciting releases lately, VL & DR has been in constant, daily rotation on my Spotify app. (If you're a Spotify devotee like myself, you're doing yourself a disservice if you're not listening to this LP on the regular.)
One of the many things I like about Big Boi is his willingness to experiment, wander away from where he's been and what he's perfected, and allow his music to be influenced and affected by the indie rock trends (Little Dragon and Phantogram) and hip-hop youngbloods (A$AP Rocky and Kid Cudi) that float around in his orbit. This record doesn't sound like the bazillions of Maybach releases or G.O.O.D. music manifestations. And really, those two camps are two of the most commercially and culturally successful titans of current hip-hop.
This record gets better with more spins and is one of those rare albums that you find more in with each listen, as well as an experience that can be enjoyed from beginning to end. He and his producers use a GENIUS mix of skits, interludes and clips that are straight-up comedy – each time yielding giggles and belly laughs alike. There are hard tracks ("Thickets," "In The A," "Thom Pettie"), tracks that swerve into pop ("Apple of My Eye," "CPU" and "She Hates Me), and tracks that tastefully and sparingly employ the talents of guests.
See, one thing I really hate is the ubiquitous and constant application of hip-hop artists inviting guests on EVERY SINGLE TRACK ON THEIR RECORD. This could account for the overexposure of 2 Chainz and Drake. And while there IS a guest on nearly every track on this one, he uses a few guests repeatedly and you can feel their subtle touches throughout the record without feeling like they take over the track. As in the way "Thom Pettie" sickeningly uses Little Dragon's Yukimi Nagano's delicate, signature coo for a pseudo-chorus/refrain.
And while it was disappointing to hear about the controversy surrounding the bangin' single, "Mama Told Me," Kelly Rowland's voice is not unwelcome and it's a track that convincingly pulls an unsold listener into Big Boi's compellingly-developing solo career.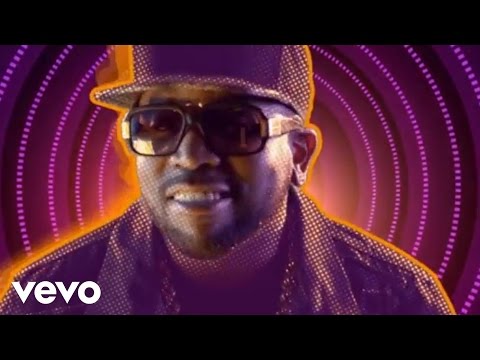 Last year, before peeking at Billboard's annual end-of-the-year Top 100 Songs list, I decided to see if I could guess the top ten songs of the year myself, based solely on a combination of a.) what I've heard on the radio b.) common sense c.) instinct.
And I came pretty damn close. So to ensure it wasn't just a fluke, I decided to see if I could do it again this year. I should note that Billboard's official list takes into account radio rotation, listener impressions, downloads and sales. They also don't exclude songs from the previous year. This explains why I included Rihanna's "We Found Love" (#69 last year) as well as Adele's "Rolling in the Deep" (the #1 song of 2011), which remains one of the 200 most popular songs on iTunes.
Apparently I really underestimated one of the most obnoxious singles I've had the misfortune of hearing incessantly this year: "Glad You Came" by some band called The Wanted. I think my brain just wanted to block it out.
Still, I'm not that far off.
My Guesses
1. Goyte feat. Kimbra, "Somebody That I Used To Know"
2. Carly Rae Jepson, "Call Me Maybe"
3. fun., "We Are Young"
4. Nicki Minaj, "Starships"
5. Maroon 5 feat. Wiz Khalifa, "Payphone"
6. Rihanna feat. Calvin Harris, "We Found Love"
7. Katy Perry, "Wide Awake"
8. One Direction, "What Makes You Beautiful"
9. Adele, "Rolling in the Deep"
10. Kelly Clarkson, "Stronger (What Doesn't Kill You)"
Billboard Top 10 Singles of 2012
1. Goyte feat. Kimbra, "Somebody That I Used To Know"
2. Carly Rae Jepson, "Call Me Maybe"
3. fun., "We Are Young"
4. Maroon 5 feat. Wiz Khalifa, "Payphone"
5. Ellie Goulding, "Lights"
6. The Wanted, "Glad You Came"
7. Kelly Clarkson, "Stronger (What Doesn't Kill You)"
8. Rihanna feat. Calvin Harris, "We Found Love"
9. Nicki Minaj, "Starships"
10. One Direction, "What Makes You Beautiful"
The moral of this post: the video didn't kill the radio star. Nor did the Internet. At the end of the day, the songs that radio DJs decide to play during you daily commute are still likely to be what you will later go home and download.
Long live Top 40 radio!

We know that Mayor Nutter's trying to be a cool mayor. Most of that time we're not unimpressed. He tweets, he likes hip-hop, and he's not completely culturally blind. And while a handful of Philly.com's "Mayor Nutter's top 10 songs of 2012" picks aren't surprising, some of them are kind of hilarious. Let's analyze and split em' up into categories.
YEAH, SURE, NOT BAD AND NOT PERPLEXING
#1 and #2 are pretty standard for a 55-year-old mayor of a major city: "Girl on Fire" from Alicia Keys and "Otis" from Jay-Z and Kanye West, respectively. We know he loves Jay and that video prominently features a giant American flag. He also gives a small nod to the sampled original, sighting a love for "Try A Little Tenderness." Kudos. And while I may have an irrational hate for the stupid and corny music video for "Girl on Fire," that doesn't mean that its anthemic charm isn't lost on me. The rest of the single track-titled record is too good for me to deny that Alicia Keys is a powerful force in pop music.
Also not a big surprise, #4 is Rihanna's "We Found Love" (which is really from last year's Talk That Talk and became a superfluous hit in 2012, but we'll allow it) and #8 is The Roots' "The Fire," which is from the two-year-old How I Got Over. Couldn't pick anything from the astounding 2012 release, undun? Hmm.
Not terribly, but, a little surprising is a choice of Melody Gardot and his #7 pick of "Over The Rainbow." It's from a 2009 record called My One and Only Thrill, not a song from her 2012 release, The Absence. A bright and exciting Philadelphia talent, no doubt, but I guess we're just going to have to bend our idea of what his Songs of 2012 are – songs that are from whenever that he listened to a lot because he's a busy man.
SERIOUSLY, AM I TAKING CRAZY PILLS?
Christina Aguilera's great, but she hasn't really done anything stunning in a while other than talk about her dislike of underwear and how seriously she takes The Voice. Her #3-picked "Makes Me Wanna Pray" is mystifying. It appears to be only listed on a live "Back to Basics" DVD from 2008. WHAT?
Even crazier? #9 and #10 – respectively Whitney's "Greatest Love of All" and Bette Midler's "The Wind Beneath My Wings." There are no words.