Buke and Gase is a fascinating band. They're a duo and well, they use weird instruments that they've made themselves. It's hard to envision or figure out exactly how their tools work without seeing them in front of you, but we'll try to break a few down right quick. The buke is a baritone-turned-ukelele-turned six string. Hunh. The gase is part bass and part guitar. K. And then they use, seemingly, just a kick-bass drum. When really, one of the most prominent instruments in this equation is Arone Dyer's wildly versatile voice. She's a powerhouse and her vocals easily transition between beautiful, ethereal leading lady and menacing, punk-educated banshee. And just in the way that her voice teeters between beautiful and ugly, thus is the essence of Buke and Gase; so does their music.
Their controlled chaos has yielded all kinds of goofy monikers for their genre-twisted approach to rock music: melodic discordance, metal-infused indie rock, post-proto-punk prog-folk with no-wave undertones (that's some b*llshit from Wikipedia), all the way to chamber-punk. Maybe that's why I like this record so much. You have to wait for the moments of rapture – they don't present themselves immediately. But when they come they hit you over the head like a bag o' bricks and make you bob your head and tap your foot. In the way that Animal Collective used to be a challenging listen (or Panda Bear, for that matter) in the mid-2000s, there was always that moment when everything comes together; that eureka moment of 'That's where the groove comes in!' General Dome's kind of like that.
Since my honest-to-goodness First Listen, I was intrigued. It had the sound of one of those angry-but-listenable female-fronted rock bands that I've always loved. Even though I've never loved the Yeah Yeah Yeahs, Karen O's always had a soft spot in my heart for the way that she channels PJ Harvey in a more commercial way, and carries on the tradition of nasty rock pioneers like Patti Smith and Chrissie Hynde, and capitalizes on the evolving power of riot grrrls like Sleatter-Kinney. Furthermore, in the prog-rock arena, with masters like Battles blowing minds in the past few years, we've had our pallettes wizened with the way that funk and punk can coexist. Not to mention the way that rock and dance have been married by bands like The Rapture and LCD Soundsystem.
So, to be sure, the combination of these instruments does a lot for the freshness and brilliance of this new record; a buke, a gase and a witchy, banshee rocker lady's voice. But also in the way that we've come to be inundated with the same formula for a successful rock sound, these two challenge that and then proceed to elevate what kinds of melodies and grooves two people can create within a rock toolset. Whether they're going for it or not, and not knowing explicity who their influences are, they call out comparisons to some of the most brilliant and refreshing artists of the last two decades (especially in the realm of punk and funk and dance-flavored rock music).
And there's nothing more rewarding than a record that unfolds itself and presents more rewards with multiple listens. They're on Spotify, too, so you can listen to their new one there and then buy your tickets to tomorrow night's show at Johnny Brenda's (it's only $10-$12).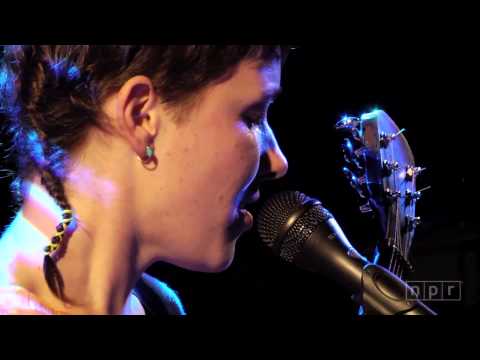 Toro Y Moi

Anything In Return

(Carpark Records)

Sounds like: South Carolinian Chaz Bundick's third shows growth and good change; less chill-wavey, but more dance pastiche and inspired retro-learned funk.

Free association: Chillwave is done; he knows what's what and is getting electric.

For fans of: Neon Indian/Young Magic, Koushik + Caribou, modern psych funk.
The Joy Formidable

Wolf's Law

(Atlantic)

Sounds like: Excellent trio of Welsh anthemic guitar pop that feels inspired by Sleater-Kinney (via lead vocalist/guitarist Ritzy Bryan) but tempered by Stars.

Free association: At no point on this record do they sound emo—an accomplishment!

For fans of: Yeah Yeah Yeahs + Arcade Fire, Kooks/angry Rilo Kiley, female thrash.

Foxygen

We Are the 21st Century Ambassadors of Peace & Magic

(Jagjaguwar)

Sounds like: Great sophomore from L.A. 'burbs natives and BFFs who got inspired by Dig! to play as many instruments as possible and mix it with classic rock

Free association: Hard to believe this is only nine songs. It feels like so much more. 

For fans of: Zeus + Ducktails + the Stones, Sic Alps x Pink Floyd, buddy rock.

Ra Ra Riot

Beta Love

(Barsuk)

Sounds like: The Syracuse-born band's third is a departure. Gone are hushed strings and baroque chamber pop; now it's synths and polished electronics.

Free association: Tired of dwelling in obscurity, they polish commercial jingles.

For fans of: Vampire Weekend x Toyota, Passion Pit + Chrome, Owl City/Apple.

Esben and the Witch

Wash the Sins Not Only the Face

(Matador)

Sounds like: The goth creepfolk Brits' second full-length is a pretty calmly weird collection of dark, vaguely unsettling and hushed ambient witchy rock.

Free association: These aren't like The Craft witches—more like The Witches of Eastwick.

For fans of: Björk x Austra + Bat For Lashes, Kate Bush in Practical Magic.
Adam Ant

Adam Ant is the BlueBlack Hussar Marrying the Gunner's Daughter

(BlueBlack Hussar)

Sounds like: The 58-year-old artpop legend and '80s icon's first new solo LP in 13 years is long, all over the place, a little demo-y but not expected or weak.

Free association: There are zero tracks that sound remotely like "Goody Two-Shoes."

For fans of: Dexy's Midnight Runners/DEVO x Suede + T. Rex, Brit pop icons.
Mitchell & Ness' 18th Annual Winter Sale
With the Super Bowl just four days away and the Flyers finally back on the ice, seems like an ideal time to maybe stock up on some sports gear. It just so happens that the folks over at Mitchell & Ness have a long tradition of celebrating the Super Bowl with a badass sale. In addition to taking 25 percent off headwear and accessories, all apparel will be an impressive 50 percent off. I repeat: HALF OFF ALL MITCHELL & NESS APPAREL! Hell, you might as well pick yourself up a Flyers jersey, an Eagles hat, a Phillies scarf and Sixers sweatpants. As for any Falcons or 49ers fans out there, well, you can just go fuck yourself. Through Feb. 2. Mitchell & Ness, 1201 Chestnut St.
Arcadia's Annual Winter Attic Sale
Ah yes, it's right about that time of the year when retailers must purge their inventory to make way for the impending season. You only have three days to take advantage of Arcadia's annual winter blowout, which directly coincides with a spring pre-sale and will be quickly followed by a Valentine's Day sale. Exclusively at their Rittenhouse store, shoppers can save 50-80 percent off all fall/winter style, not to mention there will be a clearance section of clothing and accessories starting at just $20 dollars. We're talking designer collections from Dolce Vita, BB Dakota, Lauren Moffatt, Prairie Underground and even Pendleton's Portland Collection. Meanwhile, hit either one of Arcadia's city locations and take 15 percent off all of their new spring arrivals. You can also shop online using the code: SPRINGFEVER. Feb. 1-3. No Libs: 819 N. Second St. Rittenhouse: 265 S. 20th St.
Last weekend, on a stroll on South Street from the Chop Shop to the Broad Street line, I did a double take at 820 South Street. An unassuming all-glass storefront seemed to house sophisticated menswear with a dozen shoppers checking out hats, jackets, shirts, books and other odds and ends. I scanned the storefront for signage – What is this place?! Didn't matter – I entered and I spent.
Ps & Qs is a well-curated menswear shop carrying some stellar brands (brands you'd previously only find at Barney's CO-OP or in a small handful of Old City boutiques): Norse Projects, Penfield, Naked & Famous, Herschel Supply Co., Pendelton, Patagonia, Warriors of Radness, Oakley, Richer Poorer, and more. In the back of the store, they've pooled together a collection of classy coffee table books, candles, blank notebooks and objects to smarten up your housewares game. To be clear, the store also just looks sharp. There's not endless product eveywhere (you may have to ask for help with sizes), there's beautifully finished wood everywhere, and the whole affair feels very minimalist. They're not trying to recreate the wheel here, they're just adamant about offering up quality products.
From a CityPaper story in November (photo pulled here by Jessica Kourkounis), we know that the store's owned by Ky Cao plus his brother, Rick, and a fellow Drexel alum and bud, Joseph Lardizabal. They also have a tiny little adorable pooch wandering around the store, typically wearing something chill and comfortable. Their focus isn't on being fashion-forward; most of the clothes in-house aren't wild styles or colors. It's more that they're eager to give South Street a slightly classier pop of style while keeping the focus on well-made and resepectable brands. You may want to drop some serious cheddar in here but your wardrobe, and anyone who observes your apparel decisions, will appreciate the move.
I'll be looking forward to seeing what they come up with this spring and summer. One of my favorite of the previously-mentioned brands, Warriors of Radness, doesn't extraordinarily smart spring and summer goods and Lardiziabal urged that they've got a ton of W.of.R product coming in for the warmer temperatures. Can't wait to see what kind of shorts, swimsuits, tees and tanks I'll be creepin' on in a matter of weeks. C'mon, spring. Give me a reason to spend more money here.
P.S. They don't have a website finished yet, but it'll be up soon. And for now, you can go' head and like a Facebook page.
Generally a less publicized award show like the SAG Awards is an opportunity for Hollywood's elite to be a bit bolder in their clothing choices and overall, I think they rose to the challenge.
BEST
3rd Place: Ellie Kemper
If you ignore her unflattering grandma-esque quaff and caked on makeup, you might be able to appreciate how gorgeous this dress really is. If Sofia Vergara wore it, everyone would be shitting their pants.
2nd Place: Kiernan Shipka
I'm a sucker for a vintage-inspired tea length dress, and when that dress happens to be an Oscar de la Renta number worn by an adorable 13-year-old starlet, that's just pure, Hollywood magic.
1st Place: Anne Hathaway
In the sea of black, a bit of haute couture went a long way. It looks even better when she's walking and not slouching. Also, I'm in love with her hair.
WORST
Julianne Moore
I can't get past the boob issue to absorb the rest of the dress. It's such a simple, yet important alteration! When she walked up to the stage to accept her award, all I could think is "Omg, her boob is gonna pop out." Granted, her boobs are no surprise at this point.
Lea Michele
There's just no way around it—she's looks like a trashy prom queen.
I got a rare opportunity today. Disclaimer: my friend, Jestis Deuerlein, is going to be a major player in this exciting cultural movement coming to Northern Liberties. She's going to be helming some event planning and has a ton of infectious enthusiasm about the space, what's going to go down there and how so many Philadelphians are going to reap the boundless potential of this incredibly multi-functioning space. Before I get down to the virtual tour, feel free to do a little reading up on exactly what 3rd Ward is. Here's the two-second version of what they do from the horse's mouth:
"3rd Ward is a multi-disciplinary workspace and education center. Here, you can take advantage of our Wood Shop, Metal Shop, Photo Studios, Jewelry Studios and Coworking Space, as well as learn new skills in one of our many classes. Whether you're a beginner looking for a creative outlet, or a seasoned professional in search of a full-time workspace solution, 3rd Ward can help."
And they're bringing this spirit of creativity and community to Philadelphia in a matter of months. We won't try to name a date at this time but you can bet you'll be kept abreast of the space's grand opening (almost definitely with a big, fat party).
For one, as a music journalist, I'm pumped about this as a space for dance parties, music events, performances and art parties. There will basically be two performance/event spaces; one on the first and one on the second floor which extends out onto an open-air roof-top deck. The third floor is a sickeningly sprawling and beautiful co-work space, but more on that later.
This is a pretty odd neighborhood, let's be real. I used to live over here. Just a few blocks north of Girard and west of Front isn't what you'd call a vibrant or distinct neighborhood. Sure, there's a bunch of great things in this odd mix of Northern Liberties, Fishtown, Kensington and North Philly: the robust strip of 2nd Street between Girard and Spring Garden, the newly-bustling Super Fresh, and stuff like Johnny Brenda's, Kung Fu Necktie, El Bar and Fishtown Tavern. This is all to say 'This space is going to do good by lots of people, including the neighborhood.'
So let's start at the ground floor. The two main entrances will open up to a big combo restuarant/cafe/performance/art show space (above, left) and to a reception-y welcome center. Curious about the restaurant space? Check out Stone Park Cafe in Brooklyn – they'll be related. In the back is a massive metal and wood shop. The cafe space will also feature loads of outdoor seating, perfect for its slated summer opening. The second floor is a home for a handful of classroomy spaces including what will be a huge work kitchen, and, perhaps the crown jewel of this whole endeavor, a lovely small/mid-sized outdoor patio (above, right) with room for a projection wall, maybe a small bar, a DJ booth and around 100 people. I can already see the artsy folk in their shorts and sun dresses mingling under the stars.
Upstairs, on the top and third floor, is one of the biggest and most beautiful co-op/co-work spaces I've ever seen. This puts the Flavorpill office in SoHo where I interned five years ago to shame. Beautifully restored finishes and wood floors, endless snaking cubicles and phone call booths will make this one whacky-ass floor full of people looking for a home base for their young company or their freelancing needs. As our economy still figures out what's going on and young folks are smacked in the face with the reality that freelancing is the future, not staff jobs, it's possible this space will be a bustling and thriving epicenter of Philadelphia's already-strong-but-still-blossoming intellectual and literary culture. Not to mention all the artists/crafters/designers/printers/tech nerds that'll benefit from work spaces and opportunites to get their work seen (and bought).
The space is freakin' 27,000 square feet. PW will definitely be keeping an eye on the opening, the class and events lineup and welcome newly-hired members of a powerful 3rd Ward team.
If you read PW's art column this week and thought, 'Wow, this show sounds really cool,' then you might be interested to know that Permanent Wave Philly will actually be hosting a slew of cool events in conjunction with Create Chaos! at Eris Temple Arts in West Philly (602 S. 52nd St.) through the end of March.
Unfortunately, that paragraph got cut from the article, so allow me to address a few of those now.
The most imaginative event the local feminist art/activist network has in store will actually be going down tomorrow night from 6-8pm, titled "Cocktails, Schmocktails: A Feminist Re-Appropriation of the Bar Menu." After taking a deeper look at the various sexist norms of our bar culture, guests will flip those norms the finger, mixing up their own drinks with a feminist twist.
If you're busy tomorrow, I'd highly recommend checking out the show on March 2 at 7 p.m. when Permanent Wave will also be hosting a screening of "Wonder Women!: The Untold Story of American Superheroines." The documentary examines the fascinating legacy of Wonder Woman as an ever-evolving symbol of society's anxieties about women's lib. I had a chance to see this during the Philly Comic Con and I give it two thumbs up.
Seemingly just as fascinating is the film they'll be screening next Saturday (Feb. 2, 7pm), "The Purity Myth: The
Virginity Movement's War," an adaptation of feminist blogger, Jessica Valenti's book which offers a timely critique of America's obsession with virginity and how it affects women's rights.
Also scheduled are two open mics/jam sessions (Feb. 23 & March 23, 7pm), a skill share and craft session (March 24, 2pm) and a feminist photo shoot/live sketch (March 9, 12pm/5pm). Last but not least, for the closing reception of Create Chaos!, Permanent Wave Philly will be throwing a two-day festival from March 30-31, featuring a slew of performances from indie local musicians as well as the show's featured artists. Hopefully that includes heavenly singer-songwriter, Liz Ciavolino, who freakin' rocked the harp at the opening reception.

Though all of these events are free and open to anyone with an open mind, be sure to bring some cash for their donations jar so that this awesome community of talented females can continue spreading their messages of equality and empowerment.
If you're interested in getting involved with Permanent Wave Philly or would like to stay abreast (get it?) of their upcoming events, shoot an email to permanentwavephilly@gmail.com and request to be added to their listserv. Even easier, go ahead and "Like" them on Facebook.