Well, alright! Hard to believe that it's that time of year again. Last June, early in the month, we went and got baked (by the sun). It was so very hot. The 2014 Roots Picnic lineup, set to go down on the last day of May, gives us a few reasons for rejoicing (other than the visually pleasant flier for the 7th Annual event, c/o John P. Dessereau). Namely: Janelle, The War on Drugs and Snoop, backed by the Roots.
Not gonna lie, there are a handful of acts that aren't very familiar, but they somehow ended up on the Roots' radar. We're talkin' 'bout Jhené Aiko, Bad Rabbits, Roman Gianarthur and Electric Wire Hustle. But heyyy! Check out Action Bronson! And A$AP Ferg! And araabMUZIK and Chill Moody and Just Blaze! And a DJ set from the incomparable Biz Markie?! Hip-hop royalty sprinkled into your all-day sunsoaked Saturday on the waterfront? Nice.
There are some pre-sale ticket options going on today, but they're available to the general public tomorrow at noon. They're $40 ($53.50 with all the fees), and you can only snatch eight at a time. Rest assured, if that sounds cheap, you'll hemmorhage money as soon as you step into the place. So, ya know, be prepared. Towards the middle of the afternoon, it started to feel like the whole event was a wait-in-line-for-overpriced-concessions game. Seriously, let's hope the Festival Pier folks step up their set-up.
Quest was so busy, he made a lineup promo video while his hair was getting did: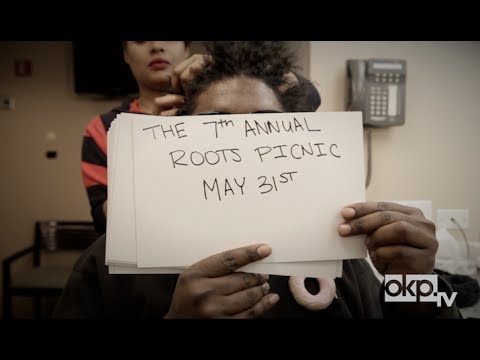 Neneh Cherry
Blank Project
(Smalltown Supersound)
Sounds Like: The first solo LP from the Swede-born legend in 18 years gets the Four Tet treatment and a Robyn guest spot for a refreshingly percussive-heavy and triumphant return.
Free Association: She's lingered in experimental obscurity in the past, but this one's just great.
For Fans Of: ESG x Tricky + Digable Planets, Kelis/Queen Latifah x Bjork & the Slits, breakbeats.
Schoolboy Q
Oxymoron
(Top Dawg/Interscope)
Sounds Like: The Black Hippy rising star's biggest and best yet is, frankly, hard; from the eye-opening first track, "Gangsta," it's a dynamic and varied ride of hearty, hardcore hip-hop.
Free Association: Don't go looking for a good kid, m.A.A.d city – this one's way darker/scarier.
For Fans Of: Dre/Snoop/Nas/2 Pac, Jay Rock/Tyler, the Creator/2 Chainz, syrup and spliffs.
Milagres
Violent Light
(Kill Rock Stars)
Sounds Like: Their proper sophomore's a rich, full-flavored synth rock record that dangerously dabbles in the cheese of arena rock but never abandons a more endearing indie flavor.
Free Association: Thought these guys might be one to watch, but this one's a lil' whack.
For Fans Of: Suckers + Wild Beasts/Cymbals Eat Guitars, Two Door Cinema Club x Fall Out Boy.
Diane Cluck
Boneset
(Bone & Bloom)
Sounds Like: The Pennsylvania Academy of Music-trained Lancaster native's one of the brightest unsung talents in the freak-/anti-/neo-folk universe and her seventh is outstanding
Free Association: Listen and pick out at least a dozen artists who could call her a spirit mother.
For Fans Of: Joanna Newsom x Kate Bush/Joni Mitchell + Regina Spektor, Laurel Canyon.
Nothing
Guilty of Everything
(Relapse)
Sounds Like: Probably the best guitar rock LP of 2014! The Kensington-raised Domenic Palermo's had ups and downs, but here his quartet's opus of crushingly beautiful feedback assault triumphs.
Free Association: What an inspiration to see salvation found in creativity and dedication.
For Fans Of: My Bloody Valentine/Explosions in the Sky, Whirr x Deafheaven, Kenzo heroes.
The Notwist
Close to the Glass
(Sub Pop)
Sounds Like: The first from the Germans in six years is an excellently fleshed-out spin on their typically glitchy and chill ambience, this time with way more feedback freakouts.
Free Association: If you love them for Neon Golden, you might think "This is the same band?"
For Fans Of: Mogwai/Pinback/Stereolab/Radiohead, TV on the Radio x Hot Chip, severity.
Death Vessel
Island Intervals
(Sub Pop)
Sounds like: Joel Thibodeau's third is solid, just not as awesome as his sophomore. Still, this high-pitched, country-folk hippie androgyne's damn talented.
Free association: He made this one with Jonsi, so the whispery elegance got compounded.
For fans of: José Gonázlez/Bon Iver/James Vince McMorrow/Baby Dee/Antony (& the Johnsons).
Candice Glover
Music Speaks
(Interscope)
Sounds like: This Beaufort, S.C. girl, the 12th winner of American Idol, can blow. Her debut of delicious R&B has a little schlock factor, but there's a clear winner with "In the Middle."
Free association: She auditioned for Season 11 with Chrisette Michele's "Blame It on Me." Yes.
For fans of: Toni Braxton x Fantasia/Jordin Sparks + Jazmine Sullivan, "Hit 'Em Up Style."
St. Vincent
St. Vincent
(Loma Vista/Republic)
Sounds like: The absolute and complete darling of indie rock superfreaks takes her cerebral, sensual rock-mistress sorcery to newer, funkier and wilder spaces.
Free association: This is her moment, and she's snatching it gracefully.
For fans of: Nico x Nancy Wilson + Björk, Feist/Beth Orton x Chrissie Hynde.
Lydia Loveless
Somewhere Else
(Bloodshot Records)
Sounds like: Already hailed as one of the best of the year, the 23-year-old Ohioan who plays with her bassist husband delivers a career-expanding third LP.
Free association: Looks like finding Hank Williams III turned her into the country punk we love now.
For fans of: Shelby Lynne x Gretchen Wilson + Brandi Carlile, Kacey Musgraves, owning "redneck."
Beck
Morning Phase
(Fonograf/Capitol)
Sounds like: The 12th from Beck Hansen is, indeed, a "companion" to Sea Change, but that doesn't mean it's a knock-off or lesser because it's a revisited aesthetic. It's gorgeous.
Free association: Modern Guilt ('08) and The Information ('06) feel like pleasant, distant acid flashbacks.
For fans of: Flaming Lips/Jens Lekman x Pulp, Will Oldham x Morphine, eccentric Scientologists.
Angel Olsen
Burn Your Fire for No Witness
(Jagjaguwar)
Sounds like: Behold another young female whose sparse, introspective folksy and country-flecked indie rock was taken to a much better place with the help of a band.
Free association: It's kind of great that she and Lydia are blowing minds simultaneously.
For fans of: Cat Power x Mirah + Lissie, Laura Veirs/Neko Case/Laura Gibson/Gillian Welch.
Yesterday, Annie Clark got her fourth solo record, St. Vincent, reviewed by Pitchfork (five if you count the duet record she made with David Byrne in 2012). She got a pretty paltry 8.6. Not quite as good as the 8.8 Bey snatched for her self-titled fifth just a few months ago. Clark's already sold out Union Transfer on Friday night; that happened long before we got our first few sounds from her new one off of the internet. But just as St. Vincent releases her critically hefty and anticipated fifth, Bey's got herself a "Soundboardt," a charming, internet-friendly collage of iconography that lets users play it like an instrument.
The first video we got from the St. Vincent collection came at the very end of January; "Digital Witness," one of her catchiest singles to date, it boldly proclaims: "Gimme all of your mind / I want all of your mind / Gimme all of it." It's a sentiment that blithely addresses today's times, an era in which we're glued to our phones and project our identities through a multitude of filters and digital dispatches. Meanwhile, with her fan-created Soundboardt, Beyoncé essentially compounds the soundbyte-ability of her newest, one that's yielded gems like "surfboardt," "I woke up like dis," "let me sit this ass on ya" and "bow down, bitches"—boomin' bytes that need not be explained to the culturally literate.
I don't know about you, but I smell a fight. With the sixth installation of our Diva Death Match series, we give you the imagined battle of when Beyoncé wanted to destroy Annie Clark.
Not sure if you knew this, but we go by a certain set of categories. Just the rules, kids. No way around em': five categories, five eligible points per category and one winner. Well, ladies, let's make this a clean fight. Let the most fierce woman win.
'HOODNESS
Per usual, this one gets a little weird, especially when both contestants are from Texas – Clark's Dallas and Mrs. Carter's Houston. To be fair, Clark was born in Tulsa, OK, but she grew up in Dallas and went to high school at Lake Highlands High. So you could say that the two of them have both had a little bit of that urban school of advanced maturation. Houston's way bigger, though. And Bey's got a husband named Jay Z. Who happens to be one of the most articulate voices of the 'hood of our generation. I don't think we have to talk much more about this one.
Clark: 2, Knowles-Carter: 4
FIERCENESS
Here's where Annie's gonna catch up a little. We know Bey's one of the fiercest on Earth, even claiming that one of her multiple personalities includes a woman named Sasha Fierce, but for a minute there, before she had the billions to hire sick styling talent, she made some questionable style choices. Ever seen what Clark likes to wear on stage? Elegant dresses, wedge heels, flawlessly delicate make-up—and she still rips up a guitar with her own unique shredding techniques. For New York's recent fashion week, she destroyed a guest spot for Diane Von Furstenberg. She posed and danced when possible; it was a career-awakening set of performances for her. But so might those new stage looks that've been whipped up for the impending world tour that Bey will sell out.
Clark: 5, Knowles-Carter: 4
VOCAL CHOPS
There might've been a moment, once upon a time, when even Bey's biggest fans would admit that part of why we love her is because she's hard, she can dance like a maniac, and she brings the performance power—not necessarily because she can belt. Annie's always had a really complex set of pipes, and right from the killer opening track, "Rattlesnake," on her newest, she gave herself a vocal gymnastics exercise. Not to front on Bey, though, because 4 and BEYONCÉ have some absolutely revelatory vocal recordings. However, I would wager that our love for Beyoncé wasn't always because of her artistry. It was because she was fierce. This one's tough. They both seem pretty strong and healthy.
Clark: 5, Knowles-Carter: 4
SINGLES AND SALES
It's hard to beat Bey on this one, she's got really strong game in this category. She sold almost 20 million copies of her first two records in America alone. Annie has done no such thing. Even though some of her records could be considerably more adventurous than Bey, there's no question that she's mired in an indie rock market, one that doesn't really put up much of a fight when it comes to moving sheer numbers. Clark's taken some serious blows this round. Not sure she's gonna make it.
Clark: 2, Knowles-Carter: 5
CLOUT
With this one, St. Vincent is making great strides of notoriety in a larger market. She's gotten about as big as she can for Philadelphia by selling out the Union Transfer again. Sometimes artists like her will just throw in a second night—selling out two nights in a row. But what about a next record? And can she get a big production together and fill up the Electric Factory? For two nights? What about a headlined Festival Pier show this summer?! That would sell out, too. Obviously, Beyoncé blasted through a greatest hits set at a completely full Made in America this summer as a headliner. You can't step to a seasoned arena diva like Bey and win this. But good try, hon.
Clark: 4, Knowles-Carter: 5
FINAL TOTALS: Clark: 16, Knowles-Carter: 22.

Photo provided by Bad Boys of Dance via the Annenberg Center for the Performing Arts.
Last night, I had the distinct pleasure of catching the last performance of Rasta Thomas' "Bad Boys of Dance" at the Annenberg Center. It was both exactly and nothing like I thought it'd be: a little heavy on the cheese factor, but pleasantly populated by six exceptional male physiques.
If I had to describe the nature of the dance, I'd call it a pop and hip-hop ballet. The program notes very plainly list the song choices, and some, from my perspective, are just plain bad ones, while some others made perfect sense. It was by no means a bold or revolutionary artistic statement; ballet gets bred with other dance forms across the world on a daily basis. But was it fun? Did I giggle a few times, utter "Wow" reflexively and bob my head more than I have at any other ballet show in Philadelphia? Absolutely.
To be blunt, the first act was pretty off-putting. Titled "Don't Stop Believin'," it started out with promising playfulness, including a one-two-three introduction from Kanye West ("Stronger," f-bombs and all), The Knack ("My Sharona") and Robert Palmer. "Simply Irresistible," to a child of the '80s and '90s, is so firmly aesthetically anchored with slicked-back hair, cheesy red sports cars and those weird blade-wielding and whip sound effects that underscore the chorus. The idea of the song is kitsch. But the one female dancer—presumably Adrienne Canterna, the company's co-artistic director (also listed as a dancer in the program)—finished the track with a few of the most startlingly awe-inspiring series of spins of the entire night.
See, Thomas came out to introduce the show and said that ballet is always at the core of their dance. And there were a large handful of moments in which the stark juxtaposition between hip-hop and ballet were perfectly paired—from a breakdance headspin to an elegant split; fully-extended leaping revolutions punctuated with braggadocious posturing; a feat of flexibility paired with a little robot; a gracious pose with pointed toes followed by a suggestive crotch thrust.
All of that was great, until this brutal run of the program (featuring some of my least favorite songs and artists of all time: Dave Matthews' "The Space Between," Coldplay's "Every Teardrop is a Waterfall" and "The Scientist," and Aerosmith's "I Don't Wanna Miss a Thing"). It was at this point that I visibly grimaced and had a hard time enjoying the athleticism and artistry of the seven performers on stage. It was also terribly distracting that the guys were wearing jeans and polos. (Less so the jeans, but polos, to me, are so very far from anything "bad boy.") The finale of Act I was Journey's "Don't Stop Believin'," and by the time we arrived at an interpretive pop ballet being danced to the guitar solo of a Journey song, I was uncomfortably squirming in my seat. It was as off-putting as it sounds.
Luckily, the second act saved the whole affair from being just plain weird. In fact, the second act, titled "We Are the Champions," could have made for a great show on its own. It was longer, badder and held nearly all of the show's sex appeal that I'd been hoping for. A good amount of Michael Jackson and Robin Thicke got employed, as was, naturally, some Queen and some Queen with David Bowie ("Under Pressure"). They even mined some favorites from the era of the late '80s/early '90s that were pleasant to revisit: EMF, INXS and George Michael. They came out in black dance pants and tucked-in white tanks. They were soon wearing blazers and skinny ties, and then the shirts came off.
It's here that I'd quickly like to clue you in on who their audience was: old white folks, single ladies, kids and a smattering of gay men. But primarily, it was the first category: I saw a solid trio of bald white-haired gentlemen who also had ponytails. So, it wasn't entirely surprising when things got sort of Chippendale-y towards the end, with some flexing, some suggestive grinding and some man-meat posing. There was even an LMFAO moment ("Sexy and I Know It") to make sure the audience was fully aware that sex was on display.
So, even though the first act nearly lost me real early in, they managed to bring it all home with a bit of Justin Timberlake ("Sexyback"), some Outkast ("Hey Ya") and Usher ("Yeah!!!"), a little Chris Brown, and even some Bee Gees. It was just a little cornier than I thought it would be, but I would happily take my mom and my girlfriends for a fun girls-night-out the next time these "Bad Boys" come around.
I worked at Kanella for a long time. Chef Konstantinos Pitsillides and his lovely wife, Caroline, are two of the best people I've ever worked for. It's a small little family over there: a half-dozen or so servers, a few hosts, a few food runners, and even a small kitchen staff. So it was a blast to watch an old co-worker's new music video yesterday and discover that it featured not only visuals set in Kanella's interior but a cameo from head server Bobby and Chef Pitsillides homself. Turns out, he's a natural.
Emcee Tom Charles has been on the grind for a while now. Since 2007. He made some YouTube videos on a previous account, but this one marks a fresh start. "I have like four or five videos, but I put this one on a new account because I'm kind of fresh starting and rebranding myself, and I got a lot in the works," he says. "I'm posting a Kickstarter for the next video that we wanna shoot soon, too." [We'll be sure to update this post with those deets when they become available.]
In the video, he does some solid Philly visits including to a barber shop (Burke & Payne Barber Co.), a tailor (Commonwealth Proper,) and, perhaps the crown jewel of the video, a poker scene at Kanella. Pitsillides fit the role that Charles was looking for: "I knew I wanted that handsome but intimidating look for the gentlemen that I was playing poker with," Charles says. "I told Chef the concept, and he was all about it."
It looks like maybe "Finer Things" could help give a little kick to Charles's local notoriety. It's a fun watch, and there's a sexy lady in it (her name's Lala—"She's a Philly cat," Charles says). The single's been doing well on iTunes, and what makes it a little more special for him is that he pretty much molded the whole thing himself from beat to video. "I made the beat and everything. That's my first production that I've released for sale by myself," he says. "I came up with the idea and just had to figure out how to put it together, figuring out scheduling and budgets."
He recruited his boy, Pat Murray (of Glass Canon), to help him with the execution and the cleanup: "Both of us really [made it]. I came up with the treatment, and he helped me put it all together and he edited it and all that shit."
Check Tom Charles out online. And bring your own cards for your late Kanella reservation and see if you can get a KEO out of him.
Sun Kil Moon
Benji
(Caldo Verde Records)
Sounds like: A stunningly personal LP from Mark Kozelek, the primary Red House Painter and 47-year-old Ohioan, whose sixth project since RHP's demise is a knockout.
Free association: The time-old tradition of turning hurt and loss into perfectly realized songs.
For fans of: Bill Callahan x Will Oldham + Willie Nelson, Damien Jurado/A.A. Bondy, Americana.
Crosses
Crosses
(Sumerian Records)
Sounds like: Chino Moreno (Deftones) and Shaun Lopez (Far) are in metal bands. When they aren't screaming, they enjoy making ambient, icier electronic music for chilltimes.
Free association: The nods to Sneaker Pimps and Massive Attack are great; the rest is a little cheesy.
For fans of: The Crow + Austra x Thursday, Jesu/Palms, Justice x our collective witch obesession.
Speedy Ortiz
Real Hair EP
(Carpark Records)
Sounds like: A new EP from one of the most promising rock bands we've got, UMass MFA poet Sadie Dupuis' '90s-worshipping quartet delivers with four songs in 13 minutes.
Free association: She is this perfect hybrid of Stephen Malkmus and Tracy Bonham for 2014.
For fans of: Sleater-Kinney + Marnie Stern x Yuck, Perfect Pussy with Best Coast, poetic punk.
Isaiah Rashad
Cilvia Demo
(Top Dawg Entertainment)
Sounds like: Whoa, it's another Top Dawg Entertainment (Kendrick/Jay Rock/Ab-Soul) talent to be reckoned with! The first LP from the Chattanooga emcee slays with style.
Free association: A reminder: Hip-hop used to—and still can—employ soul samples, jazz and pianos.
For fans of: Outkast x CRU, SchoolboyQ driving with The Chronic, Black Hippies, heady hip-hop.
Nina Persson
Animal Heart
(The End)
Sounds like: The Swedish frontwoman of the Cardigans and A Camp finally gives a completely solo album a go, and her voice isn't where it used to be, which is both charming and horrific.
Free association: A couple songs sound like a bad Olivia Newton-John record losing battery power.
For fans of: ABBA x Neko Case on quaaludes, Bjork after a few x Stars, vodka-drunk old aunts.
Phantogram
Voices
(Universal Republic)
Sounds like: A top duo in the biz, the middle school friends seem like the current masters of nailing that elusive even distribution of guitar rock, psych pop and groove-friendly electronica.
Free association: Still reeling from the Big Boi collabs? They're rumored to be releasing an EP this year.
For fans of: Grimes/Young Magic/Gardens & Villa, Lykke Li x James Blake, airy goth trip-hop.