Thanksgiving. Chanukah. Christmas. Kwanzaa. New Year's Eve. If by some chance, all your holiday spirit hasn't quite waned, the first weekend of the new year has more festivities lined up: namely, tonight's third installment of Salsa Caliente! The Three Kings Edition at the Painted Bride Arts Center.
Heralded as one of the best dance parties in the city, Salsa Caliente! features various live Latin bands from around the Philadelphia area each month. January's gathering focuses specifically on the Three Kings, or the Epiphany, an event on both Western and Eastern Christian calendars marking the arrival of the Magi in Bethlehem to behold a certain spiritually-influential newborn. (In Puerto Rico, children observe the holiday by placing grass or hay beneath their beds to feed the Magi's camels, and in return, they find gifts in the morning as a reward for their generosity.)
Live Latin jazz is an exhilarating art form, filled to the brim with rich percussion and vibrant horns, and local sensation Anthony Colon y su Orquesta promises to bring the best salsa rhythms to the Bride. Additionally, Flaco's Dance Factory will be offering salsa lessons beforehand to properly prepare people for the experience. The Factory's "Party Thumpers," a cadre of professional dancers, will assist during the introductory step-teaching, increasing the likelihood that even the shyest in sight will put some heat-generating footwork.
Flaco, aka Mark Best, has been teaching salsa and other forms of Latin dance since 1997. Asked about the most memorable moment of the Caliente sets so far, Best says: "To me, [it's about] how many different people get together to make it happen." He not only encourages people to come out in droves, but he insists that grooving to a live salsa band is the only way to dance. "The rhythm [of salsa] permeates every corner of the world, because everyone loves it. When people touch one another, something magical happens."
Lesson at 8pm; party at 9:15pm. $20-$25. Painted Bride Arts Center, 230 Vine St. 215.925.9914. paintedbride.org
[Note: John B. not pictured.]
I want to tell you guys a funny Philadelphia story. It's about meat. But also chicken, seafood, pork, crab cakes and shrimp and turkey burgers.
So, it was a Monday evening in the beginning of December. And it was cold. A strong, bold knock came at my door on, let's say, Point Breeze's Latona Street. It was early, about 7-7:30pm, when the raps came, and, like most similar occasions, I'd hoped it was some kind of charity collector and not a neighbor in need of something pressing. I let a minute or three pass before I raised my living room blinds to peek at who'd been calling.
It was John B. of Capital Meats Incorporated. He was so pumped about selling protein, I didn't have the heart to close the door on his pitch. He had a young female driver who waved from the running van's driver's seat, and the van itself was diligently wrapped with a brilliant bed of flaming coals, URLs and phone numbers. It didn't seem all that sketchy, other than the fact that you rarely get meat salesmen knocking on your door, so I gave him a shot.
Now, when I was a kid, we used to jam on Schwan's, an awesome food delivery truck that sold all kinds of excellent hungry-children wares. Most importantly, push-pops. Orange ones, preferably. I was never suspicious when my mom accepted the Schwan's man's pitch and ordered from his frozen menagerie of delights. John mentioned Schwan's and his competitors, such as Omaha Steaks, and I thought "Pitch on, John."
I'm not that much of a chicken man, and I'm sure as shit not buying fish filets from a traveling van. But steak is a weakness. It's always felt like one of those luxuries; a dish ordered when someone with money's picking up the bill, a piece of meat that's best cooked by someone with expertise in temperatures and pinkness. So I confessed an interest in steak and John lit up. He basically pushed his way into my kitchen with a stack of boxes of frozen beef, and even though I was a touch nervous about a strange salesman entering my home, I had a friend (totally stoked with paranoia at the whole process) there, so I knew I probably wouldn't get cut up. Or if I did it'd be a double homicide.
He showed me the goods: T-bones, NY strip, flat style filets, petite sirloin filets and beef strip steaks. He quickly went through uses and functions of each cut, including a few nicknames he has for them (T-bones are "Grandpa and daddy steaks"). He asked me which cut would excite me the most, and I said, "Probably the beef strip steaks." They were big and fat and seven ounces, six of em' to a box. He pulled out a trusty pricing list and used a finger to slide down to a price: "Those are $75.50," and he looked at me with that "Your move" look in his eyes.
I guffawed. "Dude, I had not planned on spending $75 on meat tonight, and there's no way you're getting that kind of money out of me." He understood. I think he was honestly excited that such an even-mannered dude let him into his home to give an on-the-spot steak show.
I want to put what happened next in ambiguous terms for his sake. I said, "Well, I've got about $X in my wallet?" "Deal!" he exclaimed and extended his hand. He tried to get me to keep listening about shrimp and crab cakes, but at that point I was ready for the whole episode to be over.
He was eager to make a sale, eager to cut me a good deal so that I could enjoy his wares and threw in a "If I like it, spread the word." Well, they're gone. We ate em' up within days, and I am here to say, John B. runs a tight ship and I'd absolutely love it for him to get a giant spate of end-of-the-year business from a humble little PW Style blog post. The options are endless, and I won't detail them all here, but do check out capitalmeats.com and give John B. a call, would you?
Still searching for a perfect New Year's Eve look? Well, that makes you and about a million other women. The good news: practically every retailer is having some sort of post-Christmas/end-of-the-year sale. So get glam, but don't overspend. You are going to need some cash for cocktails, after all.
The Dress…
The ultimate NYE dress is perhaps the hardest dress a gal will have to shop for all year. There's just so much criteria that it has to meet: it has to be sexy, bold, comfortable, unique, durable, etc. Luckily, Arcadia Boutique has not only a wide selection of dress styles to choose from, but now through Tuesday, all of them will be 20 percent off. Oh, and all of their shoes will be 20 percent off too. The sale is going on at both their NoLibs and Rittenhouse locations (819 N. Second St. & 265 S. 20th St.) as well as online (promo code: MIDNIGHT).
The Outfit…
Eros Apparel Cap Sleeve Sequin Peplum Top (Now $67), Look From London Two-Tone Tights (Now $14), Eight Sixty Metallic Dot Camisole Top (Now $60), Abbeline Studded Collar Blouse (Now $40), Free People Animal Foil Skinny Jeans (Now $70), Aryn K Collared Shawl Blazer (Now $90)
Should you desire something sparkly and sexy, but would prefer not to completely freeze your ass off all night, South Moon Under (1731 Chestnut St.) has an impressive selection of NYE-appropriate fashions and accessories on sale both in stores and online right now. If you're shopping online, you can receive an extra 25 percent off all sale items using the checkout code: EXTRA25. The garments shown above are just a few that caught my eye.
The Accessories…
Kimchi Blue Metallic Mix Checkbook Wallet (Now $17), Rhinestone Appliqué Headband (Now $20), Rhinestone Diamond Earring (Now $13)
Need a little somethin' somethin' to complete the look? Considering that Urban Outfitter's is offering deals on thousands of select items both in stores and online as apart of their "Get What You Really Wanted Sale," you may want to consider hitting one of their locations in town (Rittenhouse: 1627 Walnut St., University City: 110 S. 36th St.) for any last-minute NYE adornments, such as those shown above.
The Hair & Makeup…
We all want to look especially stunning on New Years and let's face it—there's only so much you can do without the skills of a professional. It just so happens that tomorrow and Monday, the stylists at Center City's b2 Salon (200 S. Broad St.) are offering to make you over from head to toe for a fraction of the original cost. For just $50, they'll wash, blow and style your hair and apply a full face of make up. For another $30 bucks, they'll cover all of the above in addition to a conditioning treatment and shellac manicure. Needless to say, spots are filling up fast so you're going to want to call and book an appointment ASAP. Like, right now.
Consider this post PW Style's official gift to readers.
This first video comes courtesy of local sketch/improv comedian Jess Ross, starring several of Philly's funniest as your favorite feminist singer-songwriters from the nineties. It's truly the one compilation CD everyone should find under their tree this year….
Next, the comedic geniuses of Bird Text have just rolled out their newest video sketch and in the spirit of holiday season, they're going after Jesus this time…
Last but not least, a holiday classic that's sure to offend any and all Snoopy fans out there from Philly's veteran sketch troupe, Secret Pants…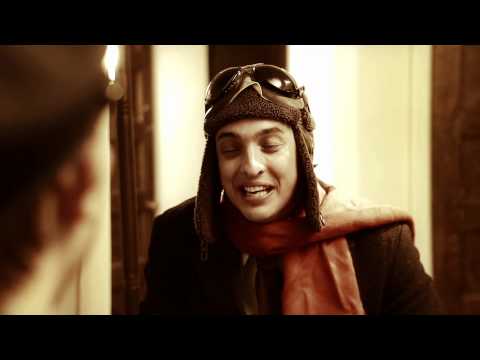 Happy Holidays!
It's no surprise – I love drag. And Isis Brooks D'Shey (The Goddess Isis) runs a tight ship upstairs at Tabu on Sunday nights. She typically gets things cookin' around 11pm and things start getting real around midnight. She peppers in performances of her own between introducing and interviewing up-and-coming Philly queens. Last night she praised Lisa Lisa and Sandy Beach as perhaps the only queens who've been doing Philly drag as long as she has. There was a definite Christmas theme running through last night's performances but the really mind-effing performance was turned in by a young, brand new queen named Ann Artist. She competed in a Voyeur-based serial drag competition called Drag Wars (not wholly unlike RuPaul's Drag Race) and finished in the Top Three. Last night I saw why.
In her tribute to the second amendment, she made a dress out of an American flag (he's studying fashion design now; following his bliss) and held a plastic gun, a semi-automatic machine gun, that he'd found at Walmart. As she lay on the ground, all 6+ feet of her, a clip of an ABC newscast describing Adam Lanza preceded actual music. She touched herself and fondled her machine gun suggestively. She finally got to her feet and performed Regina Spektor's "Uhmerica," a gun-focused song that doesn't seek to romanticize America's love of guns. It was going there – Ann is strongly against the second amendment. The Spektor song turned into tUnE-yArDs' "Gangsta." The connection was made clear afterwards when I cornered her in the alley to ask her what was going on in her head to make this performance come to light: "Gangsta" is a song that puts fronting young fans of violence in their face, calling them a pussy for talking game but really being weak and scared. Adam Lanza is a pussy – he decided to take his own life after taking over 25 lives because he didn't know how to handle himself (or something like that).

At a couple points during the performance, Ann fellated her Walmart gun and subsequently destroyed it, slamming the gun into the back wall facing 12th Street. What would've been even greater was that her children's toy gun purchase even came with bullets. She forgot them at home, but she wanted to be able to shoot them into her mouth and spit them out. And really, when you think about it, isn't it sick and twisted that that's the kind of purchasable toy, a toy that many young boys (and girls, I'm sure) desperately want for Christmas. Our news media slathers itself in the details and creepy facts of a massacre shooter and turns him into a posthumous celebrity for a few weeks. Out in the cold at 2am, she criticized the second amendment as bullshit and outdated. Hadn't really thought of it that way, Ann.
And on that note, it doesn't go without saying that her performance was captivating. She ripped her blond wig off halfway through her patriotic moment and mean-mugged, scowled and pretty much frightened everyone with her dramatic long-limbed gestured freakout to Merrill Garbus' treatise on faux-gangsterism. It's not that it's rare to be shocked, pleasantly surprised and intellectually challenged by a queer, let alone a queer in gender-bending drag; it's that she's 21, brand new to drag, whipped up this sequence of audio and a dress in a matter of days, and pulled of topical, political and inspiring activist drag. So Merry Fucking Christmas, readers. Try to refrain from gunplay this holiday season and in 2013, maybe we can all do something that'll make meaningful gun control change happen in Pennsylvania and America.
One last local gift roundup for all you very last minute shoppers out there…
Female…
Betsey Johnson Tights (Various Styles), $20 / Aoki Boutique, 115 S. 22nd St.
Rose Gold Cluster Studs, $75 / Concrete Polish, 716 N. Third St.
Scroll Tea Light Votive Set, $28 / C Wonder, King of Prussia Mall, 160 N. Gulph Rd.
High Waist Faux Leather Leggings, $30 / Three Sirens Boutique, 134 N. Third St.
Anne Taintor Flask, $24.95 / Kitchenette, 117 S. 12th St.
Male…
Always Shady Tee, $24.99 / Philly Phaithful, 737 N. Fourth St.
Ex Libris Anonymous Journals, $14 / Stadler Khan, 1724 Sansom St.
United By Blue iPad Case (Nutmeg), $32 / Kembrel, 1822 Chestnut St.
Mishka Vision Quest Beanie, $32 / Corsa, 535 South St.
Philadelphia Coasters, $13 / Open House, 107 S. 13th St.
Boyfriend/Hubby…
The Philly Package, $72 / Duke & Winston, 633 N. Second St.
Yards Soap Box, $21 / Duross & Langel, 117 S. 13th St.
611 Men's Luxe Life Navy Plaid Flannel, $76 / 611's Pop-Up Showroom at Liberties Walk, 1024 N. Third St.
Do Your Best Pennant, $36 / Three Potato Four, 376 Shurs Lane, Building A
Girlfriend/Wife…
Adorn Signature Crystal Necklace, $128 / Adorn Boutique, 1314 Frankford Ave.
1-Hour Massage/Mani Pedi, $100 / b2 Salon, 777 S. Broad St.
Pink & Pepper Booties, $89.95 / South Moon Under, 1731 Chestnut St.
Monogrammed Wine Stopper, $22 / C Wonder, King of Prussia Mall, 160 N. Gulph Rd.