Photo provided by the Ps & Qs dudes' Facebook page.
One of my favorite stores in the city is Ps & Qs. Pretty sure you've figured that out by the handfuls of posts I keep putting up. One of the reasons I love the store so much is because of a couple of the dudes that run the place: the owner, Ky Cao, and one of his trusty associates, Saeed Ferguson (pictured above in the bottom left). They're just chill dudes with good style, and they seem to enjoy talking shit with me about menswear shopping in the city and brands and shit. And Cao seems to be keen on putting together some really cool in-store events. I missed an event a couple weeks back that featured the Naked & Famous denim guru, Brandon Svarc. But when I got prodded to come see what these guys The Madbury Club were all about, I said to myself, This can only be interesting. Not knowing much about the dudes, other than what Cao'd told me (essentially, they run a blog, but they're also creatives who do all kinds of stuff), I knew I was in for some kind of a lecture and a Q&A. Those kinds of things are always good to get my blood pumping and my brain twitching.
So, let me break a few things down before I get into my thoughts.
The Madbury Club's been evolving for years. What started, primarily, with Phillip T. Annand and his budding Award Tour T-shirt game, with the assistance (he'll say mostly packing boxes of shirts) of his boy Ellington Hammond, has grown considerably and taken on a few different variations of a mission. TMC is far from a T-shirt company in 2013. Annand and Hammond have been recruiting. They've pulled in a handful of creative and spiritual dudes (this is, 100%, a sausage party; some of em' from Philly) to help them mold and sculpt their creative vision. But what they're more than willing to admit is that this vision isn't totally in focus— or at least, they're willing to admit that they're not even sure exactly what they do. They're somewhere in between a creative team that'd be not unlike a small ad agency (but only on the creative side), a collective of artists/photographers/videographers/creative producers and fashion fans. Seriously, it wouldn't feel right to call these dudes stylists or fashion editorialists, but they just love sweet goods. Especially sneakers. Over on The Madbury Club site, you'll find some extraordinary lookbooks in which they themselves act as curators and models. Certainly they've got brands they turn to on the regular, but what they seem to do most genuinely is dress themselves in current, urban, modern and clean looks.
One of the reasons these guys got started in this line of internetting is pretty simple: They were bored with what was being offered to them. Complex, SPIN, Highsnobiety, Hypebeast, Street Etiquette—these were 'zines/blogs that they eagerly and excitedly consumed, but they inevitably felt bored by them, or at least, they didn't feel like they were being as adventurous or as creative as they could be. So, they started a site. One of the things they were certain about was that they wanted the visuals to be extra. They wanted spreads to be full-screen affairs with outstanding content. "Content" is actually what TMC seems most obsessed with, and that was one of the weirdest aspects of the night. What this content is is, again, something they're deciding on as they go.
Take "Chazebralope" (below), for instance, one of their most recent efforts. It's essentially a trailer for a movie that will never be made, but it's an ambitious one. The vision came from a choice of six sneakers from PUMA that they could make something visual for. They picked the ugliest one, the one with more than five different animal prints on one shoe, and crafted a narrative around the idea of a mythical beast. A dangerous one–a mixture of a cheetah, an antelope, and a zebra (obviously). They shot for almost a week in the deserts of Utah and boiled down hundreds of hours of footage into a high-end, visually-dazzling trailer. Shoes are hardly the focus. But TMC guys are starting to catch on to the fact that they've got what some companies are looking for to the T. They're young, they're stylish, they're urbane, they're sophisticated, and they have taste, but most importantly, in their own way, they have the technical and artistic know-how to make an outstanding visual product. When they got their first giant wheat-pastes plastered all over New York City, they knew they'd made it. Sort of.
Here's the troubling thing, for me, about these guys: They're all clearly very talented; they've got GREAT eyes for visual aesthetics; they know clothes and shoes, and they're trying to explore the unknown realms of the nebulous worlds of creative new media. It's like dark matter. The sky is the limit. Craft yourself a strong following with a killer Instagram feed or recruit a rabid Twitter following, and sometimes, the world is your oyster. You could turn into a famous blogger (at least, until, the flash in the pan cools down) and start appearing on TV as the voice of a generation. But to do it all while continuously expressing the idea "We're not sure what we're doing" is disheartening because it feels a little like the blind leading the blind.
The team has found creative epiphanies and renewed their zeal by traveling, a pretty big component of their blog (which, at the moment, isn't nearly as robust or updated as it used to be, and they're OK with that). And one of the heaviest topics entertained in the Q&A session was the idea of following your creative heart, and if that means saying "Fuck it, let's go to California and see what happens," you buy your tickets, and you all cram into one hotel room or tent and do it on the cheap if you have to. School is not for everyone, and a degree doesn't get you anywhere. You get yourself to wherever you absolutely have to—and adventure is essential to a truly lived life.
I just have to share one more thing. In the Q&A, there was a dude who purported himself to be an art school graduate who teaches art, and he applauded the collective for rebuffing or at least questioning the value of an art degree, but finding much more value in just constantly creating and constantly experimenting. At one point, Annand talked shit about Duchamp's "The Fountain," which I didn't really approve of. He was making a point, though– when stuffy art heads make something absurd, call it art, and it's lauded as genius, it can be a little disconcerting. But art teacher dude managed to make the analogy that the work TMC is doing, work that we got to see lots of in their presentation, is in fact exactly like Duchamp's "Fountain," but in 2013. To him, I say, "No sir. I heartily disagree."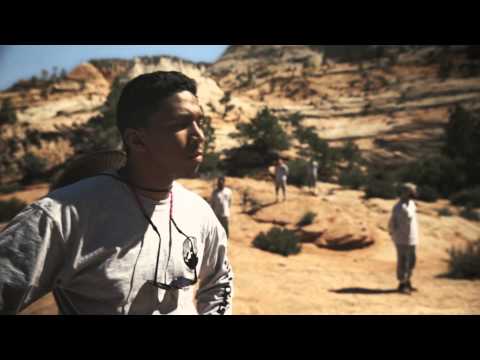 Monday night, I accepted Josh Schonewolf's invitation to check out Drag Me to Hell, Gunnar Montana's newest bizarro performance moment. It was definitely weird. Here are a handful of things I saw, heard and learned at Underground Arts:
1. Let's just set the scene real quick. UA has been a strange and welcoming queer space for a second now, welcoming all kinds of weirds including the Queen Diva, Big Freedia, next week. And it seems like, while the space is flexible, the logistics are pretty constant–a riser of foldout chairs on bleacher seat rows and sporadic roundtables with chairs around them on the ground floor between the risers and the stage. It's imaginable that a show like Big Freedia's will require the elimination of the tables and chairs and just have ticketed seats with standing-room space for freakouts. The DMTH crew used this to their advantage, entering and exiting on each side of the bleachers and taking the opportunity to get all up in the faces of the seated patrons between the risers and the stage. Lady Poison, Luna LaVey, Pretty Girl, Stephi Lyneice and Gunnar Montana enter, stumbly and zombie-shuffling, with blood stains and weird looks of possession.
2. Eventually, Montana positions Lady Poison in a chair (her back facing the audience), and he "saws" her hands off, one-by-one, in dramatic fashion with a chainsaw. Loud buzzsaw effects soundtrack Montana's wild gestures of effort in getting through the bone. Oh, and he's wearing garbage-bag diaper underwear and a murderous apron–we are clearly invited to admire his obliques and generous musculature. It's clear that this is part of what some people have come for.
3. Lady Poison is left alone on stage to perform a haunting, creeped-out version of the Beatles' "I Wanna Hold Your Hand." Get it? She has no hands, but instead has shiny, bloody, bound stubs at the end of her forearms, and she's lip-synching her face off while slamming her bloody nubs on the ground. It is a little cringe-worthy, not because of Ms. Poison, but because of the disturbing effect of bloody amputated wrists being pounded into the dirty ground. She does another hand-holding song, which I sadly cannot identify, an old-timey number that presented a challenging lip-synch. Still, she pretty much slayed it, while pouring salts in circles (she's ripped off her bandages now and is using her hands) and throwing white powder all over the stage. It's very Stevie Nicks-y a la American Horror Story: Coven.
4. Perhaps one of the most memorable performances came from Stephi Lyenice before the intermission. What could have possibly been seen as an innocent-looking, small, but curvaceously sexy young woman, quickly becomes sinister. She's working a pleated, metallic silver cape connected to batons she's gripping, and she's manipulating it to look like wings. The aesthetic is stunning; she spins long and gracefully and cloaks herself and a splayed-out Lady Poison. But then she kneels over the top of Ms. Poison and pulls out a freaky little tiny-man mask, a possessed-baby lookin' hockey mask, and, aside from her wings, she's really only wearing a black vinyl corset with zippers and cut-outs. She's pulled a knife out of her hair, and she's unzipping her corset to reveal beautiful breasts covered just so with tittie tassles. She mimes stabbing Poison a dozen or so times and is off the stage.
5. Poison made a big mess. And with 15 minutes before a second act, Montana is laboriously sweeping the tons of white powder everywhere. He's sweeping around about 10 decapitated mannequin heads (conceivably reused from his, allegedly, far more ambitious Fringe show, Basement) and still has his garbage-bag briefs and murder apron on. The DJ plays, loudly, that ubiquitous remix of Lana Del Rey's "Summertime Sadness" and "Work Bitch." Again, is this part of the show? Him sweeping and showing us skin?
6. I saw Montana do a backwards Santa striptease at Tabu for a Bearlesque, I believe, so this next act wasn't a huge surprise. He starts out in a giant, puffy Megaman suit strapped to his back, with him facing the rear of the stage and a puffed-up Megaman robot facing the audience. Luna Lavey's a weird queen, no doubt; she may have gestured pleasuring herself with a handsaw in the night's opening number. But even though she looked beautiful in skin-tight, space-patterned leggings, she gave a pretty disappointing lip-sync. Either she didn't know the words all that well or something took hold of her, but she and Megatron awkwardly fought until she jumped on Montana and pounded on his body like Ann Darrow would on King Kong's hand.
7. With a little comic relief, Ms. Lyenice came out in a vibrant, fringed red dress and smashed the aforementioned decapitated mannequin heads with a frying pan to Frank Sinatra. The sound effects were on-point; every time she wailed on a head, it was accompanied by a loud and resounding thwack. Impeccable timing.
8. Poison came out with a marital march, holding a bridal bouquet, and got annihilated by Pretty Girl and her machine gun. Pretty Girl is weird times ten. She's a queen who wraps her face in gauze, but wears powder-white makeup and bright lips. She almost looks like a burn victim mixed with an old-school sheet ghost and amplified by the pretty girl from the first season of American Horror Story. She wore a vest made of empty cigarette boxes and flounced around the room (including the only visit up to the riser seats) to a twisted version of "White Wedding." She even had a sip of a beer that belonged to a girl sitting in front of me and left giant lipstick stains on the glass. The girl didn't bat an eye and simply sipped from the other side.
9. In one of the funnest numbers of the night, Luna redeemed herself by both killing the lip-sync to Mariah Carey's "All I Want For Christmas" and gleefully tearing apart a 3' tall standing, automated Christmas Santa with a variety of weapons from a paper-wrapped gift box. The pruning shears did the trick in the end, as she ripped out Santa's entrails and wrapped them around her like a scarf.
10. Shortly after the end of Luna's Christmas number, Montana's machine-fed voice came on the loudspeakers to creepily announce that the show was over—after about 45 minutes since its first act (including a 10-15 minute intermission). You could tell it was a little bit of a needle-slip moment, with audience members looking at each other like, "REALLY!?" Facebook blasts seemed to hint at an aerial number, including video of rehearsal, but it sounds like that'll be in tonight's through Thursday's performances. But with very little-to-no Gunnar Montana dancing and no aerialist (essentially, two numbers from two queens and Ms. Lynice, and a romp with Pretty Girl), the show felt a tiny bit slapped together.
Josh Schonewolf and Gunnar Montana present Drag Me To Hell, tonight-Thursday night, Oct. 29-31, doors at 9pm, show at 10pm. $10. Underground Arts, 1200 Callowhill St. undergroundarts.org
Hypothetical scenario: Dude you're on a first date with picks you up at your door; you walk over to a nearby restaurant and sit down at the table, and then you see his watch. It's a metallic number, chunky and thick, with visible gears and ostentatious detailing on its face. Now, hold on: Let's imagine this guy–he's six feet tall, dressed well enough (button-down, well-fit denim, inoffensive shoes) and has obviously made a good enough impression to win a date with you. But he seems to be quite fond of his timepiece, stretching on occasion to make sure his watch is visible beyond his cuff and holding his hands together in a manner that puts his wrist on display.
"Was that your dad's watch or something?" you inquire.
"No," he guffaws, "I bought this. It's a Hublot."
"What's that?" you ask.
"Oh, it's a luxury brand. Haven't you heard that Watch the Throne song, "Otis"?"
"No," you confess.
What he doesn't know is that you detest showy displays of income, wholesale buy-ins to maleness and co-opting pop star fashion for your own.
Busted.
That wouldn't happen with an Analog Watch Co. watch for a number of reasons. While watches made of wood aren't completely unheard of (you can find them at Kembrel, on sale, while the Chestnut Street pop-up's still open), Lorenzo Buffa is a Philadelphia designer and founder of AWC who's launched and already crushed a Kickstarter goal to fund the production of soft, flexible wooden watches that are gender neutral and make a statement that's not "I have money and taste." In fact, a wooden watch might suggest the wearer's a little more on the crunchy, urban hippie, eco-conscious and nature-loving tip.
On Oct. 11, Buffa launched a $10k-goaled Kickstarter push, and, at the time of this writing (10/21 @ noon), he and AWC have 333 backers with over $31,000 pledged and 20 days left in the campaign. Not bad at all. And, to his credit, Buffa's a queer kid who's propelled himself him into now-thriving watch designer status and a Kickstarter success story.
"If it wasn't for navigating the challenges of being a marginalized individual, I don't think I would be who or where I am today," he told PW. "Those hard times only give me strength and compulsion to push myself more." And push himself he did. For months he designed, prototyped, contacted and initiated relationships with manufacturers, studied other campaigns and prepared a marketing effort for his brand. "We spent months working on a strategy for launching on Kickstarter," he says. "I gauged how well the project would fit in, and fortunately, it's exceeded expectations."
Looks like Buffa's poised to be swimming in wristwear—taking orders, plus creating, marketing and shipping them—and he's not mad. The U Arts Industrial Design alum's background is pretty varied, but he sees a lot of potential in watches, much more so than just a way to tell time. "Watches today are much more about expressing one's identity. They are symbols of status, ideals, class, etc.," Buffa asserts. When questioned on whether or not he was ready to be the watch man, he seemed resolved: "I'm going to settle in and work on watches for now. This is just the beginning."
The Carpenter Collection uses soft wood, leather and minimalistic design elements (no numbers, lines or figures – it's Analog, get it?) to achieve a pretty sophisticated blend of aesthetic elements for 2013. Because he wanted to appeal to a wide audience—and, in all likelihood because he's a talented queer—these watches are slim, chicly simplified and refined in their design. And there's still time to get in on the Kickstarter project. There are only 10 left of the 200 spots to opt in at $85, but 97 of 100 spots are left to get yours for $95.
Kickstarter's obviously no joke. There's lots of build-up towards a campaign and lots of worry over how it'll unfold if and when your campaign's funded; Buffa gets the green light on Nov. 10th. Is he ready for the deluge? "Absolutely," he says. "This has been over a year in the making. Months have been spent building relationships with all the parties involved [and] in bringing a product to production." There's magic in that Kickstarter, too, helping all kinds of creatives achieve things never believed possible.
Buffa put it perfectly: "There is an amazing tool at our disposal: the Internet and computer. You can do anything. Anything. It's created a new era for makers, designers, and how small businesses grow in ways it never could have 20 years ago."
Mr. Anonymous, AKA H.P. Hovercraft AKA Rodney Amadeus Anonymous AKA Rodney Anonymous Mellencamp, is a beloved creature in our fair city. Dude's a Chester County native who's been with the Dead Milkmen since they were a basement project. He's also a storied City Paper contributor (Aid or Invade is THE SHIT) and our own reigning mayor of Philadelphia. After his swearing-in, we were notified that he'd be declaring, in an official capacity, a list of his favorite albums of the year — yeah, the year's not over, but so what? — and, unsurprisingly, they're a little weird (especially alongside my comparatively downright cushy list). Hardcore freaks and metal heads will rejoice at his dark and dank list, and most of us will scratch our heads and think Damn, that's a funny name for a band. Here you have it!

1. Skinny Puppy: Weapon
Sure, it would've been nice to hand the No. 1 spot over to some new kids on the angry, grimy block, but Skinny Puppy shot that plan all to hell by releasing a nearly perfect CD. This is a Criminal Age, indeed.

2. Vomito Negro: Fall of an Empire
Sweet Mother of Crap! From the distorted kick to the skull of the opening track "Enemy of the State" to the last note of the final song, this release just keeps going at full speed and never runs out of steam.

3. Jen Vix & Dirk Ivens: Fuck, Rinse, Repeat
The titular A-side of this single is a brilliant song, but it's the B-side, the beautiful "Burn," that is probably the best tune that you will hear in 2013.
4. IAMX: The Unified Field
"I Come with Knives" is so infectious that repeated listening will likely leave you with a strange sore on your upper lip. That's a small price to pay for such a solid CD.

5. Prometheus Burning: Kill It With Fire
Nearly everyone who's heard this CD has suffered a neck injury from bobbing their heads along with it.
6. KMFDM: KUNST
As with Skinny Puppy, this is another case of a band that's been around for decades bringing the adrenalin.

7. SNOG: Babes in Consumerland
How could you not love a CD that includes a song called "The Corporate Homoerotic Cyclists"?

8. Tweaker: Call the Time Eternity
Probably the most tragically overlooked release so far of 2013. Seek out the track "Nothing at All" (featuring Jessicka Addams from Jackoff Jill) and know joy.
9. Mindless Self Indulgence: How I Learned to Stop Giving a Shit & Love
Just for the lyrics "You're gonna die alone / Oh, oh, oh shit yeah!" from "It Gets Worse," this deserves a spot on everyone's Top 10.

10. Terrorlokaust: Spit the Poison Out
This wonderfully ambitious and rhythmically complex release will jam the chorus of "Blood Starts to Leak" directly into your brain.
Our music issue's only a small handful of days away, and we keep counting down to the big day (the 14th) by asking locals about where they love to shred and get blown away by their favorite bands. In this edition, we got Greg Woodward from the face-melting hardcore outfit, Plague Dogs, to say a few words about where he likes to perform and get weird while catching crazy talent, and it's all over West Philly:
"My favorite spot to play in Philadelphia isn't one specific venue, it's an entire section of the city: West Philly. Plague Dogs and numerous other auditory junkies call it home and proudly boast of this side of the river's long history in showcasing local and touring acts that leave audiences leveled like a blind squirrel crossing a four lane highway. This place has been cranking out filthy underground ragers since before my feet hit the dirt. The physical venue constantly changes, but the same debaucherous spirit rides full speed in every dripping, darkened, smoke-filled crevice that can harness enough power for a group of musicians to sling their riffs and send your head plummeting into a teeth-clenching hangover. If you like your music loud, your beer warm, and your memories clouded then stand up, head west and hope to God you can remember your name in the morning."
The third annual GayFest! is already in full swing (and significant ink's rightfully been spilled about it). Though it launched on the 6th, you've still got weeks worth of gay theatre to take in, and there's lots of it. With four feature plays, six one-night stands, and a few other parties and readings, it'd be nearly impossible to catch ALL of it, though some will give it their all. (Consult the Quince Productions website for the full run-down on ticketing, showtimes and venues.) We caught up with Rich Rubin, the festival's founder and director, and Alexander Kacala to get the scoop on what to expect from some of the gayness going down.
Kacala, as you very well may know, is also known as Tammy Faymous. As Tammy she's a dynamic emcee, performer and pseudo-drag queen. Because the thing is, Tammy doesn't hide her hairy chest or pitch her voice up into unreachable female vocals territory. (That's pretty much impossible if you still have testicles.) But Alex has been revering, listening to and imitating women his whole life. He loves them. He has a sister, Karina, whom he loves and sometimes works with on theatrical endeavors (more on that later), a mother he adores and loads of female friends. And the ladies will be shown love in his one-night stand titled The Lost Phone Diaries on Wed., Aug. 14 at Plays & Players.
"It's a melange," Kacala says, "kind of like Sandra Bernhard. There's storytelling, stand-up, a live band"—and he'll dish on how he started doing drag and being gay in Philly. After performing as a genderfuck drag gueen around the city, he's looking forward to performing as a boy. "It's always been on my radar to do things as a boy; the hardest part is putting together a band," he confesses. He's got Andrew Nelson on bass (who arranges and plays for Martha Graham Cracker), Clifford Hall on guitar (also of the local band Acton Bell), and Barbara Duncan on drums (one of the two backbones of Ang and the Damn Band), plus his sister'll be providing some classically-trained backup vocals. It's a lot of music with an anticipated 10-12 songs in a set, covering lots of ladies: Tracy, Patti, Beyonce, Rihanna, Cyndi, La Roux, Amy, and some songs from Hedwig and the Angry Inch.
"It's about finding songs that fit into my range," Kacala says "Doing drag is kind of like karaoke, and it's so limited." He's excited to be doing this kind of performance because he can shape it mold it like he intends to: "I'm more in control of the whole experience. It's something I've always wanted to do. We can arrange with a band and I can bring LaRoux down two steps." One thing he is coy about is whether there'll be outfit changes. "Maybe," he says with much intonation—meaning yes, there will be outfit changes.
Aside from Kacala's performance, Rubin has amassed an awful lot of talent for GayFest!'s week of shows. "We began the one-night stands last year, and they were one of the most fun parts of the festival," Rubin says. "What I love about the one-night stands is that they can push the envelope in a way we might not be able to do in a regular run of a mainstage play, and present a wide variety in both form and content."
Rubin lays out the other five one-night stands for us like so:
"Queer Magic" brings together a wild group of musicians, magicians, and other gender-bending artists for a witch's brew of entertainment that's going to be unlike anything we've had in GayFest! before. (Sun., Aug. 11, Plays & Players, 7:30pm)
"PHIT Improv Night" is a night of GLBT improv comedy with two improv "teams" ("Hot Dish" and "Axis of Evil") from Philadelphia's leading improv comedy troupe. I've wanted to include improv in the festival and I was really lucky to get PHIT to agree to perform. (Tues., Aug. 20, Playground at the Adrienne, 7:30pm)
"I Am Because I Am" features singer/actor Sebastian (who's also starring in "The Homosexuals") in a theatrical concert with original electronic music and dance. (Wed., Aug. 21, Plays & Players, 7pm)
"Filthy Truth" combines music, movement, and the spoken word, exploring some of the most difficult issues of GLBT equality in an original and fascinating way. (Wed., Aug. 21, Playground at the Adrienne, 7:30pm)
"Manic Depressive Pixie Dreamboat" is a one-man show featuring the amazing Ben Storey, a Quince favorite (he's also in "Someone Brought Me" in the festival, his fifth appearance with Quince) in an interactive, multimedia storytelling event. (Fri., Aug. 23, Plays & Players, 7:30pm)

As a queer person, the chance to attend a queer performance is sometimes as exciting as it is nerve-wracking, even when you're not the one in the spotlight. You just want to see it done right. And sometimes, in those rare moments when you catch an artist's expression, and it's inspiring or blows your mind, you get lit up. Your mind finds new ways of working; your perspective is inexorably changed. But then there's the flip side. From time to time, it's even your friends. They're so eager and excited to perform; then they get the mic, and you're frozen in place. Oh, this isn't good, you think. Boy, I wish this was a lot better. Could be a lack of rehearsal, an awkward stage presence or just an altogether bomb on execution or delivery.
Next weekend, over the course of four days and nights, Kate Gormley and seven other volunteers have packed in about as many of these opportunities one can possibly imagine at the third annual Phreak 'N Queer Arts and Music Festival. Gormley and her team have so much in store that there are sure to be standouts in both categories: moments where stars are born and crashes where artists will be pulled back up and encouraged by fellow queers to go back to their craft with new determination.
The mix of programming they've put together is really quite a feat. And this year, more so than in the previous two years, the P 'N Q team wanted queers young and old to be able to attend, adding in more all-ages opportunities and scaling down ticket prices (plus a few "No one will be turned away" events). But what made Kate and Co. want to throw the first festival a few years ago, PW asked?
"We wanted a little bit more out of the Philly scene," Gormley explains. "Things were getting very poppy and mainstream, and we wanted to go back to some of our roots of hearing very exciting and interesting young artists. A lot of us remember the days of West Philly basement parties, where you'd hear someone's mixtape or EP and not Ke$ha on the dance floor."
There's no question that there's not so much as a clash as a disparity between pop and punk gay cultures. They don't really coexist. To that end, punk queer culture could understandably feel like their pop queer counterparts not only dominate everything in American culture's perception of queerness, but even go so far as to quell the wealth of opportunities in the city of Philadelphia to catch things like queer poetry readings, genderqueer art walks, lo-fi bizarro queer rock shows and trans-friendly dance parties.
"We wanted to push the envelope of what was happening or what could happen in queer culture in Philly," Gormley continues, "so a bunch of us got together and said, 'What the hell.' We sold out shows and saw a bunch of people you don't typically see on the rounds. So, we just kept it going, and this is our third year now."
She elaborated, too, on what kinds of performances she hopes will transpire within spaces that nourish, encourage and support artists looking to take a chance or push themselves in directions they never thought they'd be able to go. And that's part of the whole purpose of Phreak 'N Queer: It serves to create spaces where queers can congregate, make an audience and take in queer performance, but also to help performers come out of their shells, experiment with audiences and jump forward as artists.
"Try new things, experiment, go out on a limb—because we've got an audience that will support you in taking those risks," says Gormley. "At least that's what we're trying to do. We tell folks from the jump, 'Here's what we're about – we have to be a little more careful at all-ages shows, and we don't censor people. Know your audience.' But for the adult shows, we really encourage folks to try new things and push the boundary a little. If there's always something you've wanted to do, go for it. Why not try it?"
Why not, indeed. Hopefully this philosophy will yield some truly breakthrough and jaw-dropping moments of creative expression from a whole range of folks, both queer and queer-friendly.

THURSDAY, AUG. 1:
Phreakin' Art Crawl, in conjunction with the East Passyunk Business Improvement District, 6pm-9pm. The destinations are Aversa PR & Events, Headhunters Hair Designs, Frame Fatale, Home, Ocassionette, Nice Things Handmade and South Philly Comics. All are located between Mifflin and Watkins Streets, with maps you can pick up 1825 E Passyunk. Artists featured include Maggie Bocella, Kelly A. Burkhardt, Butch Cordora, Tiffany J. Davis, Kellyann Hueston, Messapotamea LeFae, Tracy Lavesque, Scott Mallinger, Lance Pawling, Jaden Remy Rachel Udell, plus Liberty City Kings Drag and Burlesque by Leah MacDonald.
Trash Landing, the opening night party at the Rotunda (4014 Walnut). Doors at 7pm, show at 8pm. $5 at the door, all ages, and no one will be turned away. The night will feature SGNLS, Charles Cohen, Forbidden Colors, Murmuration and Icon Ebony Fierce, plus appearances by Needles Jones, Tammy Faymous, The DaQuan, a mini-ball featuring Pumpt Up Da Beat, the DJ & DJ Delish. It's all hosted by Ruby L.L. Voyager.

FRIDAY, AUG. 2:
Phreak N' Knnnky at XO Lounge (1437 South), an adult night (21+) of leather and kink. Doors at 9pm, shows at 10pm and midnight. $5-$10 sliding scale. Featuring Wurli and His Ragtag Vintage Orchestra, Brooks Banker (Golden Delicious), Lance Pawling (Ophelia Right) and Niv Acosta, plus Miss Marry Wanna, Messapotamea LeFae, Sebastian and more.

SATURDAY, AUG. 3:
Trouble: Queer Writers Reading at Wooden Shoe Books (704 South) at 4pm. Free and all-ages, but donations will be accepted.
Featuring Alex Smith and Ras Mashramani (Metropolarity), Tim Trace Peterson (co-editor of Troubling the Line: Trans and Genderqueer Poetry and Poetics), Che Gosset, Imogen Binnie, Patrick Lucy and hosted by Marion Bell.
Homo Rama at Milkboy (1100 Chestnut). Doors at 8pm, show at 9pm. 21+ and $10. Featuring +HIRS+, Wordz the Poet Emcee, Shadow Lover (NYC), Qhoiyn B Allure, Penguin (Brooklyn Transcore), Wod Reiwdo (Philly hip-hop), Ex By V and Rachel Tension.

SUNDAY, AUG. 4:
Pssyde Delicious presents Grindhouse-A-Go-Go at the Dolphin (1539 S Broad) with DJ Robert Drake. 21+, 10pm, free until midnight and $5 afterwards.