Chris Bartlett, the William Way Center (where he's the executive director), free food and drink and the promise of gay nerds was enough to make me eager to ride my bike in the rain last night to Philly Tech Week's #techInColor mixer. I figured maybe I'd talk to someone who reps for WordPress and talk Twitter shop with some in-the-know queers. Another reason that compelled me to attend the mixer were the whispers of something I'd never heard before: the Facebook event shouted "Let's crack the brogrammer code!" There's been too much talk about bros in pop media recently, and cracking the brogrammer code had me very curious.
I got to talk to Mia and Tracy Levesque, partners in life and in Yikes, a "web design and development" firm at 204 E. Girard Ave.
"We're a full web design and development shop: front-end and back-end development, we primarily work in ColdFusion, WordPress, WordPress development and PHP," said Mia. My eyes crossed a little. What's that? I blinked a few times. "Front-end is like the pretty part and programming is the fancy that does all the magic—the magic that makes the website work," her partner, Tracy, explained.
Mia quickly referred me to a fascinating story the New York Times put together this weekend, entitled "Technology's Man Problem." It's a good read and a startling one. It details a handful of horrific but sadly unsurprising situations women in tech have endured, from subtle to overt disrespect, sexual harassment and a regularly insensitive but much-practiced notion of doubting the capabilities of women on programming, technology and seriously advanced computer science teams.
"As a woman in tech, I'm the only woman in the room many, many times," explained Mia. "The only woman in the room," she added for emphasis.
One of the things that the "Man Problem" story kicks up is the GitHub controversy that surrounded Julie Ann Horvath's ugly and saddening account of how she felt bullied and pushed out of a pursuit she'd once been so optimistic about. A brilliant programmer, she found herself a target of male coworkers and then started getting haunted by a founding partner's wife. The tale is the stuff women in technology's nightmares are made of.
Mia boiled it down nicely: "It's not a woman's problem; this is a man's problem. Men who don't feel that they need to call it out need to stick up for the people that they believe should be there." You wonder if Horvath had found more allies, in men and in her female contemporaries alike, if she would have found the strength to stay and outlast the assholes that are definitely now targets because of how much ridicule they're rightly receiving. "Your allies helping you is what makes a difference," Mia added.
If you're into queer issues and technology, there's no way you haven't gotten wind of Mozilla's Brendan Eich and his ascension and swift descent from the coveted CEO seat. He put some of his money down in support of Proposition 8, and it's easy to find this stuff out. People were pissed, especially queer folks who use the browser, and made a proper stink about his questionable position in a high-powered company. Susan Adams did a nice roundup of the watershed issues that stem from this stinker of a controversy, and OK Cupid even asked their users to use a different browser (points!). Of course, Mozilla's got a very sterile Q&A up about the nature of the dust-up and how it reflects their collective morality.
Fascinating, isn't it? As a feminist and a queer, it seems pretty natural and obvious to me that diverse perspectives and staffs translate into successful businesses and products.
"Diversity in tech gives a perspective to see things the way you wouldn't. It gives you ideas and opens up your creativity," concurs Mia, the mother of an seven-year-old daughter. She wants to see a better world for her, and she's rightly worried that she'll grow up and struggle to find the stories of minority and female success in the technology sector.
"One of the things I find very sad is that people who have done innovative things in the technology world, women, queers, people of color, they've been removed," she said with conviction. "Literally physically removed from their innovations." Frightening, indeed. PW recently did their best to make sure that no one forgets the six women who were, essentially, the world's first computer progammers in 1945 with last week's cover story. Never forget.
But Mia sees the future crop of potential female tech leaders as an inspiration. "Thirteen and 14-year-old girls who are using technology to change their worlds are so inspiring to me. I'm really inspired by that. It inspires me to make the world better for my daughter."
We've got a female-female team and firm in Yikes, who are seemingly actively breaking the brogramming code. And that's something to celebrate.
When Kurt Souder and Jennifer Burks got a prompt from the folks at Philadelphia Fashion Week to whip up a capsule collection, it sparked something in their creative trajectory. They'd both been toying with ideas and designs, but hadn't been given the opportunity to show fashion-y people what they're all about—that is, until last month, when they ushered out a handful of looks that ended up being some of the most memorable of the whole show. And on a three-week time budget.
Their brand, Weft, is picking up steam, and so are they. Specializing in tailored pants and capitalizing on their unique perspectives on menswear, especially sportswear, the two are poised for a busy spring. Last night, they showed me their collection and had a model (read: roommate) wear a few looks for perspective. For a capsule collection, a handful of garments created to express a shared aesthetic, this one's pretty robust. There's room for improvement, but their staples and standards are what keep the line strong: well-tailored and constructed pants, beautifully-cut five-pocket jeans, hand-painted "patterns" and a cohesion that celebrates an attitude they like to call "dressing in the dark."
That descriptor doesn't have to mean that your house was on fire, and you grabbed the nearest five garments to be covered in the event of a fire drill in winter. For Souder and Burks, it's about cultivating a wardrobe that works together, no matter the combination. They showed me three graphic print tees (perhaps the last they'll make) that illustrate objects exploding, visuals bolstered by Souder's self-taught leather cutting and hand-painted detailing. They see the tees as a layering tool, something to wear with a strong pant and a blazer or under a waffle henley.
But it's the tailoring of the pants that caught my eye the most. Their pinched seams, that run down the front of the pant like an outward pleat (but also like a simple fold-line), create a visual intrigue that adds to the garments' strength. A perfectly effortless but gorgeous pair of dark denim looked like it'd belong in an A.P.C. rack at Barney's. The simplicity of a black wool turtleneck with an asymmetrical hidden neck zip, not unlike something you'd find at LuLu Lemon but kicked up in sophistication, looked comfortably and perfectly paired with their jean.
I told them that with a line of 20 variations of those jeans and that sweater, I'd be waiting in line to get my size.
Philadelphia isn't notorious for cradling and cultivating fashion talent, but these two friends—who go back to pre-teen days at Moore's extracurricular art classes on weekends—are in it to win it in the menswear game. Whereas Commonwealth Proper and Suit Supply may corner a specifically higher-end and suiting market, Souder and Burks hope the everyday wear and flawless construction of their sportswear is something they'll see on all kinds of men walking down Walnut one day.
PW profiled Philadelphia native Alec Ounsworth and his band Clap Your Hands Say Yeah back in October. We praised Ounsworth's ability to evolve as a musician with each of CYHSY's three albums (not to mention his own 2009 solo release) and noted his unorthodox decision to eschew the record-label format and instead self-release all of the band's material.
As it turns out, that radical approach to the music business applies to his live shows too: Ounsworth is opening up a "living room" tour with a show in Philly this Thursday. After an open call for hosting homes in November, Ounsworth will be touring the U.S. by way of unfamiliar living rooms, offering fans the chance to see him perform solo in strangers' housed.
We had the chance to chat with Alec before this week's show—the location of which remains a secret to everyone except for those who managed to buy a ticket to the now sold-out gig.
PW: Where did this idea come from?
Alec Ounsworth: It's been going around for a little while now. My new manager [Bob Andrews] suggested it to me. Dave Bazan [of Pedro the Lion] has been doing it for a little while. It's been good for him, in terms of more direct experience with people that he's been making records for. It removes the distance. It's a nice opportunity. It's something I liked about our early shows that I haven't really had the opportunity to do since then.
So, you've never done anything like this?
No, not really. Except playing for friends, and that was a while back. That's the idea, to pull it back, so it's really about the song in the most intimate of settings.
Will this be mostly CYHSY material?
I'll probably be doing all Clap Your Hands. I'll veer off here and there. I'll probably lean on more material than when I play with a full band because I could probably do it by myself more easily. [Laughs]
Do you like playing solo more than with a band?
Yeah, at this point I definitely prefer solo. It's more challenging, and I think that you can kind of do more. I used to do solo shows 10 years ago, and that was my only thing. The only reason I started a band to put the songs together for the first record was because I thought it would be interesting to have these overlapping keyboards and this, this and this. But now, I feel like in its most reduced form, it is more interesting to me at the moment.
Is that because you have more freedom to do what you want?
That's part of it. But it's more that I've done band shows for so long. I'd also like to show people how the things begin, in a way. I've been listening to John Lennon's early demos, before he did them with the band. I'm at a certain point right now where I find that almost more interesting than what they came up with as a full band. And if a song stands up, it'll stand up any way you put it forward.
Will you be taking requests?
For these early shows, I think I'll try to stick to the scripts to a degree. People have asked for relatively obscure songs when we're onstage, and I've heard them, and I've wanted to play them, but sometimes I'm the only one who knows them. It might be an opportunity to revisit some of the songs that I haven't had the opportunity to play too much.
Will you be playing any songs from the upcoming CYHSY album [due out in April]?
Yeah, I'll probably ease those in. Unlike albums two and three and some of the solo material, they don't lend themselves as easily to guitar and vocal. But I'll figure out a way to make it work.
Do you think you'll be hanging around the various houses after each performance?
Yeah, that's another thing that I've always wanted to do. It's difficult to do that at a festival or at a bigger show. Definitely. There aren't going to be that many people there, so I can't imagine it'll be too overwhelming.
Since it's a new format, you think you'll get any pre-show jitters this time around?
Yeah, well, I get jitters anyway playing songs for anybody. It doesn't matter if it's two people or 2,000.
Tickets to this show are now sold out, but Clap Your Hands Say Yeah is certainly still worth checking out.—MAX UFBERG

Lee Porter's a busy guy. On the web. In addition to being heavily involved at the Azuka Theatre ("The Off-Broad Street Theater"), he's been whipping up Web series' galore and his pièce de résistance is about to debut its third season. To kick it off, he's hosting a really bangin' Underground Arts party on Wednesday night to get the word out and celebrate the third season's launch. We cornered him to get some questions answered.
Season Three! Gotta say you guys have a great lil' site that's all clean and functional and user-friendly. Plug that web designer! Right now!
Indeed, we take great pride that our website is 100-percent original and slick. Web designing credit goes to my dear friend Mark Sokoloff, and our current coder is Paul Impellizeri, who also plays bass for the Philly band Wild Rompit.
How'd the idea for this series come about? Did you come up with that tagline, "Life is full of benches and theories. When your life is ruined, you sit on a lot of them?"
I had already come up with the name My Ruined Life when I was in Rittenhouse Square, and the bench idea came to me. Each episode is filmed on a different bench in Philly, featuring many of this city's beautiful, diverse neighborhoods. It's fun to recognize the neighborhoods and benches, which I scouted when going for a run or by recommendations from friends. The basic "plot" of MRL is friends meeting on benches and complaining about their "ruined" lives. Yes, I came up with our tagline, and the deeper message is "As bad as you think you have it, life really isn't that bad at all. So, let's laugh at ourselves instead."
Sure looks like maybe you guys have been actors and writers who've been in and out of service work. I would know absolutely nothing about that (Kidding: I, in fact, know all too well that shitty hellish cycle).
We all wear a lot of different hats, you could say, but that's usually the life of the artist, isn't it? For more info about our talented MRL family/team, check out our website for full bios of everyone involved.
Have you seen other web series online that have inspired you? Have you seen The Outs, by chance? It definitely seems like there's lots of growth potential in the idea of a "sophisticated" web series.
The web series is an interesting art. I think the difficult thing is expanding your audience. Today's average attention span seems to be so short. Plus, there are millions of online programing choices. I'm confident that if you stick with it, and get just a little luck, people will eventually tune in. My favorite Web series have included smaller budget stuff, like Old Friends (whose team helped me get started with my first project fb4h.com) and Clark & Michael and larger projects, like Burning Love.
Do you guys shoot a whole season of episodes in one ambitious day or week?
Yes, for budgetary reasons, we film and power-through each MRL season in two straight days. Our production team has grown so much stronger over the years. So, we've expanded from eight unique videos the first season to 13 unique videos in Season Two. This new third season consists of 16 unique videos filmed in just two days.
So what's up with the big kick-off event? TJ Kong (& The Atomic Bomb) and Work Drugs are great bands! How'd you get connected to those dudes (Dan & Nero, anyway)?
We couldn't ask for a better lineup for our release party! I have been a huge fan of TJ Kong & the Atomic Bomb for four-some years now. I chatted with TJ Kong (aka Dan Bruskewicz) a few times and started reading at his monthly Writers Night in America at Jose Pistola's. Now we're good friends. I met Work Drugs' Nero Catalano through my talented actor friend Davy Raphaely, who starred in my online project ProjectWink.com. I described how I envisioned our MRL theme song sounding like via email, and Nero did the rest. It's a brilliant song, and Nero will be performing it live at our upcoming Underground Arts party.
Based on my experience in Philly, good people with creative minds always end up good friends, and that's part of the fun behind this project. We're friends having fun, not just looking for a paycheck.
That Brian Cowden is one handsome fella. That's not really a question so much as a statement that I wouldn't mind you elaborating on.
Brian Cowden (aka BC) is the man. His talents are amazing. He's got the right look, as you allude to. The sky's the limit for this guy. I admire Brian the most for not running off to NYC or L.A. like so many talented young folk do. He's kicking butt in the Philly theater world because he's true to his art and believes, as do I, that today's talent can be "discovered" anywhere.
Wanna plug something happening/comin' up at Azuka?
I'm a member of the board of directors at Azuka Theatre, and I first discovered most of my projects' actors, including Brian Cowden and Kristen Egermeier, at Azuka performances. Azuka Theatre is hosting free readings the week of January 13th, so swing by and check out some outstanding actors.

Photo provided by the Ps & Qs dudes' Facebook page.
One of my favorite stores in the city is Ps & Qs. Pretty sure you've figured that out by the handfuls of posts I keep putting up. One of the reasons I love the store so much is because of a couple of the dudes that run the place: the owner, Ky Cao, and one of his trusty associates, Saeed Ferguson (pictured above in the bottom left). They're just chill dudes with good style, and they seem to enjoy talking shit with me about menswear shopping in the city and brands and shit. And Cao seems to be keen on putting together some really cool in-store events. I missed an event a couple weeks back that featured the Naked & Famous denim guru, Brandon Svarc. But when I got prodded to come see what these guys The Madbury Club were all about, I said to myself, This can only be interesting. Not knowing much about the dudes, other than what Cao'd told me (essentially, they run a blog, but they're also creatives who do all kinds of stuff), I knew I was in for some kind of a lecture and a Q&A. Those kinds of things are always good to get my blood pumping and my brain twitching.
So, let me break a few things down before I get into my thoughts.
The Madbury Club's been evolving for years. What started, primarily, with Phillip T. Annand and his budding Award Tour T-shirt game, with the assistance (he'll say mostly packing boxes of shirts) of his boy Ellington Hammond, has grown considerably and taken on a few different variations of a mission. TMC is far from a T-shirt company in 2013. Annand and Hammond have been recruiting. They've pulled in a handful of creative and spiritual dudes (this is, 100%, a sausage party; some of em' from Philly) to help them mold and sculpt their creative vision. But what they're more than willing to admit is that this vision isn't totally in focus— or at least, they're willing to admit that they're not even sure exactly what they do. They're somewhere in between a creative team that'd be not unlike a small ad agency (but only on the creative side), a collective of artists/photographers/videographers/creative producers and fashion fans. Seriously, it wouldn't feel right to call these dudes stylists or fashion editorialists, but they just love sweet goods. Especially sneakers. Over on The Madbury Club site, you'll find some extraordinary lookbooks in which they themselves act as curators and models. Certainly they've got brands they turn to on the regular, but what they seem to do most genuinely is dress themselves in current, urban, modern and clean looks.
One of the reasons these guys got started in this line of internetting is pretty simple: They were bored with what was being offered to them. Complex, SPIN, Highsnobiety, Hypebeast, Street Etiquette—these were 'zines/blogs that they eagerly and excitedly consumed, but they inevitably felt bored by them, or at least, they didn't feel like they were being as adventurous or as creative as they could be. So, they started a site. One of the things they were certain about was that they wanted the visuals to be extra. They wanted spreads to be full-screen affairs with outstanding content. "Content" is actually what TMC seems most obsessed with, and that was one of the weirdest aspects of the night. What this content is is, again, something they're deciding on as they go.
Take "Chazebralope" (below), for instance, one of their most recent efforts. It's essentially a trailer for a movie that will never be made, but it's an ambitious one. The vision came from a choice of six sneakers from PUMA that they could make something visual for. They picked the ugliest one, the one with more than five different animal prints on one shoe, and crafted a narrative around the idea of a mythical beast. A dangerous one–a mixture of a cheetah, an antelope, and a zebra (obviously). They shot for almost a week in the deserts of Utah and boiled down hundreds of hours of footage into a high-end, visually-dazzling trailer. Shoes are hardly the focus. But TMC guys are starting to catch on to the fact that they've got what some companies are looking for to the T. They're young, they're stylish, they're urbane, they're sophisticated, and they have taste, but most importantly, in their own way, they have the technical and artistic know-how to make an outstanding visual product. When they got their first giant wheat-pastes plastered all over New York City, they knew they'd made it. Sort of.
Here's the troubling thing, for me, about these guys: They're all clearly very talented; they've got GREAT eyes for visual aesthetics; they know clothes and shoes, and they're trying to explore the unknown realms of the nebulous worlds of creative new media. It's like dark matter. The sky is the limit. Craft yourself a strong following with a killer Instagram feed or recruit a rabid Twitter following, and sometimes, the world is your oyster. You could turn into a famous blogger (at least, until, the flash in the pan cools down) and start appearing on TV as the voice of a generation. But to do it all while continuously expressing the idea "We're not sure what we're doing" is disheartening because it feels a little like the blind leading the blind.
The team has found creative epiphanies and renewed their zeal by traveling, a pretty big component of their blog (which, at the moment, isn't nearly as robust or updated as it used to be, and they're OK with that). And one of the heaviest topics entertained in the Q&A session was the idea of following your creative heart, and if that means saying "Fuck it, let's go to California and see what happens," you buy your tickets, and you all cram into one hotel room or tent and do it on the cheap if you have to. School is not for everyone, and a degree doesn't get you anywhere. You get yourself to wherever you absolutely have to—and adventure is essential to a truly lived life.
I just have to share one more thing. In the Q&A, there was a dude who purported himself to be an art school graduate who teaches art, and he applauded the collective for rebuffing or at least questioning the value of an art degree, but finding much more value in just constantly creating and constantly experimenting. At one point, Annand talked shit about Duchamp's "The Fountain," which I didn't really approve of. He was making a point, though– when stuffy art heads make something absurd, call it art, and it's lauded as genius, it can be a little disconcerting. But art teacher dude managed to make the analogy that the work TMC is doing, work that we got to see lots of in their presentation, is in fact exactly like Duchamp's "Fountain," but in 2013. To him, I say, "No sir. I heartily disagree."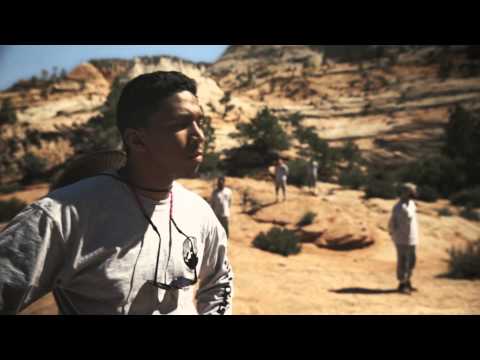 Monday night, I accepted Josh Schonewolf's invitation to check out Drag Me to Hell, Gunnar Montana's newest bizarro performance moment. It was definitely weird. Here are a handful of things I saw, heard and learned at Underground Arts:
1. Let's just set the scene real quick. UA has been a strange and welcoming queer space for a second now, welcoming all kinds of weirds including the Queen Diva, Big Freedia, next week. And it seems like, while the space is flexible, the logistics are pretty constant–a riser of foldout chairs on bleacher seat rows and sporadic roundtables with chairs around them on the ground floor between the risers and the stage. It's imaginable that a show like Big Freedia's will require the elimination of the tables and chairs and just have ticketed seats with standing-room space for freakouts. The DMTH crew used this to their advantage, entering and exiting on each side of the bleachers and taking the opportunity to get all up in the faces of the seated patrons between the risers and the stage. Lady Poison, Luna LaVey, Pretty Girl, Stephi Lyneice and Gunnar Montana enter, stumbly and zombie-shuffling, with blood stains and weird looks of possession.
2. Eventually, Montana positions Lady Poison in a chair (her back facing the audience), and he "saws" her hands off, one-by-one, in dramatic fashion with a chainsaw. Loud buzzsaw effects soundtrack Montana's wild gestures of effort in getting through the bone. Oh, and he's wearing garbage-bag diaper underwear and a murderous apron–we are clearly invited to admire his obliques and generous musculature. It's clear that this is part of what some people have come for.
3. Lady Poison is left alone on stage to perform a haunting, creeped-out version of the Beatles' "I Wanna Hold Your Hand." Get it? She has no hands, but instead has shiny, bloody, bound stubs at the end of her forearms, and she's lip-synching her face off while slamming her bloody nubs on the ground. It is a little cringe-worthy, not because of Ms. Poison, but because of the disturbing effect of bloody amputated wrists being pounded into the dirty ground. She does another hand-holding song, which I sadly cannot identify, an old-timey number that presented a challenging lip-synch. Still, she pretty much slayed it, while pouring salts in circles (she's ripped off her bandages now and is using her hands) and throwing white powder all over the stage. It's very Stevie Nicks-y a la American Horror Story: Coven.
4. Perhaps one of the most memorable performances came from Stephi Lyenice before the intermission. What could have possibly been seen as an innocent-looking, small, but curvaceously sexy young woman, quickly becomes sinister. She's working a pleated, metallic silver cape connected to batons she's gripping, and she's manipulating it to look like wings. The aesthetic is stunning; she spins long and gracefully and cloaks herself and a splayed-out Lady Poison. But then she kneels over the top of Ms. Poison and pulls out a freaky little tiny-man mask, a possessed-baby lookin' hockey mask, and, aside from her wings, she's really only wearing a black vinyl corset with zippers and cut-outs. She's pulled a knife out of her hair, and she's unzipping her corset to reveal beautiful breasts covered just so with tittie tassles. She mimes stabbing Poison a dozen or so times and is off the stage.
5. Poison made a big mess. And with 15 minutes before a second act, Montana is laboriously sweeping the tons of white powder everywhere. He's sweeping around about 10 decapitated mannequin heads (conceivably reused from his, allegedly, far more ambitious Fringe show, Basement) and still has his garbage-bag briefs and murder apron on. The DJ plays, loudly, that ubiquitous remix of Lana Del Rey's "Summertime Sadness" and "Work Bitch." Again, is this part of the show? Him sweeping and showing us skin?
6. I saw Montana do a backwards Santa striptease at Tabu for a Bearlesque, I believe, so this next act wasn't a huge surprise. He starts out in a giant, puffy Megaman suit strapped to his back, with him facing the rear of the stage and a puffed-up Megaman robot facing the audience. Luna Lavey's a weird queen, no doubt; she may have gestured pleasuring herself with a handsaw in the night's opening number. But even though she looked beautiful in skin-tight, space-patterned leggings, she gave a pretty disappointing lip-sync. Either she didn't know the words all that well or something took hold of her, but she and Megatron awkwardly fought until she jumped on Montana and pounded on his body like Ann Darrow would on King Kong's hand.
7. With a little comic relief, Ms. Lyenice came out in a vibrant, fringed red dress and smashed the aforementioned decapitated mannequin heads with a frying pan to Frank Sinatra. The sound effects were on-point; every time she wailed on a head, it was accompanied by a loud and resounding thwack. Impeccable timing.
8. Poison came out with a marital march, holding a bridal bouquet, and got annihilated by Pretty Girl and her machine gun. Pretty Girl is weird times ten. She's a queen who wraps her face in gauze, but wears powder-white makeup and bright lips. She almost looks like a burn victim mixed with an old-school sheet ghost and amplified by the pretty girl from the first season of American Horror Story. She wore a vest made of empty cigarette boxes and flounced around the room (including the only visit up to the riser seats) to a twisted version of "White Wedding." She even had a sip of a beer that belonged to a girl sitting in front of me and left giant lipstick stains on the glass. The girl didn't bat an eye and simply sipped from the other side.
9. In one of the funnest numbers of the night, Luna redeemed herself by both killing the lip-sync to Mariah Carey's "All I Want For Christmas" and gleefully tearing apart a 3' tall standing, automated Christmas Santa with a variety of weapons from a paper-wrapped gift box. The pruning shears did the trick in the end, as she ripped out Santa's entrails and wrapped them around her like a scarf.
10. Shortly after the end of Luna's Christmas number, Montana's machine-fed voice came on the loudspeakers to creepily announce that the show was over—after about 45 minutes since its first act (including a 10-15 minute intermission). You could tell it was a little bit of a needle-slip moment, with audience members looking at each other like, "REALLY!?" Facebook blasts seemed to hint at an aerial number, including video of rehearsal, but it sounds like that'll be in tonight's through Thursday's performances. But with very little-to-no Gunnar Montana dancing and no aerialist (essentially, two numbers from two queens and Ms. Lynice, and a romp with Pretty Girl), the show felt a tiny bit slapped together.
Josh Schonewolf and Gunnar Montana present Drag Me To Hell, tonight-Thursday night, Oct. 29-31, doors at 9pm, show at 10pm. $10. Underground Arts, 1200 Callowhill St. undergroundarts.org
Hypothetical scenario: Dude you're on a first date with picks you up at your door; you walk over to a nearby restaurant and sit down at the table, and then you see his watch. It's a metallic number, chunky and thick, with visible gears and ostentatious detailing on its face. Now, hold on: Let's imagine this guy–he's six feet tall, dressed well enough (button-down, well-fit denim, inoffensive shoes) and has obviously made a good enough impression to win a date with you. But he seems to be quite fond of his timepiece, stretching on occasion to make sure his watch is visible beyond his cuff and holding his hands together in a manner that puts his wrist on display.
"Was that your dad's watch or something?" you inquire.
"No," he guffaws, "I bought this. It's a Hublot."
"What's that?" you ask.
"Oh, it's a luxury brand. Haven't you heard that Watch the Throne song, "Otis"?"
"No," you confess.
What he doesn't know is that you detest showy displays of income, wholesale buy-ins to maleness and co-opting pop star fashion for your own.
Busted.
That wouldn't happen with an Analog Watch Co. watch for a number of reasons. While watches made of wood aren't completely unheard of (you can find them at Kembrel, on sale, while the Chestnut Street pop-up's still open), Lorenzo Buffa is a Philadelphia designer and founder of AWC who's launched and already crushed a Kickstarter goal to fund the production of soft, flexible wooden watches that are gender neutral and make a statement that's not "I have money and taste." In fact, a wooden watch might suggest the wearer's a little more on the crunchy, urban hippie, eco-conscious and nature-loving tip.
On Oct. 11, Buffa launched a $10k-goaled Kickstarter push, and, at the time of this writing (10/21 @ noon), he and AWC have 333 backers with over $31,000 pledged and 20 days left in the campaign. Not bad at all. And, to his credit, Buffa's a queer kid who's propelled himself him into now-thriving watch designer status and a Kickstarter success story.
"If it wasn't for navigating the challenges of being a marginalized individual, I don't think I would be who or where I am today," he told PW. "Those hard times only give me strength and compulsion to push myself more." And push himself he did. For months he designed, prototyped, contacted and initiated relationships with manufacturers, studied other campaigns and prepared a marketing effort for his brand. "We spent months working on a strategy for launching on Kickstarter," he says. "I gauged how well the project would fit in, and fortunately, it's exceeded expectations."
Looks like Buffa's poised to be swimming in wristwear—taking orders, plus creating, marketing and shipping them—and he's not mad. The U Arts Industrial Design alum's background is pretty varied, but he sees a lot of potential in watches, much more so than just a way to tell time. "Watches today are much more about expressing one's identity. They are symbols of status, ideals, class, etc.," Buffa asserts. When questioned on whether or not he was ready to be the watch man, he seemed resolved: "I'm going to settle in and work on watches for now. This is just the beginning."
The Carpenter Collection uses soft wood, leather and minimalistic design elements (no numbers, lines or figures – it's Analog, get it?) to achieve a pretty sophisticated blend of aesthetic elements for 2013. Because he wanted to appeal to a wide audience—and, in all likelihood because he's a talented queer—these watches are slim, chicly simplified and refined in their design. And there's still time to get in on the Kickstarter project. There are only 10 left of the 200 spots to opt in at $85, but 97 of 100 spots are left to get yours for $95.
Kickstarter's obviously no joke. There's lots of build-up towards a campaign and lots of worry over how it'll unfold if and when your campaign's funded; Buffa gets the green light on Nov. 10th. Is he ready for the deluge? "Absolutely," he says. "This has been over a year in the making. Months have been spent building relationships with all the parties involved [and] in bringing a product to production." There's magic in that Kickstarter, too, helping all kinds of creatives achieve things never believed possible.
Buffa put it perfectly: "There is an amazing tool at our disposal: the Internet and computer. You can do anything. Anything. It's created a new era for makers, designers, and how small businesses grow in ways it never could have 20 years ago."