Avey Tare's Slasher Flicks
Enter The Slasher House
(Domino)
Sounds Like: Pretty much what you'd expect from the Animal Collective alum (maybe a little less pretentious); yes, there's ominous darkness but the pretty pop synths and beats keep it cute.
Free Association: For the Williamsburg Halloween party that isn't really about Halloween.
For Fans Of: Panda Bear/Stereolab + Ariel Pink, David Lynch x Mogwai, Sigur Ros, Blair Witch.
SOHN
Tremors
(4AD)
Sounds Like: The debut of Vienna-raised Christopher Taylor is right on trend – capturing the UK soul of James Blake; the sensual R&B softness of Rhye; and the androgyny of Autre ne Veut.
Free Association: Feeding fuel to the fire: must go to London and find where these guys spin.
For Fans Of: Jamie Woon + Burial x Lana Del Rey, M83 x James Vincent McMorrow, sweet Euroscruff.
Woods
With Light and with Love
(Woodsist)
Sounds Like: Brooklyn's best freak folk and neo-psychedelic quartet put down the pipe to churn out their seventh stoner rock LP that draws heavily on classic rock touches like Crazy Horse.
Free Association: It's pretty annoying when bands directly reference the Beatles – not here.
For Fans Of: Devendra Banhart x Mountain Goats + Cate Le Bon and the Dodos, couches in coach vans.
Ingrid Michaelson
Lights Out
(Cabin 24/Mom + Pop)
Sounds Like: Aww! The 34-year-old who's been destroying the TV series soundtrack game for about ten years gives us her sixth and it's as light and lovely and inoffensive as you'd imagine.
Free Association: Sara Bareilles' toughest opponent for Cute Cotton Commercial Jingle supremacy.
For Fans Of: A Fine Frenzy/Feist/Carole King/Michelle Branch, beige, eggshell, taupe, big sun hats.
The Afghan Whigs
Do to the Beast
(Sub Pop)
Sounds Like: They return after 16 years of silence with a great effort – a fantastically nasty mix of soul, grit, edge and heart; expertly-made hard rock that's tempered by age but spiked with screams.
Free Association: Cincinnati is proud today! Legends of '90s Grunge mature with artistic grace.
For Fans Of: Morphine x Nirvana + Dinosaur Jr., Screaming Trees + Bob Mould, Soul Asylum.
Jessica Lea Mayfield
Make My Head Sing…
(ATO Records)
Sounds Like: The young songwriter/shredder ditches Dan Auerbach (Black Keys) to work with her bassist husband for a wonderfully complex and rewarding LP drenched in country-fried feedback.
Free Association: The young pseudo-country lady rockers brigade just keeps growing in 2014.
For Fans Of: Laura Marling/Lisse x Lydia Loveless/Angel Olsen, languid and drowsy Marnie Stern.

It's Hannah Montana against the "Half-Breed" goddess. Have a nice, clean fight, ladies:
It's been a solid five months since PW last pitted some divas at each other's throats. It doesn't take much: dropping a record or sharing separate city stages on the same night or in the same week, maybe dropping a single that jockeys for another pop master's top chart position. This week, Miley Cyrus and the incomparable Cher visit the Wells Fargo Center seven days apart. Typically, in the Diva Death Match world, I'll take that as a white glove to the face—a frigid and intimidating stare. En garde!
We've applied the same five point-earning categories in every installment of this diva-celebrating contest, and Cyrus and Cher are no exception. They're suited up—Cher in a Bob Mackie robe and Miley in plastic-wrap coochie cutters—and they look ready to do battle. Let's see what happens!
'HOODNESS
Neither of these gals have a shred of real-deal street cred. But Cyrus tries (way too hard) to claim urban "realness" and—in grand fashion, thanks to "We Can't Stop"—fails pretty miserably. Her large women-of-color props are red flags. You ain't 'hood, girl: You can throw on a grill and light up a blunt, but we all know you're Billy Ray's former-child-star daughter from Richkidville, Tennessee. Cher, on the other hand, has been around so long and done so many legit collaborations with artists who have genuine "urban radio" appeal, she's like the O.G. of divas. You do not fuck with her.
Cyrus: 1, Cher: 3
SINGLES AND SALES
Clearly, if we were looking at sheer numbers, Cher has a whopping 25 albums to her name, including '98's wildly successful Believe. But Cyrus' Bangerz is less than a year old, and it's platinum. Her singles have moved many units, and she shows no sign of slowing down. At this point, she's poised to keep selling millions of records by shitting on the mic in the studio and having Nelly rap a verse while Mike WiLL Made It cleans it up. The children will cough it up on iTunes. That doesn't stop Cher superfans from going out and buying every new record she puts out on vinyl, disc, tape and any other hard-copy format you can find.
Cyrus: 5, Cher: 4
FIERCENESS
The all-encompassing X-factor can really give a gal the edge. And fierceness can register on the radars of style, grace, dance abilities, showmanship, star power or simply glamour. There are certainly droves of queer people and folks born before 1970 who will swear that Cher is the epitome of a fierce diva. She has that regal, self-aware, surreal superstar status but doesn't even seem to try—she's like the Queen of Barely Moving. And while I've applauded Cyrus' go-fuck-yourself attitude and blatant pot-smoking badassery, she ain't that fierce. Who will ever forget her gross MTV Video Music Awards performance, backing up that flat azz onto Robin Thicke's prison-striped crotch? S'gonna be tough to live that lowpoint down.
Cyrus: 2, Cher: 4
VOCAL CHOPS
Strangely, this is a pretty weird category for these two. Do you love Cher because she can wail like a goat with elegance? Do Cyrus superfans not love her lawnmower hum? In the last half of her career, Cher's taken to over-the-top ridiculous and super-produced dancefloor anthems that seem like pretty trite gay fodder. (Have you given 2013's Closer to the Truth a spin? Listen to "Take It Like A Man," and try not to smirk and raise eyebrows.) But it's still great. And even though Cyrus' "We Can't Stop" doesn't have much room for vocal performance, "Wrecking Ball" and "Adore You" do. Cher's looking strong, but Cyrus turned up the heat in this round.
Cyrus: 3, Cher: 3
CLOUT
Cher was in "Moonstruck," and her video for "If I Could Turn Back Time" in '89—Miley wasn't born yet—was banned by MTV for her risque clothing. She's got an Oscar, a Grammy, an Emmy, Golden Globes and a Cannes award. And though Cyrus has probably got some Kid's Choice Awards on a mantle somewhere and will pick up a few boring Billboard Music Awards, she ain't got shit on Cher. The ref—oh, look, it's Cyndi Lauper!—raises Cher's bejeweled arm. Maybe next time, youngster.
Cyrus: 4, Cher: 5
TOTALS: Cher: 19, Cyrus: 15.
Miley Cyrus: Mon., April 21, 7pm. $49.50-$89.50. Cher: Mon., April 28, 7:30pm. $25-$156. Wells Fargo Center, 3601 S. Broad St. wellsfargocenterphilly.com

SINGLES
Oh man! Robyn's coming back, you guys. She and her boys Röyksopp have announced a mini-album ahead of their tour, both entitled Do It Again. Yesterday we got a snippet of "Monument," the opening track for the May 26th release. And it is good. In a statement, the Norwegian DJ duo and producer homeboys to our Swedish Pop Princess, said: "This doesn't sound like Röyksopp featuring Robyn, or Robyn produced by Röyksopp – it's just something else entirely." It's also "rave-inspired" and "big thumping house." Unfortunately, their tour doesn't touch Philly but it'll be nearby if you're aggressive about it – namely August 20th at NYC's Hudson River Park, or the following day, August 21st, at the Filene Arts (Wolf Trap) Center in Washington D.C.
Now, the other revelation in "thumping house music" is the dream team-up between Daphni and Owen Pallett. Details seem uncertain about the nature and potential future of the collaboration, which is primarily Dan Snaith (of both Caribou and Daphni fame) deftly employing the dancing, delicate violin work of the charming and Canadian mini-Andrew Bird. "Julia" and "Tiberius" are online now and, according to @CaribouBand, they'll be available digitally and on vinyl before May. If you're wondering, Pallett's got a new record out on May 13th called In Conflict and, two days later, stops at Johnny Brenda's. Did some digging, and couldn't find but ONE live date for anything Dan Snaith/Daphni/Caribou, and that's his Merge 25th Anniversary set in Chapel Hill in July.
SHOWS
You may have seen that the Flyers made the NHL playoffs? Well, Miley was kind enough to move her show up to Monday the 21st to avoid any conflicts of space use. That's sweet of you, girl. The show's been reportedly full of ridiculous props and outlandish stage antics. As of now, it seems like there are still tickets available (Comcasttix is being wonky, so the WFC box office could be worth a drive). P.S. Check back in on Wednesday for a Miley vs. Cher Diva Death Match. Cher's at Wells Fargo later this month on the 28th.
Hey Steely Dan! Thanks for nothin'! Sheesh. Maybe because they booked the Mann last summer they feel like they've conquered the Philadelphia mountain? But their big announcement, of a HUGE national tour, lands everywhere but Philly: Erie, Pittsburgh, Bethlehem get PA stops, and Red Bank and Morristown get Jersey love. Feeling a little slighted over here.
But one that we are pumped about? Fleetwood Mac WITH Christine McVie! Oh man, this is going to be a show to remember. The only thing that sucks is that it's in October and we have to wait six more months.
RUPAUL'S DRAG RACE
There sure has been a lot of Facebook ranting about LOGO's decision to pull the line "You've Got She-mail" and to apologize for their perceived use of transphobic language. I touched on it in my LGBT feature earlier this month, but it's been a weird language debate within the LGBTQA community ever since a March episode of RPDR brazenly (with willful silliness) employed the term "She-male" in less-than-thoughtful ways. There've been a ton of "think pieces" on it, with the most intriguing coming from Our Lady J for HuffPo, and it's far too complex to unpack it here and now. From where I sit, comfortably in an office job where my sexuality and gender aren't regularly called into question or scrutinized or ridiculed, there is far too much whining about the "overpolicing of language" (a phrase included in Our Lady J's piece). Words can hurt. And even when you don't MEAN for them to, they do; and it is indeed important that we continue to police our peers and friends' use of words. We've learned over time that certain words are just not okay to use, and this RPDR lesson has taught us that "tranny" and "she-male" are hurtful words that shouldn't be used, even if they're used from drag queen to drag queen.
This Sunday is an opportunity for the best kind of gay brunch you could possibly wish for: all class, a great cause, super food and drink, live entertainment, prizes and, clearly, fab company. Plus, you don't need a reservation for ten on a Sunday afternoon because it's already been made—you just have to RSVP/buy a ticket. Fine, they're a little pricey at $75 for general admission, and VIP is $125, but look at what you get:
"Here's the deal: Brunch, unlimited mimosas, Bloody Marys (made w/Tito's Handmade Vodka!), wine, beer, raffle prizes, silent auction, live jazz music (by performers from the upcoming OutBeat jazz festival hosted by William Way)."
Curious about the raffles? Look at this list o' prizes:
- 2 All-Access Passes to OutBeat, the nation's first queer jazz festival, hosted by the William Way LGBT Community Center this September
- El Dorado Rum gift basket
- Tito's Handmade Vodka gift basket
- LUSH Fresh Handmade Cosmetics gift basket
- Martha Graham Cracker Cabaret package
- Bearded Ladies Cabaret
- "Alaska: Stevie Nicks" cabaret (NYC)
- Pet Acupuncture by Dr. Michael Anthony
- The Raven (hotel and restaurant in New Hope) gift package
- Bucks County Playhouse (theater in New Hope)
- Pig Iron Theater Company gift package
- 2 tickets to Throwing Shade LIVE at Johnny Brenda's
- 2 tickets to "Evita" at The Kimmel Center
- 2 tickets to Opera Philadelphia's "A Coffin in Egypt"
- 2 tickets to Philadelphia Theatre Company's "A Boy and His Soul"
- InterAct Theatre Company
- 2 tickets to Plays & Players Theatre's "Sex, Drugs, Rock & Roll"
- 4 tickets to GayFest! from Quince Productions
- Ticket to My Big Gay Italian Funeral (NYC)
- First Person Arts
- Underground Arts
- 4 tickets to "A Boy and His Soul"
- Philly Sports Team apparel from Mitchell & Ness
- Autographed copy of Christopher Rice's "The Heavens Rise"
- Bundle of LGBT-themed DVDs from Breaking Glass Pictures
- Cantina Dos Segundos dining certificate
- Fergie's dining certificate
- Pennsylvania 6 dining certificate
- Franklin Mortgage and Investment Company gift certificate
Now, let's get down to IFD.
I had a moment to chat with Marquise Lee, Philly's main IFD man, a board member who's worked hand-in-hand with founder Nathan Manske for years. Hopefully, you know the basic details about I'm From Driftwood as a project and as a site—the online story archive details coming-out stories around the country, and its mission is pretty much three-fold: "To let people know that they're not alone; someone in the community can go on the Internet and can see someone from their hometown or the next town over," Lee explains on the phone. In small towns or big states where the nearest city or liberal cluster can be a five-hour drive, this is an especially huge and reaffirming notion. "The second part is reaching out a hand to the straight community. The stories are non-confrontational. Sometimes we enter into dialogues with two different perspectives, but if you choose to watch it, there's not an argument to be had. If you're watching, you kind of take it for what it can be taken for. It's inviting and apolitical."
This could be one of IFD's strongest weapons. How can you deny a queer person's personal narrative? It's way harder to deny a human their personhood when you see them cry as they tell stories of being beaten for their innate desires and hopes for love.
"The third aspect," Lee continues, "involves the idea of storytelling in general. Storytelling is innate in human beings, and that's where you get a lot of empathy. If someone's telling a story, you're kind of placing yourself in their experience. You put your experiences aside for a moment, and you tend to have empathy and that changes minds."
What seems like a pretty simple notion—an LGBT story archive—turns out to have all kinds of watershed positive consequences. But on a very basic level, "If people in the LGBT community can be seen as human beings by telling their stories," Lee says, essentially, it proves that "we're not all that different."
Struggles, sadness and tough times are not only shared experiences; they're often the ties that bind us: "Stories about heartache and a breakup—everyone has had a breakup story and can identify with it. The vast majority of stories are just ordinary people living their lives."
So if you can, help keep Philadelphia's contribution to this outstanding national program lively and strong by treating yourself to a top-notch courtyard brunch in a building that stands for our city's ongoing commitment to honoring every corner of our community.
Plus, let's face it: A couple rounds of bloodies, a plate of eggs, plus tax and tip, and you'll be spending $50 after waiting in line for a table you'll get for an hour. Right?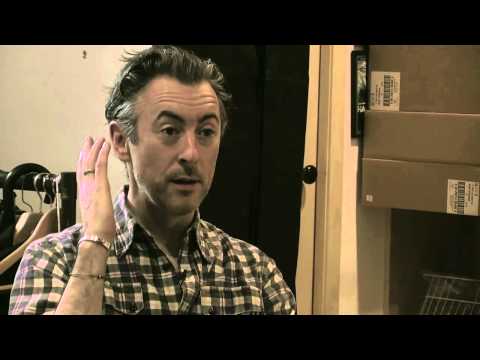 Last night, I got the distinct pleasure of perusing the Art Unleashed 2014 collection; it's essentially a huge art show, collecting work from current students, alums and faculty, where everything's for sale—and it's for a good cause: supporting the University's Sam S. McKeel Promising Young Artists Scholarship Fund. The best part: It doesn't just feature paintings. This is an excellent opportunity to acquire some high-end collectibles for your home at solid to not-astronomical prices.
One of the sweetest things about Art Unleashed is the variety of items you can purchase: there's really tight jewelry, stunning sculpture and photography, perhaps in larger volume than paintings. The show's open to the public in U Arts' iconic red-doored Hamilton Hall, the building at 320 S. Broad Street, and it's free. So even if you're not buying, it's a great cultural stroll. You'll find that it's not unlike a Barnes experience: There's a pretty random mix of styles, often compactly-mounted alongside each other, with seemingly little rhyme or reason to the curation. You get what I'm saying.
It's open from noon to 5 p.m., starting today, running through the 15th—and admission is free. I'm going to highlight some favorites that are still for sale. (There were lots of red dots marking "CLAIMED" status, and I'm pretty sure that come Tuesday, the good stuff'll be gone!) I'll just take you around the room in the way that I collected my favorites at the end of the night (check it online, if you like). Ready? Let's go:
1. Samantha Moss (photo student, '14): "Forgot to Stop," 8 x 10, $150
This is essentially a cool punk photo chick, from what I can surmise, as evidenced by a simple nasty kinetic rock moment printed on a block of metal. It puts you in a pit and manages to capture the beauty of terrifying catharsis.
2. Sean Dryoff (faculty, alumni, arts/printmaking): "A Mistake," 20 x 24, $250
There's something about this one; I think it was my favorite. The angle is just perfect—an easy mix of facing the camera and not at all. Clearly, there's something in the coloring and the model that is compelling, but I don't need him to turn around. I can see all that I need to from here.
3. Chloe Sherman-Pepe (alumni, photography '09): "Untitled #3," 30 x 20, $410
These came as a series, and you can see the rest online, but this one was my favorite of hers. They're very Grace Jones-painted-by-Keith Haring in a stark black and white palette, a series that gracefully and effortlessly captures movement (top, left).
4. You Ra Oh (student, painting '14): "Untitled," 48 x 53, $700
Another favorite, this one's huge and had great texture, listed as "cold wax, oil pastel, acrylic, charcoal, pencile on wood panel." It has elements of maps and topography, and it's an abstraction that distills both static, unmoving earth and undulating landscapes.
5. Angela Rio (illustration student '14): "Mental Health Awareness: Schizophrenia/Bipolar Disorder/Bulimia/OCD," $800 each
These were incredible, a series of four boxes that could be considered small installations: shadow boxes that capture the essence of four mental health issues with exacting detail and artistic license. To know that this was made by an illustration student is kind of a marvel because they seem like all kinds of mediums conversing. They're sold separately, it seems, and "OCD" is taken (top, right).
6. Danny Gallego (student, painting '14): "JFK," 18 x 24, $250
Another favorite: a magic mix of india ink and watercolor on paper that plays with Kennedy's gender. Or sexuality. Or both. It's a very Warholian Marilyn Monroe-inspired take on the handsome president, rouging his lips and shadowing his eyes. I would love this in my home.
7. Thomas Kelly (student, crafts '14): "#selfieawareness," 24 x 60, $750
Perfectly capturing our of-the-moment obsession with photographing ourselves, this is a digitally-printed decal that puts a way-too-skinny white bitch in the center of a long, tall mirror taking an egregious selfie. She looks rail-thin and is even pouting a little. You want to kill her (and pull out your phone).
8. Shari Tobias (alumni, fine arts '90): "burka burka burka," 20 x 17, $200
This one's so fascinating that it pulls great worth from the work's description: "performance art photograph, matte, frame." Three women casually row boats in a public park not unlike Boston Commons, with only a little bit of face showing. It makes me think of the Gaga song, "Aura," and also makes one think about a lot of things. Which is what good art does.
9. Patrick Tumblety (alumni, film/digital video '07): "Newer Orleans," 16 x 24, $100
There's nothing brilliant about these; they're just nice and affordable and would look really great in all kinds of homes and apartments. They're nicely canvassed digital prints that capture color in vivid ways: New York Times at night, an exotic bird's rare moment of stillness and, in my favorite, a gorgeous New Orleans house with a verdant double-decker porch.
10. Kevin McWilliams (alumni, photography '09): "Tomy, Philadelphia," 20 x 24, $600
It's hard to deny a brilliant portrait. McWilliams' subject doesn't seem particularly phased by the nature of posing or of being photographed. Tomy has a little bit of menace in his appearance, and yet the photo captures a little tenderness and perhaps a moment of guard-letting-down. It's a piece of art that looks effortless, but you know that it isn't.

Chris Bartlett, the William Way Center (where he's the executive director), free food and drink and the promise of gay nerds was enough to make me eager to ride my bike in the rain last night to Philly Tech Week's #techInColor mixer. I figured maybe I'd talk to someone who reps for WordPress and talk Twitter shop with some in-the-know queers. Another reason that compelled me to attend the mixer were the whispers of something I'd never heard before: the Facebook event shouted "Let's crack the brogrammer code!" There's been too much talk about bros in pop media recently, and cracking the brogrammer code had me very curious.
I got to talk to Mia and Tracy Levesque, partners in life and in Yikes, a "web design and development" firm at 204 E. Girard Ave.
"We're a full web design and development shop: front-end and back-end development, we primarily work in ColdFusion, WordPress, WordPress development and PHP," said Mia. My eyes crossed a little. What's that? I blinked a few times. "Front-end is like the pretty part and programming is the fancy that does all the magic—the magic that makes the website work," her partner, Tracy, explained.
Mia quickly referred me to a fascinating story the New York Times put together this weekend, entitled "Technology's Man Problem." It's a good read and a startling one. It details a handful of horrific but sadly unsurprising situations women in tech have endured, from subtle to overt disrespect, sexual harassment and a regularly insensitive but much-practiced notion of doubting the capabilities of women on programming, technology and seriously advanced computer science teams.
"As a woman in tech, I'm the only woman in the room many, many times," explained Mia. "The only woman in the room," she added for emphasis.
One of the things that the "Man Problem" story kicks up is the GitHub controversy that surrounded Julie Ann Horvath's ugly and saddening account of how she felt bullied and pushed out of a pursuit she'd once been so optimistic about. A brilliant programmer, she found herself a target of male coworkers and then started getting haunted by a founding partner's wife. The tale is the stuff women in technology's nightmares are made of.
Mia boiled it down nicely: "It's not a woman's problem; this is a man's problem. Men who don't feel that they need to call it out need to stick up for the people that they believe should be there." You wonder if Horvath had found more allies, in men and in her female contemporaries alike, if she would have found the strength to stay and outlast the assholes that are definitely now targets because of how much ridicule they're rightly receiving. "Your allies helping you is what makes a difference," Mia added.
If you're into queer issues and technology, there's no way you haven't gotten wind of Mozilla's Brendan Eich and his ascension and swift descent from the coveted CEO seat. He put some of his money down in support of Proposition 8, and it's easy to find this stuff out. People were pissed, especially queer folks who use the browser, and made a proper stink about his questionable position in a high-powered company. Susan Adams did a nice roundup of the watershed issues that stem from this stinker of a controversy, and OK Cupid even asked their users to use a different browser (points!). Of course, Mozilla's got a very sterile Q&A up about the nature of the dust-up and how it reflects their collective morality.
Fascinating, isn't it? As a feminist and a queer, it seems pretty natural and obvious to me that diverse perspectives and staffs translate into successful businesses and products.
"Diversity in tech gives a perspective to see things the way you wouldn't. It gives you ideas and opens up your creativity," concurs Mia, the mother of an seven-year-old daughter. She wants to see a better world for her, and she's rightly worried that she'll grow up and struggle to find the stories of minority and female success in the technology sector.
"One of the things I find very sad is that people who have done innovative things in the technology world, women, queers, people of color, they've been removed," she said with conviction. "Literally physically removed from their innovations." Frightening, indeed. PW recently did their best to make sure that no one forgets the six women who were, essentially, the world's first computer progammers in 1945 with last week's cover story. Never forget.
But Mia sees the future crop of potential female tech leaders as an inspiration. "Thirteen and 14-year-old girls who are using technology to change their worlds are so inspiring to me. I'm really inspired by that. It inspires me to make the world better for my daughter."
We've got a female-female team and firm in Yikes, who are seemingly actively breaking the brogramming code. And that's something to celebrate.

Goodness gracious! Good gets, WXPN! Yesterday came the excellent news that the artists performing at the Susquehanna Bank Center's three-day summer affair (July 25-27) have been solidified, and they are some of my favorites. These are some really great picks from my perspective: Ryan Adams, Jenny Lewis and Dawes on the 26th; and Beck, Band of Horses and The Districts on the 27th. Reserved seat tickets go on sale at noon on Friday for these headliner nights, but WXPN member pre-sale options start at 10 a.m. tomorrow morning.
The Camden waterfront will be an indie rock haven for this weekend, thanks to the UPenn radio station's team-up with LiveNation. The full three-day lineup hasn't been announced yet, but the SBC headliner nights are included in the three-day "Go-Everywhere Pass." What makes these tickets a smart buy is that they include all the Wiggins Park acts PLUS these big-name draws. Those are on sale on the 17th, when the complete lineup will be announced.
SBC and neighboring Wiggins Park play host to the 10th annual celebration of upcoming and established AAA rock (for Adult Album Alternative) luminaries and, frankly, compared to 2013, this summer's lineup straight-up slays. The headliner for Day One was The Lumineers and for Day Two, they hosted the AmericanaramA Festival of Music with Bob Dylan & His Band, Wilco, My Morning Jacket and Ryan Bingham. As far as I know, the Lumineers are done for until they make another "Hey Ho," and I have zero desire to see Bob Dylan perform as he coasts into his mid-70s. But I've been a huge Jenny Lewis and Rilo Kiley fan for about ten years now (classics like Rabbit Fur Coat and Acid Tongue will hopefully get due attention during her set). Plus, Dawes' 2011 Nothing is Wrong is still a favorite in the canon of contemporary Laurel Canyon Americana folk. This year's Day Two is rad, as well: Beck's new one is still simmering in our stomachs and revealing its beauty over time. Band of Horses, though guilty of putting out crap records in the past, are still an all-time favorite because of their extraordinary 2006 Sub Pop debut, Everything All The Time. And The Districts, those local critical darlings, have got to be pumped to be in such good company.
We'll eagerly look forward to a full lineup announcement, and we'll pick apart cheers and jeers for you when it arrives.