Well, alright! Hard to believe that it's that time of year again. Last June, early in the month, we went and got baked (by the sun). It was so very hot. The 2014 Roots Picnic lineup, set to go down on the last day of May, gives us a few reasons for rejoicing (other than the visually pleasant flier for the 7th Annual event, c/o John P. Dessereau). Namely: Janelle, The War on Drugs and Snoop, backed by the Roots.
Not gonna lie, there are a handful of acts that aren't very familiar, but they somehow ended up on the Roots' radar. We're talkin' 'bout Jhené Aiko, Bad Rabbits, Roman Gianarthur and Electric Wire Hustle. But heyyy! Check out Action Bronson! And A$AP Ferg! And araabMUZIK and Chill Moody and Just Blaze! And a DJ set from the incomparable Biz Markie?! Hip-hop royalty sprinkled into your all-day sunsoaked Saturday on the waterfront? Nice.
There are some pre-sale ticket options going on today, but they're available to the general public tomorrow at noon. They're $40 ($53.50 with all the fees), and you can only snatch eight at a time. Rest assured, if that sounds cheap, you'll hemmorhage money as soon as you step into the place. So, ya know, be prepared. Towards the middle of the afternoon, it started to feel like the whole event was a wait-in-line-for-overpriced-concessions game. Seriously, let's hope the Festival Pier folks step up their set-up.
Quest was so busy, he made a lineup promo video while his hair was getting did: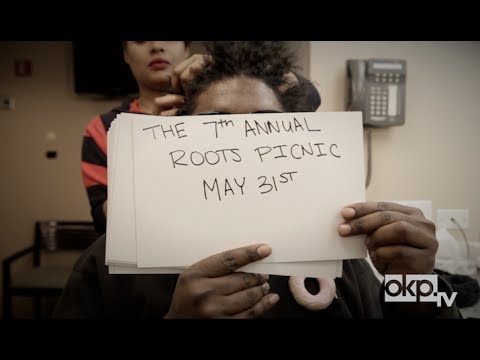 This winter has been a long one, Philly. Although spring is fast approaching, months and months of 30-degree weather can take a toll on a person's outlook. We long for warmer weather in this town. We are the sovereigns of pop-up gardens, sidewalk happy hours and tailgating. So much so, that for the past nine years, the good folks at the Brewer's Plate have provided our winter-weary souls a taste of spring a month early. And not a moment too soon!
As the self-proclaimed "great-grand-pappy of the food and beer movement," the Brewer's Plate is celebrating its 10th iteration this week, combining locally brewed beer with fresh food grown in and around the Philadelphia region. Featuring outstanding local restaurants, chefs, distilleries, food artisans, brewers and wineries, this event proudly declares "buy fresh, buy local" to not only stimulate taste buds, but the local economy as well.
Fair Foods, a Philly-based non-profit focusing on connecting restaurant chefs with local farmers, is responsible for this incredible party. By shifting the public's perception of fresh food, Fair Food has made amazing progress in protecting the provincial food system.
This year's Brewer's Plate promises to be the best yet. Chock full of celebrity guests and judges—including Brent Celek of the Philadelphia Eagles, restauranteur and "Iron Chef" Jose Garces and TV's Marc Summers, to name a few—this 10th anniversary celebration will take place at the Kimmel Center, adding a little glitz and glam to an amazingly agri-conscious event.
The 10th annual Brewer's Plate, Sun., March 9th, VIP reception 5:30pm, general admission 6:30pm. $65 – $125. The Kimmel Center, 300 S. Broad St. brewersplate.com

I got to do something really cool Friday night. I got a Photo Pass and it was my first time with a decently capable borrowed camera "in the pit." Of course, nearly all ten media pawns crowding into the same 12-15 square-feet had huge, killer cameras, but I was just pumped to boogie within spitting distance of Ms. Annie. Standing about eight feet from The Fierce One, I got front seat access to the first three songs of her thoroughly badass set: "Rattlesnake," "Digital Witness," and "Cruel." Wearing a slightly macabre short dress with fabric manipulations that might've mimicked blood, she tore through song after song from all four of her records nailing every solo along the way. The packed-in capacity crowd was affably excited, yielding a pleasant morsel of local pride: the good people of Philadelphia know a good thing when they see it. From some of the things I've read about this new record and tour, there've been whispers of her aesthetically aiming at leadership of a new world order. A cult-leading superpower here to snatch up our minds and turn us into enlightened funk humanoids. This pale pink platform triangle really pulls it all together (from the album cover to the stage). When she stood on the highest level and blasted through the last third of her set, I was ready to sign up and waiting for her to say "I'm here to recruit you."
In the wake of this drivel circulating on the Faceplace recently, it seems this series of posts are relevant and seek to eradicate ignorance.
So, now you've got a table. Please don't be rude about your table space maintenance. If a host asks you if you'd like to check or get rid of your jacket, take him or her up on it. It's not obligatory to tip, but it's pretty much always welcome. It's nice to not have a jacket in your lap or on the back of your chair, and sometimes, restaurants have copious coat-checking space (or just a bootleg stand-alone rack kept in the basement) just for that free and nice service. It's particularly mind-boggling when diners think they can use neighboring tables to store a purse, winter accessories, a briefcase, phone, pile of books, etc. You're just going to get asked, nicely, to move your things when that table's needed. And again, even if the table next to you's empty, wait 10 minutes, and it may be no longer.
One thing that can always freak out a host or a server is when you sit down and start moving your table all over by dragging it or nudging it an inch or five. Combining tables without permission can also get hairy. Here's the thing: There's usually a logic to the very placement of every table in a restaurant. They're mapped out and positioned to optimize access to the table from the perspective of a server, busser or food-runner. When you force us to contort in weird ways to pick up your empty plate or fill your water glass, we're silently resenting you. You should usually just wait for your server or host to mess with table orientation. Ninety-five percent of the time, concern over table positioning is with you in mind. We want to be able to do everything for you so you can just sit and enjoy. Five percent of the time, it's more of a traffic concern–don't make every single diner and employee in the restaurant hit their hip on your chair because you insist on sitting two feet away from your table. Please. We typically think that if you're dead-set on giving your legs all the space they need by pushing out your chair, it's directly proportionate to your potential for being a dick.
Side-sitters: What's wrong with you? You're that much in love, and you have such a spatial disposition that you insist on a table where you can be hip to hip? You're a target for scrutiny now, lovebirds. We're ALL talking shit about you in the service station. Now, with pretty much anything, an advance notice or request and nearly everything can be accommodated. But to walk in on a Friday night and turn your nose up to tables that don't maximize your intimacy requirements? The host now wants to destroy you. You really need a quiet table for six at 8pm on a weekend? Stay at home. There is no such thing in Philadelphia, except at terrible businesses where no one spends money.
The other thing people love to complain about as soon as they sit down? Temperatures. It's freezing! I'm boiling! It never ends. There are definitely some situations in which it's completely acceptable to say, "Hey, we're kind of cold. Would you mind turning up the heat a degree or two?" But then there's always the thing you do where you make sure you'll be comfortable when you go out: It's winter, so have a sweater. It's summer, so don't wear a sweater. Is it also not obvious that your climate control needs affect everyone else in the restaurant? The servers who are comfortable in a heated room in a t-shirt through February are moving around a bit more than you, yes, but if you're freezing with a sweater and a scarf on, something's wrong with you, and it's not our heating and cooling system.
Regarding the constant party-size changers: It's cool to have a flexible number of guests in certain capacities. Your reservation's for four, but you have three? Cool. Called for six, but now have five? No biggie. Made a reservation for two, but invited two more couples at the last minute? No idea where we're going to put you, and you've just fucked yourself and your friends. Thinking your party may shrink, expand or fluctuate periodically through your meal? Let us know–we probably have an ideal table for you. It's really hard to wait on a table where everyone's coming and going at different times. That seems completely lost on a large swath of Philadelphians.
And finally, this is less table and more bar space maintenance, but have the decency to maximize seatings at a bar. A bartender's money-making is far more dependent on his actual bar patrons than the amount of drinks he or she is making for the rest of the seated restaurant. And when you sit at an empty stool such that a twosome walks in and can't find two seats next to each other because you're too scared to sit right next to a stranger? Get over it, and move one spot down. Also, don't be afraid to talk to strangers or kindly ask them to shift a stool. They'll usually oblige. To walk into a bar where there are several empty stools but no two that are next to each other, and you turn around and walk out, is one of the saddest adult human behaviors a service person can witness. We want to serve you and enjoy the business. If you're too much of a wimp, any of us are willing to do that "dirty work" for you.

All photos by Alexander Iziliaev, provided by BalletX.
As part of a program called Dance eXchange, BalletX has extended a wonderful invitation to the lovelies at the Andrew Jackson School in South Philadelphia. Today, I witnessed the culmination of a week-long opportunity for 3rd through 5th graders to move, loudly and enthusiastically, executing some simple choreography (well, not that simple) with the help of some dance professionals. There was pure joy in their faces. Representatives from the National Dance Institute (NDI), led by NDI's Associate Artistic Director Tracy Straus, came down from New York for the week to show pupils the wonders and possibilities of dance and to train BalletX and others in their teaching methods. Straus, NDI, BalletX staff and dancers, and other participants from the dance community entertained an auditorium full of families and younger peers this afternoon with the help of a percussionist and keys master. Adapting what they learned from NDI and Straus, BalletX will continue Dance eXchange, working with youngsters after school for the next three month, with a midway performance (tentatively April 8th) and a finale (May 22nd).

For the first time ever, the Philadelphia Orchestra and Philadanco—two of our city's most renowned artistic powerhouses—are teaming up to present the next level of world-class performance art, featuring grand suites by two legendary Russian composers.
During his two-week residency, French conductor Stéphane Denève brings the beloved fairytales of Firebird and Cinderella,
as composed by Stravinsky and Prokofiev, to the Kimmel Center stage. The former is an adaptation of an old Russian folktale surrounding a mythical bird whose magical powers were both a blessing and a curse, while the latter re-tells the ages-old Brothers Grimm story of the glass slipper-donning peasant girl.
In addition to these tried-and-true favorites will be the special presentation of Aubade by French composer Francis Poulenc, a dazzling choreographic concerto for 19 instruments and accompanying dancers. This intimate, mythological tale of Diana and her struggle between passion and loneliness will be brought to life by the illustrious Philadanco, their unprecedented skill for merging the classic and the contemporary promising to breathe new warmth into winter-chilled spirits. Created to provide visibility for expert dancers of color, Philadanco continues to establish opportunities to enrich Philly and its surrounding communities, crossing barriers with style, grace and unparalleled professionalism.
This promises to be a beautiful collaboration, one that should've happened much, much sooner. And hopefully, it'll mark the beginning of a fruitful, long-lasting relationship.
Through Sat., March 1. Various times. $59-$160. The Kimmel Center. 300 S Broad St. 215.893.1999. kimmelcenter.org
Yesterday, Annie Clark got her fourth solo record, St. Vincent, reviewed by Pitchfork (five if you count the duet record she made with David Byrne in 2012). She got a pretty paltry 8.6. Not quite as good as the 8.8 Bey snatched for her self-titled fifth just a few months ago. Clark's already sold out Union Transfer on Friday night; that happened long before we got our first few sounds from her new one off of the internet. But just as St. Vincent releases her critically hefty and anticipated fifth, Bey's got herself a "Soundboardt," a charming, internet-friendly collage of iconography that lets users play it like an instrument.
The first video we got from the St. Vincent collection came at the very end of January; "Digital Witness," one of her catchiest singles to date, it boldly proclaims: "Gimme all of your mind / I want all of your mind / Gimme all of it." It's a sentiment that blithely addresses today's times, an era in which we're glued to our phones and project our identities through a multitude of filters and digital dispatches. Meanwhile, with her fan-created Soundboardt, Beyoncé essentially compounds the soundbyte-ability of her newest, one that's yielded gems like "surfboardt," "I woke up like dis," "let me sit this ass on ya" and "bow down, bitches"—boomin' bytes that need not be explained to the culturally literate.
I don't know about you, but I smell a fight. With the sixth installation of our Diva Death Match series, we give you the imagined battle of when Beyoncé wanted to destroy Annie Clark.
Not sure if you knew this, but we go by a certain set of categories. Just the rules, kids. No way around em': five categories, five eligible points per category and one winner. Well, ladies, let's make this a clean fight. Let the most fierce woman win.
'HOODNESS
Per usual, this one gets a little weird, especially when both contestants are from Texas – Clark's Dallas and Mrs. Carter's Houston. To be fair, Clark was born in Tulsa, OK, but she grew up in Dallas and went to high school at Lake Highlands High. So you could say that the two of them have both had a little bit of that urban school of advanced maturation. Houston's way bigger, though. And Bey's got a husband named Jay Z. Who happens to be one of the most articulate voices of the 'hood of our generation. I don't think we have to talk much more about this one.
Clark: 2, Knowles-Carter: 4
FIERCENESS
Here's where Annie's gonna catch up a little. We know Bey's one of the fiercest on Earth, even claiming that one of her multiple personalities includes a woman named Sasha Fierce, but for a minute there, before she had the billions to hire sick styling talent, she made some questionable style choices. Ever seen what Clark likes to wear on stage? Elegant dresses, wedge heels, flawlessly delicate make-up—and she still rips up a guitar with her own unique shredding techniques. For New York's recent fashion week, she destroyed a guest spot for Diane Von Furstenberg. She posed and danced when possible; it was a career-awakening set of performances for her. But so might those new stage looks that've been whipped up for the impending world tour that Bey will sell out.
Clark: 5, Knowles-Carter: 4
VOCAL CHOPS
There might've been a moment, once upon a time, when even Bey's biggest fans would admit that part of why we love her is because she's hard, she can dance like a maniac, and she brings the performance power—not necessarily because she can belt. Annie's always had a really complex set of pipes, and right from the killer opening track, "Rattlesnake," on her newest, she gave herself a vocal gymnastics exercise. Not to front on Bey, though, because 4 and BEYONCÉ have some absolutely revelatory vocal recordings. However, I would wager that our love for Beyoncé wasn't always because of her artistry. It was because she was fierce. This one's tough. They both seem pretty strong and healthy.
Clark: 5, Knowles-Carter: 4
SINGLES AND SALES
It's hard to beat Bey on this one, she's got really strong game in this category. She sold almost 20 million copies of her first two records in America alone. Annie has done no such thing. Even though some of her records could be considerably more adventurous than Bey, there's no question that she's mired in an indie rock market, one that doesn't really put up much of a fight when it comes to moving sheer numbers. Clark's taken some serious blows this round. Not sure she's gonna make it.
Clark: 2, Knowles-Carter: 5
CLOUT
With this one, St. Vincent is making great strides of notoriety in a larger market. She's gotten about as big as she can for Philadelphia by selling out the Union Transfer again. Sometimes artists like her will just throw in a second night—selling out two nights in a row. But what about a next record? And can she get a big production together and fill up the Electric Factory? For two nights? What about a headlined Festival Pier show this summer?! That would sell out, too. Obviously, Beyoncé blasted through a greatest hits set at a completely full Made in America this summer as a headliner. You can't step to a seasoned arena diva like Bey and win this. But good try, hon.
Clark: 4, Knowles-Carter: 5
FINAL TOTALS: Clark: 16, Knowles-Carter: 22.