Two exciting tour announcements! The Mann Center's putting together a pretty impressive slew of summer shows for us this impending outdoor season. It was a couple weeks ago that I boo-hooed on the Postal Service for skipping over Philly when they announced a North American tour a couple weeks ago. It was when The Mrs. Carter World Tour was announced and we were feeling pretty snubbed by Ben Gibbard, and also by Vampire Weekend. But today the big reunion tour of 2013, from the dweebs responsible for one of our favorite records of all time, Give Up, is officially extended and it includes a Mann Center performance on June 17th. Word is Jenny Lewis'll be in attendance, too; would it be a real Postal Service show without a legit and serious performance of "Such Great Heights"? But don't sleep on this, friends – tickets go on sale Friday the 22nd at 10a.m. It'll probably sell out (eventually). Tickets range from $34.50 to $44.50.
The second and pretty much equally exciting announcement? BELLE AND SEBASTIAN! And you know what's fun? Just the other day Pitchfork put out a very serious and very thoroughly solid hour-long documentary on the making of If You're Feeling Sinister, their freakin' fantastic sophomore LP made in 1996 in Glasgow. Sinister and their third, 1998's The Boy with the Arab Strap, solidified a tender spot in my twee little heart over a decade ago as one of the most satisfying and calming headphone masterpiece-makers. Five strong LPs later and they're bringing their huge catalogue, unlike the Postal Service with only one record to perform, to the Mann's Skyline Stage with special guests Yo La Tengo. B & S hit the stage on July 10th and tickets are $39.50 in advance and $42 at the door; tickets are general admission. Tickets go on sale on Saturday the 23rd at 10a.m. So maybe you should put a couple hundred bucks aside to buy multiple Mann show tickets this weekend.
There are two other big Mann shows worth considering, too: She & Him with Camera Obscura on July 9th and Fun. with Tegan and Sara on July 19th. Those shows' tickets are already on sale.
This is a great and rare opportunity for dance fans as this buzzworthy company makes its North American tour debut. Motionhouse has been wowwing fans and novices of dance performance since 1988. Co-founders Kevin Finnan (artistic director) and Louise Richards (executive director) have staged 18 full-scale production since the copmany's inception in England. They've pushed contemporary dance by combining atypical elements including film and aerial performance. Starting tonight, there'll be four performances before they conclude on Saturday night.
The theme this weekend is Scattered. What you wouldn't get from this title is that this performance is about water. Finnan pulled visions together that are anchored by an image of an ice field. He found it fascinating the way that water is a source of life, an element in science that is, truly, humans' source of life. We're born out of water, our bodies consist of mostly water and as he mentions in the program's notes, water keeps our bodies from being smashed by gravity. Water can destroy lives as it does with floods, tsunamis, title waves and ice ages but also nourishes us and sustains us. We live on
"the blue planet" and it's for a reason – life as we know it would not exist on Earth if it weren't for H2O. Finnan found inspiration for these performances in this fascinating force of nature and expanded his vision from this starting point.
Perhaps most fascinating about this performance is the crucial implementation of a curved wall that reaches toward the ceiling of the stage. This is where dancers expertly slide and tumble downwards and also where the company deftly employs film and moving image. The projections and the imagery employed are also of water and ice: pouring and falling water, cracking ice, melting cubes, pooled and disturbed still water and so on. The small school's brilliantly-trained and professional company dancers are outrageosly fit. This show is demanding. With most of them ballet-trained, not only is their execution muscular and athletic, but it's also graceful and razor sharp.
We're really looking forward to catching Saturady's matinee performance but tonight they get started at 7:30p. Friday and Saturday, they're doing 8pm performances with one matinee at 2p on Saturday as well. On Friday, it looks like you can stay after the performance and ask questions of the dancers and choreographers. Check out the Annenberg Center for Performing Arts' page about the show and grab some tickets, which are anywhere from $20 to $55. The ACPA is on Penn's campus at 3680 Walnut Street.
Check out the trailer: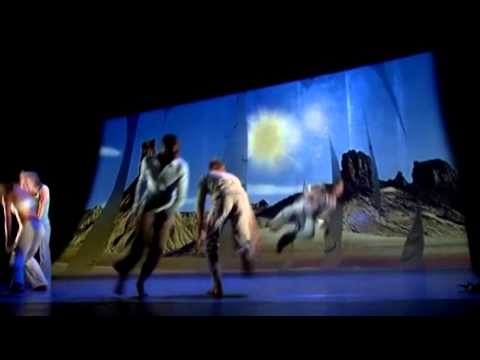 Now that you know what Philly's Ten Most Romantic Meals are, it's time to start worrying about your Valentine's gift. Here's eight local shops and businesses definitely worth hitting up:
FOR YOUR FELLA …
If your beau isn't afraid to rock a little pink, right now Duke & Winston is taking 20 percent off their entire selection of refined, yet appropriately festive pink and red menswear, both in store and online (promo-code: ILUVDUKE). For the more dapper of dudes, consider one of the brand's gentleman polo ($65) and signature logo tie, in your choice of burgundy or pink ($68). For the more laidback dresser, there's always their signature red hat ($22) and pink "Long Live Duke" tee ($32). (633 N. Second St.)
As long as you get the team right, you can never really go wrong with cool, vintage-inspired sports apparel and accessories. Hint: the Flyers and Sixers are both in the midst of their seasons. (1201 Chestnut St.)
Lingerie is over-rated. If you really want to get your man's attention, how about sprucing up your vajay vajay with gemstones or hot pink dye? No, seriously—the chic, organic Old City salon is currently has four different V-Day specials going on, the two most interesting being their "Bedazzled Brazilians" ($85) and "Hot Pink Bikini Color" ($50, $95+ with Brazilian). Should you want to do something far less extreme for yourself they're also offering a one-hour facial and complimentary blow-out for $100 dollars as well as a 30 minute scalp treatment and custom oil blend for just $37 dollars. (55 N. Third St.)
FOR YOUR LADY…
Rather than going to a department store and picking out some cheap, generic piece of jewelry, you're gal is much more likely to appreciate a one-of-a-kind, handmade adornment. Though any of owner/designer, Sarah Lewis' creations will do, you should definitely consider Adorn's new Love Potion Necklace ($38), a tiny faceted, heart-shaped glass vial which holds a few drops of essential oil—your choice of lavender, rose, or jasmine. As an additional incentive, if you stop by the boutique any day before V-Day, you'll save 10 percent. Meanwhile, if you shop online before Feb. 12, you can save 20 percent with the discount code: LOVE. (1314 Frankford Ave.)
The gift of pampering never goes out of style, and nor will your lady's mane should you give her a gift card to Philly's award-winning, cutting-edge salon. Their services start at just $25 dollars and range from blowouts and restorative treatments to makeup application and brow shaping. (258 S. 11th St.)
Arcadia Boutique
Though typically, men should not be trusted to pick out women's attire, Arcadia's sales associates will be more than willing to help you out. This is just a preview of the eco-friendly, V-Day appropriate fashions they have in store. (No Libs: 819 N. Second St. Rittenhouse: 265 S. 20th St.)
FOR HIM OR HER…
If they have a home, then TPF has the perfect gift—whether it's a a mid-century sofa, an Indian Navi blanket, a set of Victorian tin cups or the 1940s kiss letterpress postcard set that you see above. Seriously, they have more truly unique home goods, décor and accessories than you can even imagine. (376 Shurs Ln., Building A)
In addition to their selection of rare designer shoes, the Fabric Row boutique has all sorts of lovely gifts and accessories, both for him and her. Even better, starting next Monday, several of those gifts and accessories will be 15 percent off including, handmade wallets from Cheap Monday and Patrick Michael, Betsy & Iya earrings and Lisa B. unisex socks, which have a hint of cashmere. (727 S. Fourth St.)
The Sideshow: Short Attention Span
Taking into account the possibility that our time here on Earth might be limited, the indie weekly comedy event otherwise known as The Sideshow is going to entertain audiences with a variety of performances and as quickly as they possibly can. All of the evening's acts will get no more than 15 minutes to showcase their talents, most having to do their thang in just roughly 5-8 minutes. This includes, Martha Cooney (storytelling), Alison Zeideman (standup), The Kevin McDonald Experience (sketch) and local improv vet Mike Marbach's reimagined rendition of "The Night Before Christmas." I don't know about you, but if shit does indeed happen to hit the fan at some point tonight, I'd like to go out with a smile on my face. Friday, 8-10pm. The Arts Parlor, 1170 S. Broad St.
The Philadelphia Independent Craft Market Holiday Show
This will be the last craft event happening around these here parts before Christmas, so if you've yet to purchase any handcrafted, local gifts, now is the time. Over 45 handmade and vintage vendors will be in attendance selling everything across the craft spectrum—from ceramics and letterpress items to knitted accessories and silk-screened apparel. There will also be plenty of refreshments courtesy of PBR and performances from four Philly musical acts: The Swinging Foxes, Hezekiah Jones, The Spinning Leaves and Jason Ferraro of the Homophones. Saturday, 12-7pm. $0-$2. 2424 Studios, E. York St.
Once home to the cast of MTV's Real World, all this weekend TRUST will be transformed into Old City's North Pole, hosting a slew of family-friendly activities each day. While checking out a colorful new exhibit inside the venue, guests can sample seasonal food and drinks, decorate ornaments and enjoy live music. For the kiddies, The Arden Theater will be offering free princess makeovers in addition to hosting several special performances of Cinderella. Also worth noting: gift wrapping and valet parking will be available, both helping to benefit PAWS, Philly's largest no-kill animal shelter. Fri., 5-10pm. Sat. & Sun., 12-5pm. Free. TRUST, 249 Arch St.
Space 1026's Annual Off The Blanket Sale
Tomorrow, several members of the always awesome and off-beat local artist collective will be essentially clearing house, slashing prices on a slew of their original artworks, both old and new. From t-shirts and screenprints to records and zines, there's really no telling what sort of cool shit you'll find. Participating artists include Max Seckel, Emilia Brintnall, Andrew Jeffrey Wright, Will Laren and many, many more. So come, pick up a few one-of-a-kind creations, and help these talented emerging local artists make room in their studios for whatever masterpieces they might have in store for the coming year. Saturday, 12-5pm. Free. Space 1026, 1026 Arch St.
Marking his official return to the local quizzo scene, Philly's own entertainment maverick, James Bradford is putting a fun new spin on the traditional quizzo format with a night of thematic trivia that includes various special rounds and one final "impossible question."  The theme for the debut night is eras. That's right, each round will be assigned a different decade (80s-today) with the featured questions covering TV, movies, music, sports and history/current events. Several local retailers will be offering up prizes including Philly Aids Thrift and Passional Boutique. Sunday, 7-11pm. Free. The HeadHouse, 122 Lombard St.
Baby Gaga Onesie, $29.50 / Born Yesterday, 1901 Walnut St.
Volta Organics Baby Balm, $10 / Available at Craft Foundry (701 Belgrade Ave.), JuJu Salon and Organics (713 S. Fourth St.), Nice Things…Handmade (1731 E. Passyunk Ave.) and VIX Emporium (5009 Baltimore Ave.)
Schmidt Happens Youth Thermal, $21.49 / Philly Phaithful, 737 N. Fourth St.
Philly Onesie, $26 / Verde, 108 S. 13th St.
Children's Magic Revolving Lamps, $32.95 / Gourmet of Olde City, 26 N. Third St.
Owl Bookends, $39.50 / Born Yesterday, 1901 Walnut St.
Bunny Love/Little Kitten Baby Onesie & Bib Sets, $28 each / Smak Parlour, 219 Market St.
Sister…
Glass Chickadee Vase, $14 / Three Potato Four, 376 Shurs Lane, Building A
Evelyn K Scarves Sequin Chunky Knit Infinity Scarf, $38 / South Moon Under, 1731 Chestnut St.
12-Cup Programmable Coffeemaker (Pink), $69.95 / Kitchenette, 117 S. 12th St.
Hanging Glass Light Bulb (For Tealight or Terrariums), $26 / City Planter, 814 N. Fourth St.
Brother…
611 Black and White Scarf, $22. / 611's Pop-Up Showroom, 1024 N. Third St.
South Philly Tailgate Union Tee, $24.99 / Philly Phaithful, 737 N. Fourth St.
CARTOLOJI Pennsylvania Pillow, $59.99 / Scarlett Alley, 241 Race St.
Richer Poorer Socks, $12-$20 / SugarCube, 124 N. Third St.