When I lived in Brooklyn, I made it to the Flea once. There were bikes of all shades and colors, cool jewelry (I bought some Erica Weiner stuff), furniture that made me daydream of the budget and apartment I'd one day have, oh and food. And drink. Pretty sure I had a bangin' pink lemonade. I never thought the spot was so organized that it could up and declare a new location. Like Philly. But on June 2nd, a Sunday, the Brooklyn Flea arrives at the Piazza. The five-year-old successful flea market will have its first weekend in the Jared Kushner-bought Bart Blatstein monstrosity in just a few short weeks.
Kushner's the husband of Ivanka Trump, and he owns the New York Observer. He's teamed up with Flea co-founder Jonathan Butler and Eric Demby to bring their model to a Philly space, their first moment of expansion. We're hoping it's a continuation of a trend; seems like New York's finally seeing the beauty of our fair city. In the not-too-distant past we've seen stuff like 3rd Ward, SuitSupply, Joe Coffee and, wait, is that Uniglo coming to Philadelphia? Man, it's awesome.
Here's the rundown on the Philly Flea: It's a curated shopping and food experience for your Sunday morning and afternoon in Northern Liberties, and it launches on June 2. There are limited spots, a fee, an application process, and the powers that be pick and choose to achieve a blissful mix of art, furniture, vintage, modern, crafty, handmade, prefab and mad food. (Among the vendors slated are Philadelphia Salvage, Three Potato Four, At Home Modern, Peg & Awl and Forage Haberdashery.) Brooklyn Flea's been a fertile starting place for dozens of businesses looking to start small, build clientele and create a name for itself before moving into a brick-and-mortar location. No doubt that'll happen in our Philly locale, and it's exciting to see which startups will get the green light from the Philly Flea team.
The Piazza's one weird space. But did you know that it can contain nearly 8,000 people? There's no other space within a short radius of Center City that can so easily and professionally host such an excellent collection of vending tables and tents. There've been maybe a dozen businesses that have come and gone since Blatstein cut some deals for cheap rent in the piazza's youth, a result of a number of factors, no doubt. Personally, I have no desire to dine at a place like Gunner's Run (again). But when the Flea's chosen food vendors populate the Brooklyn Philly Flea, they'll pretty easily become the most solid eats outside of the dependable Bar Ferdinand and El Camino Real that will neighbor the flea (and benefit handily).
It's just good all around: New York expanding to Philadelphia, sophistication in the form of curated shopping, a thing to do every weekend and a revitalization of one weird, underused space. Starting in June, you've got a good reason to head up, if nothing else for a good place to stroll with a coffee in hand and peruse high-to-low-end goods and art. Plus there's like a 1000-percent guarantee that some cuties'll be shoppin' too.
Also, one quick note about the Flea's June 2 opener: Since it's the day after the sure-to-be-bangin' Roots Picnic, call it the official "Roots Family Post Picnic Brunch," 'cause according to insiders, Questlove and a slew of other dope local DJ are set to rock the Piazza stage.
For anyone attending Art Star's tenth annual craft extravaganza this weekend, it's a good idea to have some sort of plan of attack mapped out before entering the Great Plaza at Penn's Landing. With 100+ vendors competing for your time and attention, knowing which ones you definitely want to target might make the afternoon a little less overwhelming. So here's five to consider adding to your must-see list.
Note: I've purposely chosen to exclude the local artisans who I've now written about numerous times on this here blog.  For instance, Joey Five Cents, Penelope Rakov, exit343 designs, Yardsale Press, Phea Jean, BirdQueen Designs, Concrete Polish Jewels, Made with Awesome, Jay McCarroll, etc.
USB Typewriter (#51)
OK, so this is one of the most awesome inventions I've seen in a long time. Rather than simply collecting dust as useless piece of décor, now you can finally transform a broken, vintage typewriter into a functional keyboard for your Mac or PC using their easy conversion kit (which only cost about $79!). The USB Typewriter also makes for a perfect keyboard dock for your iPad or tablet.
Farmhaus (#47)
Whether it's an accent table, cabinet or candleholder, any one of this Kensington-based company's handmade rustic, modern furnishings would make for a beautiful addition to your home. They are also all made using reclaimed wood and metals.
Meera Lee Patel (#65)
One of only a few newcomers chosen to take part in this year's bazaar, the New Jersey artist will be showcasing and selling a wide array of items, from original paintings and illustrated paper goods to hand-sewn tea towels and pillows.
Overall Baby (#37)
What could be more adorable than infants and toddlers in overalls? Infants and toddlers in custom-made overalls with fun textiles and prints. The picture pretty much speaks for itself.
Meerwiibli by Sarah-Maria (#46)
Comfort is paramount when it comes to this New York-based designer's eccentric line of hand-sewn apparel and accessories. Hopefully, she'll be bringing along a few of her super cute winter accessories, despite them now being out of season.
While 25 of the finest restaurants along East Passyunk Ave. are serving up samples of their signature dishes and drinks as part of the Flavors of the Avenue event, over at the Singing Fountain (Tasker & Passyunk), you'll find an array of handmade goods from more than 45 local artisans. A few of my own personal faves: MadeByLiddy (handmade gifts and repurposed paper art), Rogue Theory (functional tech sleeves and cases), Pupcakes, Bits & Pieces (super adorable dog clothes and treats), Masters of None (laser cut housewares and accessories), Joey Five Cents (reclaimed vintage jewelry), Phea Jean (accessories and clothing) and many, many more. (Saturday, 11am-5pm.)
Nine of some of the finest indie shops and boutiques in town—Arcadia Boutique, Art Star, Bloom, Casa Papel, Concrete Polish, Duke & Winston, Framing Philadelphia, Once Worn Consignment and SWAG Boutique—will be offering two straight days of sidewalk savings. Ranging anywhere from up to 75 percent off and varying from store to store, the best markdowns are likely to be found outside somewhere in the sea of racks and tables lining N. Second St. Meanwhile, inside each of the participating stores, you'll find even more specials, as well as refreshments. (Sat., 11am-7pm. Sun., 12-5pm.)
If their recent accolades are any indication, folks are finally starting to catching on to what I've known for the past two years: East Passyunk Avenue is awesome.
Tomorrow, the avenue's 150 independently owned shops and 30-plus award-winning eateries won't be celebrating April's "Second Saturday" in the usual fashion. Rather, they're collectively promising to deliver EPA's largest Second Saturday to-date.
In addition to various sales, art openings, tastings and music performances, the line-up of happenings includes the grand openings of two new businesses: Occasionette Gift Shop (5-10pm, 1825 EPA) and the city's second location of Oliver & Company Tea Room (1613 EPA).
On Wednesday, the East Passyunk Business Improvement District is hosting a party around the Singing Fountain (Passyunk & Tasker) to celebrate having just been dubbed one of the "10 Best Foodie Streets in America" in the May 2013 issue of Food & Wine Magazine. From 5-7 p.m., all are invited to come and make a group toast with a photo around the Fountain while enjoying the folk tunes of DisCanto. Meanwhile, several nearby restaurants including, Stateside and Fond will be offering happy hour specials.
This is all of course, leading up to Flavors of the Avenue on Sat., April 27, the neighborhood's annual outdoor food and drink festival featuring a record-setting 25 restaurants.
Anyway, back to the events going down tomorrow, here's a few that stood out to me:
Le Virtu – Enjoy omplimentary stuzzichini (snacks) and wine while admiring the photographs of Kateri Likoudis, all taken in south/central Italian region of Abruzzo in the late spring and fall of 2012. Abruzzese folk group DisCanto will also perform. (1-3pm, 1927 EPA)
Nice Things…Handmade – Check out new recent paintings of local artist Bridget Mccafferty, the printing hands behind Typsy Gypsy Tees. Meet the artist and enjoy refreshments. (6-10pm, 1731 EPA)

HOME | A Furnishings Boutique – For this new photo and art exhibition, Philly-based artists Felicia Perretti and Hawk Krall have teamed up to showcase the most well-known food spots along East Passyunk. (6pm, 1815 EPA)

Lucky 13 – The bar/restaurant will be showcasing the artwork of Paul Carpenter as well as a trunk show by Sweet Jane Vintage. In addition to the drink specials, Sweet Jane's vintage finds will be 20-50 percent off. (1-5pm, 1820 S. 13th St.)
N.R.S. Boutique – Take 20 percent off all items in the store. (11:30am-8pm, 1822 EPA)
Ms Goody Cupcake – Foodspotting is celebrating its third anniversary with a special party with cake truffles buy 2 get 1 free, $2 dollar special flavor cupcakes and spring flavor sampling. You'll also score a free coffee with any purchase in morning. (9am-4pm, 1838 EPA)
Frame Fatale – Opening reception for "Postcards from the Ledge: Philadelphia Windows," featuring the black and white photography of RA Friedman. More specifically, the photographer will be presenting a selection of captured reflections and odd spaces of the Philly landscape in silvery postcard-sized prints. (6-9pm, 1813 EPA)
Metro Men's Clothing – Enjoy 15 percent off and complimentary cocktails while you shop. (1615 EPA)

Noir Philadelphia – After making your way down the avenue, stop in for a late night happy hour. The deals include $1 off drafts, $4 wine, $4 well drinks and half-off select appetizers at the bar. (9-11pm, 1909 EPA)
From this week's paper, we were given a chance to catch up with Kurt Vile on the eve of his new record's release next week:
""What band is that?"
Kurt Vile abruptly stands, upstairs at One Shot Coffee in Northern Liberties, peering at bookshelves that wrap around the room. He walks toward an erect, stand-alone book that appears to picture a group on the cover. Vile's more than just Philadelphia's curious poster boy of indie rock. He's a family man, and in more than one sense: Yes, he's got two daughters—a five-month-old and a beautiful, bubbly toddler, Awilda, whose precocious play lights up the Matador YouTube video for his single "Never Run Away"—but he's also a member of Philly's rock tribe. He sees his rise in the ranks as a good thing for everyone with whom he's ever played, recorded or jammed.
Vile's fifth album, Wakin' on a Pretty Daze, is basically already a success, despite the fact that it doesn't come out until April 9. It's featured on NPR's "First Listen," and any pre-release critical buzz is pretty dazzling. It'll most likely garner a Best New Music nod from Pitchfork; his last, 2011's Smoke Ring for My Halo, did, but, oddly, Childish Prodigy, Vile's brilliant Matador debut two years prior, didn't. I ask him about it. "It's kind of weird how they can ruin a band," he says. "They're definitely not on the mark all the time." Essentially, no one else in Philadelphia is catching up to Vile in his lane, and he plans to take that momentum and run with it.
At this point in his career, he's allowing himself to be picky. He can turn down shows or spread tours out so that he can bounce back to Philly to hang with his wife and baby girls, but one doesn't say no to Coachella. Vile heads to California in a bit to warm up in San Diego before playing the big Indio festival. Only a few days after the release of Wakin', and he'll be performing it before thousands of exuberant indie heads. They're sweet gigs, Vile says—and they keep comin.' "Those pay, playing to big crowds of stoked music fans. And there are certain festivals that can be prestigious: Coachella, Bonnaroo, Primavera Sound. We're doing Primavera for the second time." He's come a long way, baby, from sneaking out to play on South Street at 15.
Wakin' on a Pretty Daze is a sunny, slightly lo-fi affair. If Childish was psychedelic groove punk and Smoke Ring was far-out folk, Wakin' is the perfect accompaniment to our pending spring and summer. It's full of Vile's signature slightly mumbly but subtly brilliant lyricism and anchored by his outstanding, complex guitar work. It was recorded all over the country with friends from Warpaint, Beachwood Sparks and Royal Trux. And while he has some awesome musician friends, Vile also has some heavy-hitting musician fans: Bradford Cox, J. Mascis and Kim Gordon are avowed admirers, and it's mutual. His last vivid concert-going experience: seeing Dinosaur Jr. at Union Transfer. "It was like seeing Neil Young," he says.
When Vile's tour hits Union Transfer on May 18, his fans will no doubt feel the same."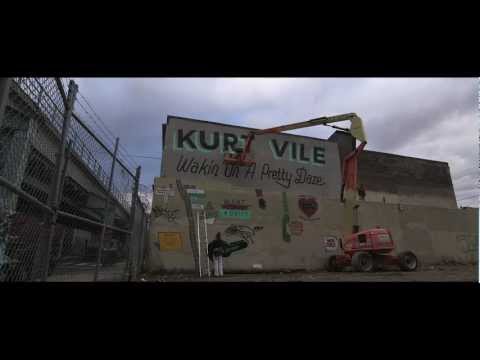 While the majority of the trees and plants around town may still stand depressingly lifeless, our cherry blossoms are officially in full bloom (or at least some).
For those of you who have heard of the Subaru Cherry Blossom Festival, but don't entirely understand exactly what it entails and why you should care, allow me to break it down. The month-long festival celebrates all things Japanese with a slew citywide events (workshops, performances, screenings, exhibitions, etc.)—DUH—all leading up to the centerpiece event, Sakura Sunday on April 14.
Here are a few of the festivities you can look forward to…
Japanese Culture Week: Now through Thursday, The Shops at Liberty Place are inviting folks of all ages to stop by at lunchtime and discover Japanese culture through and interactive workshop. Today you can make and take an origami folded paper ornament while tomorrow, members of the audience will be selected to experience the intricacies of Kimono dressing. Last but not least, on Thursday, you can learn how to write using Japanese Calligraphy and take home a sample. Daily through Thurs/4, 12-2pm. Free. The Shops at Liberty Place, 1625 Chestnut St.
Tamagawa University Taiko Drum and Dance Performance: Tamagawa University, a top-ranking thirty-piece troupe from Japan and the Tamagawa Taiko Drum and Dance group are joining forces, creating a unique, high-energy performance, equipped with intricate dances, thundering drums and beautiful costumes. Sat/6, 8-10pm $25-$30. The Painted Bride Art Center, 230 Vine St.
Madam Saito's Sushi Making Class: Every sushi lover is dying to
learn how to make it themselves and who better to show you than Madame Saito, Philadelphia's Queen of Sushi. More specifically, she'll be showing participants how to create rolls that taste as good as they look. So be sure to come hungry and with containers so that you can take home your left-overs. Also, you must call and register in advance. Sun/7 & Wed/10, 6:30pm. $30. The Headhouse, 124 Lombard St. 215.922.2515.
Sakura Sunday: If you're going to go to any Cherry Blossom event, this should be the one. In addition to Japanese food/product vendors, origami and calligraphy workshops, martial arts demos and drum and dance group performances, there's the annual Harajuku Fashion Show and Prettiest Pet in Pink Parade. Meanwhile, over at the Horticulture Center's new Sakura Pavilion you can discover the traditional elements of Sakura Sunday—from the Urasenke tea ceremony and the art of flower arrangement, known as ikebana​ to the elegant Japanese dance,  Ichifujikai. Sun/14, 10:30am-4pm. $0-$5. Fairmount Park Horticulture Center, Montgomery Dr. & Belmont Ave.
At this point, Martha needs very little introduction. She's one of the most talented and entertaining humans in Philadelphia. When not busy with making Pig Iron Theatre one of the most dynamic and successful theatre companies in the city, Dito van Reigersberg is getting his groove on in pumps and typically a dress or something that bears his hairy chest. With near clownish makeup and minimal wig game, Dito becomes Martha but in his performance of Martha Graham Cracker, it's way, way beyond tits and ass. Martha's a lady who likes to sing and vamp. Simple as that. And frankly, Martha can sing like Steven Tyler mixed with Robert Plant plus, ya know, Cher or Carly Simon or Karen Carpenter.
Martha is a presence. She towers over most men but with a wistful, innocence that says 'I'm just here to sing a few songs and entertain' and then just as quickly, 'Will you buy me a drink?' She'll bat her long, fake lashes and then rip into a jazzy, lounge version of a pop standard from ANY era. That's one of the best things about her; she knows good tunes. Ms. Cracker isn't pop-obsessed and isn't a drag queen (well, kind of). You won't hear much Britney or Azealia at her shows, but you'll almost certainly hear some Liza, Judy or a show tune. Whereas most drag queens vogue and pose and lip-sync, Dito flirts, enchants, makes you laugh your ass off and then belts out a montage of perfectly-worked over lounge-friendly classics.
With a band behind her at the upstairs lounge of L'Etage, she's been bewitching straight and gay and bi and every shade of skin color forever now and it's no secret. Better get there right when the doors open and save a good seat.