When Kurt Souder and Jennifer Burks got a prompt from the folks at Philadelphia Fashion Week to whip up a capsule collection, it sparked something in their creative trajectory. They'd both been toying with ideas and designs, but hadn't been given the opportunity to show fashion-y people what they're all about—that is, until last month, when they ushered out a handful of looks that ended up being some of the most memorable of the whole show. And on a three-week time budget.
Their brand, Weft, is picking up steam, and so are they. Specializing in tailored pants and capitalizing on their unique perspectives on menswear, especially sportswear, the two are poised for a busy spring. Last night, they showed me their collection and had a model (read: roommate) wear a few looks for perspective. For a capsule collection, a handful of garments created to express a shared aesthetic, this one's pretty robust. There's room for improvement, but their staples and standards are what keep the line strong: well-tailored and constructed pants, beautifully-cut five-pocket jeans, hand-painted "patterns" and a cohesion that celebrates an attitude they like to call "dressing in the dark."
That descriptor doesn't have to mean that your house was on fire, and you grabbed the nearest five garments to be covered in the event of a fire drill in winter. For Souder and Burks, it's about cultivating a wardrobe that works together, no matter the combination. They showed me three graphic print tees (perhaps the last they'll make) that illustrate objects exploding, visuals bolstered by Souder's self-taught leather cutting and hand-painted detailing. They see the tees as a layering tool, something to wear with a strong pant and a blazer or under a waffle henley.
But it's the tailoring of the pants that caught my eye the most. Their pinched seams, that run down the front of the pant like an outward pleat (but also like a simple fold-line), create a visual intrigue that adds to the garments' strength. A perfectly effortless but gorgeous pair of dark denim looked like it'd belong in an A.P.C. rack at Barney's. The simplicity of a black wool turtleneck with an asymmetrical hidden neck zip, not unlike something you'd find at LuLu Lemon but kicked up in sophistication, looked comfortably and perfectly paired with their jean.
I told them that with a line of 20 variations of those jeans and that sweater, I'd be waiting in line to get my size.
Philadelphia isn't notorious for cradling and cultivating fashion talent, but these two friends—who go back to pre-teen days at Moore's extracurricular art classes on weekends—are in it to win it in the menswear game. Whereas Commonwealth Proper and Suit Supply may corner a specifically higher-end and suiting market, Souder and Burks hope the everyday wear and flawless construction of their sportswear is something they'll see on all kinds of men walking down Walnut one day.
Well, alright! Hard to believe that it's that time of year again. Last June, early in the month, we went and got baked (by the sun). It was so very hot. The 2014 Roots Picnic lineup, set to go down on the last day of May, gives us a few reasons for rejoicing (other than the visually pleasant flier for the 7th Annual event, c/o John P. Dessereau). Namely: Janelle, The War on Drugs and Snoop, backed by the Roots.
Not gonna lie, there are a handful of acts that aren't very familiar, but they somehow ended up on the Roots' radar. We're talkin' 'bout Jhené Aiko, Bad Rabbits, Roman Gianarthur and Electric Wire Hustle. But heyyy! Check out Action Bronson! And A$AP Ferg! And araabMUZIK and Chill Moody and Just Blaze! And a DJ set from the incomparable Biz Markie?! Hip-hop royalty sprinkled into your all-day sunsoaked Saturday on the waterfront? Nice.
There are some pre-sale ticket options going on today, but they're available to the general public tomorrow at noon. They're $40 ($53.50 with all the fees), and you can only snatch eight at a time. Rest assured, if that sounds cheap, you'll hemmorhage money as soon as you step into the place. So, ya know, be prepared. Towards the middle of the afternoon, it started to feel like the whole event was a wait-in-line-for-overpriced-concessions game. Seriously, let's hope the Festival Pier folks step up their set-up.
Quest was so busy, he made a lineup promo video while his hair was getting did: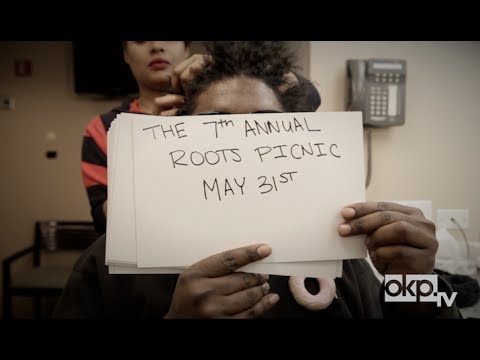 Neneh Cherry
Blank Project
(Smalltown Supersound)
Sounds Like: The first solo LP from the Swede-born legend in 18 years gets the Four Tet treatment and a Robyn guest spot for a refreshingly percussive-heavy and triumphant return.
Free Association: She's lingered in experimental obscurity in the past, but this one's just great.
For Fans Of: ESG x Tricky + Digable Planets, Kelis/Queen Latifah x Bjork & the Slits, breakbeats.
Schoolboy Q
Oxymoron
(Top Dawg/Interscope)
Sounds Like: The Black Hippy rising star's biggest and best yet is, frankly, hard; from the eye-opening first track, "Gangsta," it's a dynamic and varied ride of hearty, hardcore hip-hop.
Free Association: Don't go looking for a good kid, m.A.A.d city – this one's way darker/scarier.
For Fans Of: Dre/Snoop/Nas/2 Pac, Jay Rock/Tyler, the Creator/2 Chainz, syrup and spliffs.
Milagres
Violent Light
(Kill Rock Stars)
Sounds Like: Their proper sophomore's a rich, full-flavored synth rock record that dangerously dabbles in the cheese of arena rock but never abandons a more endearing indie flavor.
Free Association: Thought these guys might be one to watch, but this one's a lil' whack.
For Fans Of: Suckers + Wild Beasts/Cymbals Eat Guitars, Two Door Cinema Club x Fall Out Boy.
Diane Cluck
Boneset
(Bone & Bloom)
Sounds Like: The Pennsylvania Academy of Music-trained Lancaster native's one of the brightest unsung talents in the freak-/anti-/neo-folk universe and her seventh is outstanding
Free Association: Listen and pick out at least a dozen artists who could call her a spirit mother.
For Fans Of: Joanna Newsom x Kate Bush/Joni Mitchell + Regina Spektor, Laurel Canyon.
Nothing
Guilty of Everything
(Relapse)
Sounds Like: Probably the best guitar rock LP of 2014! The Kensington-raised Domenic Palermo's had ups and downs, but here his quartet's opus of crushingly beautiful feedback assault triumphs.
Free Association: What an inspiration to see salvation found in creativity and dedication.
For Fans Of: My Bloody Valentine/Explosions in the Sky, Whirr x Deafheaven, Kenzo heroes.
The Notwist
Close to the Glass
(Sub Pop)
Sounds Like: The first from the Germans in six years is an excellently fleshed-out spin on their typically glitchy and chill ambience, this time with way more feedback freakouts.
Free Association: If you love them for Neon Golden, you might think "This is the same band?"
For Fans Of: Mogwai/Pinback/Stereolab/Radiohead, TV on the Radio x Hot Chip, severity.

I got to do something really cool Friday night. I got a Photo Pass and it was my first time with a decently capable borrowed camera "in the pit." Of course, nearly all ten media pawns crowding into the same 12-15 square-feet had huge, killer cameras, but I was just pumped to boogie within spitting distance of Ms. Annie. Standing about eight feet from The Fierce One, I got front seat access to the first three songs of her thoroughly badass set: "Rattlesnake," "Digital Witness," and "Cruel." Wearing a slightly macabre short dress with fabric manipulations that might've mimicked blood, she tore through song after song from all four of her records nailing every solo along the way. The packed-in capacity crowd was affably excited, yielding a pleasant morsel of local pride: the good people of Philadelphia know a good thing when they see it. From some of the things I've read about this new record and tour, there've been whispers of her aesthetically aiming at leadership of a new world order. A cult-leading superpower here to snatch up our minds and turn us into enlightened funk humanoids. This pale pink platform triangle really pulls it all together (from the album cover to the stage). When she stood on the highest level and blasted through the last third of her set, I was ready to sign up and waiting for her to say "I'm here to recruit you."
In the wake of this drivel circulating on the Faceplace recently, it seems this series of posts are relevant and seek to eradicate ignorance.
So, now you've got a table. Please don't be rude about your table space maintenance. If a host asks you if you'd like to check or get rid of your jacket, take him or her up on it. It's not obligatory to tip, but it's pretty much always welcome. It's nice to not have a jacket in your lap or on the back of your chair, and sometimes, restaurants have copious coat-checking space (or just a bootleg stand-alone rack kept in the basement) just for that free and nice service. It's particularly mind-boggling when diners think they can use neighboring tables to store a purse, winter accessories, a briefcase, phone, pile of books, etc. You're just going to get asked, nicely, to move your things when that table's needed. And again, even if the table next to you's empty, wait 10 minutes, and it may be no longer.
One thing that can always freak out a host or a server is when you sit down and start moving your table all over by dragging it or nudging it an inch or five. Combining tables without permission can also get hairy. Here's the thing: There's usually a logic to the very placement of every table in a restaurant. They're mapped out and positioned to optimize access to the table from the perspective of a server, busser or food-runner. When you force us to contort in weird ways to pick up your empty plate or fill your water glass, we're silently resenting you. You should usually just wait for your server or host to mess with table orientation. Ninety-five percent of the time, concern over table positioning is with you in mind. We want to be able to do everything for you so you can just sit and enjoy. Five percent of the time, it's more of a traffic concern–don't make every single diner and employee in the restaurant hit their hip on your chair because you insist on sitting two feet away from your table. Please. We typically think that if you're dead-set on giving your legs all the space they need by pushing out your chair, it's directly proportionate to your potential for being a dick.
Side-sitters: What's wrong with you? You're that much in love, and you have such a spatial disposition that you insist on a table where you can be hip to hip? You're a target for scrutiny now, lovebirds. We're ALL talking shit about you in the service station. Now, with pretty much anything, an advance notice or request and nearly everything can be accommodated. But to walk in on a Friday night and turn your nose up to tables that don't maximize your intimacy requirements? The host now wants to destroy you. You really need a quiet table for six at 8pm on a weekend? Stay at home. There is no such thing in Philadelphia, except at terrible businesses where no one spends money.
The other thing people love to complain about as soon as they sit down? Temperatures. It's freezing! I'm boiling! It never ends. There are definitely some situations in which it's completely acceptable to say, "Hey, we're kind of cold. Would you mind turning up the heat a degree or two?" But then there's always the thing you do where you make sure you'll be comfortable when you go out: It's winter, so have a sweater. It's summer, so don't wear a sweater. Is it also not obvious that your climate control needs affect everyone else in the restaurant? The servers who are comfortable in a heated room in a t-shirt through February are moving around a bit more than you, yes, but if you're freezing with a sweater and a scarf on, something's wrong with you, and it's not our heating and cooling system.
Regarding the constant party-size changers: It's cool to have a flexible number of guests in certain capacities. Your reservation's for four, but you have three? Cool. Called for six, but now have five? No biggie. Made a reservation for two, but invited two more couples at the last minute? No idea where we're going to put you, and you've just fucked yourself and your friends. Thinking your party may shrink, expand or fluctuate periodically through your meal? Let us know–we probably have an ideal table for you. It's really hard to wait on a table where everyone's coming and going at different times. That seems completely lost on a large swath of Philadelphians.
And finally, this is less table and more bar space maintenance, but have the decency to maximize seatings at a bar. A bartender's money-making is far more dependent on his actual bar patrons than the amount of drinks he or she is making for the rest of the seated restaurant. And when you sit at an empty stool such that a twosome walks in and can't find two seats next to each other because you're too scared to sit right next to a stranger? Get over it, and move one spot down. Also, don't be afraid to talk to strangers or kindly ask them to shift a stool. They'll usually oblige. To walk into a bar where there are several empty stools but no two that are next to each other, and you turn around and walk out, is one of the saddest adult human behaviors a service person can witness. We want to serve you and enjoy the business. If you're too much of a wimp, any of us are willing to do that "dirty work" for you.
Yesterday, Annie Clark got her fourth solo record, St. Vincent, reviewed by Pitchfork (five if you count the duet record she made with David Byrne in 2012). She got a pretty paltry 8.6. Not quite as good as the 8.8 Bey snatched for her self-titled fifth just a few months ago. Clark's already sold out Union Transfer on Friday night; that happened long before we got our first few sounds from her new one off of the internet. But just as St. Vincent releases her critically hefty and anticipated fifth, Bey's got herself a "Soundboardt," a charming, internet-friendly collage of iconography that lets users play it like an instrument.
The first video we got from the St. Vincent collection came at the very end of January; "Digital Witness," one of her catchiest singles to date, it boldly proclaims: "Gimme all of your mind / I want all of your mind / Gimme all of it." It's a sentiment that blithely addresses today's times, an era in which we're glued to our phones and project our identities through a multitude of filters and digital dispatches. Meanwhile, with her fan-created Soundboardt, Beyoncé essentially compounds the soundbyte-ability of her newest, one that's yielded gems like "surfboardt," "I woke up like dis," "let me sit this ass on ya" and "bow down, bitches"—boomin' bytes that need not be explained to the culturally literate.
I don't know about you, but I smell a fight. With the sixth installation of our Diva Death Match series, we give you the imagined battle of when Beyoncé wanted to destroy Annie Clark.
Not sure if you knew this, but we go by a certain set of categories. Just the rules, kids. No way around em': five categories, five eligible points per category and one winner. Well, ladies, let's make this a clean fight. Let the most fierce woman win.
'HOODNESS
Per usual, this one gets a little weird, especially when both contestants are from Texas – Clark's Dallas and Mrs. Carter's Houston. To be fair, Clark was born in Tulsa, OK, but she grew up in Dallas and went to high school at Lake Highlands High. So you could say that the two of them have both had a little bit of that urban school of advanced maturation. Houston's way bigger, though. And Bey's got a husband named Jay Z. Who happens to be one of the most articulate voices of the 'hood of our generation. I don't think we have to talk much more about this one.
Clark: 2, Knowles-Carter: 4
FIERCENESS
Here's where Annie's gonna catch up a little. We know Bey's one of the fiercest on Earth, even claiming that one of her multiple personalities includes a woman named Sasha Fierce, but for a minute there, before she had the billions to hire sick styling talent, she made some questionable style choices. Ever seen what Clark likes to wear on stage? Elegant dresses, wedge heels, flawlessly delicate make-up—and she still rips up a guitar with her own unique shredding techniques. For New York's recent fashion week, she destroyed a guest spot for Diane Von Furstenberg. She posed and danced when possible; it was a career-awakening set of performances for her. But so might those new stage looks that've been whipped up for the impending world tour that Bey will sell out.
Clark: 5, Knowles-Carter: 4
VOCAL CHOPS
There might've been a moment, once upon a time, when even Bey's biggest fans would admit that part of why we love her is because she's hard, she can dance like a maniac, and she brings the performance power—not necessarily because she can belt. Annie's always had a really complex set of pipes, and right from the killer opening track, "Rattlesnake," on her newest, she gave herself a vocal gymnastics exercise. Not to front on Bey, though, because 4 and BEYONCÉ have some absolutely revelatory vocal recordings. However, I would wager that our love for Beyoncé wasn't always because of her artistry. It was because she was fierce. This one's tough. They both seem pretty strong and healthy.
Clark: 5, Knowles-Carter: 4
SINGLES AND SALES
It's hard to beat Bey on this one, she's got really strong game in this category. She sold almost 20 million copies of her first two records in America alone. Annie has done no such thing. Even though some of her records could be considerably more adventurous than Bey, there's no question that she's mired in an indie rock market, one that doesn't really put up much of a fight when it comes to moving sheer numbers. Clark's taken some serious blows this round. Not sure she's gonna make it.
Clark: 2, Knowles-Carter: 5
CLOUT
With this one, St. Vincent is making great strides of notoriety in a larger market. She's gotten about as big as she can for Philadelphia by selling out the Union Transfer again. Sometimes artists like her will just throw in a second night—selling out two nights in a row. But what about a next record? And can she get a big production together and fill up the Electric Factory? For two nights? What about a headlined Festival Pier show this summer?! That would sell out, too. Obviously, Beyoncé blasted through a greatest hits set at a completely full Made in America this summer as a headliner. You can't step to a seasoned arena diva like Bey and win this. But good try, hon.
Clark: 4, Knowles-Carter: 5
FINAL TOTALS: Clark: 16, Knowles-Carter: 22.

Photo provided by Bad Boys of Dance via the Annenberg Center for the Performing Arts.
Last night, I had the distinct pleasure of catching the last performance of Rasta Thomas' "Bad Boys of Dance" at the Annenberg Center. It was both exactly and nothing like I thought it'd be: a little heavy on the cheese factor, but pleasantly populated by six exceptional male physiques.
If I had to describe the nature of the dance, I'd call it a pop and hip-hop ballet. The program notes very plainly list the song choices, and some, from my perspective, are just plain bad ones, while some others made perfect sense. It was by no means a bold or revolutionary artistic statement; ballet gets bred with other dance forms across the world on a daily basis. But was it fun? Did I giggle a few times, utter "Wow" reflexively and bob my head more than I have at any other ballet show in Philadelphia? Absolutely.
To be blunt, the first act was pretty off-putting. Titled "Don't Stop Believin'," it started out with promising playfulness, including a one-two-three introduction from Kanye West ("Stronger," f-bombs and all), The Knack ("My Sharona") and Robert Palmer. "Simply Irresistible," to a child of the '80s and '90s, is so firmly aesthetically anchored with slicked-back hair, cheesy red sports cars and those weird blade-wielding and whip sound effects that underscore the chorus. The idea of the song is kitsch. But the one female dancer—presumably Adrienne Canterna, the company's co-artistic director (also listed as a dancer in the program)—finished the track with a few of the most startlingly awe-inspiring series of spins of the entire night.
See, Thomas came out to introduce the show and said that ballet is always at the core of their dance. And there were a large handful of moments in which the stark juxtaposition between hip-hop and ballet were perfectly paired—from a breakdance headspin to an elegant split; fully-extended leaping revolutions punctuated with braggadocious posturing; a feat of flexibility paired with a little robot; a gracious pose with pointed toes followed by a suggestive crotch thrust.
All of that was great, until this brutal run of the program (featuring some of my least favorite songs and artists of all time: Dave Matthews' "The Space Between," Coldplay's "Every Teardrop is a Waterfall" and "The Scientist," and Aerosmith's "I Don't Wanna Miss a Thing"). It was at this point that I visibly grimaced and had a hard time enjoying the athleticism and artistry of the seven performers on stage. It was also terribly distracting that the guys were wearing jeans and polos. (Less so the jeans, but polos, to me, are so very far from anything "bad boy.") The finale of Act I was Journey's "Don't Stop Believin'," and by the time we arrived at an interpretive pop ballet being danced to the guitar solo of a Journey song, I was uncomfortably squirming in my seat. It was as off-putting as it sounds.
Luckily, the second act saved the whole affair from being just plain weird. In fact, the second act, titled "We Are the Champions," could have made for a great show on its own. It was longer, badder and held nearly all of the show's sex appeal that I'd been hoping for. A good amount of Michael Jackson and Robin Thicke got employed, as was, naturally, some Queen and some Queen with David Bowie ("Under Pressure"). They even mined some favorites from the era of the late '80s/early '90s that were pleasant to revisit: EMF, INXS and George Michael. They came out in black dance pants and tucked-in white tanks. They were soon wearing blazers and skinny ties, and then the shirts came off.
It's here that I'd quickly like to clue you in on who their audience was: old white folks, single ladies, kids and a smattering of gay men. But primarily, it was the first category: I saw a solid trio of bald white-haired gentlemen who also had ponytails. So, it wasn't entirely surprising when things got sort of Chippendale-y towards the end, with some flexing, some suggestive grinding and some man-meat posing. There was even an LMFAO moment ("Sexy and I Know It") to make sure the audience was fully aware that sex was on display.
So, even though the first act nearly lost me real early in, they managed to bring it all home with a bit of Justin Timberlake ("Sexyback"), some Outkast ("Hey Ya") and Usher ("Yeah!!!"), a little Chris Brown, and even some Bee Gees. It was just a little cornier than I thought it would be, but I would happily take my mom and my girlfriends for a fun girls-night-out the next time these "Bad Boys" come around.