Whether you have a child, you're expecting one, or you know someone who is, this is one event you're going to want on your radar because times is tough—and kids are expensive.
This Saturday, from 10 a.m. to 1 p.m, Baby Goods (& kids) eXchange (BGX) will be bringing its massive stockpile of gently used children's clothes and gear to the Circle Thrift at the corner of Broad and Washington (1125 S. Broad St.) for a free swap open to all parents and caregivers.
Besides clothing for tots of all sizes, some of the many items up for grabs include baby carriers, tubs, strollers, high chairs, books, toys and perhaps best of all, maternity apparel. Snacks and bags will also be provided.
Although you don't have to drop off any children's stuff in order to come and pick up some new ones, if you do happen to have some stashed away, you should definitely consider donating it. Circle of Hope accepts donations every day during normal business hours at both its South Philly and Kensington (2233 Frankford Ave.) thrift store locations.
And if you can't make it out this Saturday, be sure to follow BGX on Facebook, as they host monthly exchanges at various spots around the Philly area and in South Jersey.
When I lived in Brooklyn, I made it to the Flea once. There were bikes of all shades and colors, cool jewelry (I bought some Erica Weiner stuff), furniture that made me daydream of the budget and apartment I'd one day have, oh and food. And drink. Pretty sure I had a bangin' pink lemonade. I never thought the spot was so organized that it could up and declare a new location. Like Philly. But on June 2nd, a Sunday, the Brooklyn Flea arrives at the Piazza. The five-year-old successful flea market will have its first weekend in the Jared Kushner-bought Bart Blatstein monstrosity in just a few short weeks.
Kushner's the husband of Ivanka Trump, and he owns the New York Observer. He's teamed up with Flea co-founder Jonathan Butler and Eric Demby to bring their model to a Philly space, their first moment of expansion. We're hoping it's a continuation of a trend; seems like New York's finally seeing the beauty of our fair city. In the not-too-distant past we've seen stuff like 3rd Ward, SuitSupply, Joe Coffee and, wait, is that Uniglo coming to Philadelphia? Man, it's awesome.
Here's the rundown on the Philly Flea: It's a curated shopping and food experience for your Sunday morning and afternoon in Northern Liberties, and it launches on June 2. There are limited spots, a fee, an application process, and the powers that be pick and choose to achieve a blissful mix of art, furniture, vintage, modern, crafty, handmade, prefab and mad food. (Among the vendors slated are Philadelphia Salvage, Three Potato Four, At Home Modern, Peg & Awl and Forage Haberdashery.) Brooklyn Flea's been a fertile starting place for dozens of businesses looking to start small, build clientele and create a name for itself before moving into a brick-and-mortar location. No doubt that'll happen in our Philly locale, and it's exciting to see which startups will get the green light from the Philly Flea team.
The Piazza's one weird space. But did you know that it can contain nearly 8,000 people? There's no other space within a short radius of Center City that can so easily and professionally host such an excellent collection of vending tables and tents. There've been maybe a dozen businesses that have come and gone since Blatstein cut some deals for cheap rent in the piazza's youth, a result of a number of factors, no doubt. Personally, I have no desire to dine at a place like Gunner's Run (again). But when the Flea's chosen food vendors populate the Brooklyn Philly Flea, they'll pretty easily become the most solid eats outside of the dependable Bar Ferdinand and El Camino Real that will neighbor the flea (and benefit handily).
It's just good all around: New York expanding to Philadelphia, sophistication in the form of curated shopping, a thing to do every weekend and a revitalization of one weird, underused space. Starting in June, you've got a good reason to head up, if nothing else for a good place to stroll with a coffee in hand and peruse high-to-low-end goods and art. Plus there's like a 1000-percent guarantee that some cuties'll be shoppin' too.
Also, one quick note about the Flea's June 2 opener: Since it's the day after the sure-to-be-bangin' Roots Picnic, call it the official "Roots Family Post Picnic Brunch," 'cause according to insiders, Questlove and a slew of other dope local DJ are set to rock the Piazza stage.
As you probably recall, back on April 6, a devastating fire broke out at 4th and Fitzwater streets along Fabric Row, destroying two businesses, leaving 17 people homeless and killing Fire Captain Michael Goodwin.
Almost immediately, the community rallied together to create the Friends of 4th Street Fire Relief Fund, which has already raised nearly $7,000 to benefit those directly affected by the blaze.
To edge them closer to their $15,000 goal, this Wednesday, over 60 sponsoring businesses throughout the South Street/Headhouse and Queen Village neighborhoods, along with a few in Old City and NoLibs, will be taking part in a special, daylong benefit event, donating 10-20 percent of their sales to the fund as well as proceeds from raffles and cover charges.
The long list of participating merchants include American Mortals Hair Salon, Philly AIDS Thrift, Sweet Box, Urban Princess Boutique, Paper Moon, Old City Tattoo, Pet Snobs Boutique, Royal Tavern, P.O.P.E, and BUS STOP Boutique.
After you shop, eat, get your hair did and/or get a new tatty, you can also enjoy some live entertainment for a good cause:
South Street Magic – Super awesome magic show starring Dan Hauss and Captain Swirly. (7pm, $10. 519 S. Fourth St.)
Tattooed Mom's – DJ Foxx Boogie, $3 dollar burgers and veggie burgers, $2 dollar Narragansett tall boys, half priced drafts from 10-11pm, and tons of raffle prizes, including art donated by Qcknd, Harlequinade, Kid Hazo, Linx, and Joe Boruchow. (8-11pm, Free. 530 South St.)
DOBBS – Raffle prizes all night long and live music from Slo N' Shakey, The Sideshow Prophets and Atomic Sky. (8pm-1am, $5. 304 South St.)
If you can't make it out on Wednesday, be sure to make your way over to Fourth Street for their Fourth Friday events.
So it's official: Moon & Arrow is one of my top five favorite local boutiques. And considering the steady flow of people who pilled into the massive Fabric Row storefront on Saturday for the grand opening celebration, it appears I'm not the only one enamored with owner, designer and Philly native, Chelsea Pearce's enterprise.
The shop is somewhat peculiar in that it not only houses a cornucopia of merchandise, but a mix of both vintage and handmade. In addition to Chelsea's line of gemstone and reclaimed metal jewelry and her amazing handpicked selection of vintage clothing, the space is filled with all sorts of interesting antique treasures and home goods.
This includes, but certainly isn't limited to, beautiful hanging terrariums, rugs and glassware to books, cameras and typewriters. While some of the furnishings and décor are her own thrift findings, others are that of Territory Hard Goods, which now co-inhabits the space.
Extending the olive branch even further, the shop also carries a few indie labels and is currently showcasing works from local artists, Caitlin McCormack and Jason Chen.
What's really remarkable is that, despite how varied, all of these items manage to fit within Chelsea's personal
aesthetic, creating one cohesive and unique ambiance—a cross between a contemporary urban boutique and a warm Midwest cabin. Having serendipitously come dressed in cowboy boots and a denim button-up, I practically blended into the walls.
If you're on the market for a pair of quality cowboy boots or nice winter coat/poncho, definitely consider Moon & Arrow your number one destination. Besides offering a lot of stellar choices, unlike most vintage stores in the city, Chelsea doesn't jack up prices on certain items just because she knows people will pay them. Most of the jewelry, accessories and apparel falls in the $30-$60 price range. If an item does have a higher price tag, you know it's because that's how much its worth.
After ogling over everything and trying on a few outfits, I sat back with my glass of complimentary wine and popped open a hilarious book from the early 1900s on health and hygiene. It's a good thing the only item the shop doesn't have is a TV because then I probably would have never left.
Moon & Arrow is located at 754 S. 4th St. Hours are 12-7:30 p.m. Wednesday-Saturday and 12-5 p.m. on Sunday.

When local jewelry designer and vintage connoisseur, Chelsea Pearce first opened her awesome Fabric Row boutique, Moon & Arrow last fall, I immediately went to check it out. I then documented my glowing first impressions on this here blog. Back then, I had no idea that the store was only a pop-up so by the time I went to retrieve the umbrella I left there, the place was empty and Bus Stop Boutique was moving in.
I've spent the past year wondering whatever happened to Chelsea and morning the loss of yet another great local indie boutique. Or at least that was until about three weeks ago when I happened to spot an even bigger storefront at 4th & Fitzwater Sts. being renovated with the Moon & Arrow sign the window.
Tomorrow will officially marks the boutique's resurrection and to celebrate, all are welcome to stop by and enjoy drinks, food and tunes from 6-10 p.m. Guests who make a purchase during the bash will receive a free custom-made screen-printed tote bag and while I've yet to see the new digs myself, I assure you it won't be hard to find something you like.
Creating a unique shopping atmosphere with all sorts of eclectic pieces of décor—from terrariums housed in recycled fish tanks to hanging air plant sculptures stuffed with turkey feathers and horsehair—the new location boasts an even larger stock of vintage housewares as well as men's and women's clothing and accessories, all curated by Pearce herself. Meanwhile, Moon & Arrow's Bohemian-chic jewelry can be found draped from antique mirrors or meticulously arranged on shelves alongside chucks of quartz.
Perhaps a pretty good indication that boutique is here to stay, Moon & Arrow has recently partnered with the local founders of Territory Hard Goods, offering retail presence to their supply of "rediscovered" vintage furnishings and home accents. Having found success on Etsy as well as through sales on sites like Fab.com and HauteLook.com, THG will now run their upholstering studio, workshop and office in the same space.
If you're not familiar with Moon & Arrow, check out their Facebook page and Etsy store then become reacquainted tomorrow night.
With all the different Halloween parties coming up this weekend (including those listed in PW's Halloween Guide this week), now would be a good time to really start thinking about your costume if you haven't already, especially if you don't plan on going out and buying one. Obviously, some of you may be more ambitious than others when it comes to your Halloween get-up, but here's four Philly-inspired costume ideas that are cheap and relatively easy to put together last minute.
A Philly Fan (Any Team)
This is so simple and yet so brilliant. And given the track records of our professional sports teams, this is one costume you'll be able to wear year, after year, after year.
Step 1: Deck yourself out in any and all local sports apparel you have whether it be the Eagles, Phillies, Flyers, Sixers or a combination of all four. Don't forget silly accessories like a foam finger or football hat.
Step 2: Using red body paint, make it look like you just slit your wrists. Depending how realistic you want it to look, you can follow tutorials like this one or this one.
Step 3: Make your hair look messy like you've been ripping it out.
Step 4: If you're a lady, paint running mascara down your face (by smudging eyeliner and/or black eye shadow down your eyes and cheeks). You may want to use some extra eyeliner and a little bit of red lip liner around your eyes to really give the effect that you've been crying. This tutorial may help (fast-forward to 6:30).
Step 5: Throughout the evening, periodically shout out—to no one in particular—such Philly fan catchphrases as "Fire Andy!" and "WHHYYY??"
Glenn "Hurricane" Scwhartz (In A Hurricane)
Basically just recreate this "Caught In The Rain" costume with your own umbrella, business casual outfit, a pair of cheap reading glasses, a lot of hairspray and gel and of course, a bow tie. You could also rock a poncho, as long as the bow tie sticks out. Or you could skip the accessories and go out as regular Glenn, but that's not nearly as interesting.
A PPA Officer
Everyone will get this immediately. Switch up the wardrobe and this could also work for just about any despised local figures—Mayor Nutter, Andy Reid, Michael Vick, etc.
Step 1: Rock navy work pants and a baby blue button up shirt.
Step 2: Make the PPA patch out of paper or cardboard.
Step 3: Buy a pair of devil horns or an entire devil kit (horns, pitchfork and tail). You can find this pretty much anywhere that sells costumes, including Rite Aid.
Step 4: Either make or buy a fake little gold badge.
Step 5: Stash any old parking tickets you might have in your pockets.
Your Neighborhood
There's really no limit to what you can do with this. I'm merely offering suggestions. You could also take these suggestions and go out as Philadelphia in general, although this would most certainly require you to get far more elaborate.
Step 1: Using some cardboard, recreate either the expressway ramp sign for your neighborhood, several individual street signs and/or a basic "Welcome To…" sign.
Step 2: Tape said sign(s) to yourself or hang around your neck with string.
Step 3: Dress like stereotypical neighborhood folk. For those living in super gentrified neighborhoods, feel free to mix and match accordingly. If you own a shirt from a neighborhood business, that would work too. You could also just wear all black and create a line of white or yellow dashes down your body like an actual street.
Step 4: Tape various pieces of trash to your clothes that you'd likely see in your respective hood. For instance, if you live in South Philly, perhaps that's a Geno's or Pat's wrapper. If you live in Kensington, maybe that's a Colt 45 label and fake syringe. I think you get the idea.
Step 5: Accessorize, accessorize, accessorize. The more details you incorporate, the better.
We posted before about how Atlantic City has been undergoing a serious face-lift lately, especially around the fourth of July holiday when the new Madonna-worthy  3-D installations and fireworks lit up everything like it was the Riviera.  To further make us kind of upset we weren't there, this video has just emerged on what seemed to be the most magical time ever in AC.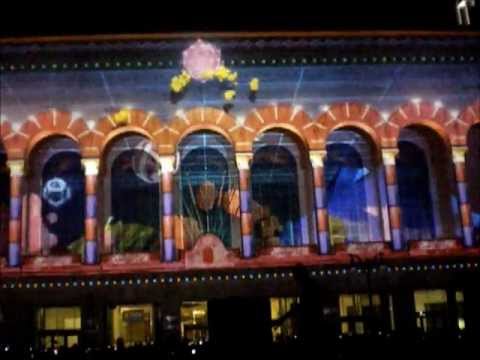 Luckily, the light shows are forever and you can take your buddies to the beach, go shopping at Sherry's Closet in Somer's Point (Seriously, it's the best vintage shop around. I picked up a vintage YSL accordian skirt for eight bucks!), go out for an intense seafood dinner and then back to the boardwalk for some drinks and light magic!
Happy summer, everyone!