Last night, I got the distinct pleasure of perusing the Art Unleashed 2014 collection; it's essentially a huge art show, collecting work from current students, alums and faculty, where everything's for sale—and it's for a good cause: supporting the University's Sam S. McKeel Promising Young Artists Scholarship Fund. The best part: It doesn't just feature paintings. This is an excellent opportunity to acquire some high-end collectibles for your home at solid to not-astronomical prices.
One of the sweetest things about Art Unleashed is the variety of items you can purchase: there's really tight jewelry, stunning sculpture and photography, perhaps in larger volume than paintings. The show's open to the public in U Arts' iconic red-doored Hamilton Hall, the building at 320 S. Broad Street, and it's free. So even if you're not buying, it's a great cultural stroll. You'll find that it's not unlike a Barnes experience: There's a pretty random mix of styles, often compactly-mounted alongside each other, with seemingly little rhyme or reason to the curation. You get what I'm saying.
It's open from noon to 5 p.m., starting today, running through the 15th—and admission is free. I'm going to highlight some favorites that are still for sale. (There were lots of red dots marking "CLAIMED" status, and I'm pretty sure that come Tuesday, the good stuff'll be gone!) I'll just take you around the room in the way that I collected my favorites at the end of the night (check it online, if you like). Ready? Let's go:
1. Samantha Moss (photo student, '14): "Forgot to Stop," 8 x 10, $150
This is essentially a cool punk photo chick, from what I can surmise, as evidenced by a simple nasty kinetic rock moment printed on a block of metal. It puts you in a pit and manages to capture the beauty of terrifying catharsis.
2. Sean Dryoff (faculty, alumni, arts/printmaking): "A Mistake," 20 x 24, $250
There's something about this one; I think it was my favorite. The angle is just perfect—an easy mix of facing the camera and not at all. Clearly, there's something in the coloring and the model that is compelling, but I don't need him to turn around. I can see all that I need to from here.
3. Chloe Sherman-Pepe (alumni, photography '09): "Untitled #3," 30 x 20, $410
These came as a series, and you can see the rest online, but this one was my favorite of hers. They're very Grace Jones-painted-by-Keith Haring in a stark black and white palette, a series that gracefully and effortlessly captures movement (top, left).
4. You Ra Oh (student, painting '14): "Untitled," 48 x 53, $700
Another favorite, this one's huge and had great texture, listed as "cold wax, oil pastel, acrylic, charcoal, pencile on wood panel." It has elements of maps and topography, and it's an abstraction that distills both static, unmoving earth and undulating landscapes.
5. Angela Rio (illustration student '14): "Mental Health Awareness: Schizophrenia/Bipolar Disorder/Bulimia/OCD," $800 each
These were incredible, a series of four boxes that could be considered small installations: shadow boxes that capture the essence of four mental health issues with exacting detail and artistic license. To know that this was made by an illustration student is kind of a marvel because they seem like all kinds of mediums conversing. They're sold separately, it seems, and "OCD" is taken (top, right).
6. Danny Gallego (student, painting '14): "JFK," 18 x 24, $250
Another favorite: a magic mix of india ink and watercolor on paper that plays with Kennedy's gender. Or sexuality. Or both. It's a very Warholian Marilyn Monroe-inspired take on the handsome president, rouging his lips and shadowing his eyes. I would love this in my home.
7. Thomas Kelly (student, crafts '14): "#selfieawareness," 24 x 60, $750
Perfectly capturing our of-the-moment obsession with photographing ourselves, this is a digitally-printed decal that puts a way-too-skinny white bitch in the center of a long, tall mirror taking an egregious selfie. She looks rail-thin and is even pouting a little. You want to kill her (and pull out your phone).
8. Shari Tobias (alumni, fine arts '90): "burka burka burka," 20 x 17, $200
This one's so fascinating that it pulls great worth from the work's description: "performance art photograph, matte, frame." Three women casually row boats in a public park not unlike Boston Commons, with only a little bit of face showing. It makes me think of the Gaga song, "Aura," and also makes one think about a lot of things. Which is what good art does.
9. Patrick Tumblety (alumni, film/digital video '07): "Newer Orleans," 16 x 24, $100
There's nothing brilliant about these; they're just nice and affordable and would look really great in all kinds of homes and apartments. They're nicely canvassed digital prints that capture color in vivid ways: New York Times at night, an exotic bird's rare moment of stillness and, in my favorite, a gorgeous New Orleans house with a verdant double-decker porch.
10. Kevin McWilliams (alumni, photography '09): "Tomy, Philadelphia," 20 x 24, $600
It's hard to deny a brilliant portrait. McWilliams' subject doesn't seem particularly phased by the nature of posing or of being photographed. Tomy has a little bit of menace in his appearance, and yet the photo captures a little tenderness and perhaps a moment of guard-letting-down. It's a piece of art that looks effortless, but you know that it isn't.
Natalie Hope McDonald is secretly one of my favorite Philadelphians. Her social media presence is always just right: I "favorite" her Tweets, double-tap her Instagrams (@nataliehopemcdonald) and "like" her Facebook statuses and comments on the regular. She's just one of those calming, mature artists in this city who seems genuinely engrossed in her work and uninterested in playing the tawdry game of attracting web traffic with shallow content. If there's a story to be told, with pen or paint, she seems to take the task pretty seriously.
Well, she's also a painter, and a talented one at that. In anticipation of tomorrow's First Friday opening at Bluestone Gallery in Old City (142 N. Second St.), we were able to get a few questions answered to illuminate her process and paintings.
PW: I can already hear First Friday wanderers who wonder how color and composition abstractions tell a story—especially a personal one. How do you combat that? How would you explain to less-than-intuitive art consumers how personal experience can be gleaned from abstract paintings?
NATALIE HOPE MCDONALD: Abstraction actually offers an unrestricted means to tell a story or to convey thoughts or memories that might inspire a person in a less, well, linear way. It's a bit like daydreaming when we drift from one thought to another. My paintings are collages of these feelings and ideas. They start off with a basic idea that becomes much more intensely personal as I paint, draw and carve away on the canvas. Practically speaking, it involves a lot of layering and color techniques. The experience of painting is a very solitary one. So for me, that lends itself to soul searching and an exploration into one's own psyche.
I don't paint to feel better, though there is satisfaction that comes from a finished piece. I paint because I have to. But I do think it provides a medium to explore sometimes more complex ideas and feelings in a way that can also become (ideally) an appealing composition. I use a lot of visual codes —lines, scribbles, words and numbers—that help tell the stories. They make sense to me. But I also find them to be visually exciting.
Can you say a little about the title inspirations? Where does "The Road Home" come from (Is it Stevens?) and what about "Winter in my Room" (above, L-R)? What's the process like when inspiration from poetry becomes a painting?
Poetry is a big inspiration to me. I was thinking about Wallace Stevens' work, which I had been rereading, as well as a regular trip I take back and forth to the town where I was born. For me, the title is both literal (I drive the same road back home) but also philosophical—and what it means to go back to where you come from. Can we ever go back? And if we do, how are we different? How is the place different? I've been spending a lot of time in my hometown lately and had been preoccupied by these thoughts as I painted for this show. I sometimes feel like a tourist there, while there are still so many places that remind me of what it was like growing up. There are also a lot of ghosts, people who meant so much to me who are now gone. The large piece in this show is aptly titled "Ghost Stories." That could also be the title for this show, in a way.
"Winter in My Room" also has a two-fold meaning. I painted the piece when it was snowing, but I also considered what winter tends to symbolize, especially in poetry and literature—and how it relates to the chill or coldness that I was experiencing in my own life. I spent many months going through some personal challenges that left me wondering how one can reconcile sweeping inspiration with what's required of me to be able to function comfortably in the "real world." One can feel trapped, as in a room. But that place can also be quite comfortable because it's so familiar, and it's safe.
Has abstraction been an ongoing theme in your work? I'm a pretty huge fan of abstraction for the way that it allows for compositions to simply play with color and visual appeal; there's a also sense of timelessness that I believe abstract painting can capture. What are your roots with the technique? Why does it appeal to you?
In many years, it has been an important theme. But I was trained, like many artists, to paint from real life in art classes. I think that foundation provided an important platform, if only to rebel against. I'm not sure I would have such an appreciation for line, texture, color and composition if not for understanding how they come together in order to completely tear them apart. I find abstraction to be much more challenging than any of the figurative work I had done in the past. Not only must it appeal compositionally, but it also needs to come from somewhere vastly more complex. I don't simply look at a horse and paint a horse. Abstraction appeals to me because I can share things that I might not ordinarily share in any other way. I used it as a kind of code for years—for lovers and experiences that I wanted to keep personal. For example, if you take a look at some of Marsden Hartley's portraits, they are collages of objects rather than images of a person's face. He approached abstraction in a similar way. For him, it involved concealing his subjects. I value that same idea—especially in a world where privacy is harder to come by.
It's hard to put a finger on Keith Haring's genius. His specialty, to an untrained eye, is simple and seemingly uncomplicated shapes, forms, colors and lines. Part of what's so remarkable about Haring is how organically his art went from simple graffiti scribbles in New York City's underground—stuff that was meant to be temporary, low-brow and of the people—to works on canvas being an integral part of permanent collections in the finest museums in the world. For a Reading, PA boy with three sisters and a cartoonist father who briefly attended The Ivy School of Professional Art in Pittsburgh, it's a miracle that Haring's legacy is still enriching generations of humans across the globe.
There's a vitality that glows from his Radiant Baby, a trademark image he started spreading around subway stations before the '80s had arrived. Soon after, he started a long-term successful collaboration with a space called Club 57, a nightclub (at the time) at 57 St. Mark's Place, where he started regularly associating with Kenny Scharf, Madonna, Jean-Michel Basquiat and Andy Warhol. Certainly, Haring was inspired in this environment and in New York City, then a wildly different city than it is today. Because shortly after these first few years in New York, his art started taking off in terms of notoriety and acclaim, and he started getting commissioned internationally.
Obviously, the real tragedy is that he's gone, and that he left us at the tender age of 31, just as he was hitting his stride as an artist. Haring was a homo who liked to have fun, and he was dangerously positioned at the dawn of the age of HIV and AIDS. His work often portrayed sex, but he was always a safe sex advocate; he wasn't a vulgar artist, and his visuals very often conveyed messages of hope, unity and love. Plus, he coined and popularized succinct phrases that became inspiring and iconic statements you can find on Urban Outfitter t-shirts, which continue to serve as a tool of empowerment and self-respect: "Crack is Whack" and "Silence = Death." Haring often strived to put his art in places that needed a boost, under-served and struggling communities that could use a reminder that to be alive is a gift and to participate in the human experience requires compassion and empathy. Which is why it's no surprise that we have, right here in Philadelphia, one of the most treasured works in the Haring oeuvre.
His "We The Youth" mural, located on the side of a house at the corner of 22nd and Ellsworth, is one-of-a-kind. It is the only surviving collaborative public mural to remain in its original site, the wonderful product of a team-up with Brandywine Workshop and the CityKids Foundation of New York. And at the beginning of November, the Mural Arts Project is poised to grandly reveal an ongoing and meticulous restoration of the legendary mural. Haring's work, be it a mural, collage, sketch, painting or installation, appears in esteemed museums beyond our borders (the MOMA and Whitney, the Art Institute of Chicago, the LA County Museum of Art, Centre Georges Pompidou in Paris and the Ludwig Museum in Cologne, to name a few), and by some small miracle, we've got a big, beautiful vestige of his legacy out in the open for consumption, without an admission fee or a dress code, right in Graduate Hospital.
Established by the artist himself in 1989, the Keith Haring Foundation "perpetuates Haring's artistic and philanthropic legacy through the preservation and circulation of his artwork and archives, and by providing grants to children in need and those affected by HIV/AIDS." It's clear that Haring thought critically and seriously about how to let his artwork continue to serve humanity in his absence. He wasn't a stranger to commodification and didn't resist it because he saw the potential in letting affordable miniatures of his work allow broader access to art – not just rich people could collect him. His Pop Shops were a revelation, and his success at the time allowed him to commodify his work on his own terms. "Here's the philosophy behind the Pop Shop," Haring declared. "I wanted to continue the same sort of communication as with the subway drawings. I wanted to attract the same wide range of people, and I wanted it to be a place where, yes, not only collectors could come, but also kids from the Bronx … this was still an art statement."
So, do yourself a favor: Check out the excellent 2008 documentary (on Netflix) called The Universe of Keith Haring by filmmaker Christina Clause, and get yourself to the grand reveal of the touched-up "We The Youth" mural next Sat., Nov. 2, at 1pm.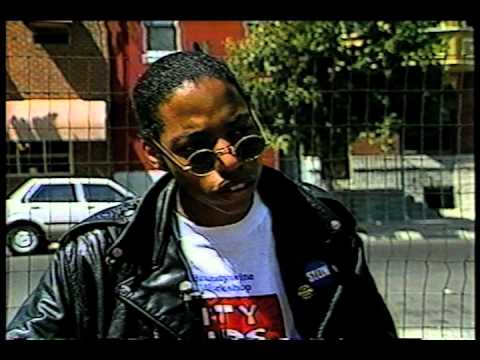 When I lived in Brooklyn, I made it to the Flea once. There were bikes of all shades and colors, cool jewelry (I bought some Erica Weiner stuff), furniture that made me daydream of the budget and apartment I'd one day have, oh and food. And drink. Pretty sure I had a bangin' pink lemonade. I never thought the spot was so organized that it could up and declare a new location. Like Philly. But on June 2nd, a Sunday, the Brooklyn Flea arrives at the Piazza. The five-year-old successful flea market will have its first weekend in the Jared Kushner-bought Bart Blatstein monstrosity in just a few short weeks.
Kushner's the husband of Ivanka Trump, and he owns the New York Observer. He's teamed up with Flea co-founder Jonathan Butler and Eric Demby to bring their model to a Philly space, their first moment of expansion. We're hoping it's a continuation of a trend; seems like New York's finally seeing the beauty of our fair city. In the not-too-distant past we've seen stuff like 3rd Ward, SuitSupply, Joe Coffee and, wait, is that Uniglo coming to Philadelphia? Man, it's awesome.
Here's the rundown on the Philly Flea: It's a curated shopping and food experience for your Sunday morning and afternoon in Northern Liberties, and it launches on June 2. There are limited spots, a fee, an application process, and the powers that be pick and choose to achieve a blissful mix of art, furniture, vintage, modern, crafty, handmade, prefab and mad food. (Among the vendors slated are Philadelphia Salvage, Three Potato Four, At Home Modern, Peg & Awl and Forage Haberdashery.) Brooklyn Flea's been a fertile starting place for dozens of businesses looking to start small, build clientele and create a name for itself before moving into a brick-and-mortar location. No doubt that'll happen in our Philly locale, and it's exciting to see which startups will get the green light from the Philly Flea team.
The Piazza's one weird space. But did you know that it can contain nearly 8,000 people? There's no other space within a short radius of Center City that can so easily and professionally host such an excellent collection of vending tables and tents. There've been maybe a dozen businesses that have come and gone since Blatstein cut some deals for cheap rent in the piazza's youth, a result of a number of factors, no doubt. Personally, I have no desire to dine at a place like Gunner's Run (again). But when the Flea's chosen food vendors populate the Brooklyn Philly Flea, they'll pretty easily become the most solid eats outside of the dependable Bar Ferdinand and El Camino Real that will neighbor the flea (and benefit handily).
It's just good all around: New York expanding to Philadelphia, sophistication in the form of curated shopping, a thing to do every weekend and a revitalization of one weird, underused space. Starting in June, you've got a good reason to head up, if nothing else for a good place to stroll with a coffee in hand and peruse high-to-low-end goods and art. Plus there's like a 1000-percent guarantee that some cuties'll be shoppin' too.
Also, one quick note about the Flea's June 2 opener: Since it's the day after the sure-to-be-bangin' Roots Picnic, call it the official "Roots Family Post Picnic Brunch," 'cause according to insiders, Questlove and a slew of other dope local DJ are set to rock the Piazza stage.
I got a rare opportunity today. Disclaimer: my friend, Jestis Deuerlein, is going to be a major player in this exciting cultural movement coming to Northern Liberties. She's going to be helming some event planning and has a ton of infectious enthusiasm about the space, what's going to go down there and how so many Philadelphians are going to reap the boundless potential of this incredibly multi-functioning space. Before I get down to the virtual tour, feel free to do a little reading up on exactly what 3rd Ward is. Here's the two-second version of what they do from the horse's mouth:
"3rd Ward is a multi-disciplinary workspace and education center. Here, you can take advantage of our Wood Shop, Metal Shop, Photo Studios, Jewelry Studios and Coworking Space, as well as learn new skills in one of our many classes. Whether you're a beginner looking for a creative outlet, or a seasoned professional in search of a full-time workspace solution, 3rd Ward can help."
And they're bringing this spirit of creativity and community to Philadelphia in a matter of months. We won't try to name a date at this time but you can bet you'll be kept abreast of the space's grand opening (almost definitely with a big, fat party).
For one, as a music journalist, I'm pumped about this as a space for dance parties, music events, performances and art parties. There will basically be two performance/event spaces; one on the first and one on the second floor which extends out onto an open-air roof-top deck. The third floor is a sickeningly sprawling and beautiful co-work space, but more on that later.
This is a pretty odd neighborhood, let's be real. I used to live over here. Just a few blocks north of Girard and west of Front isn't what you'd call a vibrant or distinct neighborhood. Sure, there's a bunch of great things in this odd mix of Northern Liberties, Fishtown, Kensington and North Philly: the robust strip of 2nd Street between Girard and Spring Garden, the newly-bustling Super Fresh, and stuff like Johnny Brenda's, Kung Fu Necktie, El Bar and Fishtown Tavern. This is all to say 'This space is going to do good by lots of people, including the neighborhood.'
So let's start at the ground floor. The two main entrances will open up to a big combo restuarant/cafe/performance/art show space (above, left) and to a reception-y welcome center. Curious about the restaurant space? Check out Stone Park Cafe in Brooklyn – they'll be related. In the back is a massive metal and wood shop. The cafe space will also feature loads of outdoor seating, perfect for its slated summer opening. The second floor is a home for a handful of classroomy spaces including what will be a huge work kitchen, and, perhaps the crown jewel of this whole endeavor, a lovely small/mid-sized outdoor patio (above, right) with room for a projection wall, maybe a small bar, a DJ booth and around 100 people. I can already see the artsy folk in their shorts and sun dresses mingling under the stars.
Upstairs, on the top and third floor, is one of the biggest and most beautiful co-op/co-work spaces I've ever seen. This puts the Flavorpill office in SoHo where I interned five years ago to shame. Beautifully restored finishes and wood floors, endless snaking cubicles and phone call booths will make this one whacky-ass floor full of people looking for a home base for their young company or their freelancing needs. As our economy still figures out what's going on and young folks are smacked in the face with the reality that freelancing is the future, not staff jobs, it's possible this space will be a bustling and thriving epicenter of Philadelphia's already-strong-but-still-blossoming intellectual and literary culture. Not to mention all the artists/crafters/designers/printers/tech nerds that'll benefit from work spaces and opportunites to get their work seen (and bought).
The space is freakin' 27,000 square feet. PW will definitely be keeping an eye on the opening, the class and events lineup and welcome newly-hired members of a powerful 3rd Ward team.
Want to make a Philadelphia community cooler with something artistic, but don't have the funding for turn your idea into reality? The John S. and James L. Knight Foundation is throwing down $9 million worth of investment via its Knight Arts Challenge Philadelphia, which launched a couple years ago with the sole purpose of helping Philadelphia artists, businesses, and organizations to enrich their neighborhoods through innovative creativity. Back in 2010, the Challenge supported photographer Zoe Strauss' I-95 project; with 71 projects funded already and $5.4 million dollars awarded, there's no reason you shouldn't give it a shot too. No idea is too big or small, and you don't have to have the art-world reputation of a Strauss to apply. You do have to think fast, though: The application deadline for the third round of proposals is only two and a half weeks away on October 15. May the best ideas win! — CAROLINE NEWTON
The Philadelphia Museum of Art's newest exhibition, Visions of Arcadia, is opening in less than a week and if you are in need of a harmonious and mystical escape, look no further and head straight for the parkway. Filled with idyllic scenes of paradise, the exhibition features works from modern masters including Gaugin, Matisse and Cézanne, all of which are sure to leave you with peaceful vibes and sweet dreams. It is my honest belief that you don't need to be an art history geek like me to appreciate Cezanne's The Large Bathers so much that it can make any dreary day seem brighter.
Gaugin, Where Do We Come From? What Are We? Where Are We Going?
In wonderful celebration of all things Arcadian, Arcadia Boutique is giving away two free VIP passes to the exhibition. To enter, all you have to do is make a purchase, either online or in-store, and you'll automatically be entered for a chance to win. Shopping in a varied sea of prints, silhouettes and unique jewelry to win these passes doesn't seem like such a bad deal- but if you want in, make sure to act quick as this Sunday is your last chance to be entered.
Here are my favorites from Arcadia's online shop:
-Emily O'Neill