We posted before about how Atlantic City has been undergoing a serious face-lift lately, especially around the fourth of July holiday when the new Madonna-worthy  3-D installations and fireworks lit up everything like it was the Riviera.  To further make us kind of upset we weren't there, this video has just emerged on what seemed to be the most magical time ever in AC.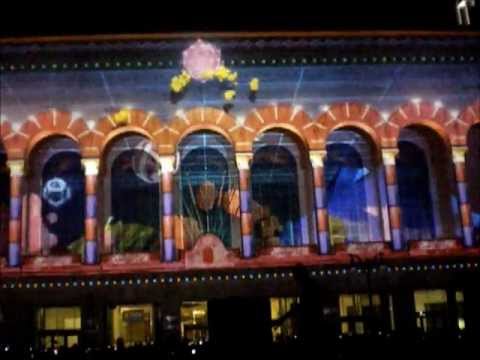 Luckily, the light shows are forever and you can take your buddies to the beach, go shopping at Sherry's Closet in Somer's Point (Seriously, it's the best vintage shop around. I picked up a vintage YSL accordian skirt for eight bucks!), go out for an intense seafood dinner and then back to the boardwalk for some drinks and light magic!
Happy summer, everyone!
It seems like lately, Atlantic City has been seriously upping it's game in the style department. With new resorts like the super-hip Revel, the Chelsea and now, the  Boardwalk light and sound show — AC has been making huge steps in shedding its cheesy persona.
The world-renowned Moment Factory—the same light-and-sound artists who lit up Madonna on her latest tour and designed the interactive musical wall in Montreal—have designed a new, dazzling color and sound show at Boardwalk City Hall, premiering this fourth of July weekend after the fireworks.
Get all the information to watch the fireworks on the beach, here. And, check out a preview of the new light installation in the photos below. Because, we could all use a extra dose of magic in our lives.
Thanks to Atlantic City Alliance,  follow them for more fourth of July goodness on Twitter and Facebook.  #HowIDoAC
A lovely lady from Vintage Connection has posted info on Vintage Coats on Philly2Philly. Vintage Connection is worth a look, it won the title of "Best Vintage Shop" from Philadelphia Magazine and your favorite newspaper, Philadelphia Weekly. With a little luck, you might even be able to get a Mad Men esque coat – for MUCH cheaper than those on sale at Banana Republic.
Even with the colder weather creeping up, Christmas commercials are freaking us out. They're on entirely too early. Or so we think. However, we are positively tickled by the Sephora Holiday offers like this set of mascaras for $39 – valued at $104. Nice. There are similarly priced sets for fragrance, glitz & glam – that's shimmer and bronzers for those who don't speak Sephora. The only set we're leery of is the lotion one. Sometimes skin freaks out when you use that many different lotions, especially in the winter months!
If you LOVE eyeliner Sephora's got a kit with pencils in literally every color from Make Up For Ever. This set has 25 different shades. We think even Rainbow Brite would be jealous. This Smashbox set with 5 colors might be a better choice if 25 colors seems like too much of a commitment. We're also loving this cute little set from Bare Escentuals avaliable only at Sephora called A Wink and A Kiss. It's mascara and lipstick. So cute.
Sooo…we got a little excited about makeup. This morning NBC10 takes a look at Justin Timberlake's style and how it's progressed through the years. NBC10 also lets us know that there is going to be a piece of the Berlin Wall at Ripley's Believe it Or Not in Atlantic City! I personally saw an itty bitty chunk of the Berlin wall and that was pretty moving. I can't even imagine seeing a huge chunk like the one at Ripley's, let alone actually being there for the historical event – which celebrates it's 20th birthday on Monday, November 9th.