Just found out that you're beau is taking you somewhere fancy and need the right dress or accessory? Still haven't gotten you're gal a gift? Completely clueless as to what you should actually get your gal? Single and ready to mingle?
Whatever you're V-Day circumstances might be, Alina Alter, owner of Aoki Boutique in Rittenhouse (115 S. 22nd St.) has got you covered. Besides the shop's miscellaneous assortment of Valentine's goodies (below), Alina offers some specific recommendations for ladies in search of the perfect date-night outfit. She also makes a few gift recommendations for all you clueless guys out there.
"This look is perfect for the lady who prefers a more traditional silhouette yet still wants to look young and hip. The pink and red color theme can be way overdone on Valentines, so it can feel refreshing and unique to go with a more neutral color palette. The mocha and sheer mint color blocking in this Ellelauri dress is feminine without being over-the-top girly, and is great for winter. Finally, the geometric and feather necklaces by AV Max and Serefina add some flair and edginess to balance out the look."
"This length of this Fraiche by J dress suggests elegance and drama, yet the jersey fabric keeps it lighthearted and, most importantly, comfortable! The plunging neckline and back cutouts are sexy but tasteful, and perfect for a romantic dinner out. Pink is incorporated subtly in the striped pattern throughout the otherwise seafoam dress; add a bold pink bag like this one by Urban Expression to really make it pop!"
From proper peplum skirts to studded cut-offs, summer 2012 proves to be a season of opposing styles.  These trends have been both globally-inspired and pridefully American (especially with Rihanna's infamous introduction of the Americana shorts) and often blur the line between what's clothing and what's jewelery. Here, we round up the best vs. the worse; or so we think.  Without further ado…
The Worst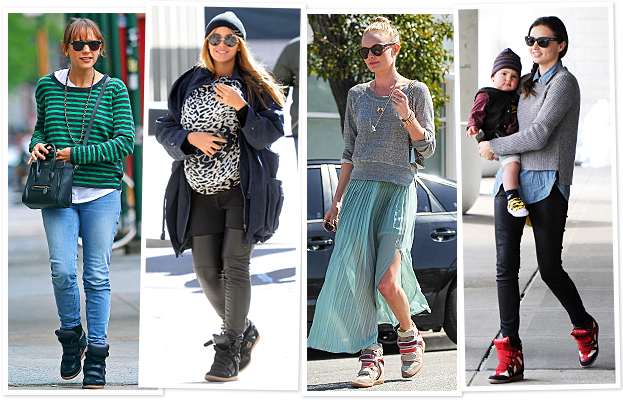 Wedge Sneakers
Although hot mommies Beyonce Knowles and Miranda Kerr were seen wearing these atrocities, perhaps they should be left to moms.  Sport high tops, rock heels; just please do not wear them both at the same time.
Cut-off cut-offs
Classic Levi's cut-offs are certainly a summer staple, however, how high-cut it too high-cut? We think Nasty Gal's original ZZ Shorts bare too much bun, although they have tons of other modest and flattering options.  Just remember: even Rihanna's shorts can get a bit too risque, especially when paired with partying a bit too hard at Coachella as she documented on Twitter last month.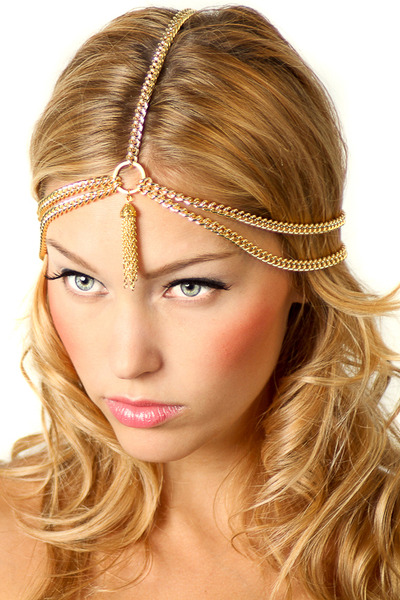 Head Pieces
Although some pieces can look stunning, this Evil Eye head piece from ASOS and Tassle Head Piece from Kristen Perry might draw too much attention to your psychic "third eye."  And the ASOS Cat Ear headband… enough said.
Spike Tights
When a review from The Fashion Police starts with, "Is anyone else hearing the theme tune to Jaws right now?" it's pretty obvious that a crime of fashion has been committed.  Daniel Palillo spike tights, recently retailed through Nasty Gal, certainly conjure up fearful thoughts of fins headed towards us.  Justice has been served.
The Best
Polo Necks
Ahh, a classic shape made summer-worthy!  From left to right: Cotton Spandex Sleeveless Turtleneck Crop Top, American Apparel, Beige Halter Dress, Lulu's, Sleeveless Crop Top, Urban Outfitters
Cutaway Collars
Collars aren't just for Oxford shirts anymore.  We've seen cut-out backs such as the Tribal Romper from Arden B, cut-out décolletage like the gorgeous Aster Lace Dress from Nasty Gal, and straight-up collar necklaces like the one from ASOS below.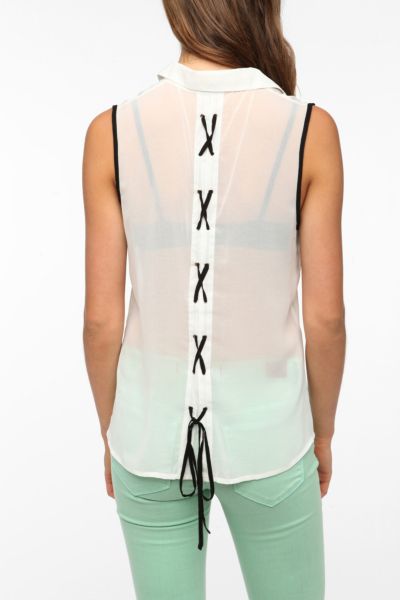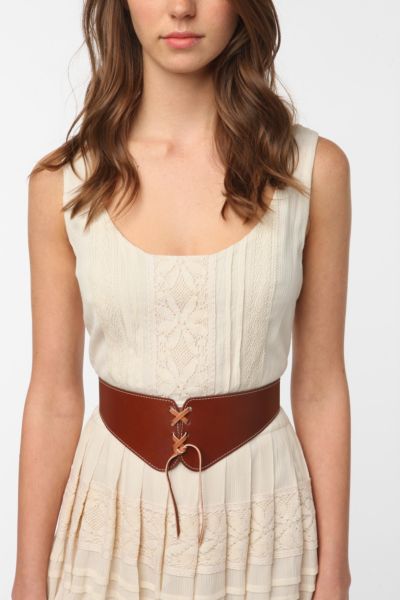 Tie-Up Everythang
Worthy of not only Renaissance Fairs but as part of your summer music festival wardrobe, too: Blue Pepper Lace up Back Blouse, Urban Outfitters, Denim Corset Shorts, Nasty Gal, Kimichi Blue Corset Tie-up Belt from Urban Outfitters
Dia De Los Muertos Inspiration
It's hard to believe skulls have sneaked their way into fashion once again.  Instead of adorning punk t-shirts, we've seen them featured in the chicest collections: Vanessa Mooney Twist of Fate Skull Rosary available at Kembrel Boutique, Skull Lace Tank from Betsey Johnson available at Urban Outfitters, Lagoon Skull Bracelet from Free People
By Marissa Oswald
It's NYFW and the while the editors, stylists, photographers and bloggers are going crazy over Alexander Wang, there is one show that I always look forward to.  Betsey Johnson can do no wrong and her designs are always over the top, theatrical and stylish!
She unveiled a grunge meets now collection that was an ode to her earlier days. Complete with platform Doc Martens, zebra leggings, leopard and tartan plaids. And what's better BJ used "Real" women to strut down the runway in her show. Betsey can do no wrong!


All photos from Style.com
Flying isn't as easy and glamorous as it used to be. No more are the days of lighting up a ciggy while having a flight attendant pour you a double whiskey and settling into your seat knowing your five pieces of matched luggage are all safely stowed in the belly of the plane. Today it's Ziplock bags and overpriced 3 oz. bottles of your favorite toiletries, cans of soda and carry on luggage—lots of carry on luggage.  And if there's one pet peeve I have about flying, it's the droves of ugly black canvas suitcases on wheels that are forever swarming my ankles as I hustle to get to Terminal C.
And so I give you a round up of an alternative I hope you consider as you prepare for the upcoming weeks of holiday travel, the weekender bag.
This canvas weekender by The Brothers Bray can be found on urbanoutfitters.com. It's a classic, mid-sized weekender with leather buckles and a bright red vinyl lining. It's a great unisex option that could easily be used by either a male or female. The detachable shoulder strap also allows for easy carrying from one flight to the next.
This brown leather New Balance weekender is a great option that achieves being sporty without the presence of the usual duffle bag design. I'm also a big fan of the branding on this bag, it's practically nonexistent, and who really wants to be a walking billboard?
The QUOTE Leather N' Canvas Candy - Carry All Bag might be the best option for the holidays due to it's ability to transform. The Japanese denim bag with leather straps goes from carry-on size potential to shoulder bag with a couple of simple cinches.
LeSportsac has been a classic in the bag world since 1974 and as such, they know a thing or two about marrying functionality with style. Not only does their large weekender bag come in an array of colors and prints ranging from basic to brilliantly busy but it also has a detachable shoulder strap, comes with a matching zippered pouch and can be hand washed if it gets dirty en route!
The Piel Top Grain Leather tote is a more masculine weekender bag that would work perfectly for that weekend away with the family or that monthly business trip to the office on the West Coast. I found this one on Overstock.com which means that even though it's leather, it's still affordable.
Betsey Johnson is always throwing something bright and wild in our faces and this Betseyville Lucky Stripe Luggage is no dissapointment. As someone who owns a Betseyville weekender bag, I can personally attest to it being the perfect carry on for a weekend away. It fits perfectly in the overhead compartments of planes and it looks good on your shoulder too.
Yesterday the Internets were abuzz with rumors of wacky designer Betsey Johnson's potential partnership with Target (or H&M). I, apparently, am the only person who thinks this kind of sucks.
Speaking as a girl who won't pay more than $60 for jeans and a frequent Target shopper, I understand the appeal of designer clothes at discount prices. Especially now that the economy sucks so hard and the whole country is seemingly poorer than they were this time last year.
What I don't understand is taking the work of a notoriously eccentric designer who has been celebrated for her upscale work and mass-producing it so that every woman in America can be rocking the same leopard print, polka dot, taffeta dress next New Year's Eve.
By signing with a box store, or even just a well-known chain like H&M, Betsey Johnson's dresses (and other designs) will  become the  norm. Just as with Isaac Mizrahi, her name won't  be synonymous with style and ingenuity, but instead with ho-hum, everyday apparel. Additionally, I'm willing to bet that production quality is going to go way, way down and Johnson will be forced to change her sizing system (previously focused primarily on smaller women) to cater to overweight American women.
The allure of dropping $400+ on a Betsey Johnson dress is the knowledge that not everyone has it. As cliche as it sounds, clothing makes a statement about its wearer. Yes, a Betsey Johnson dress is a beautiful addition to your wardrobe and one that will (hopefully) last long enough to justify spending that amount of money on one item. But it's also representative of the fact that you want to look original. Otherwise, you could've just gone to, say, Target.