50% off Philippe Matigon Luxury Lingerie from Daily Candy. Get super sweet high-waisted pastel panties, seamed-back thigh highs, dainty night dresses and perfect moldable bras.
50% off of all media bags and headphones at Incase via Living Social. Check out the awesome mac Book Air backpack!
73% off 630 Thread Count Sateen Cotton Sheets at Groupon. Your not an adult until you've got a killer pair of sheets and you'll never see them this cheap.
50% off already super affordable threads at Here J from Refinery 29. Try out every trend you desire while barely touching your wallet.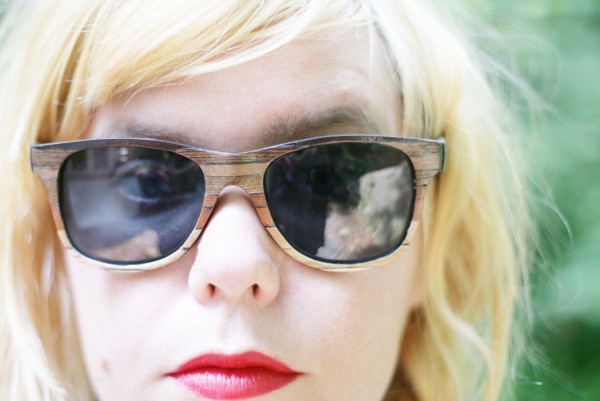 15 bucks off Tumbleweeds crazy-cool wooden sunnies via Fab.
-Dude No. 1 just might be the best name for a men's fragrance EVER. Additionally, it's fashionable yet functional with its moisturizing qualities for skin and facial hair. Maybe you should put it in your dude's stocking this year. valet.
-Looks like Dolce and Gabbana have some explaining to do. Reports of fraud totaling approximately one-billion-euros abound. AFP
-Philly Chinatown sneaker faves, Abakus Takeout have released a video detailing their winter stylings. Nice nod to fellow Philly boutiques in the opening sequence. Vimeo
-Continuing the madness of holiday shopping, Saturday has been deemed "Small Business Saturday." Check the Facebook page for more info on shops that are participating in your area. Facebook
-Design blog guru Swiss Miss has her own Amazon shop. Honestly, if I wasn't fully aware that everything in her shop was out of my friends' (and my own) budget, I'd just send the link to folks and call it my Christmas list. Swiss Miss Amazon
-Apparently I'm on a guy's gifts roll because I just can't pass up an opportunity to put in my endorsement of this cardigan gift suggestion care of our favorite fashionable photo snapper, The Sartorialist. And ladies, why not enjoy a little swoon over the man in the photo too… The Sartorialist
-Check out the Philadelphia edition of Daily Candy for a sweet deal from eco-friendly boutique SA VA. I've always been a fan of the buy one gift for someone else…buy one for yourself approach to holiday shopping, maybe use this one for you. Daily Candy
With Valentine's Day around the corner, Daily Candy has some suggestions. Their slide show, 19 Gifts for Your Valentine features some pretty cool stuff including these vintage Mexican valentines. A not so romantic gift idea?  This key chain that makes toilet flush sounds.
If you'd rather make up stories about Valentine's Day, feel free to submit your ideas to the Coach website.
If you're looking for a gift to give yourself, Bloomingdale's currently has a pretty awesome Clinique Bonus.
In addition to having her own series that we covered earlier this week called Kell On Earth, Kelly Cutrone also released a new book called If You Have to Cry, Go Outside: And Other Things Your Mother Never Told You. This Elle article also mentions that she used to read tarot cards in Venice Beach and Los Angeles, and still gets occasional requests from people to give glimpses into their future.
MAC Cosmetics has always had makeup for every shade, but their new campaign All Ages, All Races, All Sexes includes products that promise to look good on everyone.
Lastly, Nylon has the lowdown on Dior's new compact featuring Egyptian Hieroglyphs.
An e-mail was just sent out by Glamour.com claiming that nude nail polish is the next big thing.
"I hate to tell snowy white-polish lovers this, but it's no longer numero uno on the neutral nail-polish list. Nope, right now it's all about nude nail polish—something we predicted would be big a few months ago and has finally begun showing up on the red carpet."
Glamour suggests these colors from Spa Ritual and Butter. We're just not sure how we feel about this 'nude' color nail polish. We're indecisive enough at the nail salon, without the pressure of keeping up with trends. It's sort of silly that we obsess over whether or not the shade of polish we pick sticks with certain trends, but we find it super nerve wracking when the manicurist says 'pick a color!' Really. For now we're thinking of sticking with Real Beauty's metallic recommendations.
Another area of obsession: lip balm. This winter has been brutal. There are lots of chapsticks/lip balms out there, but we find that when our lips get really chapped, only Neosporin Lip Health will do. Normally, Nivea, Carmex, Rosebud Salve, Burt's Bees and regular old Vaseline do the trick, but when things get really bad, Neosporin is the only guy we turn to. Rachel Zoe recommends Sugar Lip treatment by Fresh, which sounds  like we might want to try it since it has an exfoliator element and we love scrubs.
Daily Candy is highlighting these little straps that will perk up your boots, and Avenue of the Arts is gearing up to put planters along Broad Street. It's part of their 5-Year plan to "Improve and Beautify the Streetscape," so keep your eyes peeled!
Love gadgets? So does Marie Claire, who's staffers have come up with a fun list including a USB/Flash drive disguised as a necklace, and a foldaway bike. The Limited has a list of trends for holiday parties, but we just love the page design.
The website 29 Gifts aims to 'revive the spirit of giving in the world.' The website was started by a woman with multiple sclerosis. After speaking with a friend, he suggested she started the healing process by giving a gift a day for 29 days. This act had such a positive impact on her life that she wrote a book about it and created the website. The creator of the site was featured on the TODAY show where she offers an explanation.
Even though we're a little bummed that Daily Candy no longer has a daily Philadelphia edition, we're glad they're helping us give back to our troops.
As mentioned before, we're Bare Escentuals/Bare Minerals fans. Now they're giving away a free compact if you type in the code PRETTY at checkout when you spend $30. While the makeup is a fave, it can be a mess if you try and apply on the go. The compact is the perfect solution.
Oops, Gawker got their hands on an internal email that would suggest that we're not going to have a Philadelphia Daily Candy in the near future.
Daily Candy, if you're not familiar, is basically an extremely popular daily shopping email tailored to twelve different cities, of which Philly currently is one. It was acquired by Comcast for $125 million a while ago, and while it tends to have a lot of "to die for" and "MUST HAVE" and spa treatments of dubious utility, the Philly editors were good at digging up stuff I hadn't seen before. I always wondered how it made enough money to sustain itself in Philly, because it's always been well done and that ain't cheap, but I guess the answer is "it didn't." From the email Gawker got hold of:
Ugh, that sucks. Sorry to hear it. And, btw, you're cutting Philadelphia? Where Comcast… is? Ah, whatever. The email continues:
So if you're a subscriber and your emails suddenly are no longer about Philly-area stuff, you know why.