We've all heard of Web sites like HandbagEnvy.com and BagBorrowSteal.com, which let average-Janes rent designer handbags they could never dream of being able to afford. So I suppose it was really only a matter of time before someone came up with the idea to rent designer dresses.
And those someones were Jennifer Hyman and Jennifer Fleiss, co-founders of Rent The Runway.
The online membership-based service offers thousands of designer dresses and accessories that women can borrow for just 10 percent of their retail value. We're talking everything from cocktail dresses to formal gowns from such well-known designers as Nicole Miller, Diane von Furstenberg, Vera Wang, Robert Rodriguez, Anna Sui and Christian Siriano.
There's gotta be a catch, right?
Actually, not really. Having spent a great deal of time on the Website, I can assure you the company makes it as easy as they possibly can (deciding on a dress is the hard part).
You can narrow down your search by several different filters and hypothetically assemble your entire look as they also offer makeup and undergarments (for purchase, obviously). Once you've chosen your desired item(s), you can either have it shipped overnight or schedule an arrival date up to six months in advance. When your four days are up, all you have to do is shove the dress/accessories into the provided pre-paid envelope and drop it into the closest mailbox.
Oh, and don't worry about the dress not fitting you—they send you two different sizes, at no additional cost. The site also has some really helpful user reviews, including photos of real girls wearing the dresses.
If there were a catch, I'd say it's the prices. Unless you have a super-special occasion (like a prom), spending more than $50 on a dress you're only going to wear once seems a little silly.
Then again, I suppose being able to tell someone you're wearing a $1,200 Vera Wang gown is sorta priceless.
Tomorrow morning, RTR will be appearing in a segment on FOX29's Good Day Philadelphia (at approx. 8:30 a.m.) and tonight, the company is hosting an exclusive event for press. Not only will my friend and I be attending, but we'll both be donning some pretty impressive cocktail attire, compliments of the site (see below).
I will be wearing this little sequin number on the left by Badgley Mischka (retail: $495/rental: $85) along with the stunning Lauren Bacall-inspired earrings by Elizabeth Cole on the top (retail: $225/rental: $25). My friend will be rocking the coral one-shoulder sundress by Trina Turk (retail: $278/rental: $50), accentuated with the canary statement earrings from Kate Spade New York (retail: $98/rental: $20).
What's it like to have your flesh draped in an original Badgley Mischka? I have no idea, but I'll be sure to report back and let you know.
You can also expect plenty of glamor shots of my friend and I pretending to be a pair of red-carpet-walking Hollywood starlets—nip-slips and crotch shots not included.
This fall, Arden B. and Cosi will be getting a snazzy new neighbor when the multi-brand retailer, Intermix takes over the 2,500-sq-foot space formerly occupied by Knit Wit at 1718 Walnut St.
Just like their 30 other locations across the U.S and Canada, the upscale Center City boutique will stock the retailer's signature selection of apparel, accessories and jewelry from a mix of both emerging and established designers. More specifically, locals can look forward to a plethora of on-trend seasonal styles from designers like Diane von Furstenberg, Alexis Bittar, rag & bone, Herve Leger and Mulberry.
Perhaps needless to say, while Intermix prides itself on offering chic looks at various price points, you're unlikely to find anything under $150. After all, this is Rittenhouse Row we're talking about.
So far there's no word when exactly the boutique is slated to open its doors, but we'll be sure to let you know when it does. In the meantime, he's a preview of some of the high-end designer fashions Intermix has to offer…
As Americans, we are inundated with advertisements of all shapes and sizes everywhere we go.  And thanks to the internet and things like 'viral videos' the way in which companies choose to showcase their products is at least getting a little more creative.  But we have never seen anything quite like this.
For her Spring 2012 ads, designer Diane von Furstenberg, or better known to you and me as the initials DVF, has decided to go for a decidedly surrealist art-y bent – that looks different with each ad.
The campaign feature models with their faces cut-out and instead there is a mirror, which reflects the sky above or, if you want to get up in there, your own face.  Clever?  Kooky?  You decide!  We think it's actually a pretty cool idea.
Tonight at Moore College of Art and Design you can gain some insider knowledge from Philadelphia and New York-based designers on what trends will be dotting the sidewalks this spring . Featured designers will be showing pieces from their spring collections and talking about the clothing, accessories and shoes that they believe will drive trends in the future. It's the perfect opportunity to network with local designers, business owners and industry insiders.
Tonight's designers include Alexandra De Yonge '02 (fashion designer at Diane Von Furstenberg Studio), Auralis Herrero Lugo '05 (founding designer of Auralis Inc.), Kristin Haskins-Simms (creator of Strangefruit and a Project Runway Season 8 contestant) and Craig Arthur von Schroeder (founding designer of Commonwealth Proper).
The event is free and will take place from 6 p.m.- 8 p.m. at the Galleries at Moore.
Women's Wear Daily has pictures from fashion shows all around the world, while Chic.tv has fashion shows and interviews with fashion experts, including this one about shoe designer Joy Chen.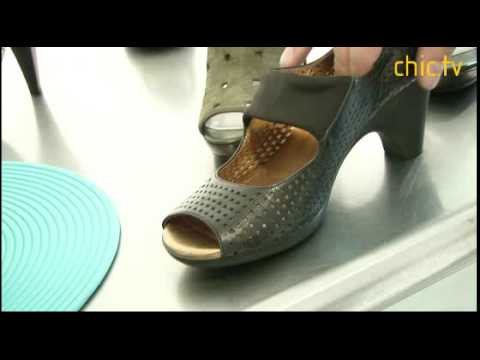 NBC10's Lilliana Vazquez fills us in on what to do in case of an 'oops' moment, what dresses cover the most occasions – a classic from Diane Von Furstenberg, of course, and more stockings!  These stockings don't look too professional to us, but could definitely work for after five.
Philly.com's SnapGlow.TV has up pictures from Philadelphia's Fashion week that focus on a Russian designer, while Clutch has Halloween makeup ideas.
So I think we all realize that disposable-fashion stores like Forever 21 are not able to have such a blindingly fast-changing lineup of stuff (they change out the inventory every few weeks) not because they gave infinite monkeys infinite muslin and are manufacturing the best of the results. Neither is it because they've got the world's best designers locked in a basement somewhere churning out hundreds of new patterns a day.
Nope, they pretty openly watch the catwalks during fashion weeks, then turn around a $30 version of that Rodarte dress in six weeks or fewer, often before the original design has gone into mass production.