There's nothing that says 'I have my shit together' quite like a guy in a well-tailored suit. Conversely, there's nothing that says 'My mother shopped for me until I was 24,' like men in ill-fitting suits. Luckily, New York's Enzo Custom Clothiers has opened up shop in downtown Philly, with some of the best prices on custom clothing we've ever seen. We asked owner Rafi Caroline to clear up some frequently asked suit questions for us.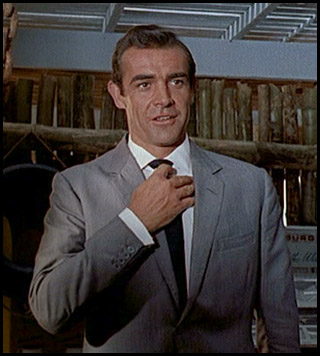 What are some things to think about when choosing a dress shirt and a casual shirt?
Rafi: The main difference you want to consider when choosing a dress shirt or a casual shirt is the length and bottom style. A dress shirt should be longer and have a rounded bottom with gussets so that it stays tucked in nicely. A casual shirt should be shorter so that it can be worn untucked it should also have a straight bottom with vents on the sides so that it sits nicer when worn out. Patterns are also a big thing to be considered between dress and casual. Casual shirts should have bolder and wider patterns since they are not likely to be worn with a tie.
Why do mens shirts button left over right and womens do the opposite?
Men's shirts button left over right because it is easier to button that way for right handed people. The opposite is done for women because traditionally when the style was started wealthy women would have handmaids dress them so the opposite button style was easier for the handmaids to button up.
What was the initial purpose of the necktie?
The necktie, like many other parts of modern style, started as something functional and eventually evolved into something purely stylistic. The necktie started as a means of keeping the neck warm and was more like a scarf and over the years evolved into the necktie you know today.
What's the biggest mistake you see men make with shirts, suit and ties?
The two biggest mistakes I see in today's men's dress is firstly wearing clothes that do not fit properly and wearing patterns and colors that do not compliment their personal body style. Men tend to buy their closest size off the rack and then neglect to get it tailored properly. You wear a $5000 suit and if it is not tailored properly it will look worse than a $150 suit that fits well. Men also tend to look for what is currently in fashion as opposed to what compliments them personally. If a 250lb guy puts on a skinny tie, it does not matter how fashionable it is, it will make him look ridiculous.
What are your favorite styles of the above?
I am a big believer that no style is a flat rule best for all guys. We  take time to consider each client and what styles would work best for the client based on body style, skin tone and hair color. For example, tall thin guys might be better with a single breasted 3 button while a short stout guy would be better off in a double breasted suit or a two-button, single breasted. The same applies to hair and skin colors. The darker the skin the better that bright colors will look on a guy. Guys with lighter hair and skin might be better off with pastels. There are some staples that all guys should have though, for example a solid navy and a solid charcoal suit along with some standard white and blue shirts.
*Mention this article to get a custom-made shirt for just $49 bucks!