She grew up in the Republic of Benin and even achieved a certain amount of fame in that corner pocket of West Africa as a talented youth, uncharacteristically supported by her family. She left in 1983, under the threat of communism, and settled into Paris. She lives in New York City now, at the age of 53, and that seems vaguely appropriate. Angelique Kidjo speaks (and is learning) all kinds of languages: French, Yoruba, Fon, English, some dialects unique to West Africa, a good amount of German and is said to be teaching herself Italian and Portuguese. And that's not where the multitudes end. Try to describe the kind of music she makes, and you'll be hard-pressed to pick as few as three genres: samba, salsa, jazz, gospel, Kwaito, Latin, Afropop, reggae, Caribbean funk, and even little bit of American classic rock can be heard. (She was totally down with Hendrix.) What you call the sonic magic she makes will be on full display at the Prince Theater on Tuesday, Feb. 18, where she's scheduled to perform.
Check out some of the hyperbolic titles she's been given: "Africa's premier diva" (Time), one of "The 40 Most Powerful Celebrities in Africa" (Forbes), chosen as one of 50 of the most iconic Africans (BBC's defunct Focus on Africa mag) and "the undisputed queen of African music" (The Telegraph). Then, do some listening and some watching, and the comparisons just flow out. She has that powerful, striking presence, like Grace Jones. She has that beaming, magnetic smile like Diana Ross. She has that sultry, deeply centered sense of peace that Sade seems to exude, too. She has the stunning pipes of Chaka Khan or Whitney Houston. And somehow, more than anything, it just seems clear that she's a really good-hearted and benevolent artist.
Kidjo's 2008 album, Djin Djin, her eighth, won a Grammy for Best Contemporary World Album. She was nominated again in the same category in 2011 and, if there's anything right in the world, she'll win it again in 2014. Eve, out earlier this year, is her tribute to the women of Africa—and it is extraordinary. Maybe what you can hear coming through your speakers that feels so good is the visceral, palpable joy she seems to find in making it. Kidjo pulled singers from choirs across her native region and guided them into the studio to work with her regularly-awesome support band. Her husband and primary songwriting partner, Jean Hebrail, has been with her a long time—in fact, since her stateside debut in 1990 with the gorgeous Parakou.
To her credit, Kidjo's never even paused. Approximately 12 albums over the course of about 25 years is a pretty solid track record, and there's never been a dud. "Agolo" is a great place to start, the opening track of 1994's Aye. She did that one when she paid Jools Holland a visit, and it's mesmerizing. Fifa, which followed in 1996, is a real gem in her discography where she really brought in the critical mass: hundreds of musicians to sing, play and make noise. She finally caught a major label deal and, in 2002, dropped the critically-acclaimed Black Ivory Soul. But let's be honest: Critics generally love everything she does. With good reason. Her energy just seems so pure.
There's more.
Kidjo is a tireless advocate and philanthropist, serving as a UNICEF and OXfam ambassador, and she's got her own charity that specializes in educating young girls in Africa. She and Chimamanda Ngozi Adichie would totally be tight; they probably are. She is Nigerian, Benin's eastern border neighbor. She's recorded and performed with a huge list of artists, some more awesome than others, but I will say that Carlos Santana's probably one of her coolest and most consistent collaborative friends in the artist community.
To be French and African, it seems, uniquely positioned Kidjo, whose wonderfully weird cultural touchstones have made her the artist she is and has been. Maybe if she hadn't left for Paris in the '80s, she wouldn't have been so exposed to Aretha Franklin, James Brown or Nina Simone (a few of her oft-cited inspirations). But the African flavor's never far from her sound, and there is unmistakable joy in it. One of the things that inspired Eve is that when Kidjo came back to Benin, she found so many women whose lives are so desolate and difficult, riddled with hunger, disease, poverty and struggle, and yet they still take pride in their dress and sing with an unequivical faith and determination to survive. That's something Kidjo might not feel on a daily basis anymore, but one her voice has given millions of fans a reason to dance and celebrate to.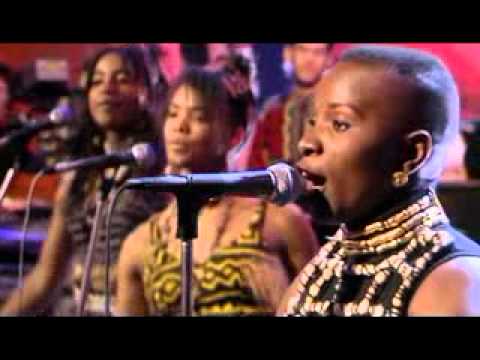 Mark Lanegan & Duke Garwood
Black Pudding
(Ipecac)
Sounds like: The nearly 50-year-old Screaming Trees founder teams with a master composer/producer for darkly beautiful and haunting Americana.
Free association: His dusty sadness is a perfect match for Garwood's ambient score.
For fans of: Quiet Dinosaur Jr. x Nick Cave, Damien Jurado/Seattle grunge, Waits.
Eve
Lip Lock
(From the Rib/Sony/RED)
Sounds like: The Philly native's fourth and first in 11 years has seen tons of delays, but now it's out, and it's way more bangin' than anyone's gonna expect.
Free association: Despite a slew of guests, Eve's the centerpiece of this hard comeback.
For fans of: Chrisette Michele/Missy Elliot + The Neptunes, Snoop/Pusha T, Philly.
Pinata Protest
El Valiente
(Saustex/Cosmica Records)
Sounds like: Outstanding Mexi punk from San Antonio, with an accordion-fronted take on traditional conjunto, but spiked with edgy, angry rock flavors.
Free association: Nine songs in 20 minutes, and it's fresher than tableside guac.
For fans of: Dropkick Murphys + the horchata, "Volver, Volver", "La Cucaracha."
Demi Lovato
Demi
(Hollywood Records)
Sounds like: Totally mediocre as far as powerhouse pop stars go, with perhaps the most innovation audible in production tricks and vocal manipulation.
Free association: There's a song called "Made in the USA" about well-built love.
For fans of: Miley Cyrus/Selena Gomez/Hillary Duff, Justin Bieber in a Ford pickup.
Bibio
Silver Wilkinson
(Warp Records)
Sounds like: Deliriously pretty digital folktronica from the Brit producer who's explored faster and louder, but here pauses for dreamy and pillowy pastiche.
Free association: A stoner's dream. Something bothering you? Bliss out for a second.
For fans of: Boards of Canada + Koushik, Caribou/Toro Y Moi, chilling extra hard.
Wild Nothing
Empty Estate EP
(Captured Tracks)
Sounds like: His synthiest yet, Jack Tatum's a Virginian who polishes down synth-soaked indie pop into gems of simultaneously modern and retro import.
Free association: These kids and their synth machines, they're gettin' better every day.
For fans of: Real Estate, Twin Shadow + Youth Lagoon x Neon Indian, cool things.
Over 15 years ago, the Roots started recording sessions for Things Fall Apart at Electric Lady Studios in Manhattan alongside what we now know to be a collective called the Soulquarians. Simultaneously recording alongside greats like D'Angelo, Erykah Badu and Common, there was a movement of brilliance cultivated in those last years of the '90s. And perhaps right at the epicenter of it is the Roots' Things Fall Apart, their fourth and then most successful effort to date, sales-wise AND critically. The author of the 1958 novel of the same name, Chinua Achebe, passed away today and it's important to take a brief moment to salute the just-passed 82-year-old titan of African literature.
Things was his first novel, which is quite a feat. Since its initial publishing, the story of Okonkwo and Nigeria's struggle with colonialism has been translated into 45 languages and sold over 10 million copies. It makes lots of sense for the Roots to be so inspired by this novel, even enough to name their groundbreaking moment in the hip-hop time space continuum: the themes are all here. The struggle of Okonkwo is one that Quest and Black Thought know well – the clash of cultures, the inevitable conflict of changing societal traditions and values, and the imposing, destructive powers of
Christianity and white culture's imposition of their value system over a long-standing set of norms and mores. These themes are not foreign to the likes of Fela Kuti and Malcom X; two other significant authors and activists who've certainly informed the Roots' politically-aware brand of smart, lyrically pungent and jazzy hip-hop.
Achebe's more than just an inspiration to the Roots and their iconic album, of course. He's a legend. His DEBUT novel, one of the first African-born English language novels to make its way to high school classrooms in white America, is a masterpiece and its legacy will clearly go on for another slew of decades. "100% Dundee" shouts out Achebe in name, but the whole record modernizes the handful of themes that his novel so expertly puts into a context of conversation about race and culture. It's so rich it's like an English teacher's dream – there's meaty content that feeds dialogues on race, gender, identity, fatherhood, motherhood, imperialism, tradition, family structure, survivalism, pride, and ego. Amen.
Nicki Minaj is usually a woman of a thousand faces, shadowed by a thousand different personas. However, she puts them all aside to show off just one fierce look for MAC's 2012 Viva Glam cosmetic line.
Posing next to long lost Ricky Martin, Nicki looks like a life-size Haraiuku Barbie rockin' the line's blue and green eye shadows and the plush, pink, Barbie-esque lipstick. Although it's hard to tell if Ricky is sporting a smoky eye or any of the glowing pink blushes, he sure came back into the scene lookin' damn good.
Viva Glam consists of a line full of lipsticks, eye shadows, and foundations that can take anyone from humdrum to over-the-top electric. And the fact that Nicki is sporting the eclectic, new line bent over a hot motorcycle with her boobs pouring out makes it that much more desirable. Some of the other glamorous ladies who have gotten their own Glam line: Lady Gaga, Eve, Fergie and Dita von Teese.
Viva Glam is also donating lipstick proceeds to the MAC Aids Fund – so, all you lipstick lovers, get glossy and help the fight against AIDS.
Nicky and Ricky will debut the hot, new line in February 2012 – just in time to look fabulously fierce for Valentine's Day.