As promised, here's your second roundup of events going on around town this Thursday in celebration of Philly's inaugural Fashion's Night Out.
Click here for the other 12 or so events.
If you need some guidance as you hop from shop to shop on Thursday, be sure to follow Fashion's Night Out Philadelphia on Twitter (@FNOPhiladelphia)
It may be hard, but we here at PW Style (@PWStyle) will do our best to tweet from all the glamorous events. If we figure out how to juggle a camera, phone and a cocktail, then we might even have some photos for ya come Friday.
Anyway, here's wishing you all a very merry Fashion's Night Out!
Aoki Boutique: In addition to hosting a trunk show by Couture Vulture, the store will be debuting the Ilsa Loves Rick for Aoki jewelry collection. Guests will have a chance to mingle with the locally-based designers of both brands while sipping on champagne and listening to music. The first 20 people to arrive will receive an exclusive free gift. RSVP recommended. (6-8pm; 115 S. 22nd St.)
Destination Maternity: Stephen Starr Events will be supplying sweet treats and mocktails while local moms-to-be shop the latest fall trends. The first 50 guests will also receive a gift card with a mystery value ranging from $10-$250. (6-9pm; 1615 Walnut St.)
BCBG: Snap a photo of yourself rocking one of the brands fall trends and post it on Instagram for a chance to win a $2,500 BCBGMAXAZRIA wardrobe or one of two runner-up prizes. Click here for more deets. (6-8pm; 1601 Walnut St.)
King Of Prussia Mall: More than 50 retailers throughout the mall will be celebrating FNO with everything from makeovers and giveaways to trunk shows and live entertainment. A free fashion show will also be held on the lower level of the Nordstrom Court with models showcasing the latest fall trends from several participating retailers including, Kate Spade, Eileen Fisher, Tommy Bahama, Wolford and more. (6-9pm; 160 N. Gulph Rd.)
Free People (KOP): Enjoy refreshments and a free candle from Candles with Love with any purchase while personalizing your favorite items during a studding DIY event. (6-9pm. 452 Mall Blvd.)
Free People (CC): Get a lesson in style from the store's fashionable employees while enjoying sweets and light refreshments. (6pm; 1625 Walnut St.)
Urban Outfitters (KOP): The store will be hosting a free DIY workshop in which shoppers can immediately customize their purchase. Note: you must buy something during the event in order to take part (6-11pm; 640 W. DeKalb Pike).

Knit Wit: Walk the red carpet, mingle the designers of Skai Blue Show's exclusive line-up of ready-to-wear brands and accessories, get styled by experts, knock a few glasses of champagne and relax to some smooth beats. Oh, and you might as well peruse Knit Wit's fall offerings while you're at it. (6-10pm; 1729 Chestnut St.)
Joan Shepp: This year, The Accessories Council, a national non-profit dedicated to stimulating consumer awareness and demand for fashion accessory products has decided to bring its annual FNO cocktail reception here to Philly. Promoting the Council's new USAMade initiative, the shopping event will feature jewelry ranging anywhere from $20-$400 from several American designers, many of which will also be in attendance. (6-11pm; 1616 Walnut St.)
Govberg Jewelers: Sample exclusive whiskies and delectable cuisine amidst some of the finest Swiss timepieces during the store's special "Whisky & Watches on Walnut" event. (6-11pm; 1521 Walnut St.)
Nicole Miller: Stop by either Nicole Miller's Manayunk or Center City locations for an exclusive pre-fall shopping party, equipped with free drinks, food, live music and official FNO merch. RSVP recommended, see Web site for more info. (6-11pm; 200 S. Broad St./4249 Main St.)
Steve Madden: While supplies last, the store will be offering free studded iPad case with any purchase. (6-11pm; 1723 Walnut St.)
For someone who has never purchased a single piece of clothing via Web, I sure do an awful lot of online window-shopping. Yesterday, I sat captivated for almost an hour clicking through the pages upon pages of vintage and vintage-inspired duds on ShopWasteland.com after a friend sent me a link.
A-MA-ZING.
Basically they're like a cheaper version of Free People—very 70s Bohemian, with a little but of 80s punk rock thrown into the mix. And while there are some pricier designer items, there's also a lot of surprisingly cheap pieces.
It turns out Wasteland does have three actual locations, but unfortunately, they're all in Cali. Here's hoping they migrate to the East Coast!
Anyway, since I spent so much time on the site, I figured I might as well share some of my favorite finds. That way I can pretend as though I was being productive.
Angela Monaco of Concrete Polish sure has been busy…along with this awesome upcoming event at the Center City Free People (17th and Walnut) on July 25th, she's just dropped her new website with plenty of gorgeous photos, video, and jewelry at concretepolishjewels.com!
Don't forget to follow @concretepolish and @fleatherfox on instagram! Tag #concretepolish on a picture of you with your concrete polish jewels to enter a chance to win a pair of crystal stud earrings!
After a few days of being fooled by the sun shining in the morning, only for it to be beaten out of the sky by rain clouds in the afternoon, I've learned that 30 percent chance of precipitation is the new 100 percent. But as painful as it can be to put the bright summer dresses and halter tops on hold, here's some tips that will help keep the rain from ruining your day.
DITCH THE STRAIGHTENER! Nothing sucks more than storm clouds rolling in and realizing that your hair is going to get soaked. If not soaked, then even worse… frizzy. Since you can't stop the rain, might as well avoid that dreadful "all for naught" feeling.  If you have natural waves, flaunt them! People really mean it when they say they like your hair better natural. You can also try some pretty braids and a low bun, or a messy but gorgeous up-do like the one above.
Headbands, cute clips and other fun hair accessories are instant perks to a simple look, and they only take a second out of your time getting ready.
For frizziness, throw some anti-frizz product into your purse and give your locks a few sprays after a frantic run in the rain.
If you haven't already gotten the memo, rain gear isn't just for little kids. H&M sells colorful umbrellas to go with any outfit, and this summer, bold hues are the perfect accent with the neutrals we all love. There's also some fun raincoats like this neon anorak from Urban Outfitters that will protect your hair and keep you dry, all while adding some brightness to your look on the greyest of days.
–Julie Allerton
From proper peplum skirts to studded cut-offs, summer 2012 proves to be a season of opposing styles.  These trends have been both globally-inspired and pridefully American (especially with Rihanna's infamous introduction of the Americana shorts) and often blur the line between what's clothing and what's jewelery. Here, we round up the best vs. the worse; or so we think.  Without further ado…
The Worst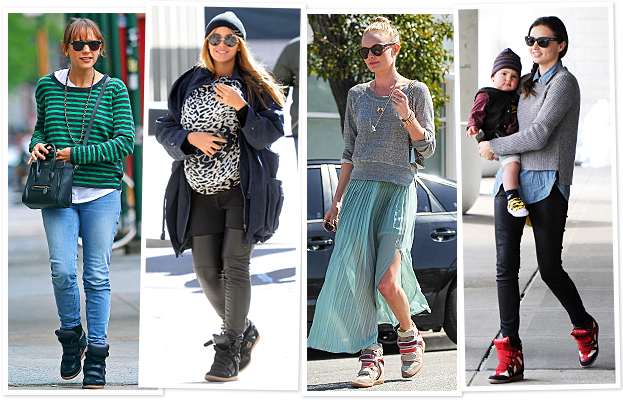 Wedge Sneakers
Although hot mommies Beyonce Knowles and Miranda Kerr were seen wearing these atrocities, perhaps they should be left to moms.  Sport high tops, rock heels; just please do not wear them both at the same time.
Cut-off cut-offs
Classic Levi's cut-offs are certainly a summer staple, however, how high-cut it too high-cut? We think Nasty Gal's original ZZ Shorts bare too much bun, although they have tons of other modest and flattering options.  Just remember: even Rihanna's shorts can get a bit too risque, especially when paired with partying a bit too hard at Coachella as she documented on Twitter last month.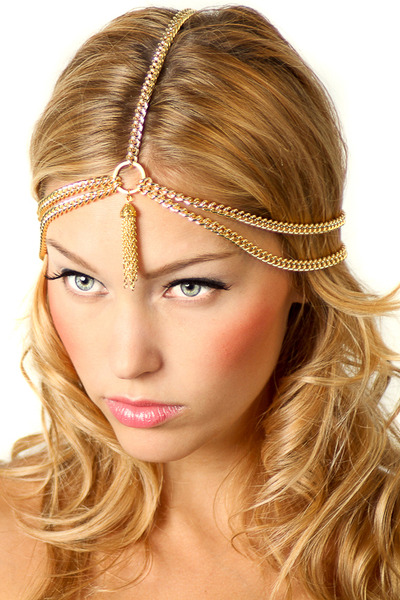 Head Pieces
Although some pieces can look stunning, this Evil Eye head piece from ASOS and Tassle Head Piece from Kristen Perry might draw too much attention to your psychic "third eye."  And the ASOS Cat Ear headband… enough said.
Spike Tights
When a review from The Fashion Police starts with, "Is anyone else hearing the theme tune to Jaws right now?" it's pretty obvious that a crime of fashion has been committed.  Daniel Palillo spike tights, recently retailed through Nasty Gal, certainly conjure up fearful thoughts of fins headed towards us.  Justice has been served.
The Best
Polo Necks
Ahh, a classic shape made summer-worthy!  From left to right: Cotton Spandex Sleeveless Turtleneck Crop Top, American Apparel, Beige Halter Dress, Lulu's, Sleeveless Crop Top, Urban Outfitters
Cutaway Collars
Collars aren't just for Oxford shirts anymore.  We've seen cut-out backs such as the Tribal Romper from Arden B, cut-out décolletage like the gorgeous Aster Lace Dress from Nasty Gal, and straight-up collar necklaces like the one from ASOS below.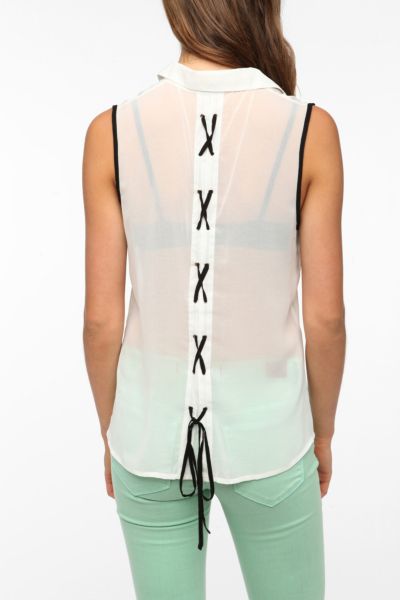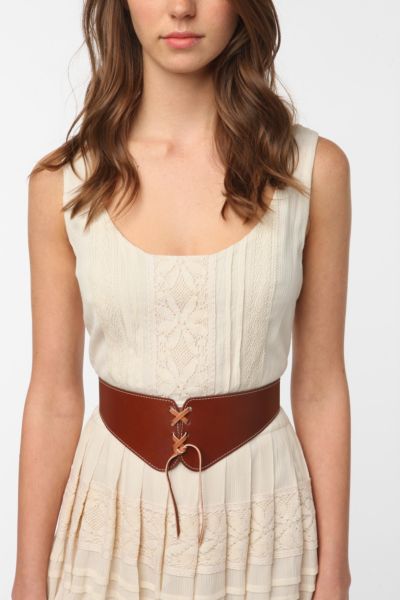 Tie-Up Everythang
Worthy of not only Renaissance Fairs but as part of your summer music festival wardrobe, too: Blue Pepper Lace up Back Blouse, Urban Outfitters, Denim Corset Shorts, Nasty Gal, Kimichi Blue Corset Tie-up Belt from Urban Outfitters
Dia De Los Muertos Inspiration
It's hard to believe skulls have sneaked their way into fashion once again.  Instead of adorning punk t-shirts, we've seen them featured in the chicest collections: Vanessa Mooney Twist of Fate Skull Rosary available at Kembrel Boutique, Skull Lace Tank from Betsey Johnson available at Urban Outfitters, Lagoon Skull Bracelet from Free People
By Marissa Oswald
Far from your average clothing swap, the extra "Rama" is a series of DIY workshops in which locals can explore easy, creative and sustainable ways to upcycle used clothing and textiles. Here's how it works: while not mandatory, those who come with at least a bag of unwanted clothing will save $10 on admission and once all the donations have been collected, everyone will get to dive into the massive pile of gently worn treasures like wild (yet courteous) scavengers. Finally, skilled local artists will help Swappers work their creative mojo and revamp their new duds. You can spruce up a boring tee with a screen-printed image with Candy Depew of the Philly-based silk-screen studio, school and showroom, Candy-Coated or with a simpler version of designer Nicole Rae Styer's unique embellishments. Amber Zaraza of Phea Jean and the crafty folks of Handmade Philly will even show you how to transform an article of clothing into a one-of-a-kind accessory. Saturday, 12pm. $10-$20. @ Broad Street Ministry (315 S. Broad St.)
Spring 2012 Art Star Craft Bazaar
Just in time for Mother's Day, Art Star has hand selected over 140 local and national artists to set up shop and sell their wares outside at Penn's Landing for the spring edition of their beloved art fair/craft show. Basically, anything and everything you can think of and then some. Some local vendors to keep an eye out for: exit343 design, Concrete Polish, Black Heart Letterpress, BirdQueen Designs and Bob Dix Illustration. Going through the long list of vendors, I'm going to be on the look out for Moonlight Bindery, Spread The Love and Inedible Jewelry. As usual, there will also be live music from local bands, vegan/vegetarian friendly food and interactive art demos like sculpting/mold making with The Philadelphia Sculpture Gym and recycled crafts with NL Arts.  Saturday, 11am-6pm. Sunday, 11am-5pm. Free. The Great Plaza at Penn's Landing (Columbus Blvd. at Chestnut St.)
Breaking Away: 2012 Fashion Show
This annual fashion extravaganza in conjunction with Moore College's commencement celebrations will feature 28 innovative senior collections as well as designs by junior and sophomore students of the college's acclaimed fashion design department. The showcased designs include swimwear, bridal, childrenswear, menswear, sportswear and last but not least, eveningwear. The theme "Breaking Away" is specifically for the senior eveningwear finale. There will also be a closing reception for "Emerging Artists and Designers," featuring the best work from their senior students in fine art, graphic design, illustration, interior design photography and textile design. So come out and help congratulate the Class of 2012 Who knows—you may wind up discovering America's next big designer before everyone else.  Saturday, 8pm. $25. @Moore College, Aviator Park (20th & Ben Franklin Pkwy.)
Pennsylvania Guild Fine Craft Fair
While fine art might be a bit of a snooze-fest, fine crafts are a whole different story. For their signature premiere fair, the PA Guild of Craftsmen has invited 140 of its finest crafts artists to pile into Rittenhouse Square this weekend and showcase/sell their exceptional one-of-a-kind creations. We're talking everything from handcrafted jewelry, designer clothing and contemporary furniture to functional and decorative pottery, limited edition photography and fine porcelain. Will these items be pricey? You betcha! But there's sure to be some affordable pieces. Either way, everything else is guaranteed to be worth the price. Fri.-Sat., 11am-7pm. Sun., 11am-5pm. Free. @ Rittenhouse Square
If you're having trouble finding the perfect Mother's Day gift (and somehow PW Style's incredibly awesome and comprehensive Mother's Day Gift Guide didn't help), why not just mom out to the KOP Mall so she can pick out something herself? While there, be sure to stop into Free People where they'll offering complimentary tea, coffee and other refreshments as well as a free flowers for the mommas (unless you show up late). You may want to also grab something for yourself since you'll receive an exclusive soy candle by Candles with Love with a purchase of $250. Sunday, 11am-6pm. Free @ Free People, King of Prussia Mall (452 Mall Blvd.)
United by Blue is a Philly-based apparel company that prides themselves in being ocean friendly. For every single product sold, members of the caring UBB team remove one pound of trash from the world's oceans and lakes. As of April 20th, they've actually removed a total of 87,863 pounds.
The company recently launched its 2012 Spring/Summer line  and let me tell you, it took an impressive amount of self-restraint for me not to immediately whip out my credit card and begin purchasing everything in eyesight. From their vintage, handmade and sustainable jewelry to their extremely soft and chic  apparel, they're sorta like a wonderful mash-up of Urban Outfitters, Free People and American Apparel all rolled into one.
Check out some of my personal favorites below!
Uniform Bravo Bravo Scoop Neck $34/ S.O.S Scoop Neck $34/ Pacific Garbage Patch $34
Navy Women's Laptop Bag $98/ Vintage Women's Unstructured Bag $42/ Women's Blue and Grap Stripe Bag $38
Top Row: Turquoise Cluster Silver Ring $75/ The John Dillinger $28
Bottom Row: Western Shore Strawberry Rhubarb Necklace $38/ Artisan Turquoise Ring $50
S.O.S $34/ Old Boat $34/Sit Ready to Shove $34
~Michelle Mass